Recurve bows are some of the most popular and widely used bows among archers. They are used by many experienced archers and are even used in official archery events. Many people consider recurve bows to be the default, even though there are lots of other varieties of bows out there. These include compound bows, crossbows, and longbows.
This raises the question of whether or not recurve bows are suitable for beginners. After all, beginners must acquire the right equipment if they want to maximize their chances of success.
Continue reading to find out whether or not recurve bows are recommended for beginners.
Are Recurve Bows Good For Beginners?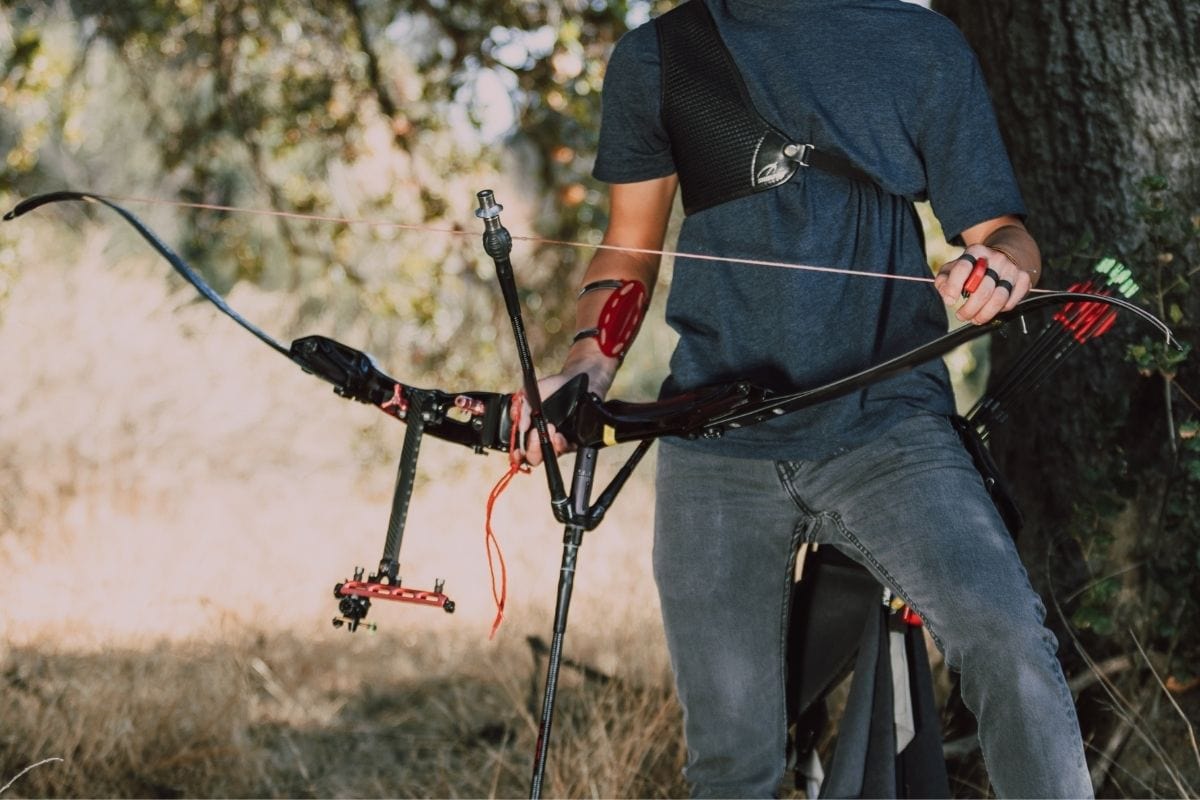 This is quite a difficult question to answer, as the topic of whether or not beginners should use receive bows is debated among archers.
In our opinion, recurve bows are good for novice archers. However, like any type of bow, some disadvantages limit their suitability for beginners.
Pros
Power: because of their curved designs, recurve bows store energy more efficiently than other varieties of bow. Consequently, they can project arrows with decent power. This allows them to penetrate targets.
Historical value: recurve bows have been around for centuries. Used by ancient civilizations, these bows have a pure feel to them. Plus, this history means that the design of recurve bows has been perfected.
Lightweight design: recurve bows are smaller than other types of bows, such as longbows. This lightweight construction increases their portability, allowing you to easily transport them from different locations.
Speed: recurve bows are also known for their speed. This results in their being suitable for use in different types of archery.
Versatility: recurve bows can be used in both traditional archery and bowhunting. Few other bows can be this flexible.
Price: archery can be a costly sport, as you must buy lots of essential equipment. Luckily, recurve bows are usually more affordable than other bows such as compound bows.
Cons
Accuracy: traditional recurve bows don´t have a bow sight. As a result, it can be more difficult for beginners to shoot accurately. In contrast, a compound bow has a bow sight that makes it easier to aim.
Adjustability: unless you buy a takedown bow, you´re "stuck" with the draw weight you originally bought.
The form is hard to learn: when you learn archery, it is vital to perfect the ideal form. This is not only true for recurve bows but all types of bows.
Conclusion
Having weighed up the pros and cons of the recurve bow, we have summarised that this bow is ideal for beginners. This is largely due to their versatility. If you are eager to learn archery, we suggest that you invest in a recurve bow.
What Bows Are Best For Beginners?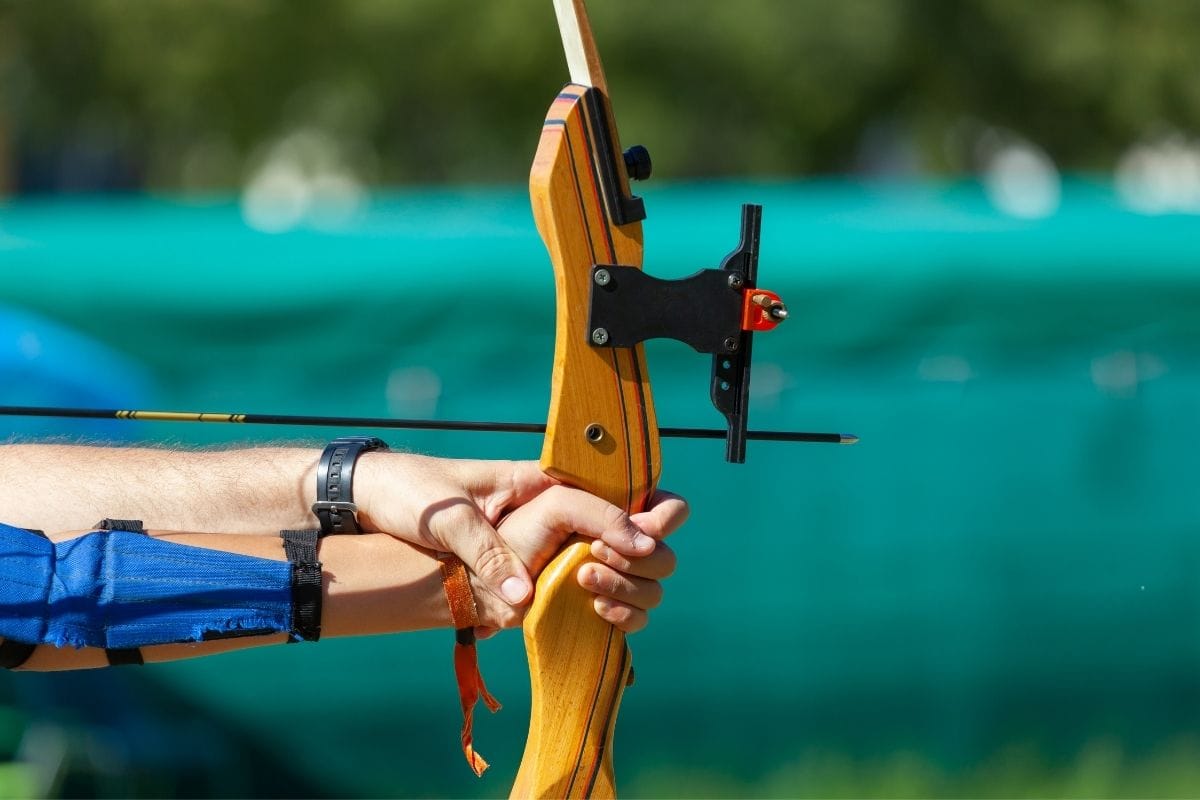 Many beginners opt for recurve bows. On the other hand, there are other types of bows that you can use, such as compound bows and longbows.
Compound Bows
Compared to recurve bows, compound bows are more technologically complex. The design of this form of bow relies on pulleys.
Because of the more advanced design of compound bows, they may not be the optimal bow for beginners. However, some people do use these bows when they start their archery journey. 
One reason why compound bows are suitable for beginners is that they do not rely on physical upper body strength as much as other bows.
Another benefit for beginners is that compound bows can be adjusted, which is not true of more simple bows.
Longbows
Like recurve bows, longbows have been around for a very long time. In fact, longbows were regular features in warfare of the Middle Ages.
As the name suggests, they feature a long and tall design. This design is rather simplistic, which is beneficial for beginners. This is because the design of the longbow helps beginners to perfect their archery skills.
What Should I Look For In My First Bow?
Once you have decided what bow you want, whether that be a recurve one or a longbow, there are lots of factors that you should consider to make sure that you pick the right one. This includes:
Price: you should aim to find a bow that is within your budget. Otherwise, you will need to spend a lot of money on archery.
Accuracy: archery is all about accuracy, as it is required to hit targets. Therefore, you should search for a bow that supports accuracy.
Ease-of-use: nobody wants a bow that is hard to use, least of all someone with limited experience. User reviews are a great way of determining whether a bow is simple to use.
Draw weight: if you don't already know, draw weight is an archery term that refers to the amount of force required to fully extend or draw the bow. A low draw weight will be advisable for inexperienced archers, who may struggle with the amount of force required for higher draw weights and still need to work on their form.
Ultimately, when selecting a bow for a beginner, you should find one that is powerful, affordable, accurate, and simple to use.
Frequently Asked Questions
Do Professional Archers Use Recurve Bows?
Yes, this style of bow is utilized by professional archers. Recurve bows are used in sporting competitions, such as the Olympic Games.
Can Recurve Bows Be Used For Hunting?
Recurve bows are widely used for bowhunting, alongside other types of bows. However, you should bear in mind that bowhunting is quite a demanding undertaking. A lot of research and practice is needed to perfect your skills before you can go out hunting with a recurve bow.
As a result, it is recommended that only experienced archers use recurve bows for hunting purposes.
Final Thoughts
A recurve bow is a great choice for beginners because of its simplicity and affordability. Additionally, it can be used by people of different skill levels, making it perfect for those who are new to the sport of archery.
If possible, you may want to experiment with a few different types of bows to find the ideal one for you. One way of doing this is with the help of an instructor, who might have multiple bows for you to test. You could also pay a visit to your local archery shop.