PSE Archery has released some of the most popular bows since 1971. This beloved brand consistently manufactures innovative compound bows and crossbows, and it has patented a lot of technology used by other crossbow manufacturers.
They are notorious for having some of the fastest and most powerful compound bows on the market, but their crossbows are top-notch as well. The NEW PSE Crossbow may not be the most budget-friendly crossbow, but it does have some impressive specs.
PSE Archery WarHammer Crossbow
check price
In this PSE Archery WarHammer Crossbow Package with Crank Cocking Device Review, we will help you determine if this crossbow should be your next buy.
Pros & Cons
Pros:
Shoots at up to 400 feet per second
Cocking Winch included

142 ft. lbs. KE.

Crossbow scope included
Made in the USA
Cons:
probably not for beginners
The PSE Archery WarHammer Crossbow Package with Crank Cocking Device was made in the USA by a team of engineers to deliver the best design possible.
This crossbow package is unlike anything else in their product line, making it a unique addition to your hunting collection.
First Impression
The NEW PSE Crossbow is surprisingly compact. It has an overall length of 29 inches, and its power stroke is 14.5 inches. This long power stroke runs to the back of the crossbow, creating a balanced design.
You may also see how lightweight the crossbow is, as it weighs a mere 7.6 pounds.
PSE Archery WarHammer Specifications
Up to 400 FPS
Draw Weight: 225 lbs.
142 ft. lbs. KE
Overall weight: 7.6 lbs.
Power Stroke: 14-1/2″
6-1/8″ from axle-to-axle when cocked
Warhammer Cocking Winch device
You will notice that it is easy to handle and comes with tons of features. The WarHammer has an HDV 425 scope, three Thunderbolt field point arrows, a quiver, a cocking rope sled, a discharge arrow, rail lube, and a neoprene crossbow sling.
The package also includes the WarHammer Cocking Winch.
Design and Performance
The PSE Archery Crossbow provides excellent accuracy and power. This compact crossbow packs a mighty punch in a tiny space at 29 inches long with an axle-to-axle width of 6-1/8″ in full draw.
The bow delivers arrows at a quick speed of up to 400 feet-per-second with an impressive 142 ft. lbs. KE. These exciting specs come from the proprietary PSE cam and limb technology.
The footpad stirrup has an ergonomic design, and it can double as a shooting rest. As such, it adds stability to your aiming and shooting process.
If you are an advanced hunter, this crossbow is worth your consideration. PSE Archery has also made one of our favorite crossbows for women, proving their inclusivity and diversity in products.
Overall Quality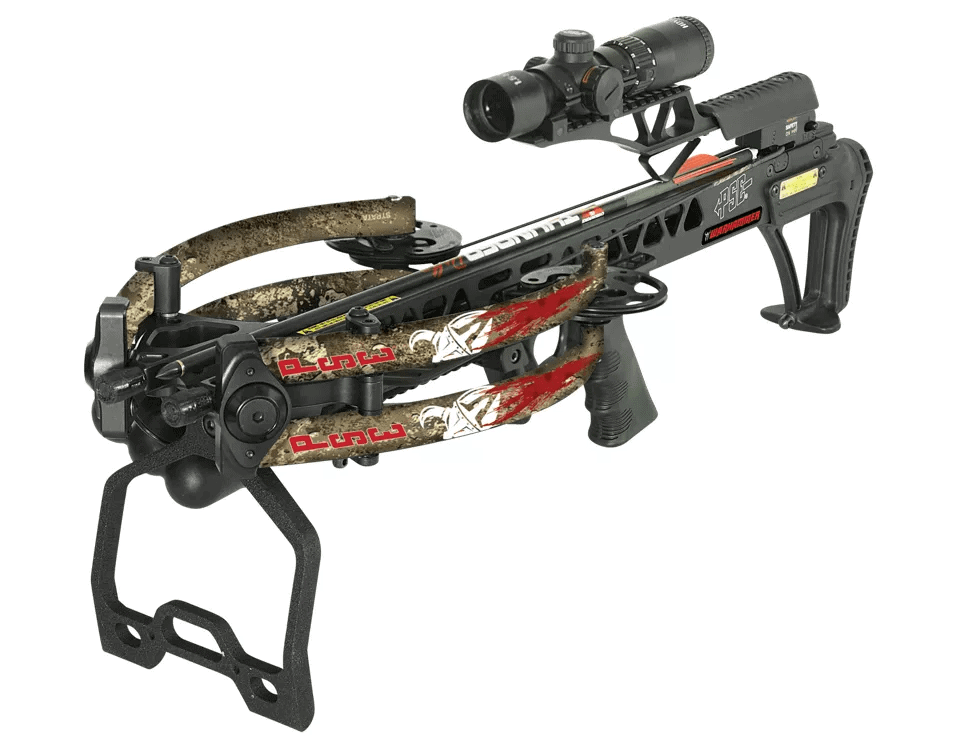 check price
The WarHammer has a tough appearance, as the name implies. It comes in black or a camouflage print, both paired with fiery insignia. The features are all top-notch, from the scope to the handle, and while it was only recently released, we do believe it to be a durable piece.
This crossbow is long and lean for better aim and to help you fire from narrow places. Since it comes with three arrows right off the bat, you are all set up.
If you´re still looking for adequate crossbow broadheads: read… perfect crossbow broadheads
Arrows that travel at speeds of up to 400 fps have a high enough kinetic energy to take down any large game, including grizzly bears.
The PSE Engineers took their time when making this product, and you can tell. It excels in speed, accuracy, aesthetics, and power, all in a relatively compact package. This crossbow is relatively lightweight and very portable, so you can take it anywhere.
Summary
As you can see in our PSE Archery WarHammer Crossbow review, we highly recommend this product. While it comes with a steep price tag, this package has everything you need to get started hunting.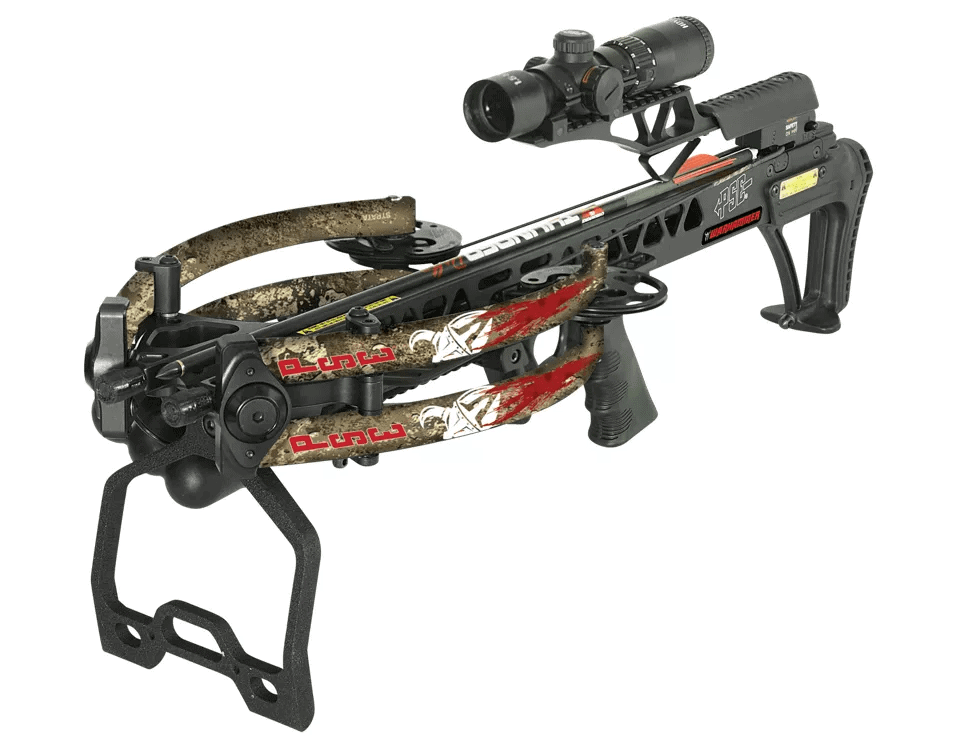 check price
Whether you take it out to practice on some of the best crossbow targets or want better archery season success, the WarHammer Crossbow Package can provide you with the tools you need.
All in all, this choice is excellent for the experienced hunters, so if you have the funds, give it a shot! It´s absolutely worth every buck!