The trail cameras help hunters keep an eye on the wildlife. We have the latest news from Cuddeback, Moultrie, Browning, Bushnell, SpyPoint, and more.
A trail camera is essential to hunting success as they help hunters keep an eye on wildlife. However, all trail cameras are not created equal, and finding the best trail camera for hunting can be a challenge.
So what is the best trail camera? It depends on how much money you want to spend, where you hunt, what kind of experience you've had with other brands, and if you're looking for a cellular trail cam or not. To make things easier for you, we have listed trail cameras based on their price to make it easy to find the trail camera that fits your needs and budget.
Let's first take a look at our 11 trail cam recommendations (in no particular order) if you want the best trail camera for your money:
11 Best Budget Trail Cameras Under $100
If you are on a budget, look for trail cameras that have upgradable firmware to increase durability or trail cameras with extended warranties that can be upgraded. You should also consider the storage, trigger speed, detection zones, and anti-theft measures of trail cameras before making a purchase decision.
Let's start with our top recommendation for 2022
NOW AVAILABLE! – 2022 Moultrie Mobile Delta Base Cellular Trail Camera
Moultrie has recently introduced its new and improved cellular camera, "Delta Base Cam." Boasting 24MP resolution, an 80-foot invisible flash range and detection range, 0.75 Trigger Speed, Video w/ Audio, and External Cellboost antenna optimized for stronger cellular reception, this camera is sure to take your game hunting or security monitoring to the next level.
This camera sends images and videos directly to your smartphone or computer, so you can keep an eye on game activity no matter where you are. I like the Moultrie Mobile app – It makes it easy to update camera settings remotely, view and share images, and plan your next hunt.
Features: 
Photo: 24MP
Video: HD Quality with sound
Range: 80Ft
Trigger: 0.75s
External Cellboost antenna
AT&T and Verizon models are available
unlimited cloud storage for free!
This camera offers free unlimited cloud storage, so you never have to worry about purging images after a month. Plus, Activity Charting lets you see which camera locations are seeing the most activity for bucks, does, and turkeys based on time of day, temperature, and moon phase.
An absolute plus is also the species recognition feature! Plus, it comes with a 2-year warranty backed by U.S.-based customer support – so you can rest assured that your purchase is protected. Available in both AT&T and Verizon models.
WOSODA G300
This trail camera is the perfect tool for hunters and outdoor enthusiasts. It features a fast trigger time of 0.2 seconds and three infrared sensors that provide enhanced motion detection capabilities. With a waterproof design, this camera can be used in any environment.
I mean – you probably shouldn't dunk it in a bucket, but you can install it outside and let Mother Nature do its thing … . If you're looking for a moderately priced trail camera, this is probably one of your best options.
Features: 
Photo: 24MP
Video: 1920P
Range: 80Ft
Trigger: 0.2s
Infrared Sensors: three
With its lightning trigger speed of 0.2s, the WOSODA G300 should capture even the quickest movements with ease! Plus, its 120° angle lens provides an excellent viewing range so that you won't miss a thing. And to make it even easier to review your photos and videos, this trail cam comes equipped with a 2.0″ color LCD screen. I like having a screen to review my pics at the spot, so you don't have to connect your PC
Vikeri A1 Trail Camera
This camera is perfect for capturing stunning, vibrant images and clear, audible wildlife videos, even in dark conditions. The camera is also water-resistant and durable, with an IP66 rating, meaning it's protected from rain, drops, and dust. Water resistance does mean you can submerge the trail camera underwater!
Moultrie A700i Invisible Flash Trail Camera
The Moultrie A700i Invisible Flash Trail Camera is the perfect camera for basic scouting needs. This camera will get the job done with 14 MP images, 0.7-second trigger speed, 50 FT detection range, and HD video recording. The Invisible flash feature ensures your game stays unspooked, while the compact size makes the A700i easy to take with you wherever you go.
Features: 
Photo: 14MP
Video: 720P
Range: 50 FT
Trigger: 0.7s
Motion Sensor: Yes
This camera runs on 8 AA batteries, has an LCD screen, and comes with a 2-year warranty. It's also compatible with Moultrie Mobile, so you can keep track of your game sightings while you're on the go!
GardePro A3 Trail Camera
No products found.
Do you hate dealing with lousy night vision footage? Well, the GardePro A3 trail cam has been engineered to resolve that issue! This camera is equipped with an ultra-clear SONY Starvis CMOS sensor, a large-aperture lens, and smart imaging to produce clear night vision.
Additionally, it features fast motion detection and no glow invisible infrared technology (No glow night vision range 100ft)
Features: 
Photo: 20MP
Video: 1080P
Range: 82 FT
Trigger: 0.1s
Motion Sensor: Yes
It's waterproof and operates in temperatures of -4 up to 140 degrees Fahrenheit, making it ideal for any outdoor application, from hunting to home security, even in cold conditions! You might want to look for batteries that are lithium-ion rather than alkaline because they'll hold for longer in cold weather.
Browning Command Ops Elite
The Command Ops Elite series of cameras has (finally) been updated to deliver significant performance in a small package. With crisp 18MP picture resolution, you are sure to capture anything that steps out in front of your camera. The fast 0.3-second trigger speed ensures you don't miss a thing, while the 720p HD video with sound captures the best video of game.
The Illuma-Smart technology automatically adjusts IR flash for perfect pictures day or night.
Features: 
Photo: 18MP
Video: 720P
Range: 80 FT
Trigger: 0.3s
Motion Sensor: Yes
A downside is that you can not lock the camera – Someone could open it and shut off the camera and steal your card as well as the battery pack. So you have to make sure that you place it in a safe and secure place where no one will be able to tamper with it.
Wildgame Innovations Terra Extreme
Looking for a camera that won't break the bank? This 14-megapixel game camera is perfect for serious deer hunters on a tight budget. It has an extended IR flash range and detection range of up to 65 feet. It's also incredibly energy efficient, making it perfect for long-term use in the field, and it even comes with a cord system to strap it to a tree or post.
Features: 
Photo: 14MP
Video: 720P max. 30 secs, instead of still pictures
Range: 65 FT
Trigger: n/a
Motion Sensor: Yes
You can take videos – But only up to a length of 30 secs. It's clearly a more budget-friendly solution, and if you are looking for a trail camera to monitor deer, this is absolutely perfect and does the job.
SESERN Mini Trail Camera
This tiny camera is lightweight and easy to conceal, making it perfect for capturing footage of elusive game (or trespassers). The 1080P/720P resolution ensures clear and high-quality video even in low light conditions, while the fast trigger speed guarantees that you won't miss a thing.
Features: 
Photo: 20MP
Video: 1080P
Range: 80 FT
Trigger: 0.2s
Motion Sensor: Yes
With Super LED Infrared Sensor and No Glow PIR technology, this camera can monitor all the motion that happens at night. Plus, it has an LCD screen – you can check the complete images and videos right on the camera itself! Up to 180 days standby time!
Meidase P50 Trail Camera
This camera easily captures objects moving up to 90 feet away, and its clear night vision allows you to shoot photos and videos in starlight conditions. I liked the extremely long battery life of up to 8 months (in standby mode).
Features: 
Photo: 32MP
Video: 1296P
Range: 90 FT
Trigger: 0.1s
Motion Sensor: Yes
The Meidase P50 is equipped with an advanced CMOS image sensor and a higher-resolution optical lens, which means you can capture stunning 32MP stills with great detail. It has three motion sensors and a 120° detection view. Plus a 2.4″ color display. Helps a lot when setting up the camera.
Alpha Cam "Best bang for the buck!"
The 2.4″ screen makes it easy to preview and review your photos and videos in the field. And the 0.3s Ultra Fast Trigger Speed ensures that you shouldn't miss much. There is a metal buckle on the lock band, which is nice. Overall it looks like they have paid a lot of attention to the details.
Features: 
Photo: 24MP
Video: 1080P
Range: 100 FT
Trigger: 0.25s
Motion Sensor: Yes
100 Feet IR Flash Distance should help to illuminate even dark scenes. I like that strap latch is long enough for a two-foot diameter tree. In my opinion, it's a decent buy for the money.
Wildgame Innovations Kicker Lightscout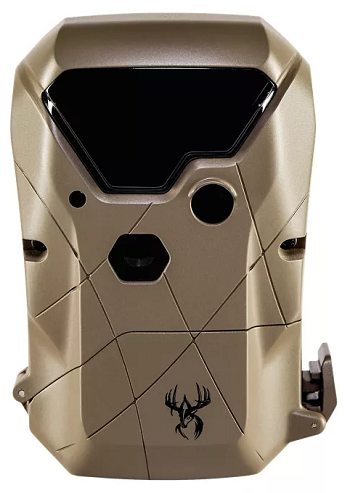 The camera is the perfect tool for budget-minded hunters. The Lightsout infrared flash illuminates objects out 65,' and it takes pretty decent pictures too. It's designed to take 18MP images and 720p videos with less than 1-second trigger speed. I couldn't find the exact trigger speed – which I find odd.
Features: 
Photo: 18MP
Video: 720P
Range: 65 FT
Trigger: <1-second trigger
Motion Sensor: Yes
I like the LED display. It makes the setup so much simpler. I recommend this trail camera for people who are just getting into trail cams and want to start off on a budget.
At under $80, you can't beat the quality of camera specs for this price. With a 14MP resolution and 65ft flash range, it's tough to find another trail cam with similar features at such an affordable price!
Moultrie Mobile Delta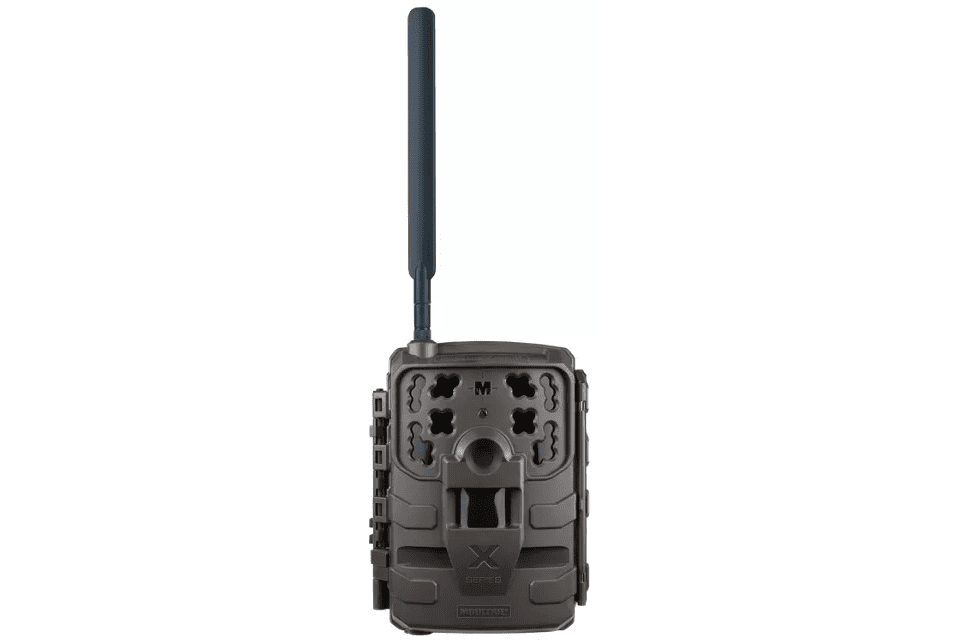 The Moultrie Mobile Delta Cellular Trail Camera is its class's most potent cellular trail camera. It has a built-in GPS for theft deterrence and camera location. You'll have 32MP HDR images transmitted right to your phone or computer for the ultimate in convenient remote monitoring. Videos are also possible, but they're relatively short, with a max of ten seconds.
Features: 
Photo: 32MP
Video: 10s Videos (HD)
Range: 80FT
Trigger: 0.35s
Motion Sensor: Yes
Operates wirelessly on 4G LTE cellular networks
Coverage is supposed to be good even in areas with poor cellular coverage; the Moultrie app allows you to monitor trail cameras anywhere. Look after your batteries – If they're low – the IR won't work! Run an external battery pack!
3 Best Trail Cameras Under $250-200
Browning Defender Ridgeline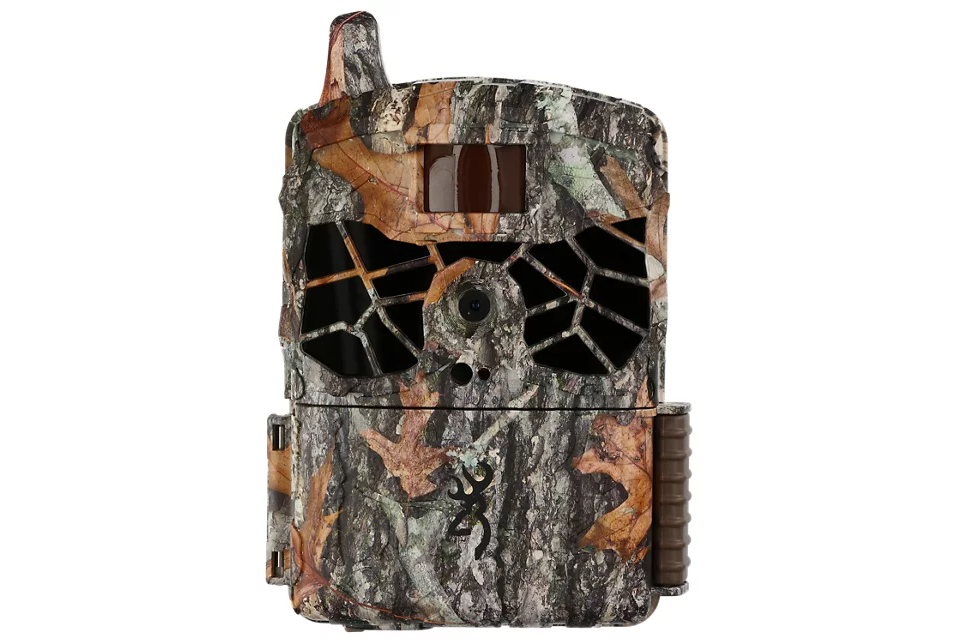 With the Defender Ridgeline Wireless Cellular Trail Camera, you can keep an eye on your remote hunting plot without ever having to leave the comfort of your home. This trail camera transmits HD images and video clips over a nationwide 4G LTE network, so you can see what's going on in real-time, no matter where in the country you are.
Features: 
Photo: 20MP
Video: 1080P
Range: 80 FT
Trigger: 0.135s to 0.7s
Motion Sensor: Yes
Operates wirelessly on 4G LTE cellular networks
Whether you're using the Strike Force Wireless Management System to view images and videos on your laptop or mobile device, or just want to take advantage of the camera's Multishot and Burst mode that fires off up to 8 shots with an adjustable 1-second to 60-minute delay, this trail camera is sure to give you an edge in the field.
New Spartan 4G LTE Trail Camera
This camera is powered by 12 AA batteries, making it a standalone installation. However, an external power option like a solar panel kit, for example, is available. This camera is reliable, easy to set up and use, and has settings that can be changed remotely. Plus, the battery life is impressive.
Features: 
Photo: 3, 5, 8MP
Video: 1080P
Range: 60 FT
Trigger: 0.6s
Motion Sensor: Yes
Operates wirelessly on 4G LTE cellular networks
It's compatible with the Spartan web portal and mobile portal, giving you a perfect camera and photo management solution. Plus, the Spartan GoCam 4G/LTE (Connected by Verizon) camera will feature ultra-fast image transmission and improved battery life.
SpyPoint LINK-MICRO-S-LTE Solar Cellular Trail Camera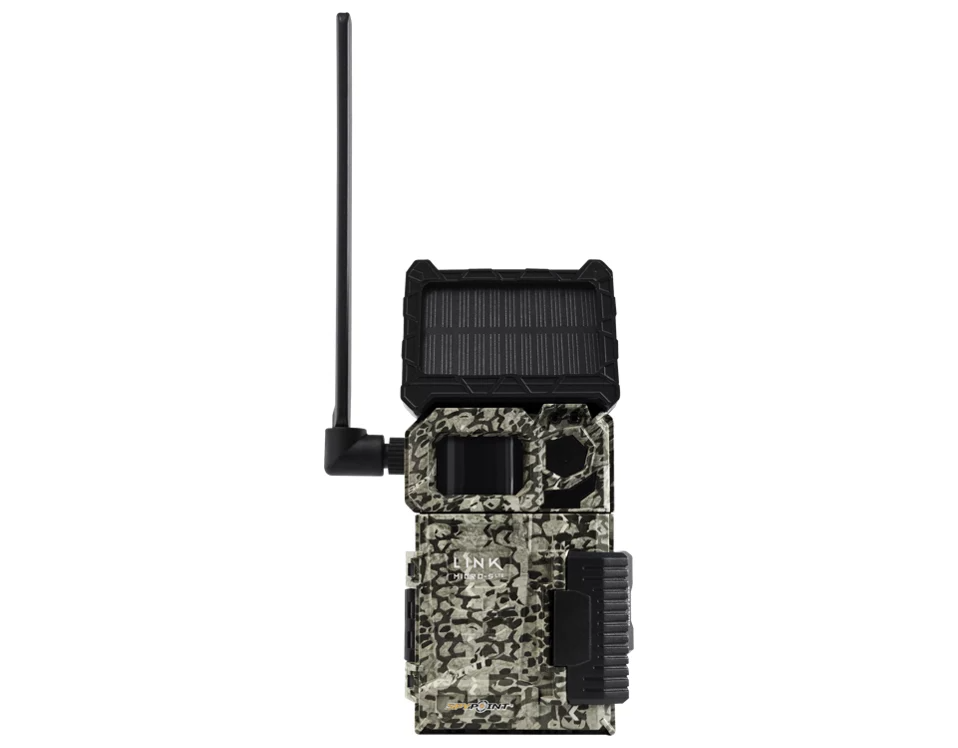 Powered by a solar panel and rechargeable lithium battery, this camera boasts unlimited battery life, ensuring you never miss a shot. With a blazing-fast .4-second trigger speed and an impressive 80′ flash and detection range, this camera is sure to capture all the action.
Features: 
Photo: 10MP
Range: 80 FT
Trigger: 0.4s
Motion Sensor: Yes
Operates wirelessly on 4G LTE cellular networks
SpyPoint smartphone app
Plus, the user-friendly interface makes it easy to balance cellular technology with a simple, compact system for maximum performance.
read.. hands-on review Spypoint Link-Micro
Megapixels and Picture Quality
Trail cameras can be handy tools when scouting the area. However, there are many things to consider before buying one. You need to know what features you want and how much money you're willing to spend. There are also different types of trail cameras available. When looking for a trail camera, make sure you understand the camera's features and limitations.
One way to get a general idea of the picture quality is how many megapixels the camera offers. The higher the number of megapixels, the better the pictures will look. Most trail cameras have between 5 and 12 megapixels, though some offer more than that. 
To determine whether a trail camera actually takes good pictures, you should check out authentic user images posted online. Those definitely can help evaluate camera performance. Trail camera technology has improved significantly since I started using them years ago. They produce good-quality photos and video clips, including up to 4K videos. 
Cellular Trail Cam Setup 
Make sure signal strength in the area is good when setting up a cellular trail cam. Try triggering the camera and see if you receive the notification and image, especially if many cameras these days let you view images on a smartphone. 
Weatherproof is good – but you should still find a protected location from rain and snow. If your camera gets wet, it will not work as well. Also, look at where the sun shines during the day. It may be best to set up the camera in a shaded spot to not get too hot. 
Battery life depends on the type of battery used. Most batteries last about 3 months with normal use. If you plan to leave the camera unattended for long periods, you might want to buy a rechargeable battery pack or an external battery pack.
Trigger Speed
Fast triggers are essential since you want to catch the action as soon as possible. Deer run at high speeds, so if the camera takes more than a second to react, the deer won't appear in the picture. Aim for a trigger speed of 0.75-seconds or faster.
Anti-Theft Considerations
As with almost any item left alone, trail cameras are prone to theft. The best way to prevent this is to install your camera in a safe place that's harder to spot. A good security case is another way to protect the camera from being stolen. Also, if you have a cellular cam that sends pics to your phone – check those regularly for any suspicious activity.
Catching the Guy who Stole 20 Things from Me
That´s not me – but check this out:
Summary
Trail cameras are an excellent tool for scouting, but there are many things to consider before buying one. Megapixels and picture quality are essential factors to consider, and the camera's trigger speed and anti-theft features. Make sure you understand the features and limitations of the trail camera before purchasing.
Frequently Asked Questions
At what time should a trail camera be deployed?
There is value in scouting with cameras at all times of the year. Only the location may change with the seasons. A trail camera can capture an image of wildlife movement at any time.
When should I replace trail cameras? How long do trail cameras last? 
The lifespan of trail cameras depends on the amount of use they get. Cameras are best kept in a shaded location to prevent them from overheating.
Where should you place a game camera?
The best places to place a camera are those with food, water, and bedding. Seasonally, these spots change.
Which type of batteries should trail cameras use?
The longest-lasting and most expensive AA batteries are lithium, non-rechargeable batteries. Alkaline batteries work well in the heat, but their life is quickly drained in the cold. It is difficult to rely on NiMH rechargeable batteries. Depending on your camera and battery quality, your results will vary.
Do trail cameras work in the dark?
Many trail cameras can take infrared images and video even in pitch-black conditions. However, this also depends on the firmware version of your trail camera. Some trail cameras may struggle to take clear images at night.
What happens if an animal triggers my trail camera?
If an animal triggers the trail camera, it takes a photo or captures a video. If you've set up motion detection zones, it won't start recording until that area is activated by motion. It is crucial to choose enough detection zones for your trail camera.
How often should trail cameras be serviced?
The frequency of trail camera servicing depends on their use level. Regularly check your trail camera to make sure it is not overheating or malfunctioning, which can decrease its lifespan. You should consider the storage, trigger speed, detection zones, and anti-theft measures of trail cameras before making a purchase decision.
Do trail cameras for scouting work? 
Yes, trail cameras take high-quality images and videos of wild game to ensure you know where animals are living or feeding at all times. Many trail cams have powerful flash technology that can capture clear images at night.