The sport of archery is quite vast in scope, featuring an untold number of participants from around the world. Furthermore, the immense popularity of archery as a whole has led to the emergence of a flourishing industry, aimed at meeting the needs of all who participate in any of the sport's many disciplines. This industry, in itself, is ever-changing in almost every regard.
The month of April proved to be quite an eventful period of time within the world of archery. One of the sport's most popular 3D competitions got underway, USA Archery revealed promising findings, and an industry giant unveiled an exciting prize that is to be awarded through a raffle in July.
The following are some archery industry highlights from the past month that you will not want to miss.
2021 Total Archery Challenge Begins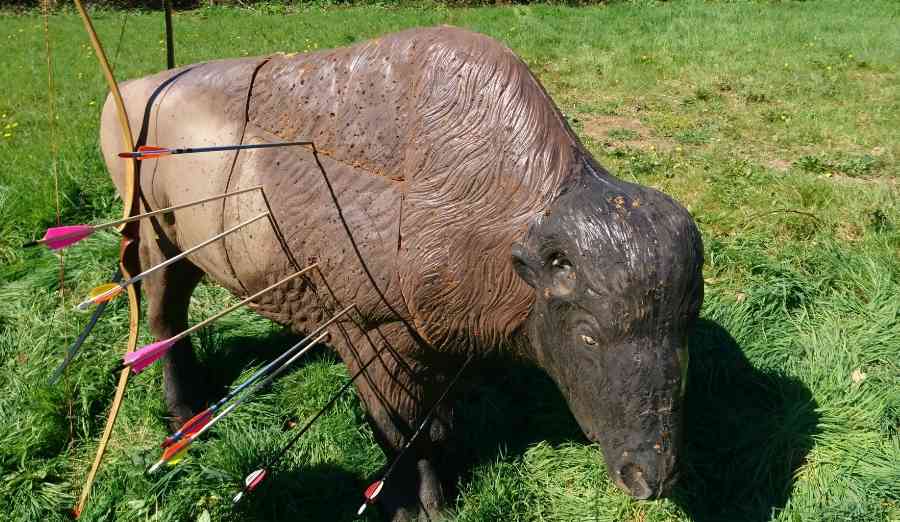 Amazing 3D Archery Shots
---
When it comes to 3D archery, the few events are as popular as those staged during the Total Archery Challenge. Each year, archers from around the world travel to one or more Total Archery Challenge courses, in hopes of putting their marksmanship to the ultimate test. Read more…
Events within this series present archers with the opportunity to shoot at a variety of targets, at every perceivable angle and distance.
This year's events are to take place in a total of eight different locations across the United States, all of which are backed by unforgettable scenery.
Each of these events will feature a total of 100+ targets, thereby providing ample opportunity for an archer to test his or her skill. The next event on the Total Archery Challenge Roster is set to take place in 7 Springs, Pennsylvania, on June 3-6.
If you would like to join the fun and experience a challenge like none other, consider attending one or more of the following events.
7 Springs, Pennsylvania (June 3-6)
Boyne Mountain, Michigan (June 11-13)
Terry Peak, South Dakota (June 25-27)
Sunlight Mountain Resort, Colorado (July 9-11)
Big Sky, Montana (July 16-18)
Park City, Utah (July 22-25)
Bear Archery Announces 2021 TAC Truck Giveaway
Bear Archery has now sweetened the pot for those planning on attending one or more of the above-mentioned Total Archery Challenge events. In a recent announcement, Bear unveiled their new TAC 2021 Chevrolet Silverado TrailBoss, which they intend to giveaway at the conclusion of the series' final event.
Bear's TrailBoss comes decked out in the brand's signature camo and is outfitted with an array of off-road equipment.
"Our team could not be happier with the end result of this year's Shoot to Win truck," said Alec Wyman, Bear Archery Marketing Manager. "We've been working for months with the team at Total Archery Challenge and their robust group of partners to bring shooters at this year's tour stops the coolest, most capable, and adventure-ready 4×4 in the history of the event." 
To qualify for entry into the giveaway, contestants must successfully place their arrow within the center ring of a "novelty" target, at a distance of 111 yards. Those successful in doing so will be entered into a raffle, from which a winner's name will be drawn.
USA Archery Logs Record Membership Growth
When tallying new membership totals for the month of March, USA Archery stumbled upon an encouraging revelation. The organization posted its highest single-month membership gains on record, with a total of 600 archers joining the club's ranks.
With the addition of March's tally, USA Archery has successfully recruited 2000 new members into its ranks since the beginning of the year.
"We feel archery is the perfect sport to get outdoors with your family and friends," said Rod Menzer, USA Archery CEO. "Many families took up archery as a fun outdoor activity during the COVID-19 pandemic. Now that public health guidelines are relaxing, these new archery enthusiasts are seeking lessons and programs at an astounding rate."
Hoyt President Announces Retirement
After a stellar 36 year career, Hoyt President, Randy Walk, recently announced his intentions to retire at the end of August. Walk began his career with Hoyt Archery in 1985, while still in college, and has served as the company's President for the last 26 years.
During his tenure, Hoyt has experienced dramatic growth in both the recurve and compound bow markets.
Walk has also been an advocate for the sport of archery on almost every level, serving 13 years as a board member for the ATA (Archery Trade Association), and 34 years on the ATA Technical Committee. Additionally, Walk has had past partnerships with World Archery, USA Archery, the NFAA (National Field Archery Association), and ASA (Archery Shooters Association).
"Coming to my dream job every day has been one of my life's greatest blessings," said Walk. "And just as rewarding have been the opportunities to work with outside groups on many of the things I am passionate about, including bowhunter recruitment, conservation, tournament archery, and the overall growth of the industry."
Pope & Young Appoints Mike Oropallo Membership Chairman
The Pope & Young Club, North America's premier keeper of archery big game records, recently made a new appointment. The organization named Mike Oropallo, of New York, as their new Membership Chairman. Oropallo will be tasked with carrying final oversight over all current and prospective club memberships.
Oropallo is a life-long anchor/bowhunter and has spent a significant amount of time volunteering with various conservation groups. These groups include the ATA, Safari Club International, and National Taxidermist association.
"Bowhunting, archery, wildlife, and the outdoors are both my passion and my profession. I have been a bowhunter since the 1970s, have traveled extensively, and collected trophy deer, elk, bear, muskox, red stag, cape buffalo, and other species with the bow, and including a World Slam of all six wild turkey subspecies," said Oropallo.