There has been a substantial amount of talk in the archery world as of late, surrounding the availability and popularity of new ultra-adjustable compound bows, meant to cater to any archer. So when we were given an opportunity to test out a Diamond Archery Edge 320 R.A.K., we jumped on the chance for some hands-on experience!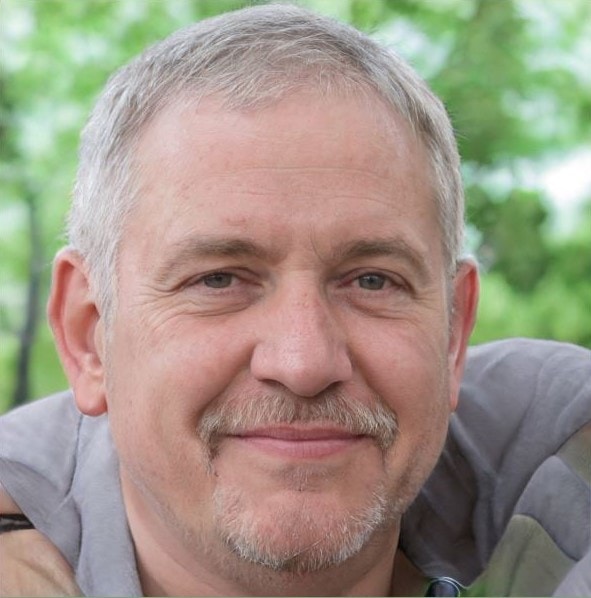 One important note: we tested the EDGE 320 in real life. Yes – We went and actually send some arrows downrange. The following is a comprehensive look at what we found to be true of the Edge in the form of features and functionality
The Diamond 320 offers a range of adjustability that is quite impressive, featuring a variable draw length of 15"-31", and a draw weight range of 7-70 pounds.
Although these numbers themselves piqued our curiosity, we still wanted to find out for ourselves if the Edge 320 lived up to all the hype surrounding it.
At a Glance
Design & Construction

95%
Initial Thoughts
Coming into this hands-on review, I was quite excited to test the merits of the Edge 320. Diamond Archery's history dates back to 1996, as a privately owned manufacturer of compound bows and archery equipment (read.. top-notch youth archery set). The company was bought out by industry giant, Bowtech, in the mid-2000s, and has operated as a brand of the company ever since.
Diamond Archery is well renowned for producing some of the most versatile bows on the market, while also maintaining a price point that is feasible to most archers.
The Edge 320 is based on the company's vastly popular Edge platform and is billed as being a performance-minded extension of this model.
First Impression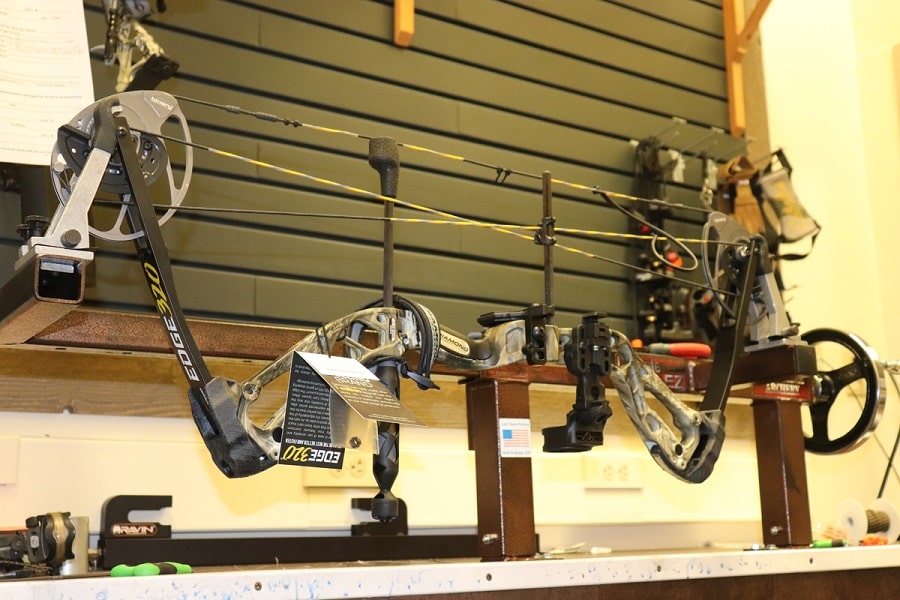 Diamond Archery Edge 320 – First Impressions
When first holding the Edge 320 in my hand, I was quite impressed by its fit and finish. The particular bow that I shot featured a Mossy Oak Break-Up finish, though both black and purple blaze finishes are also offered.
I was also struck by how light the bow itself was, as it truly felt as if it weighed less than the 3.6 pounds specified.
Diamond Archery Edge 320 Specifications
DRAW LENGTH – 15"-31"
DRAW WEIGHT – 7-70 LBS
SPEED – 320 fps
BRACE HEIGHT – 7 1/4"
AXLE TO AXLE – 32"
WEIGHT – 3.6 LBS
EFFECTIVE LET-OFF – 85%
The Diamond 320 also felt fairly balanced overall, absent of the clunkiness and uneven weight distribution that is often common of bows in this price range.
Technical Features
The Edge 320 features several technical talking points worth mentioning. Much of this centers around the bow's adaptability to the needs of virtually any archer.
With such a vast range in adjustability to both draw length and draw weight, this bow is well suited to use by men, women, and children alike.
As far-reaching as these capabilities are, adjustments can be made on the fly, and take very little time to complete.
It took only minutes to set the bow's draw length and draw weight to my needs, and I was ready to begin sending arrows downrange in no time.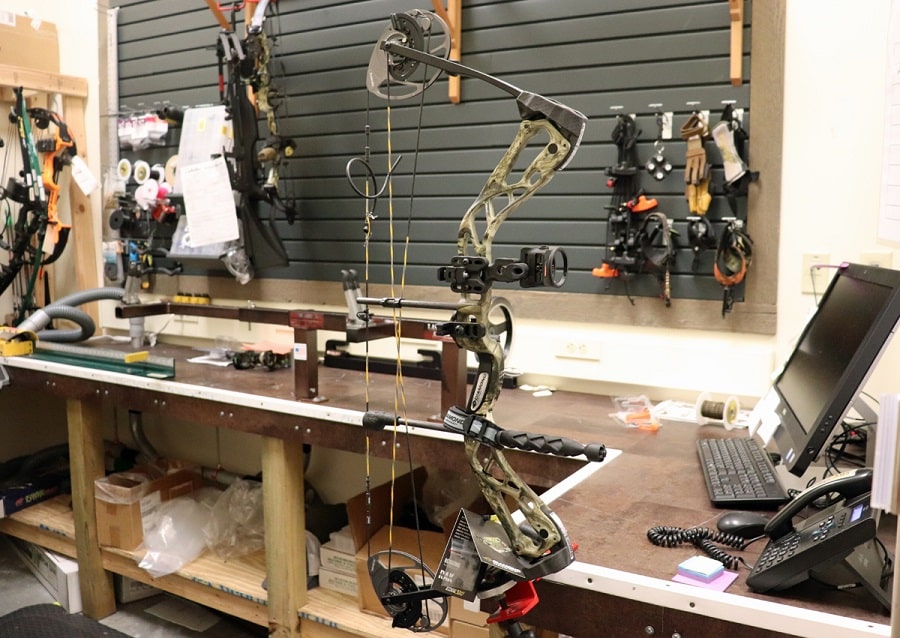 Diamond Archery Edge 320 – RAK Package
The modules associated with the Edge 320's cams are of a rotating design, and making draw length adjustments is as simple as removing two screws, rotating the modules to align the designated indexing marks, and retightening the cam screws in place.
The bow's draw weight was equally trouble-free to adjust. To complete this task, simply turn the Edge 320's limb bolts in or out as desired.
Both limb pockets feature an EZ-Adjust label, that identifies the minimum and maximum adjustment thresholds, as well as reference marks, each of which representing approximately 6.5 degrees of the bow's overall peak draw weight.
It is worth noting that the factory fitted EZ-Adjust label was little more than a sticker.
Although purely speculation, I would feel safe in saying that this sticker would not fare well with time when exposed to the elements.
Another function of convenience featured in the Edge 320's design, is that of being able to relieve string tension without the use of a bow press.
also read.. Perfect Beginner Bows?
Both limb bolts can be backed off in an alternating fashion, to the point of creating slack in the bowstring. This allows for the installation of string accessories such as peep sights and vibration dampeners.
Shootability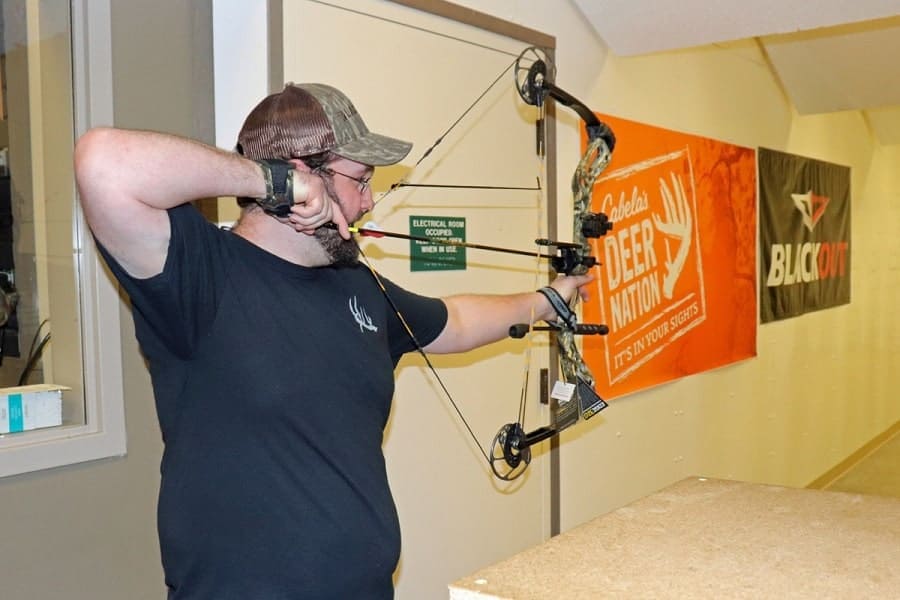 Diamond Archery Edge 320 – Shootability Indoor Range
With the quick installation of a D-Loop and peep sight, I was ready to take to the range…
Upon drawing the Diamond Edge 360, I instantly noted how smooth its overall draw cycle was.
The rise to peak draw weight was even throughout the cycle, and the bow transitioned over into the valley, as the cams actuated, in a gradual fashion.
Upon reaching full draw, I was pleased to find that the bow featured a solid back wall.
This is a major plus in the Edge 320´s favor, as a spongy back wall can lead to an inconsistent anchor, and negatively impact overall accuracy.
The benefits associated with the bows 85% let-off also quickly became evident.
Holding the Edge 320 at full draw was effortless, making it easy to maintain proper form and float the sight´s pin onto the target. After touching off the trigger of my release, two factors became apparent.
The first was that little audible noise was produced, with nothing much heard other than the arrow making contact with the foam target. The second observation made was the relative absence of any noticeable hand shock.
This was an unexpected surprise that put an exclamation mark on the entire shooting experience
The bow is available with the following finish options: Black Ops, Mossy Oak, Break-Up Country, and Purple Blaze.
check latest price
PROS and CONS
PROS:
Blazing Fast 320 fps I.B.O. Speed
Highly Versatile Draw Weight/Length Ranges
I loved its Physical Characteristics
Smooth Draw Cycle and Solid Back Wall
Comes With Sight, Rest, Stabilizer, and Quiver
CONS:
I think the 3-Pin Sight Is Minimal In Features
Quiver Mount and Cam-Lock Design Can Be Cumbersome
EZ-Adjust Labeling Sticker Is Prone To Weathering
How Does The Edge 320 Compare to Other Bows
| | | | | | | | | |
| --- | --- | --- | --- | --- | --- | --- | --- | --- |
| Edge 320 | low/med | 320 | 85% | 15″ – 31″ | 70lbs | 7.25″ | 3.6lbs | L/R |
| BOW | Price | IBO (fps) | Let-Off | Draw Length | Max. Draw Weight | Brace Height | Bow Mass Weight | Hands |
| --- | --- | --- | --- | --- | --- | --- | --- | --- |
| Bear Paradox | medium | 330 | 80% | 23.5" - 30.5" | 70lbs | 6.25" | 4.3lbs | L/R |
| Bear Divergent EKO | med/high | 338 | 90% | 26" - 30" | 70lbs | 6.5" | 4.1lbs | L/R |
| Bear Cruzer G2 | medium | 315 | 70% | 12" - 30" | 70lbs | 6.5" | 3lbs | L/R |
| PSE Uprising | medium | 302 | 70% | 14" - 30" | 70lbs | 6.625" | 3.2lbs | L/R |
| Diamond Deploy SB | medium | 330 | 80% | 26" - 30.5" | 70lbs | 6.75" | 3.2lbs | L/R |
| Blackout Epic | medium | 340 | 90% | 26" - 30" | 70lbs | 6" | 4.1lbs | L/R |
| PSE Stinger MAX | medium | 312 | 80% | 21.5" - 30" | 70lbs | 7" | 3.8lbs | L/R |
| Diamond Edge 320 | medium | 320 | 85% | 15" - 31" | 70lbs | 7.25" | 3.6lbs | L/R |
| Diamond Edge Pro | medium | 310 | 80% | 13" - 31" | 70lbs | 7" | 3.2lbs | L/R |
| Diamond Prism | medium | 295 | 80% | 18" - 30" | 55lbs | 7" | 3.2lbs | L/R |
| Predator Raptor | low | 315 | 75% | 24.5" - 31" | 70lbs | 7.5" | 3.8lbs | L/R |
| PSE Brute NXT | medium | 328 | 80% | 22.5" - 30" | 70lbs | 6.5" | 3.7lbs | L/R |
| Diamond Provider | medium | 310 | 80% | 25.5" - 31" | 70lbs | 7.5" | 3.3lbs | L/R |
Accessories
The Edge 320 comes in the form of a R.A.K. pack, meaning it is fully outfitted with a sight, rest, stabilizer, and quiver from the factory. A left hand model is available too.
This comes as a distinct advantage, minimizing excess expenditure on additional accessories, and getting you on the range or in the woods in record time.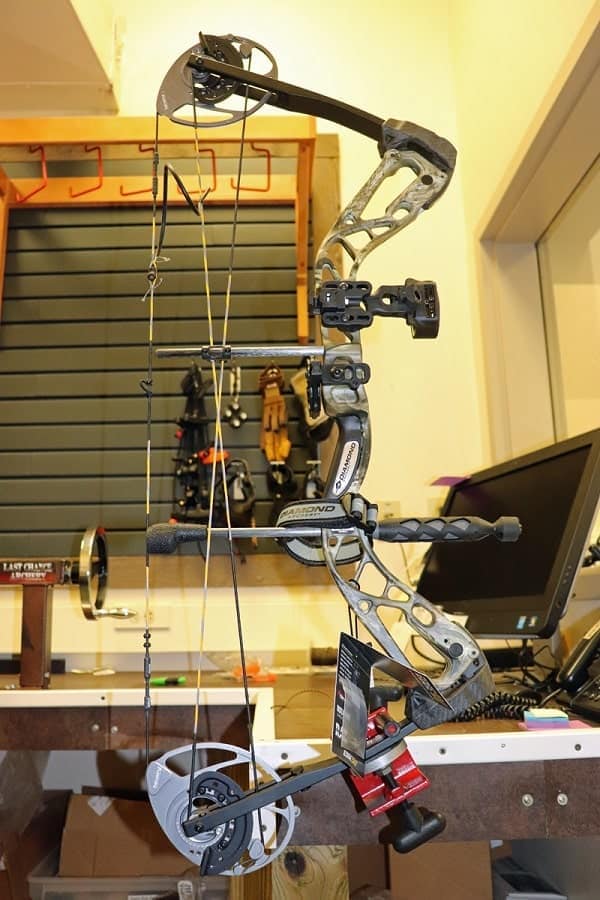 Diamond Archery Edge 320 – RAK Package
The 3-pin Tundra sight that is included in the rack pack is functional, yet fairly standard in its features. It will undoubtedly get the job done in a hunting or basic target archery scenario.
However, if you are planning to shoot longer distances or are used to a site with all of the bells and whistles, this standard 3-pin model might warrant replacement at some point.
As far as Diamond´s selection of arrow rest, I had no gripes to speak of. The Whisker Biscuit style captive rest was a nice touch. These rests have provided many archers with years of dedicated service, and are favored by many bowhunters for their ability to keep an arrow in place, despite less than favorable conditions.
When it comes to the Edge 320 Package´s stabilizer, it has made a believer out of me.
Although the 5-inch stabilizer might not look like much, it proved its merit beyond what I could have expected.
When shooting this bow, I found it to be well balanced, quiet shooting, and absent of hand shock, all of which can be at least partially attributed to quality stabilizer usage.
If there is any fault to be found in the Edge´s accessory package, it would likely have to be the quiver. Although the quiver mount features multiple points of securement, there is still some limitation in how it can be affixed, leading to a somewhat noticeable offset toward the rear of the bow.
The quiver´s cam-lock lever is also quite unconventional and can be cumbersome to use.
Overall Evaluation
After handling the Edge 320 in person, and putting it through its paces during some one-on-one range time, I have to say that I am very impressed.
The compound bow itself looks excellent (mossy oak), and shoots even better.
If any area was lacking, it would be in regards to the accessories included in the compound bow package, most notably the sight and quiver.
However, this is quite common in package bows, no matter the brand or model, and any accessories can be replaced at a later date to fit an archer´s personal tastes.
What is most notable regarding the Edge 320, is how much a value it is.
You will honestly be hard-pressed to find another bow that offers so much in the way of features, functions, and versatility as this bow, for anywhere near its price point.
check latest price
When you factor in the Edge 320´s blistering quick 320 fps I.B.O. speed, its weight of only 3.6 lbs, you are looking at a relative steal of a deal. The bow is available for left hand archers.
In case you are looking for more compound bow packages, make sure to check out this article.
Special thanks to the staff at Cabela´s of Bowling Green, Kentucky, for allowing us the use of their bows, and range, for test and review purposes. Cabela´s was acquired by Bass Pro Shop in 2016, and now operates as a branch of the company, with retail locations nationwide.
Bear BlackOut Bow Sight Bowtech Compound Bow compound overview Diamond Archery equipment overview Hands-On Accessoires Hands-On Compound Bow Hoyt hunting arrow Mathews News News August 2020 News December 2020 News February 2021 News January 2021 News November News October 2020 News September 2020 Obsession PSE Recurve Overview