For the avid compound archer, selecting a bow sight for purchase can prove quite tedious. There are likely more individual bow sights on today's market, than there are actual bows, leaving much for the inquisitive archer to sort through. Further complicating matters, is the fact that sights of this nature come in a vast number of configurations, and are offered at a wide range of prices.
The following details my experience with the Dead Ringer Tack Driver DT, over the course of the last 12 months.
When purchasing a compound bow sight, one often gets what they pay for. Economically priced sights are typically void of additional features, while those sights with a host of capabilities often come with a steep price tag.
However, a sight will occasionally hit the market that reaches a perfect compromise between cost and capability. One sight that is said to accomplish this in earnest is the Dead Ringer Tack Driver DT.
The Dead Ringer Tack Driver DT is advertised as a moderately priced compound bow sight, that offers numerous micro-adjustments, and is relatively rich in additional features.
This, alone, piqued my curiosity, which ultimately led me to purchase a Tack Driver DT sight for my bow just over a year ago.
Tack Driver DT Specs
The Dead Ringer Tack Driver DT is a 5-pin, multi-point adjustable bow sight, for use in compound applications. This sight features pins of .19" diameter, all of which are spooled with premium fiber-optic inserts.
The Tack Driver DT's top pin glows in the dark, for use in low light applications.
Another unique feature of the Tack Driver DT is its wide range of integrated adjustment points. This makes it easy to quickly and effortlessly set your sight's windage and elevation.
As such adjustments can also be made in a toolless fashion.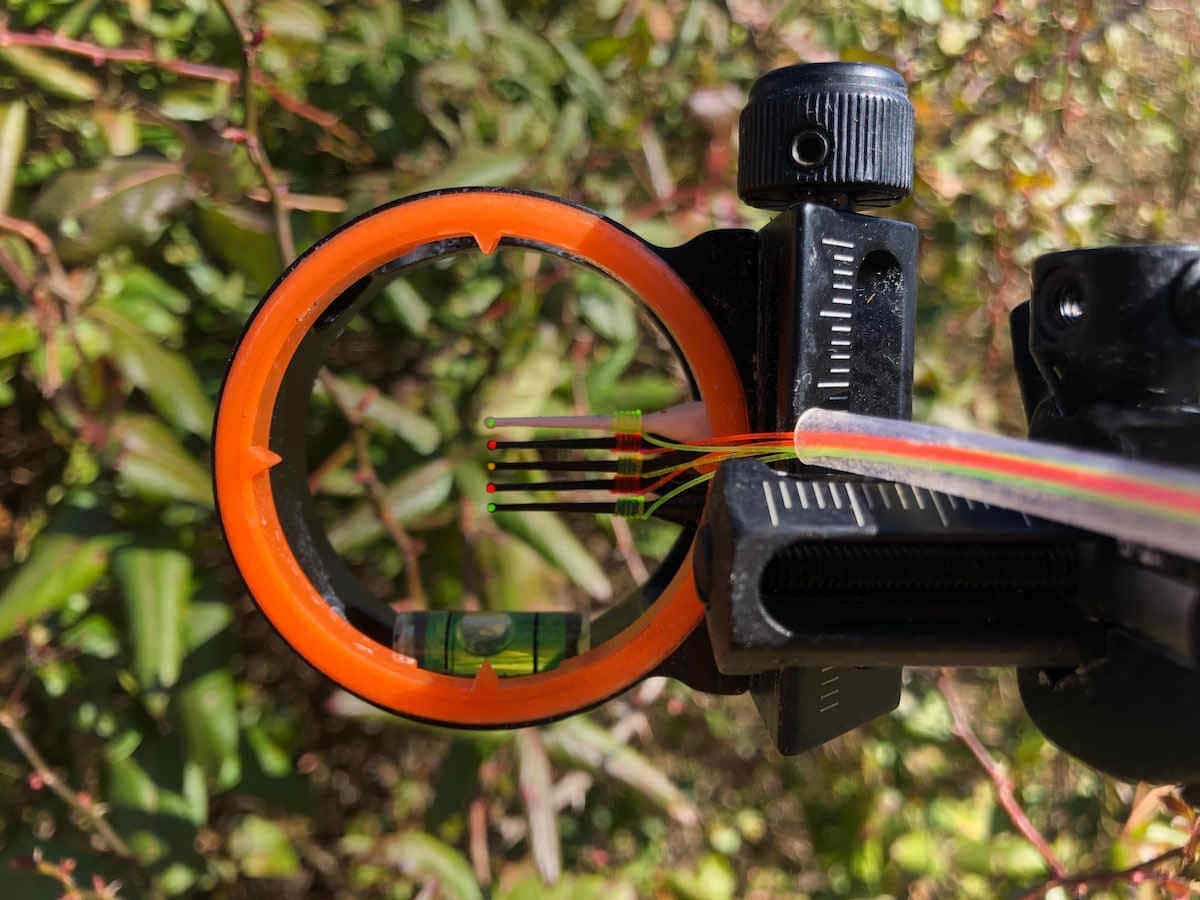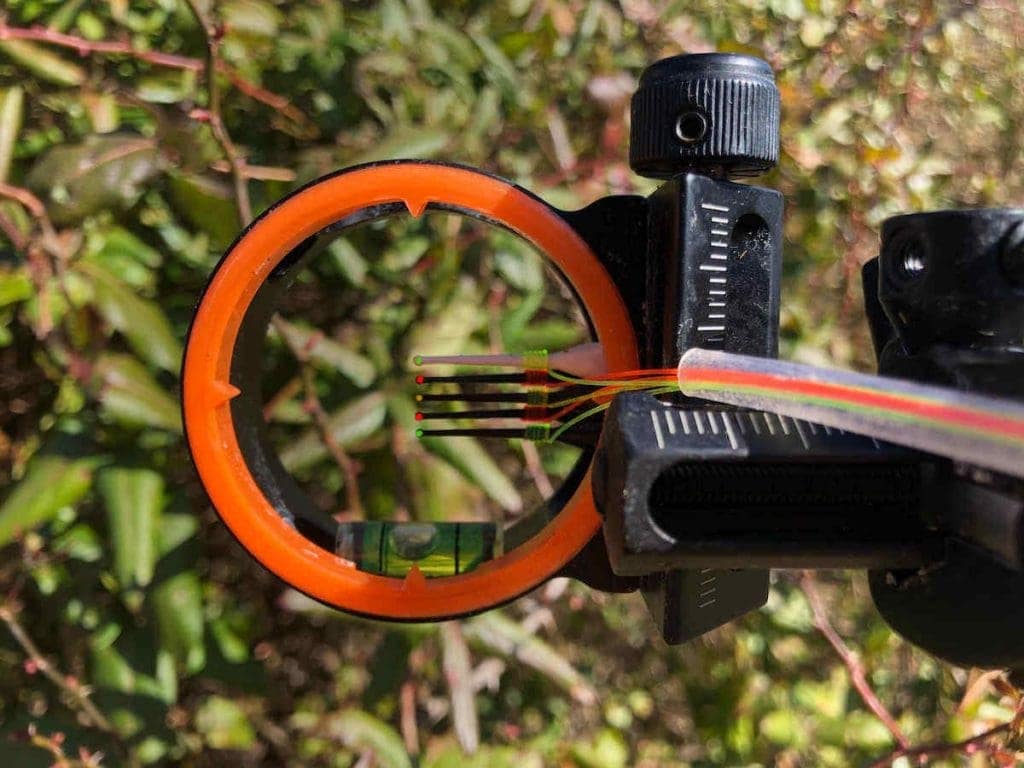 Dead Ringer Tack Driver DT
---
The Tack Driver DT also features a dovetail style mount, which allows it to be set further away from a bow's riser if an archer sees fit. The sight's frame is of all-aluminum construction, which eliminates extra heft that would otherwise be added to the bow itself upon installation. 
Additional features of the Dead Ringer Tack Driver DT include an integrated sight level and removable rheostat light. The Tack Driver DT's outer halo is also painted in fluorescent orange, providing increased visibility in low-light conditions.
Tack Driver DT Bow Sight Reviewed
I, myself, purchased a Dead Ringer Tack Driver DT bow sight approximately one year ago.
This has allowed me to put this sight through its paces, under a wide range of circumstances. The following is an account of observations that I have made while using the Tack Driver DT.
Structural Composition
In the world of bow sights, lightweight is not always better. In many cases, ultra-light components can fail or become damaged when faced with the rigors of a season spent afield.
However, this does not appear to be an issue for the Tack Driver DT. This sight, though extremely light, has displayed no issues related to durability.
The Tack Driver DT's dovetail mount remains rigid and without flex, when set in place. Likewise, all of the sights, adjustment knobs and pins are equally as rugged. After a year of use, and many trips to the stand, I have yet to expose any weak point in the Tack Driver DT's construction.
Pin Visibility
I have been quite impressed by the level of visibility pertaining to the Tack Driver DT's individual pins.
Each pin can be easily distinguished from one another through a bow's peep sight, even when the Tack Driver's dovetail mount is fully extended to its outer reaches.
This was extremely nice to find, as I was initially skeptical of this point upon purchase.
I have also found the fiber optics used within the Tack Driver DT's design to be of a sufficiently high-grade.
These fiber optics allow each of the sight's pins to remain vibrant, even in low light conditions, such as when hunting in heavily forested areas, or when attempting to take a shot in the final moments of legal shooting time.
Adjustability
The Tack Driver DT has been nothing short of simple to operate, setup, and use. This comes primarily as a result of Dead Ringer's use of user-friendly, toolless adjustment knobs.
These knobs can be easily manipulated for on-the-fly adjustment, making it simpler than ever to tweak your bow's point of impact while on the range.
It is also extremely handy to be able to make these adjustments in absence of an Allen wrench or other similar tool. In the past, tracking down a set of Allen wrenches from the garage has always been a hassle when attempting to dial in my bow's sight adjustment.
However, this is a concern that I left in the past when purchasing the Tack Driver DT.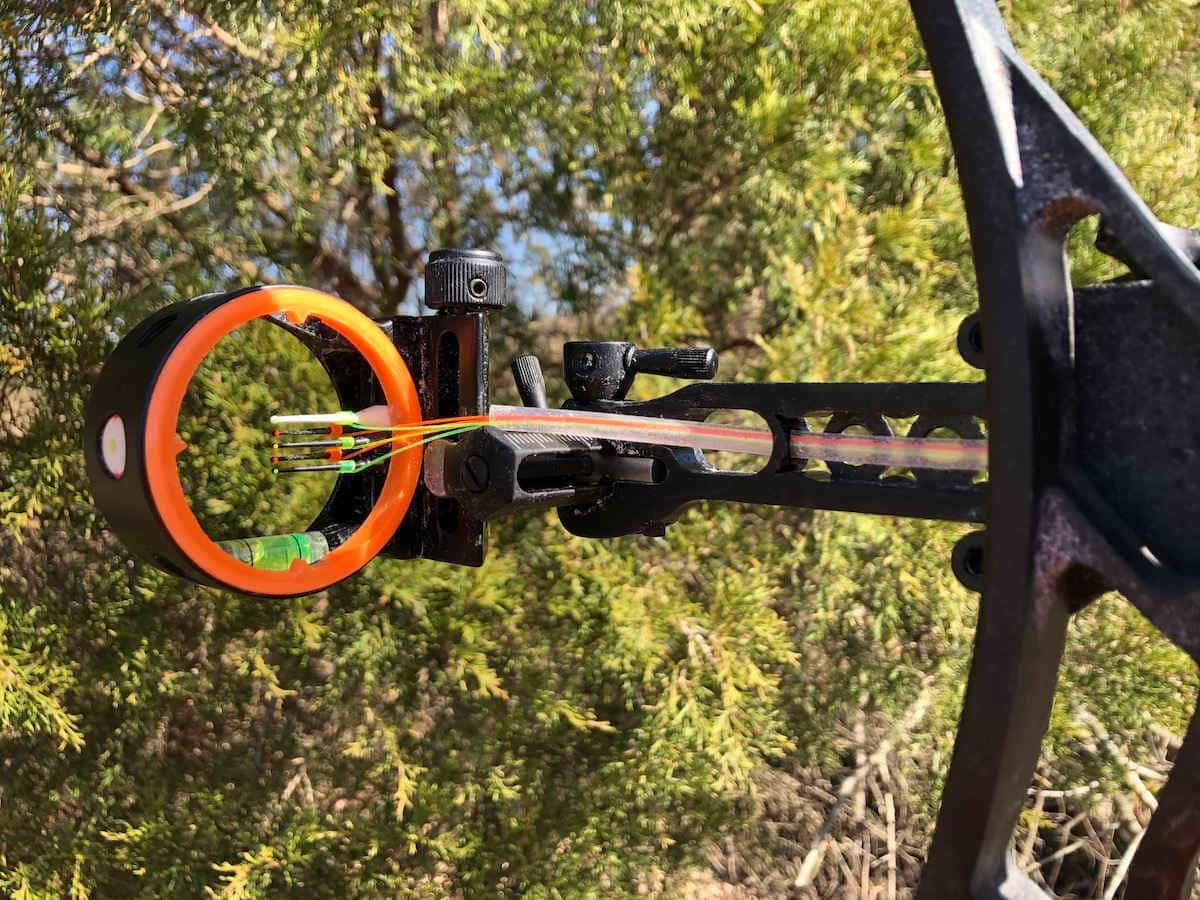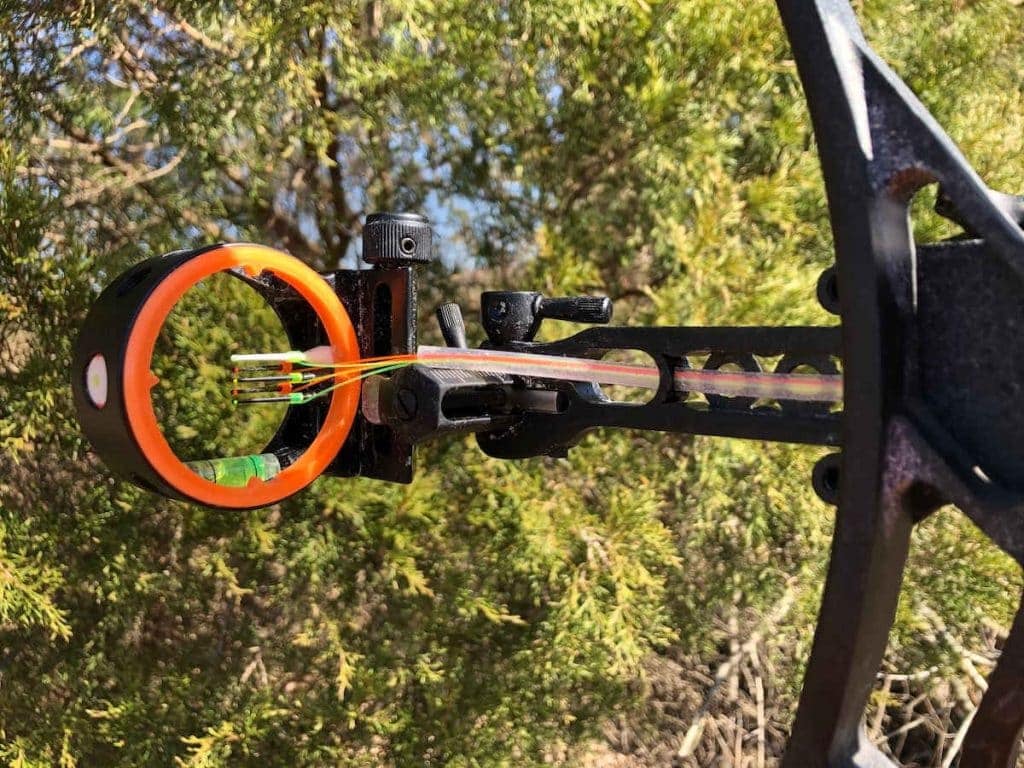 Dead Ringer Tack Driver DT – 5 Pin Sight
---
Additional Features
Like most high-end bow sights, the Tack Driver DT includes an integrated sight level, which makes shooting on the uneven ground somewhat less tedious.
I am also a fan of Dead Ringer's decision to coat the outer halo of the Tack Driver DT in fluorescent orange.
Upon drawing my bow, especially in low light conditions, it seems as if my eye naturally locks onto that which lies inside the circumference of this halo.
The Tack Driver DT also comes equipped with a glow-in-the-dark top pin. While I initially felt as if this would add little to the sight in way of value, I have been pleasantly surprised.
When attempting to shoot my bow in the evening after returning home from work, I am able to squeeze out an additional 15 minutes of practice, due to the glowing nature of the Tack Driver's top pin.
The setting sun no longer forces an end to my daily practice.
To build upon this increased low-light visibility, Dead Ringer has outfitted the Tack Driver DT with a rheostat-controlled sight light.
As the sun begins to set, this light can be turned on to illuminate the sight's pins that lie beneath.
This has proven to be a game-changer when practicing in the evening time and can also enhance low light aiming in a hunting situation, where legal shooting time remains.
On a side note, the Tack Driver DT's sight-light is quite fond of batteries. It´s a good idea to have an extra set of batteries at your disposal!
Overall Evaluation
After a year of use, I am just as pleased with my Tack Driver DT bow sight, as I was the day that I purchased it.
This sight should be ideal for use by most archers and can be used in both hunting/target archery applications. With an infinite range of adjustability at the ready and more additional features than one can ask for, it is hard to imagine there is a sight that offers any more value for the money, than the Dead Ringer Tack Driver DT.
The Tack Driver DT can be purchased for less than most hunters will spend on a tank of fuel to travel to and from their hunting lease, yet offers a great deal of promise.
In my opinion, the purchase of a Tack Driver DT bow sight is an investment worth making for any serious archer, on a working man's budget.