A recurve bow can be used by anyone who wants to practice shooting arrows at their home without buying any special equipment. It is also great if you're going to learn how to use a bow but don't have enough money to purchase expensive equipment right away.
In addition, it is effortless and convenient to store your recurve bows in your closet or garage because they are not that heavy as compared with other types of bows. 
However, there are some things that you need to consider before buying one so that you get the most out of your investment. Here are some tips on what you should look for when choosing a recurve bow for yourself.
Our Beginner Recurve Bow Top Picks:
You´ll find our individual reviews below. But in case you're in a hurry, click any of the links above. If you click a link on this page, then go on to make a purchase, we may receive a commission but at no extra cost to you
What is a Recurve Bow?
The term "recurve" refers to the shape of the limbs of the bow. In contrast, the limbs of a compound bow are straight. It has been described by some historians as being one of the most important inventions ever made, and it can be seen that this weapon played a significant role in many battles throughout history.
The first recorded use of the recurve bow dates back to around 1000 BC when Chinese archers were using them during their wars with other countries. Finally, after centuries of development, the modern recurve bow came into existence.
Price & Affordability
As a matter of fact, you could spend hundreds of dollars on a recurve bow. My advice is that if you are serious about archery, then get the best one possible without breaking the bank. The quality of a bow isn't always reflected by its cost, but certain attributes go hand in hand with price.  
If you are unsure yet about whether you really want to pursue archery as a hobby, then think about getting a cheaper one for now.
Draw Weight 
Recurve Bows come in various sizes and weights. They range from lightweight models up to heavy-duty versions with draw weights over 50 pounds.
Choosing the "right" draw weight is essential. I put together an entire article about this topic. Basically, don't pick a draw weight that is too high for you. You should be able to draw the bow to full draw without too much difficulty and without getting tired (20 times in a row).
Here is a chart to give you a better idea. Obviously, this chart is not 100% accurate. But, it is a pretty good indicator of what draw weights you should be looking for.
| | |
| --- | --- |
| Draw Weight | Body Type |
| >65 pounds | strong men (>190 lbs.) |
| 55 – 65 pounds | average men (160 – 190 lbs.) |
| 45 – 55 pounds | strong women (>160 lbs.) |
| 45 – 55 pounds | small frame men (120 – 160 lbs.) |
| 35 – 50 pounds | average women and older teenagers (130 – 150 lbs.) |
| 25 – 35 pounds | small frame women and stronger kids (100 – 130 lbs.) |
| 15 – 25 pounds | younger kids (70 – 100 lbs.) |
This is obviously a generalization. There will always be exceptions
I have seen many beginners who picked too powerful bows for their physical condition (overdrawn) and ended up with a bad case of sore arms and shoulders. Don't be one of them. Pick the right bow for yourself!
Size of the Bow
The size of the bow is determined by your draw length, which is influenced by how tall you are. Here is an overview of the different sizes of bows you would need: 
| | |
| --- | --- |
| Height Of Archer | Measured Bow Lenght |
| 5´6″ or under | 64 inches |
| 5´7″ – 5´10″ | 66 inches |
| 5´11″ – 6´2″ | 68 inches |
| 6´3″ and above | 70 inches |
Don't rely on the charts that come with the recurve bow or the packaging.
Draw Length
In its simplest form, draw length can be described as the distance between the riser and the furthest part of the string when at full draw. Each archer has its own correct draw length, which can vary significantly from one person to another.
So, how do you know your draw length? Draw length can be measured by a relatively easy method. The wingspan method. In my opinion, it is the most accurate method.
The Wingspan Measurement
What you do is you measure your arm span and divide it by 2.5 that's it. You now have a pretty accurate number. Here are some graphics to make it easier to understand.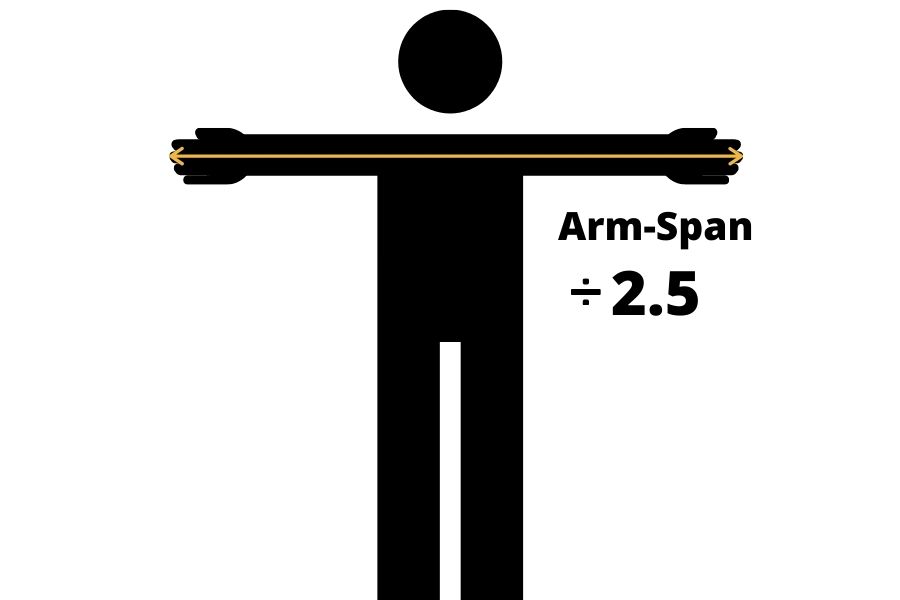 Maybe let someone help you out to measure your arm span.
Material For The Recurve Bow String
Different types of strings are made from combinations of other materials. It is necessary to distinguish between compound bowstrings and recurve bowstrings (or crossbow strings). Compound bowstrings are generally made from synthetic materials.
Recurve bowstrings are also manufactured with different kinds of materials, such as Kevlar, which is durable and offers a lot of durability for the string to last long periods without breaking.
Top Picks Beginner Recurve Bows
Samick Sage Takedown Recurve Bow
The 62-inch Samick Sage Takedown Recurve Bow is an excellent beginner bow choice for novice archers. It is a good first purchase, perhaps with a specialist archery store helping to select suitable arrows, bow stringer, gloves, etc. Completely up to you.
The model offers a full range of limb weights from 25 lbs right up to 60 lbs. Many of the limited weights come with their Stringer tool to help use the bowstring correctly.
With the weight selection, we highly recommend the lower weights like 25 lbs or 30 lbs because trying to handle a 35+ pound bow limb is no easy task and is likely to make the learning process slower still.
There is the included option of either left or right-handed orientation. The choice places the arrow rest on the opposite side, among other subtle changes. Choosing the correct orientation turns out to be quite important here.
The construction of the bow is rugged. The colorful canary-yellow grip (pink or green with the pink/camo sets) stands out from the rest of the body.
PROS:
Excellent beginner recurve bow
Many choices of limb weights, with optional stringer tool
Limb made from fiberglass and maple wood for elegant appearance
CONS:
Arrow rest and silencers may benefit from upgrades (upgrades recommended)
Compatible with the Samick Sage hunting pack, the bushings are brass, and the quiver, sight, and stabilizer are all good quality. The limbs are made from a combination of fiberglass and maple wood for a distinctive appearance and flexible strength. The limbs are replaceable later too.
Spyder Takedown Recurve Bow and Arrow
The 62-inch Spyder Takedown Recurve Bow is a better, redesigned Samick Sage bow that is set to improve upon the experience of shooting at paper targets, bow hunting, or bow fishing (read.. quality bow fishing reels)
The product is available in draw weights from 20 lbs up to 60 lbs. The inclusion of a 20 lb version is a lighter draw weight than many other bows on the market. Every model comes with an optional stringer tool. There is both a left and right-handed model available.
In the box is three parts, with the bow needing to be assembled using an Allen wrench. There is also an arrow rest to fit and a Dacron Bowstring which is also supplied.
PROS:
62-inch bow made from laminated wood and fiberglass
Strengthened tips
Weighs only 2.8 lbs
Selectable weight from 20 lbs up to 60 lbs (stringer tool available at each weight class)
CONS:
Sometimes difficult to assemble when the supplied bolts are too large for the bolt they should go through.
The draw length is 29-inches. The bow itself is a perfectly balanced 2.8 lbs of laminated wood and fiberglass with strengthened tips.
PSE Razorback Recurve Bow Right Hand
The 62-inch PSE Razorback Recurve Bow Right Hand is only good for right-handed archers. The bow is suitable for most people up to 5 feet 7 inches in height. The product comes in 20-inch, 25-inch, 30-inch, and 35-inch draw weight models.
The PSE Razorback is elegant with its use of maple wood and fiberglass on the limbs. There are sufficient sight bushings and a stabilizer to help improve your aim.
The draw weight is chosen when picking the right model for you, so be sure to choose carefully. 
PROS:
Beautiful recurve bow with a riser made from Beachwood, Walnut, and Burma white wood
Selectable draw weight
CONS:
Longer bow that some people expect (62-length)
The product is best suited to older boys because of its 25-pound draw needed and a minimum draw length of 24-inches which rules out junior archers with shorter arms and less pull strength.
Buffalo Hunting Bow and Arrow Handmade Recurve Horsebow
The Buffalo Hunting Bow and Arrow is an elaborately designed hand-made recurve horse bow. It is made from both fiberglass and wood, with the fiberglass avoiding warping in the heat.
There is a slight difference in the shape of each bow because of the fact it is hand-made, but the producer has over 30 years of experience with these types of archery products.
The color is a mix of black, white, red, and cream. The draw weight is chosen by selecting the appropriate box when ordering. The choices run from 30 lbs up to 65 lbs. The draw length is between 29.5-inches and 31.5-inches, which is adjustable.
PROS:
Unique, colorful red, white, cream and black design
Wood and fiberglass design
Bonus paper target and arrow rest
Draw weight selected from 30 lbs to 65 lbs
Draw length 29.5 to 31.5-inches 
CONS:
Fits most types of arrows, but not all of them
Included with the package is an arrow rest and bonus send paper target.