In recent years, compound bow technology has excelled far beyond what many would have ever thought possible. A wealth of new, highly adjustable compound bows has now entered the market space, further enabling every prospective archer to select a model that best suits their needs. Now, more than ever, archery has truly become a sport for the masses.
I tested the bow in real life. I went and took the time to send some arrows downrange. The following is a comprehensive look at what I found to be true of the Blackout Epic in the form of features and functionality.
One manufacturer that has risen to notoriety for its recent technological advances is BlackOut. BlackOut has produced several fast, adjustable, and user-friendly bows as of late, with perhaps none achieving the same degree of fanfare as the company's Epic model.
This bow is revered by many for its stellar IBO speed and unique variable let-off feature.
I was recently granted the opportunity to test the BlackOut Epic, much to my excitement. The following is what I discovered when putting Blackout's most recent offering through its paces.
At a Glance
[PROGRESSBAR_WP id=3013697]
Initial Thoughts
By specifications alone, there is a lot to be excited about when speaking of the BlackOut Epic. For one, the Epic has a rated IBO speed of 340 FPS, which is lightning fast, to say the least.
Additionally, this bow showcases a relatively new technology within the compound bow industry. Archer's are able to quickly and effortlessly adjust the Epic's let-off factor on the fly.
Another characteristic of the BlackOut Epic that initially caught my attention is its rather subdued price point.
This bow is priced to sell and retails for far less than many other high-performance bows on the market today. 
If you wonder who actually manufactures the BlackOut Epic – I reached out to Cabelas, and they told me that Bowtech makes the BlackOut Epic. But one of our readers commented that it is Bear who manufactures the BlackOut Epic… I researched and found the following info: Some bows made for Cabelas are made by Bear, and some by Diamond by Bowtech! The bows made by Diamond say so on top of the bow's upper limb. If you happen to own one of those – Send us a picture! I´d love to see that!
First Impression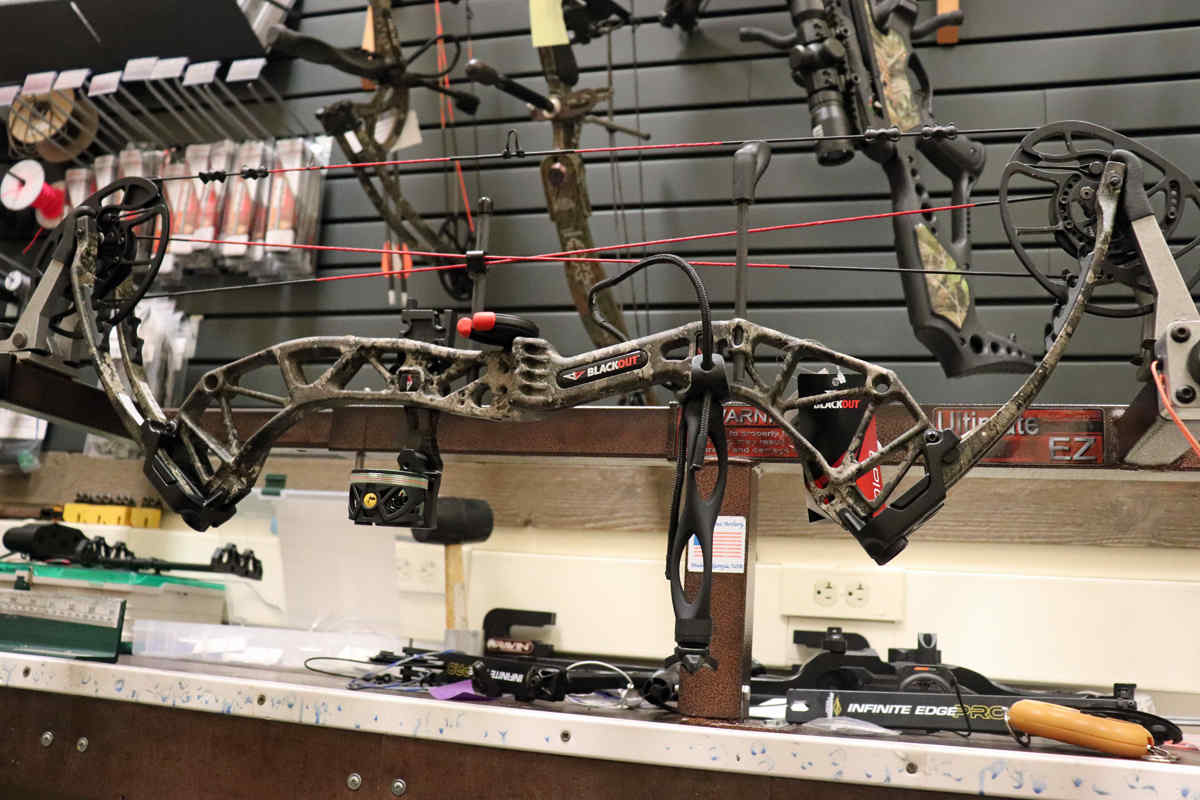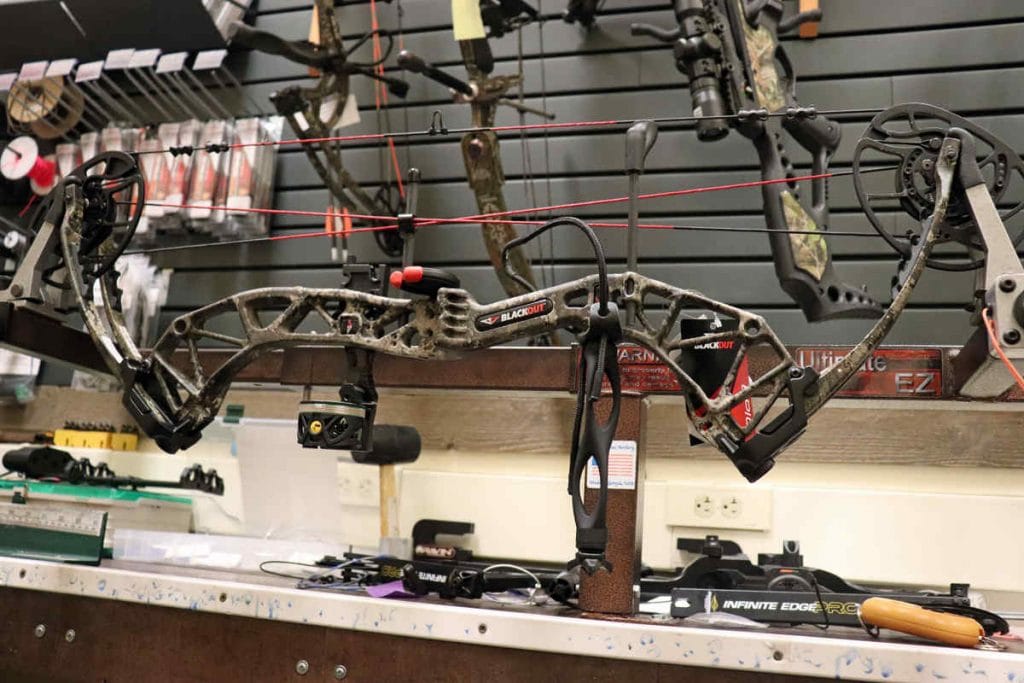 ---
Upon first handling the BlackOut Epic, I immediately noted its outward level of aesthetic appeal. This bow carries an aggressive look, with sweeping limbs and attractively placed riser cutouts. Though reasonably priced, the Epic was rather comparable in looks to many bows priced within the premium tier. 
I was also pleased to find that the Epic did not feel hefty or awkward in the hand, which was an initial concern of mine, due to its advertised weight of 4.1 pounds, which is slightly heavier than some of today's newer bows.
In fact, the Epic felt balanced enough in the hand that this extra weight was hardly evident.
BlackOut® Epic Specifications
Published Specs
Let-Off: up to 90 percent
Weight: 4.1 pounds
Brace Height: 6 inches
Axle-to-Axle Length: 32 inches
Speed: 340 fps
Draw Weights: 45-60 or 55-70 pounds
Draw Lengths: 26 to 30 inches
Finishes: TrueTimber Strata, Black
Suggested Retail:
check price
Technical Features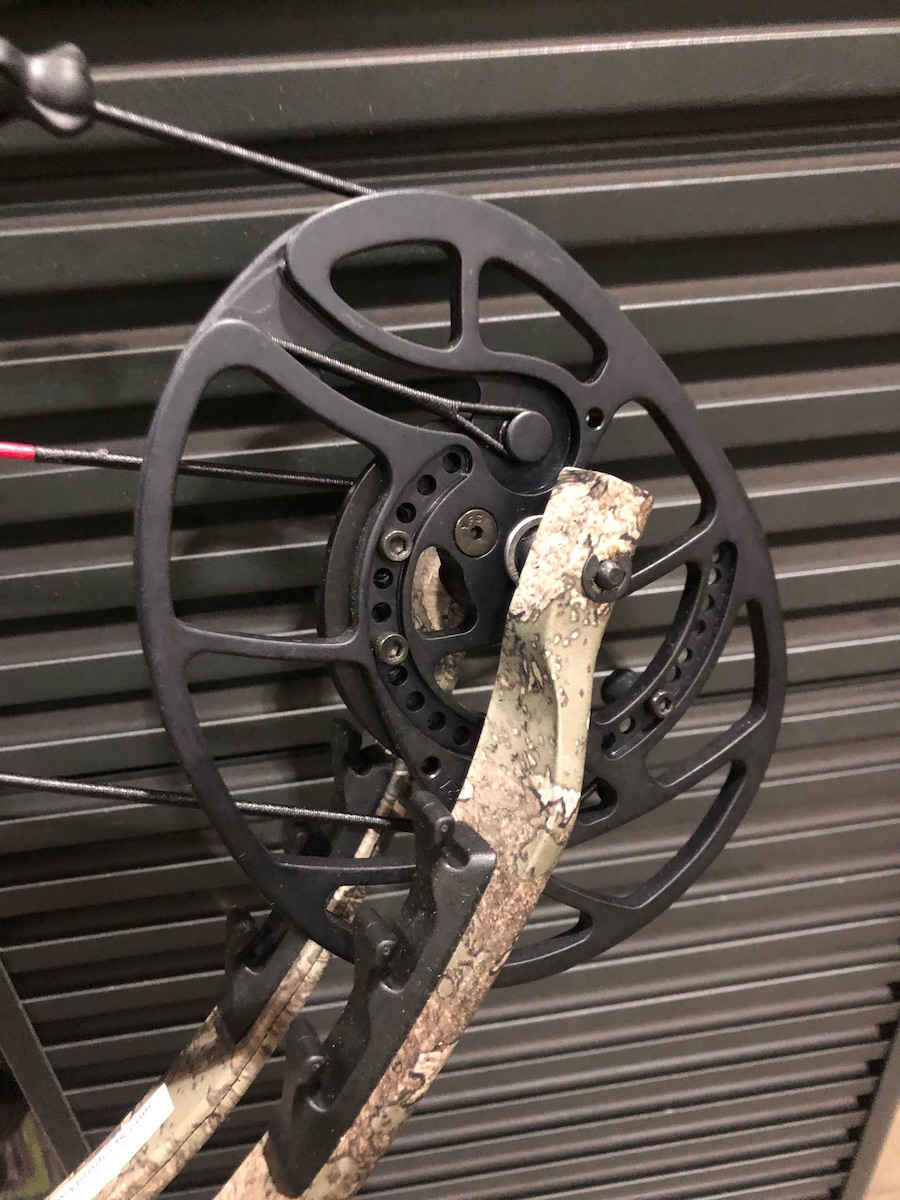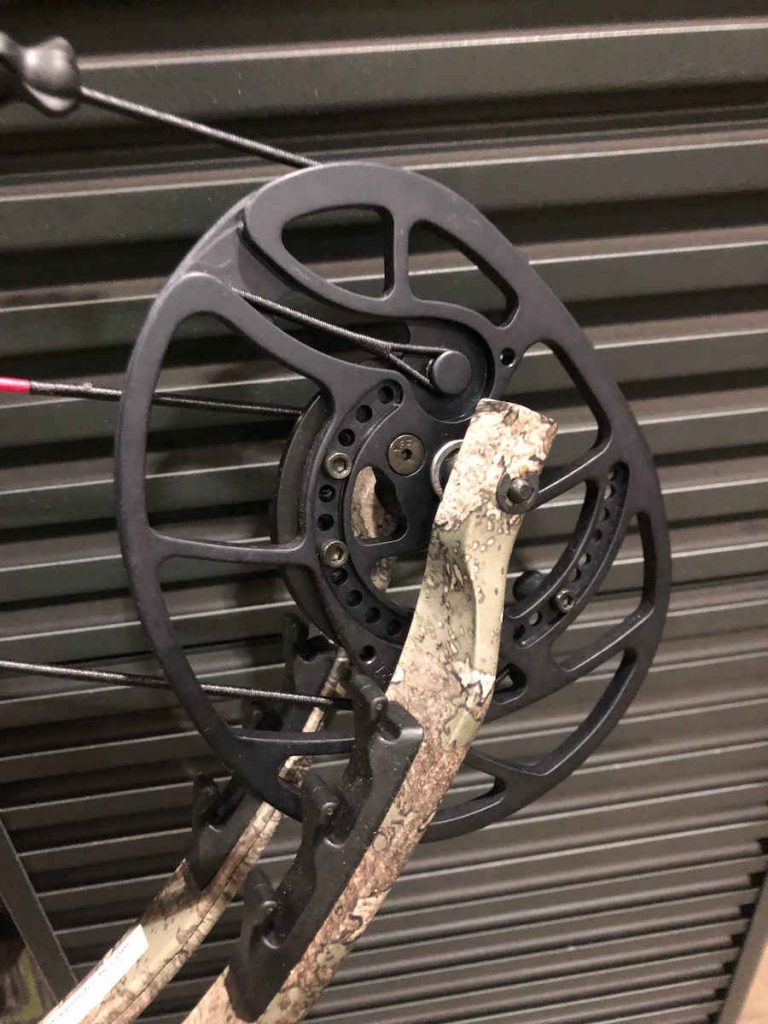 Blackout Epic Cam Closeup
---
The BlackOut Epic features numerous technical talking points that are worthy of an archer's attention. The first such feature is that of the bow's adjustable let-off factor.
This is a technology that is still in its infancy, yet seems rather polished in nature among the bows in which it is found. The Epic features four individual let-off settings, of 75%, 80%, 85%, and 90%. This feature is one that most archers will appreciate, as many individuals have varying preferences as to what they consider ideal let-off.
Some prefer a bow with as much let-off as possible, especially in a hunting scenario where one might be forced to hold their bow at full draw for an extended period of time. However, many target archers prefer slightly less let-off.
The Epic's high-performance standards are also worthy of discussion. The Epic features a rated IBO speed of 340 FPS, which is higher than that of a significant number of bows currently available.
This should provide a flatter arrow trajectory, which will be of immense benefit in a hunting scenario when it can be difficult to accurately judge yardage (read.. high fps compound bows)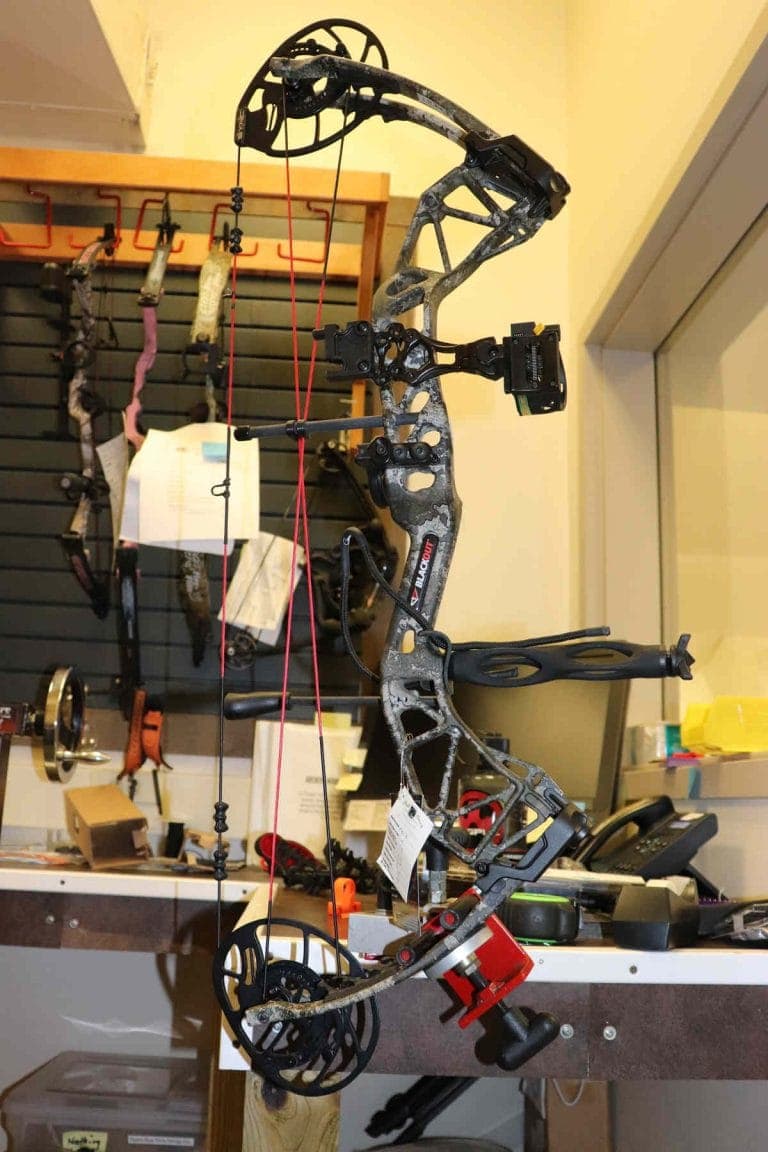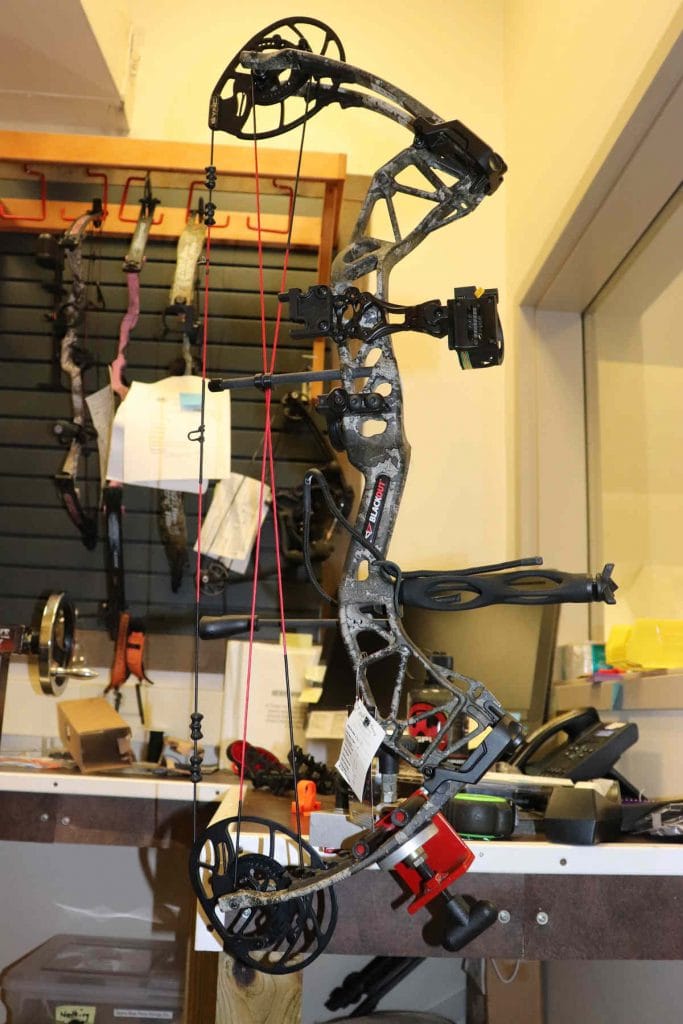 ---
One technical factor of the BlackOut Epic that should be kept in mind, especially by newer archers, is its relatively short brace height (read.. BlackOut S3 Bow Review)
Traditionally, bows with shorter brace heights tend to be less forgiving than those featuring a longer brace height in the range of 7". There is a chance that the Epic's 6" brace height might present a slightly greater learning curve for beginning archers.
The Blackout Epic features a draw length range of 26"-30", which should provide suitable fitment for the majority of adult archers.
However, if you are relatively tall in stature, and require an above-average draw length, the Epic's 30" maximum adjustment is worth keeping in mind. Likewise, those who have shorter draw lengths, such as children, might also encounter difficulty.
Shootability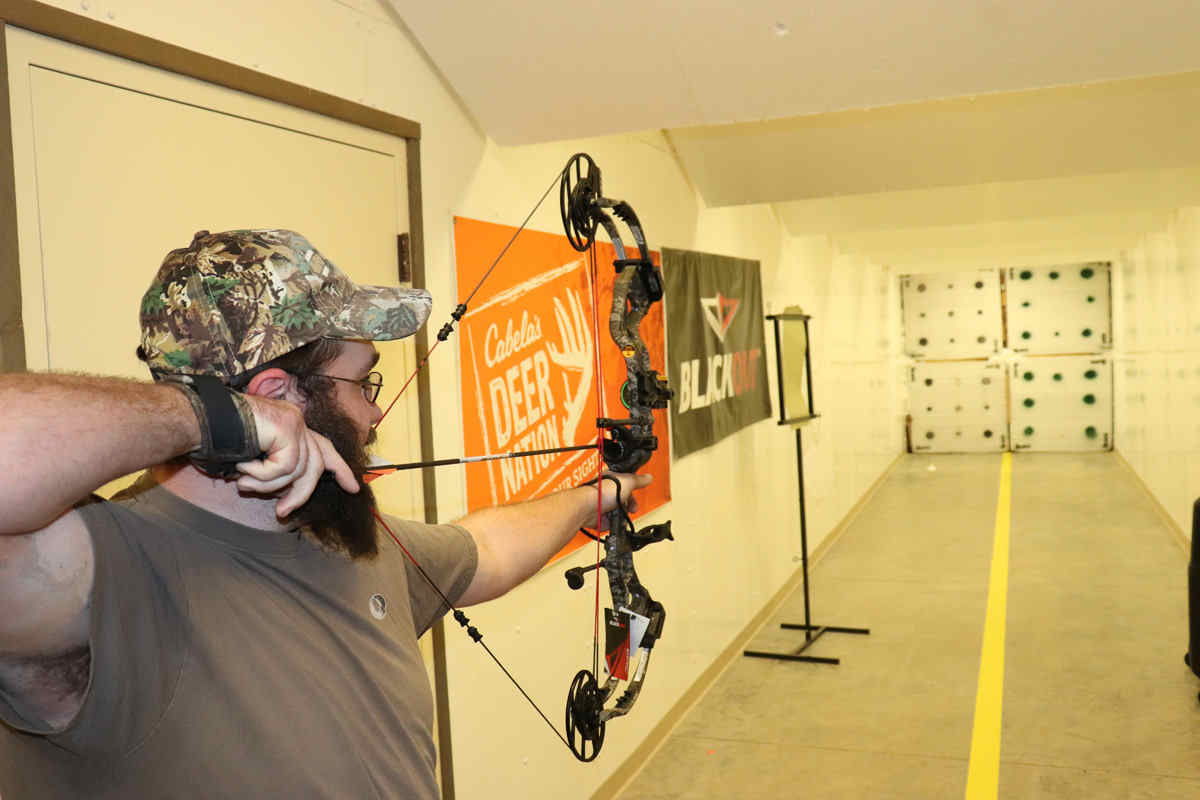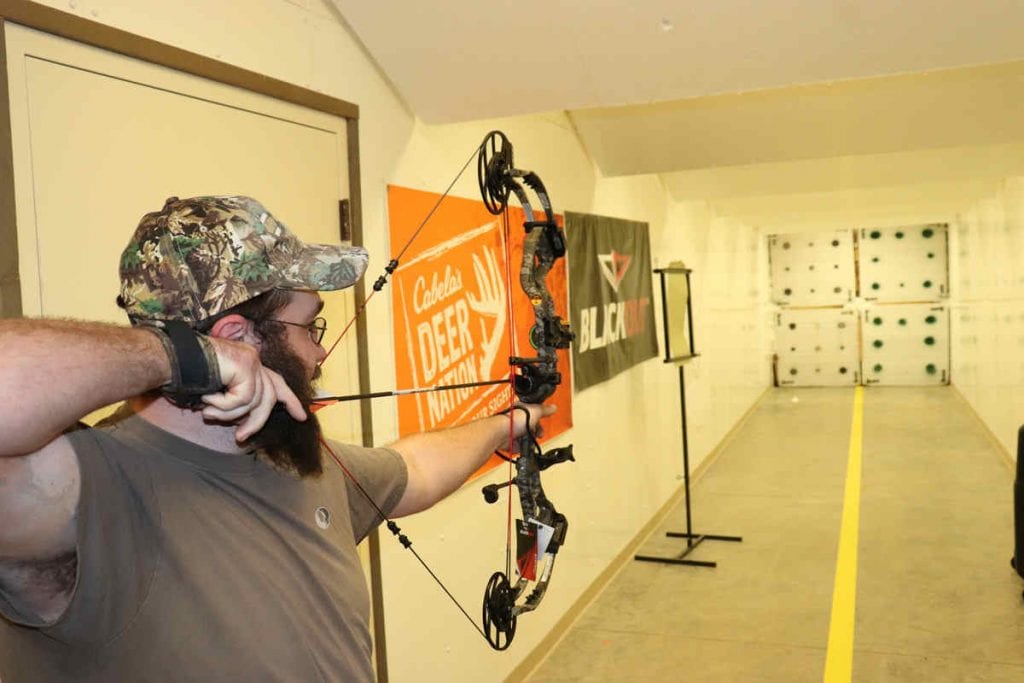 ---
After adjusting the BlackOut Epic to my specific draw length, it was time to put it through its paces. Upon drawing the Epic, I immediately made note of how smooth its draw cycle was.
There were no hard spots or periods of hesitation when pulling the Epic to full draw, which is a characteristic that most archers of every experience level will find favor in.
When testing the Epic, I had the bow's let-off set to its highest value, of 90%. Upon coming to full draw, I was amazed at how little force was required to hold the Epic in the valley.
In fact, at one point I attempted to let the bow down, and the Epic almost seemed to hold itself at full draw, with next to no input on my behalf. I can honestly say that this is the easiest bow to hold at full draw, that I have ever tested.
When releasing the bow, little doubt remained as to the bow's performance potential. Each arrow was driven deep into the foam target, in excess of that which I have witnessed when testing numerous other bows.
Each release was crisp, and the arrow struck the target almost instantaneously with the pull of my release's trigger.
Outside of the obvious sound of each arrow's impact with the target, no audible noise could be heard upon shooting the BlackOut Epic. Likewise, hand shock was of no issue. This proved that the Epic shoots just as smoothly as it draws.
PROS and CONS
PROS:
Let-Off settings from 75% – 90%

340 FPS IBO

speed

Comes with quality accessories

No Bowpress needed
Easy to adjust draw length modules
CONS:
Draw Length Range 26″-30″ could pose a problem if you are relatively tall
Slightly heavier with 4.1 pounds
Minimum

Draw Weight of 45 pounds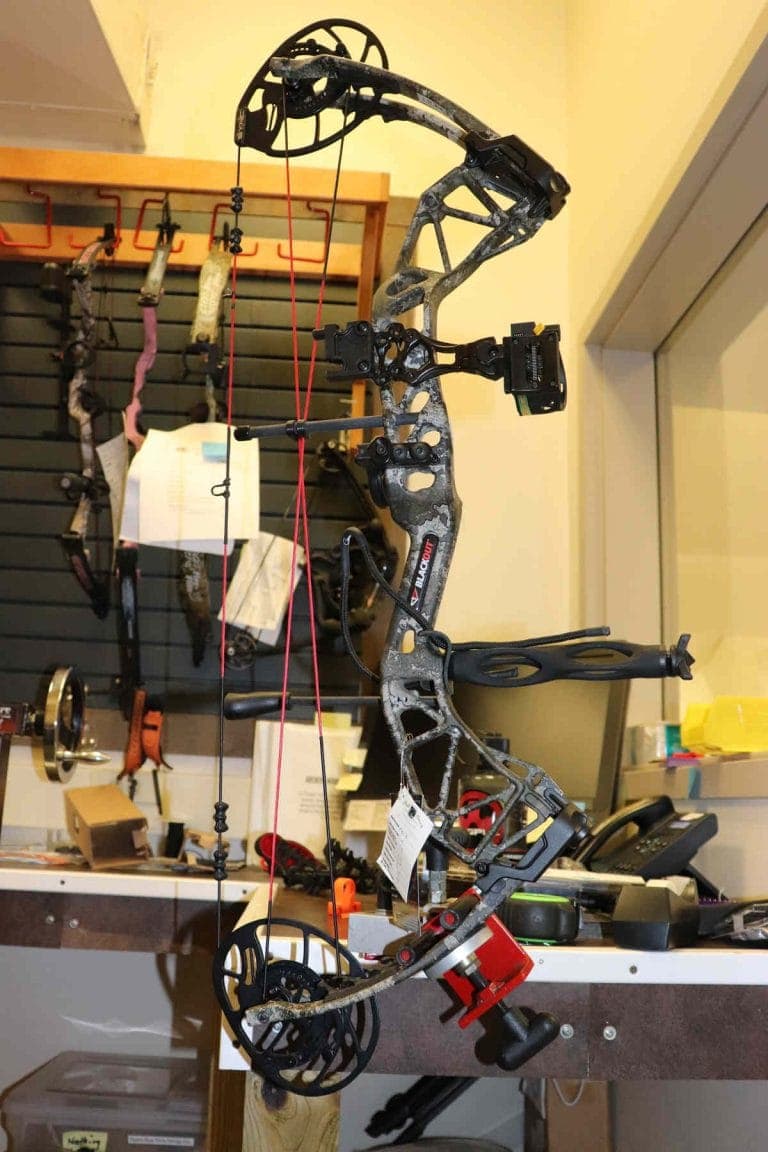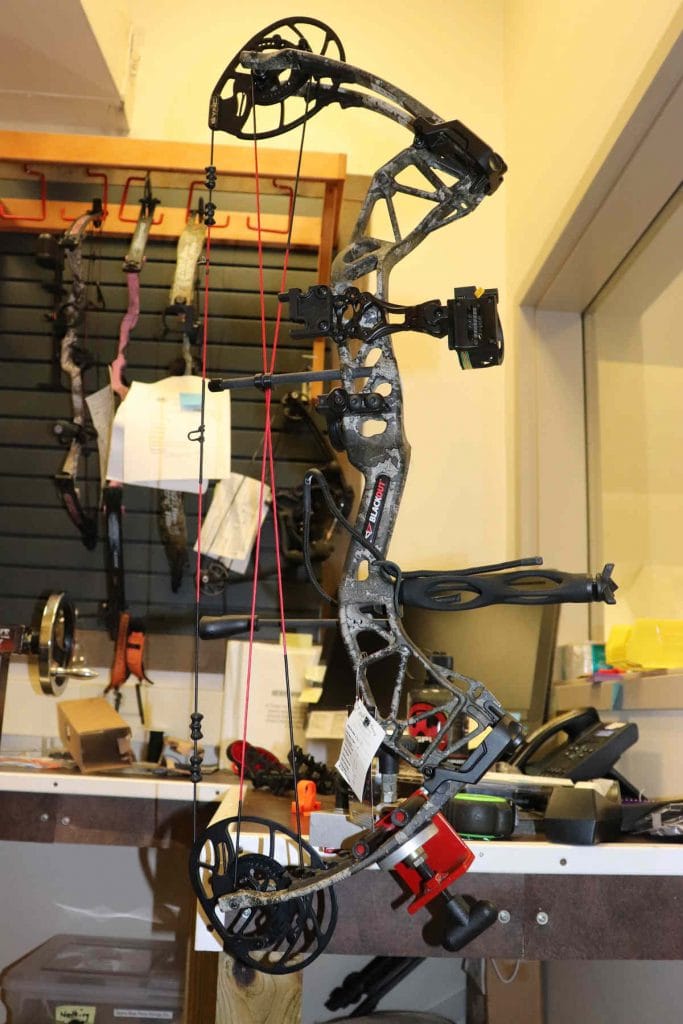 ---
How Does The Blackout Epic Compare to Other Bows
| | | | | | | | | |
| --- | --- | --- | --- | --- | --- | --- | --- | --- |
| Blackout Epic | medium | 340 | 90% | 26″ – 30″ | 70lbs | 6″ | 4.1lbs | L/R |
| BOW | Price | IBO (fps) | Let-Off | Draw Length | Max. Draw Weight | Brace Height | Bow Mass Weight | Hands |
| --- | --- | --- | --- | --- | --- | --- | --- | --- |
| Bear Paradox | medium | 330 | 80% | 23.5" - 30.5" | 70lbs | 6.25" | 4.3lbs | L/R |
| Bear Divergent EKO | med/high | 338 | 90% | 26" - 30" | 70lbs | 6.5" | 4.1lbs | L/R |
| Bear Cruzer G2 | medium | 315 | 70% | 12" - 30" | 70lbs | 6.5" | 3lbs | L/R |
| PSE Uprising | medium | 302 | 70% | 14" - 30" | 70lbs | 6.625" | 3.2lbs | L/R |
| Diamond Deploy SB | medium | 330 | 80% | 26" - 30.5" | 70lbs | 6.75" | 3.2lbs | L/R |
| Blackout Epic | medium | 340 | 90% | 26" - 30" | 70lbs | 6" | 4.1lbs | L/R |
| PSE Stinger MAX | medium | 312 | 80% | 21.5" - 30" | 70lbs | 7" | 3.8lbs | L/R |
| Diamond Edge 320 | medium | 320 | 85% | 15" - 31" | 70lbs | 7.25" | 3.6lbs | L/R |
| Diamond Edge Pro | medium | 310 | 80% | 13" - 31" | 70lbs | 7" | 3.2lbs | L/R |
| Diamond Prism | medium | 295 | 80% | 18" - 30" | 55lbs | 7" | 3.2lbs | L/R |
| Predator Raptor | low | 315 | 75% | 24.5" - 31" | 70lbs | 7.5" | 3.8lbs | L/R |
| PSE Brute NXT | medium | 328 | 80% | 22.5" - 30" | 70lbs | 6.5" | 3.7lbs | L/R |
| Diamond Provider | medium | 310 | 80% | 25.5" - 31" | 70lbs | 7.5" | 3.3lbs | L/R |
Accessories
The Epic is also notable for its inclusion of all necessary accessories for immediate use. This bow is offered in a package form, and includes
Volt 5-Pin sight
5-arrow quiver
Whisker Biscuit arrow rest
6″ stabilizer
Tru Peep Sight
D loop
Of the accessories found in this package, most archers will likely find favor in the included Volt 5-Pin bow sight.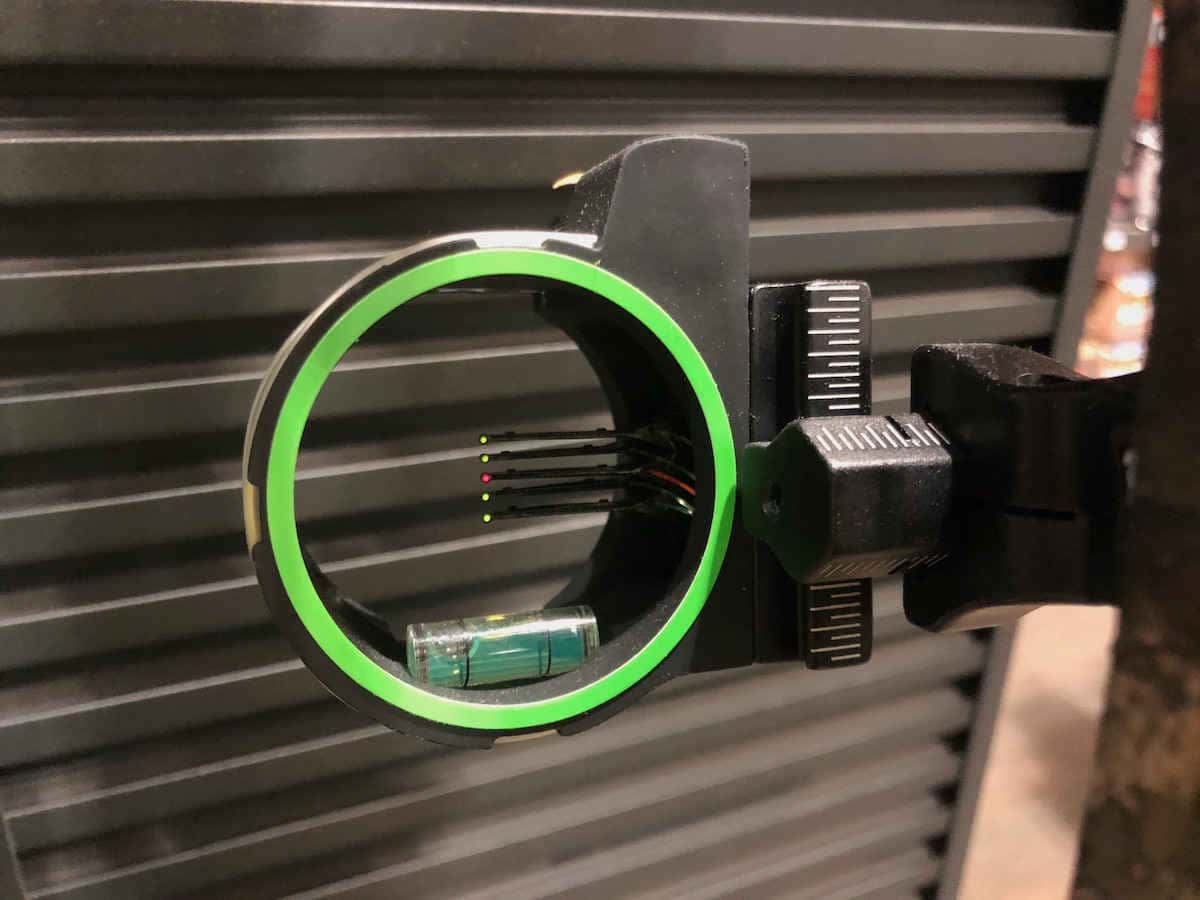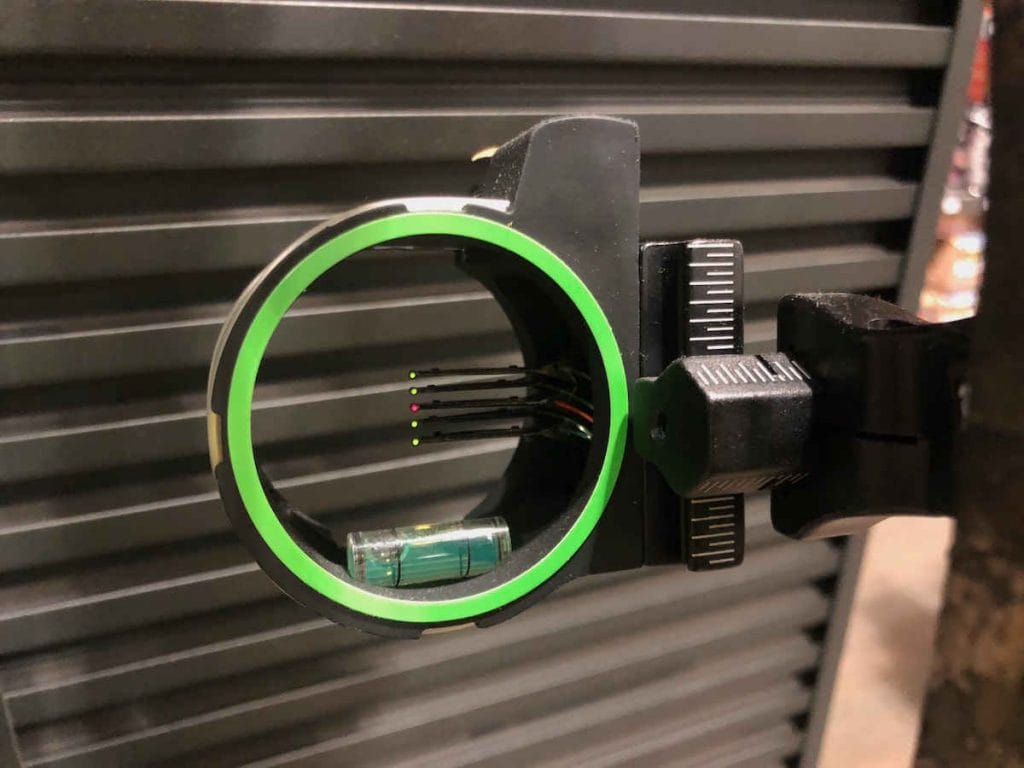 Blackout Epic Included Sight
---
This sight features hi-vis fiber optic pins, a convenient aiming level, and a green hood for ease of visibility. With 5 total pins, it is possible to cover significant lengths when attempting to aim at distant targets.
The Blackout Epic package also includes a Whisker Biscuit arrow rest, which is a favorite of beginning and experienced archers alike.
This is a containment-style rest, which holds an arrow securely in place until it is released. This is especially helpful in hunting scenarios when it can be relatively easy to knock an arrow free from a non-captive style rest inadvertently.
Overall Evaluation
After shooting the BlackOut Epic for myself, I can honestly say that I was impressed beyond what I previously would have imagined.
With the Epic's lightning-quick 340 FPS IBO speed, SYNC Cam adjustable let-off technology, and impressive accessory package, and its compact design, it is hard to imagine that there is any better value on the market today for archers of an intermediate level.
If there was any downfall worth mentioning that pertains to the Epic, it would be the bow's relatively subdued range of draw weight and draw length adjustment, as well as its shorter brace height.
Because of this, I would classify the Epic as a bow primarily geared toward adult archers, with at least some prior experience.
Overall, the Epic is an impressive hunting bow not only for whitetail, at an even more impressive price point. Consumers are presented with an option between 45-60 LBS and 55-70 LBS draw weight models, both retailing for approximately ½ the cost of many of today's premium compound bows. 
If you are in the market for a highly advanced bow, that offers unmatched performance potential, and comes loaded with top-end accessories, you should certainly keep the BlackOut Epic in mind.
Check out our other post "quality compound bows" of 2023
Special thanks to the staff at Cabela´s of Bowling Green, Kentucky, for allowing us the use of their bows, and range, for test and review purposes. Cabela´s was acquired by Bass Pro Shop in 2016 and now operates as a branch of the company, with retail locations nationwide.