The BlackOut S3 Compound Bow Package is an ultra-accurate and low-maintenance bow to suit your hunting needs. This right-handed compound bow features the speedy BlackOut performance of their other products, and the design partners at Bowtech engineered it for the best results.
BlackOut produces user-friendly and adjustable compound bows to fit your needs. With impressive speed and high let off, the S3 has quickly become one of our favorite BlackOut compound bows.
While not as variable as the BlackOut Epic, it does have comparable speeds and is just as enjoyable to shoot.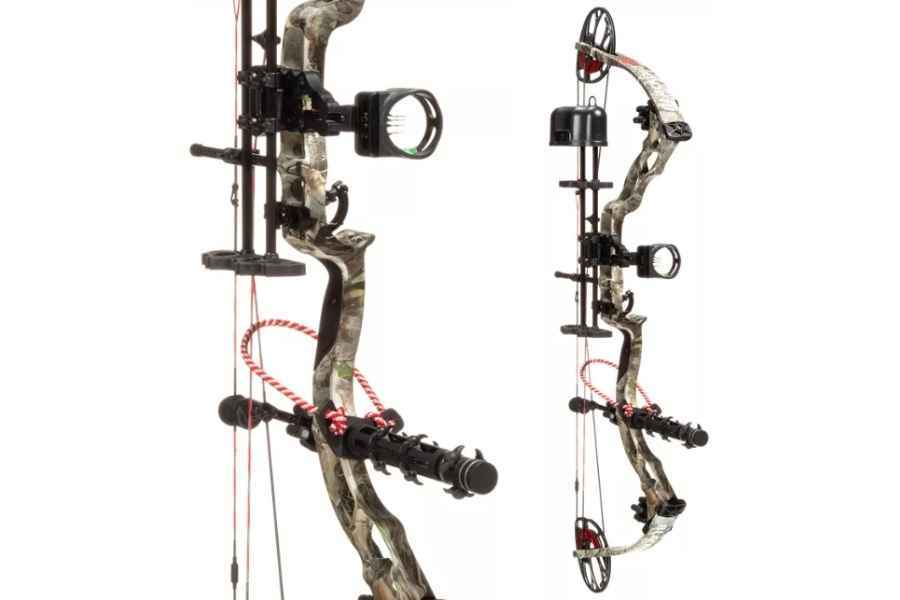 80% Let-Off – Lightweight – up to 338 fps
---
Let's dive into this BlackOut S3 Compound Package review to determine just how good this product is.
Pros & Cons
Pros:
Affordable bow in the mid-price range
Accurate Binary Cam system
Lightweight and portable
Blazing fast
Designed by experts at Bowtech and BlackOut
Variable draw weights and lengths
Several options for color and draw weight ranges
Aesthetically pleasing
Adjustable lengths
Cons:
Users have reported it was a downgrade from the previous BlackOut SS model
Some manufacturing defects on the accessories
Requires your form to be on point
The engineers who designed the BlackOut S3 Compound Bow Package worked to make this product compatible with a range of users.
From its adjustability, accuracy, and speed, you can tell a lot of care went into its manufacturing. While imperfect, this compound bow has excellent specs that make it worthwhile.
First Impression
Upon receiving the BlackOut S3 Compound Bow, you will notice how beautiful it is. You can get it in black or camouflage, and both color varieties are aesthetically appealing.
Holding the bow will let you feel its lightness. It weighs a mere 3.8 pounds, but it is somewhat less compact than other lightweight models.
The bow looks pretty high-tech from the collaboration with Bowtech. They combined the Bowtech Binary Cam system with the BlackOut platform to optimize accuracy.
Also, it has rotating draw length modules to suit your hunting needs.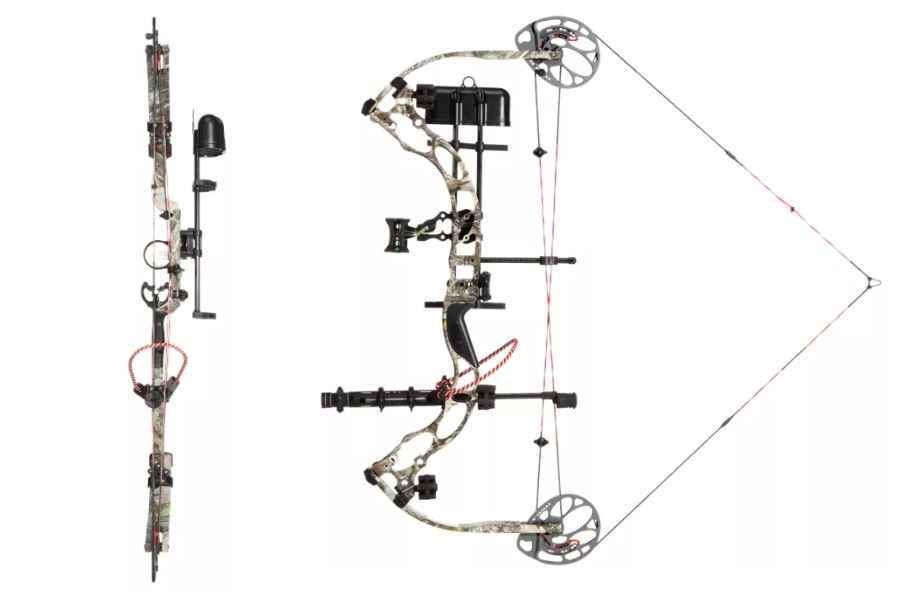 80% Let-Off – 3.8 lbs lightweight – 7″ brace height – ATA 32″
---
You will find a Hostage Max arrow rest, a 7-inch Hunter Max stabilizer, a 4-pin sight, a sling, and a 5-arrow quiver in the package. Already installed on the compound bow are a peep sight and string suppressor.
Some have reported the accessories to be of a lower quality than the bow, but for the most part, they will suffice until you can afford something better.
BlackOut S3 Specifications
Published Specs
Let-Off: 80 percent
Weight: 3.8 pounds
Brace Height: 7 inches
Axle-to-Axle Length: 32 inches
Speed: 338 fps
Draw Weights: 50-60 or 60-70 pounds
Draw Lengths: 26.5 to 30.5 inches
Finishes: TrueTimber Kanati, Black/Carbon Fiber
Suggested Retail:
check price
Design and Performance
BlackOut has released some of the quickest compound bows, and the S3 is no exception. With IBO speeds of up to 338 fps, you can strike almost any game.
You can choose between a draw weight of 50-60 pounds or 60-70 pounds depending on your strength. The rotating draw length modules allow you to adjust between 26.5 and 30.5 inches. The axle-to-axle length measures 32.5 inches, and the brace height is 6.5.
This compound bow was built around a strong riser and machined with the highest possible tolerances. The design parameters make the bow suitable for extended hunting trips, especially considering its lightness.
The Binary Cam system features two synchronized and symmetrical cams, delivering accuracy, speed, and stability. Additionally, the 80% let-off allows you to hold the bow at full draw for longer periods, ensuring you hit your target.
Say "Hello" to BowTech's hard hitting Synchronized Binary Cam System – which is used on the BlackOut platform.
Overall Quality
As far as package deals go, the BlackOut S3 has better accessories than most. While some have found manufacturing defects in the quiver, most find them sufficient until they can afford higher-quality equipment.
This bow is long-lasting and durable for the price range, leading it to be named the 2017 Outdoor Life Magazine "Best Buy." The speed, accuracy, and stability are excellent, and it has unmatched consistency.
One shortcoming is the Binary Cam system. It has an issue with leaning, and since there are two, it isn't easy to fix. It also has some tuning issues, and the short brace height makes it harder to shoot. The draw isn't the smoothest either.
Nevertheless, for a mid-price range compound bow, its accuracy, speed, consistency, and weight make it a worthy option for those looking to buy.
There are little to no issues with the bow itself, so consider getting a different quiver, rest, or sight if you want to improve upon it.
Summary
In this BlackOut S3 Compound Bow review, we showed (hopefully) how the benefits outweighed this product's shortcomings.
If you are on a budget, this affordable package features everything you need to get started in the archery season.
While it may not be the best bow of the year, it is certainly up there. With its incredible firing potential, precision, dependability, and size, you cannot complain. The S3 could benefit from new accessories, but the ones it comes with will tide you over for a long time.
The BlackOut S3 Compound Bow may take some getting used to, particularly because it requires the proper form to shoot quietly. However, once you adjust to it, you can see how well it aims and fires.
Keep in mind that this compound bow is not for lefties, but if you're right-handed, it will meet many of your needs in terms of strength, length, and weight.