Hunters often face the difficult decision of what backpack to bring with them on their next hunting trip. A pack needs to be big enough for all your gear, but small enough so you can still maneuver in the woods.
The most important requirement is a bow holder for holding your weapon while you're not using it! In this article, we'll review some of our favorite hunting backpacks and explore which one would best suit your needs.
At a Glance: Here are my Top Picks
+ BEST OVERALL – Badlands 2200 Hunting Pack & Meat Hauler. Great quality, has tons of capability, and will last as long as you can hunt.
___________________
+ RUNNER UP – Eberlestock Team Elk Pack. Team Elk Pack is considered one of the most reliable hunting backpacks with a bow holder on the market.
___________________
+ BEST VALUE – ALPS OutdoorZ Pursuit Hunting Pack. This pack is completely waterproof and suitable for almost all weather conditions.
___________________
+ LIGHTEST – TideWe Backpack. Other than being extremely comfortable and lightweight, the TideWe offers unique storage capabilities with its many pockets.
___________________
+ MOST VERSATILE – Badlands Superday Backpack. This backpack comes with seven pockets to store your essentials. It also has five additional compression straps for organizing the rest of your hunting gear.
Comfort is just one of the many factors to consider when it comes to hunting backpack essentials. Durability is not only important; it's required.
As a hunter, you understand the importance of patience. However, a flimsy backpack will bring you to the brink of frustration like no other.
Our Top Recommended Bowhunting Backpacks 2023
Best Overall – Badlands 2200 Camouflage Hunting Pack & Meat Hauler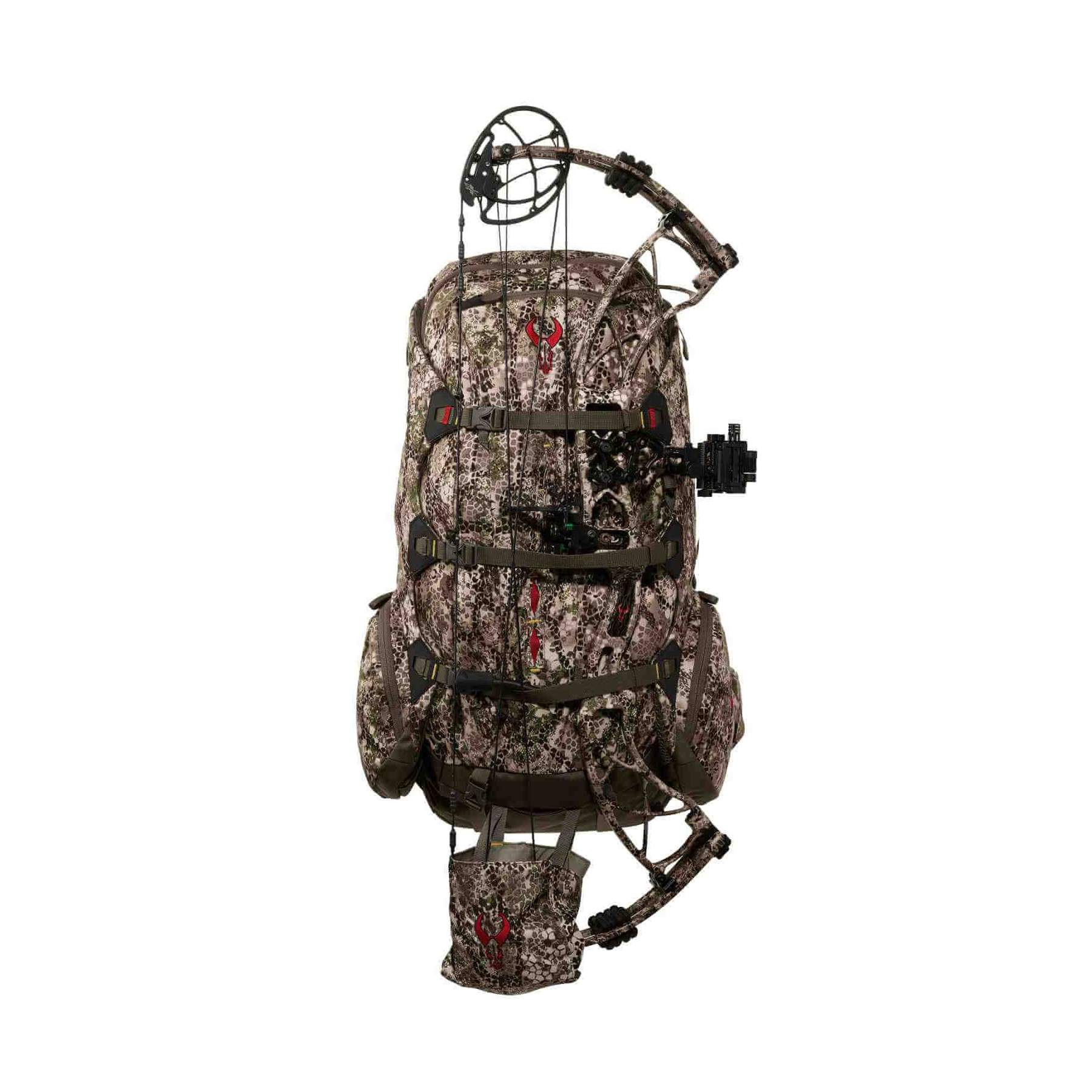 Badlands 2200 Camouflage – 2,750 CI
---
When you're in need of a reliable and sturdy hunting backpack, the Badlands 2200 comes off as the best choice, especially if you're willing to invest a fair amount.
This hunting pack is a noteworthy blend of durability and comfort, providing ample space to easily accommodate your bow.
Key Features:
Integrated meat shelf
Carries bow or rifle
Accessible hip pouches
Specs:
Weight: 5 lb. 15 oz.
Volume: 2750 CI
Dimensions: 28 x 17 x 1 inches
Material: KXO 50 fabric
If your budget allows, the Badlands 2200 won't disappoint. Investing in this hunting backpack means you won't need to worry about purchasing multiple bags for different hunting scenarios.
Packed with an array of capabilities and designed to last, the Badlands 2200 is all the hunting pack you'll ever need no matter how long or demanding your hunting journey may be.
Most Reliable – Eberlestock Team Elk Pack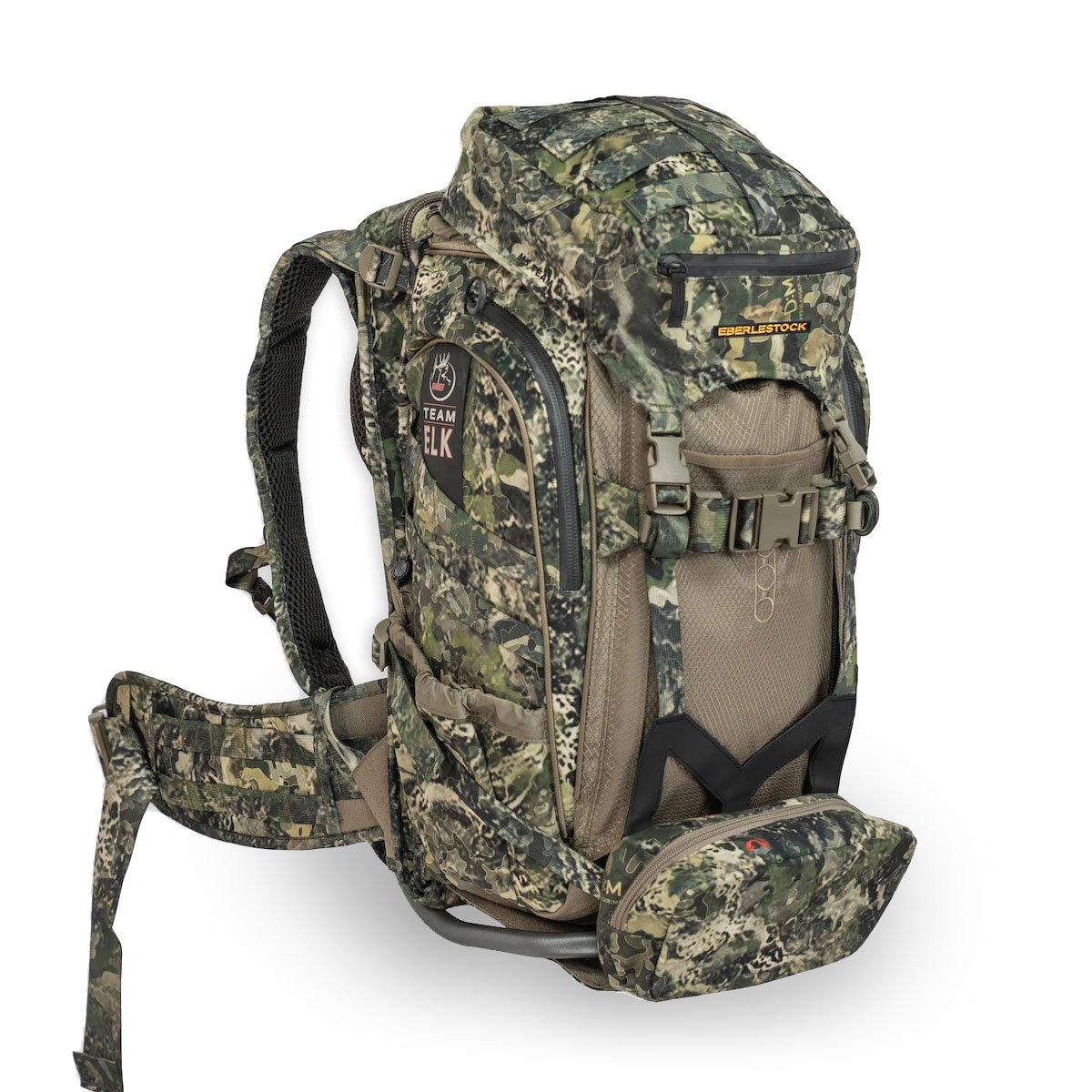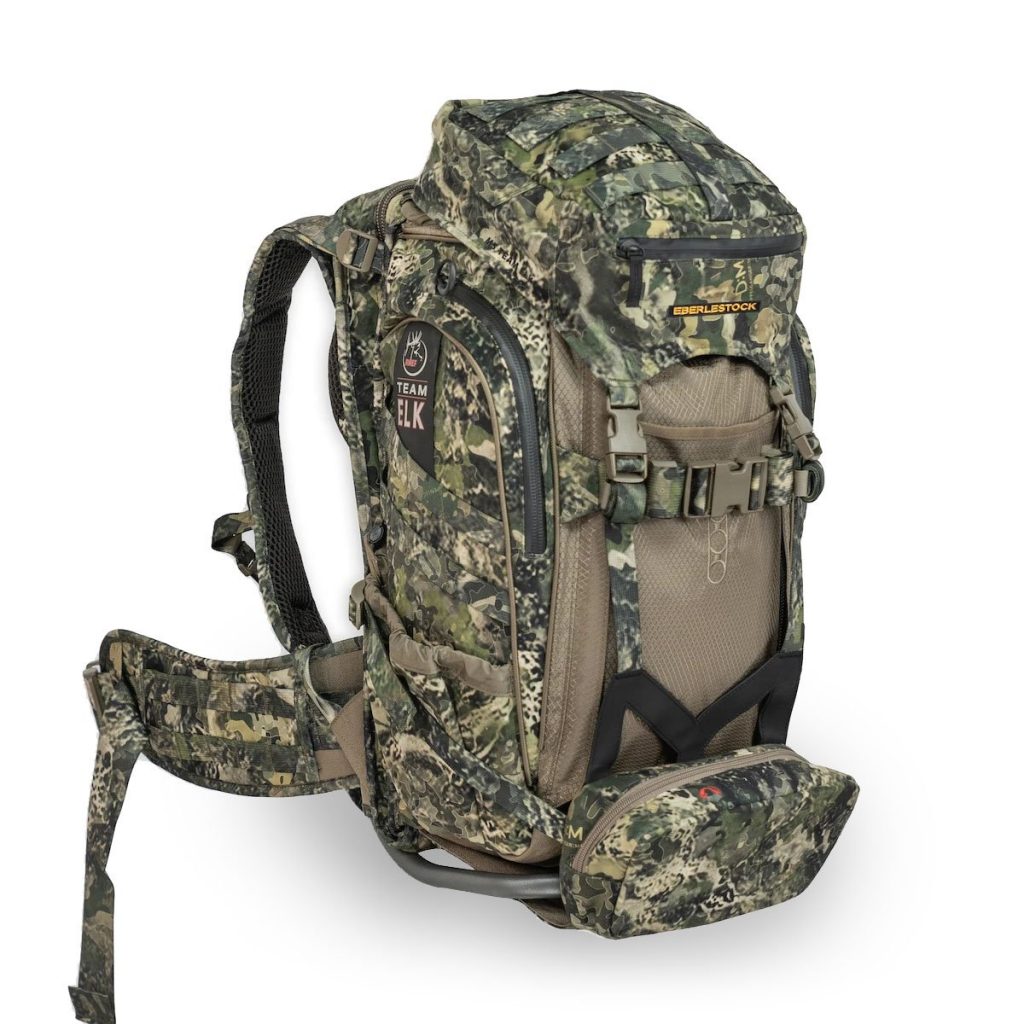 Eberlestock Team Elk Pack – 3,100 CI
---
In the bowhunting world, Eberlestock is revered for delivering exceptional quality. Their Team Elk Pack is highly respected, often touted as a superior choice amongst the best bow hunting backpacks complete with a bow holder.
Aimed directly at the elk hunting enthusiasts, the Team Elk Pack leaves no stone unturned when it comes to ample space for meat storage.
Your game bounty? No problem at all. The stellar aluminum frame proves to be the silent hero, adapting to whatever load it needs to bear, regardless of the quantity of meat you acquire.
What sets this hunting backpack apart?
Thinking of leaving your bow or rifle at home? No worries! The bow carrier and rifle scabbard could easily convert into handy extra pockets.
It is one of the reasons why this bow pack deserves its accolade as the best bow hunting backpack with bow holder. The 2023 bowhunting backpacks reviews couldn't agree more!
Key Features:
Foldable rifle scabbard
Front and top-loading access
Durable aluminum frame
Specs:
Weight: 6 lb. 8 oz.
Volume: 3100 CI
Dimensions: 23 x 11 x 9.5 inches
Material: Everly stock nt7 fabric
It makes perfect sense that a reliable tree stand such as the Eberlestock Team Elk Pack is vital for a successful hunting trip.
You need a stand that performs under pressure, holds up in various weather conditions, and provides plenty of space for your hunting needs. That's precisely what the Team Elk Pack offers.
To sum up, if you're searching for the perfect blend of functionality and comfort, look no further than the Eberlestock Team Elk Pack.
As one of the top bow hunting backpacks of 2023, it's ready to take your hunting experience to a whole new level.
Best Value – ALPS OutdoorZ Pursuit Bowhunting Backpack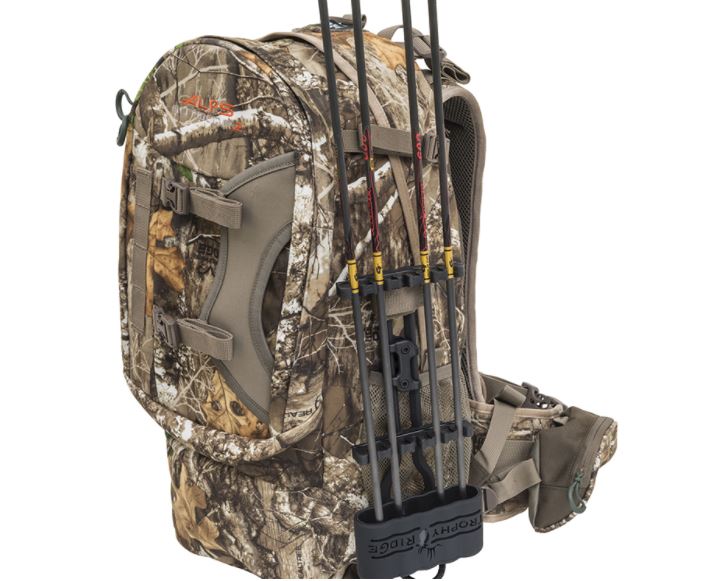 ALPS OutdoorZ Pursuit – 2,700 CI
---
Head to the woods confidently and in comfort with the ALPS OutdoorZ Pursuit, the perfect blend of affordability and functionality among bow hunting backpacks.
This backpack is not just your average bow pack; it's a versatile hunting companion that can secure your bow, firearms, and even your crossbow.
This hunting backpack doesn't hold back on storage spaces either. With its abundant room, keep all your hunting essentials together. The ALPS OutdoorZ Pursuit doesn't just hold your bow, it guards your hunting investments.
Fret not about the unpredictable weather during hunting season.
Crafted with an all-weather waterproof material, your gear stays dry and protected all day even in the dampest of the forests or during those spontaneous downpours.
Key Features:
Super comfortable padded waist belts
Accessible front shelf pocket
Rain cover
Available in Mossy Oak or Realtree Edge
Specs:
Weight: 4 lb. 1 oz.
Volume: 2700 CI
Dimensions: 22 x 14 x 4 inches
Material: Padded mesh
Beyond being a reliable bow hunting backpack, the ALPS OutdoorZ Pursuit doubles as your everyday day pack too.
It's highly efficient for regular use and can easily transition from a weekday workhorse to a weekend warrior out in the wilderness.
What sets the ALPS OutdoorZ Pursuit apart is its unparalleled versatility, redefining the true value of a bow hunting backpack.
Whether you're a bow hunter, a firearm enthusiast, or a crossbow admirer, this hunting backpack is created with a vision–to offer a reliable and affordable storage solution for all outdoorsmen.
Lightest On the List – TideWe Hunting Backpacks
TideWe – 2,200 CI
---
Your search for a lightweight yet high performance hunting backpack ends here with the mighty TideWe Hunting Daypack, a specialist's choice for bow hunting.
Made from a blend of resilience and silence, this versatile pack is crafted from top-grade polyester, apt to navigate you through any terrain seamlessly – as quiet as a predator moving in for the kill.
Key Features:
Hydration Port

Build-In Rain Cover

Roomy with extra pockets
Unparalleled comfort combined with unique storage capabilities is what sets the TideWe Hunting Daypack in a league of its own.
Hosting a diverse range of pockets, it makes carrying items such as a range finder or tripod as hassle-free as it can get. Finding the Backpack with Bow Holder, a Bow Pack or a Hunting Backpack has never been easier.
Specs:
Weight: 3 lb. 7 oz.
Volume: 2,200 CI
Dimensions: 21 x 12 x 10 inches
Material: Polyester
Imagine the possibilities with the TideWe's foldable bow/gun carrying boot. A hot favorite among treestand hunters, it reinvents convenience, scoring high on the review charts in the bowhunting backpack segment for 2023.
With the TideWe Hunting Daypack, your lightweight hunting experience is just a web click away! So equip yourself with the best in class – pack in all your hunting gear and step out into the wild!
Most Versatile – Badlands Superday Hunting Backpacks
Badlands Superday – 1,950 CI
---
Imagine this, you're out hunting, your aim is steady, and you've sighted a trophy deer. But, just as you're about to pull your bowstring, your position gets blown.
Nothing kills a hunt faster than a noisy backpack. This is where the Badlands Superday Hunting Backpacks come to play.
They've been designed with hunters in mind, from the use of quiet fabrics to stealthy design and unique storage capabilities, even for the most seasoned hunters.
Forget about the constant rustling that gives away your position. The Superday backpack is crafted from a fabric known as KXO 50 fabric.
Key Features:
Shoulder and hip support straps
Suitable for bow, rifle, and pistol hunting
Unique storage capabilities
This material is whisper-quiet, keeping your presence a secret from any prey. The backpack also touts seven generously spaced pockets, capable of storing your essentials.
With an impressive volume of 1950 CI (1,440 for the main pocket, plus extra pockets), you'll have a space for everything you need.
Specs:
Weight: 3 lb. 15 oz.
Volume: 1950 CI (1,440 main pocket + extra pockets)
Dimensions: 25 x 16 x 12 inches
Material: KXO 50 fabric
The Badlands Superday Backpack isn't just about storage; it's designed for a hunter's comfort as well. This backpack's standout feature is its five extra compression straps for hunting gear organization.
Furthermore, it boasts shoulder and hip support straps to distribute weight evenly and keep you comfortable during long hunts.
Its weight is barely noticeable at a mere 3 lb. 15 oz., contributing to comfort and maneuverability. The pack has dimensions of 25 x 16 x 12 inches, providing plenty of room, but not too bulky to carry around in the field.
But it gets even better. The Superday Backpack doesn't overlook hydration needs during a hunt. Incorporated into the pack is a feature for a 2-liter hydration system adaptability.
Endless pursuits won't leave your throat parched when you've got the Badlands Superday Backpack.
Now, you can keep hydrating and continue doing what you love most – hunting. And that's just the beginning; try the Badlands Superday Hunting Backpack today and discover even more beneficial features.
Whether you're a bow, rifle, or pistol hunting enthusiast, the Badlands Superday Hunting Backpack is your loyal companion.
With its unique storage capabilities and comfort-enhancing features, your hunting experience will only get better.
Grab one today and unleash the potential of your next hunting adventure.
Comparison Chart: Evaluating Backpacks for Hunters Based on Volume, Frame, and Weight
In the bowhunting world, a great backpack can make or break your success in the wilderness. Backpacks suited for hunters must be evaluated based on three main criteria: volume, frame, and weight.
So let's pack with knowledge and dive into this comparison chart that ranks the best hunting backpacks to suit your needs better.
*Badlands 2200: Large or Medium available
*Eberlestock Elk Pack: Main Pocket 2,600 CI, scabbard adds 500 CI
*Badlands Superday: Main Pocket 1,440 CI – extra pockets add 510 CI
Volume is the first factor that we'll cover in this evaluation. In this context, when we refer to 'volume', we are talking about the capacity of the backpack.
For every hunter, pack capacity is essential because it will determine how much gear, including tools and clothes, you can carry during your hunting trips.
Looking at our previous subtitles, both the Badlands 2200 Camouflage Hunting Pack & Meat Hauler and TideWe Hunting Backpacks are clear winners in terms of volume.
The former being the ultimate hunting backpack boasting a large pack capacity, perfect for longer expeditions.
Frame, the second evaluation factor, heavily influences backpack performance. The frame's primary purpose is to distribute weight between your shoulders and hip, impacting comfort levels.
Notably, waist belt features of TideWe Hunting backpacks have been praised for how well they distribute the weight of the pack.
For Mossy Oak Backpack, the overall best choice in hunting gear, a sturdy frame design is a standout feature that provides excellent balance.
Finally, let's talk about weight. The weight of the backpack itself is crucial for bowhunters. Remember, every single ounce makes a difference when you're trekking across uneven terrains. Our hunt for a lightweight hunting backpack leads us to the ALPS OutdoorZ Pursuit.
This backpack is a prime pick for those hunters seeking a lighter pack without compromising on storage and features. Conversely, pack weight is also the Achilles' heel of the otherwise well-received Eberlestock Team Elk Pack.
The Badlands Superday Hunting backpacks, featuring remarkable versatility, come packaged with bells and whistles designed to ease your burden and accommodate both your bow and other hunting essentials.
These packs marry the weight with an array of features, striking a balance between the carrying efficiency and the features-packed design.
Armed with this comparison chart, you, my fellow hunter, can make an informed decision about the best suitable backpack for your next hunting adventure.
There are different backpack options out there, and they all pack a punch, but your choice will ultimately boil down to your specific hunting needs and preferences.
Remember, ideal pack or backpack selection will significantly impact your overall hunting experience.
So choose wisely, stay ahead, and enjoy your thrilling rendezvous with nature.
Considerations in Choosing Your Bow Pack: Key Factors for Hunters
Selecting the ideal bow hunting backpack can seem overwhelming, especially as a quality pack can put a dent in your pocket.
However, ensuring this investment will yield satisfaction requires careful consideration of your specific hunting needs.
Are you typically a day-trip hunter, or do you embark on multi-day hunting adventures?
Understanding these aspects will significantly improve your decision-making process.
Here are a few things to consider when choosing a hunting backpack:
Comfortable Backpacks Make Happy Hunters
Traversing rugged terrains bearing 50-100 pounds of meat is no walk in the park, even for the most physically fit among us.
Therefore, comfort should be a priority when choosing a hunting backpack.
The question you should be asking yourself is, "Is potentially enduring weeks of back pain worth carrying 50 pounds of elk meat?"
Thank goodness, most brands now provide packs that distribute weight evenly across your waist and shoulders to enhance comfort greatly.
A top concern for many hunters is often the hip strap, but rest assured, packs such as the Tenzing Choice use tricot fiber, ensuring comfort and silence—an unbeatable combination!
Waistbelts effectively distribute the backpack's weight across your body, reducing strain.
Likewise, bowhunting backpacks should have comfortable shoulder straps, as prolonged wear can strain your shoulders.
Durability Can Be the Deal Breaker
While comfort does indeed play a vital role in choosing a hunting backpack, durability is a non-negotiable.
Considering the rugged, often unforgiving environments, hunting takes place in, a backpack must be able to endure the elements and operational wear and tear.
Investing in a durable bowhunting backpack means a product that will last you numerous hunting seasons, without the frustration of it falling apart and failing to protect your equipment.
Seek out backpacks built with robust fabrics like nylon or canvas, known for their resilience.
Additionally, the zippers, buckles, and other hardware should be of high-quality, able to withstand regular use.
Contrary to what you may think, heavier does not always equate to stronger.
Some lightweight backpacks, such as the ALPS OutdoorZ Pursuit weighing only four pounds, are most reliable for carrying an entire day's worth of meat.
Remember to prioritize durability in your hunt for the perfect backpack.
Organization Is Essential for a Successful Hunt
Every hunter has a different idea of organization. That's why you want a hunting backpack that offers unique storage capabilities. This way, you can store your gear in a way that's easy for you.
The best hunting backpacks usually offer one or more of the following:
2500+ cubic inches of storage
Five to seven additional pockets
Bow/Gun Holder
Each hunter has unique organizational preferences, necessitating a hunting backpack with versatile storage capabilities.
When you store your gear in an accommodating pack, it's a breeze to locate what you need.
The most well-received hunting backpacks often feature 2500+ cubic inches of storage, additional pockets ranging from five to seven, and a handy Bow/Gun Holder.
Being organized can make or break your hunting experience—you need a pack sturdy enough to carry your bow, headlamp, first aid kit, GPS, etc.
The main compartment of a bowhunting backpack needs to be readily accessible to permit quick grabbing of gear without the hassle of rummaging through pockets or compartments.
Internal or External Frame?
The key lies in your particular hunting needs. Lighter and more comfortable, internal frames are not advisable for hauling large game but are suitable for smaller game like birds, rabbits, or squirrels.
On the other hand, while external frames tend to be weightier, they can handle larger loads, making them ideal for hunting larger game.
Internal Frames – By far lighter and more comfortable, but not recommended for hauling large amounts of meat. If your game is small birds, rabbits, or squirrels, internal frames might be better.
External Frames – These frames are usually heavier but can haul a more significant load. If you're hunting bigger game, external frames are the way to go.
Wrapping it Up
After carefully surveying the best hunting backpacks with bow holders, it's still clear that the Badlands 2200 is the best overall. It has the comfort, space, and silence that every hunter needs. The only limitation is the price.
If you're looking for something of similar quality that's more affordable, perhaps the ALPS Outdoorz Pursuit Hunting Pack is worth checking out.
But if you're looking for the best bow-holding backpack, check out the Badlands 2200.