Diamond Archery has been riding an enormous wave of success that has now spanned almost two decades. Diamond is owned and operated under the provisions of their parent company, Bowtech, which has been a lead player in the compound bow industry for many years. 
One important note: I tested the bow in real life. I went and actually sent some arrows downrange. The following is a comprehensive look at what I found to be true of the Diamond Prism in the form of features and functionality
One of Diamond's newest and most highly sought-after bows is the Prism. The Diamond Archery Prism is a direct derivative of the company's enormously successful Edge lineup and is geared toward providing youth archers with a well-rounded bow, at a reasonable price point.
It is also extremely versatile, as the bow offers draw weight adjustability of 5-55 pounds and a draw length range of 18-30". Although a number of archers give the Prism high praise, we were anxious to put it to the test ourselves. So we hit the range to get a feel for what this particular bow was capable of.
At a Glance
Design & Construction

95%
Initial Thoughts
I was initially quite excited to shoot the Diamond Prism, as it is a purpose-specific compound bow, that is designed for use by youth hunters and target archers. However, this bow has the potential of being worthy of consideration as a selection for small-framed adults as well.
This in itself is of significant value, as the number of women and children getting involved in all manners of outdoor pursuits, and more specifically archery, are growing at a rapid rate.
Therefore, the demand for a quality compound bow package that caters to this demographic's specific needs is growing significantly.
First Impression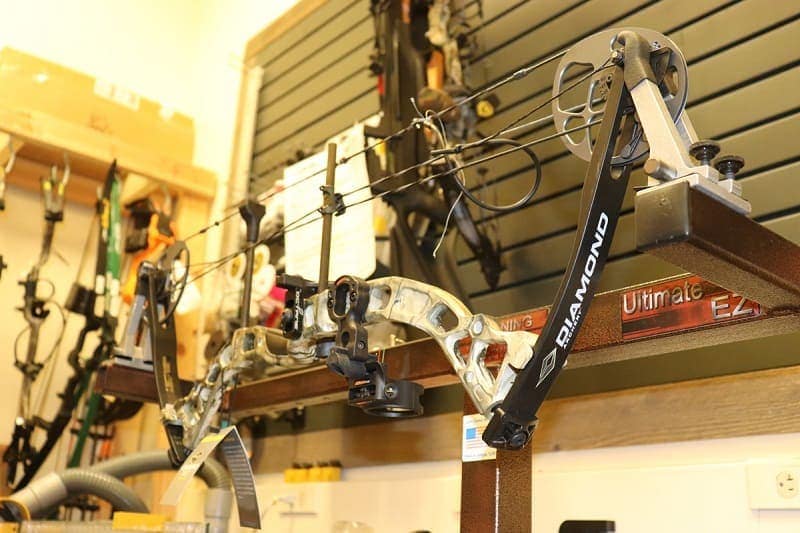 ---
When first holding the Diamond Prism in hand, I immediately noticed that the bow's fit and finish appeared to be on par with many higher-priced compound bows on the market.
Many times, youth or economy-type bows will be lacking significantly in this area. However, in regards to the Prism, this was simply not the case. 
The particular bow that I took to the range featured a Mossy Oak Break-Up finish, that complimented the bow well, and looked to be applied in a consistent manner throughout. All machined surfaces also appeared to be consistent in finish, with no physical defects observed. I did quickly notice that the Prism is offered without any form of wrist sling.
Although this can be quickly remedied with a secondary purchase, it would certainly have been nice to see this included in the package.
Diamond Prism Specifications
Published Specs
Let-Off: 80 percent
Weight: 3.2 pounds
Brace Height: 7 inches
Axle-to-Axle Length: 31 inches
Speed: 295 fps
Draw Weights: 5 to 55 pounds
Draw Lengths: 18 to 30 inches
Finishes: Black, Blue, Green, Purple
Suggested Retail:
check price
Technical Features
There are also a number of technical specifications worth mentioning in regards to the Diamond Prism. The most obvious of these center around the bow's significant level of adjustability.
The Prism features an extremely broad range of adjustability in both draw length and draw weight. Draw weight can be adjusted from 5-55 pounds, while draw length ranges from 18 to 30". This range of adjustability means that the Prism can essentially grow with any youth archer. As a young archer grows, a series of simple adjustments can be made to ensure that the Prism continues to meet its needs.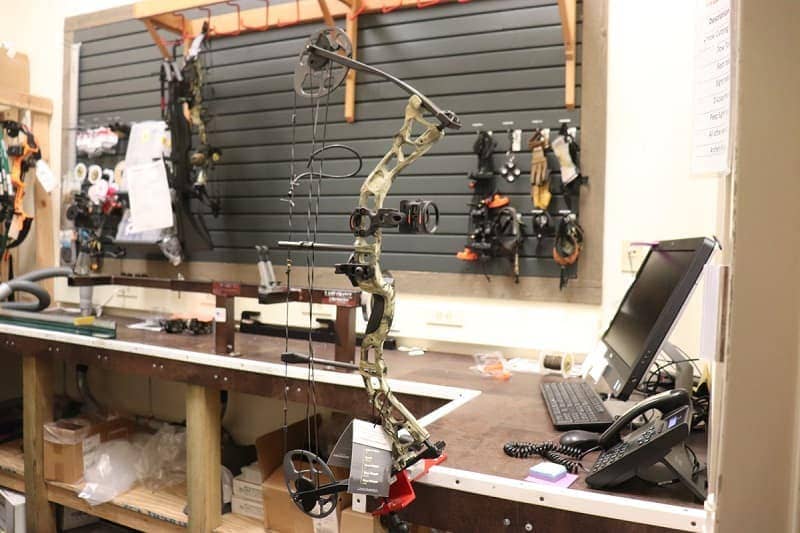 ---
Although the bow only adjusts to a maximum draw weight of 55 pounds, moderate-sized game, such as whitetail deer, can still easily be taken at this draw weight. This is of value, as it ensures that continued use is possible, even when adulthood is reached.
Making adjustments in both draw weight and draw length are relatively trouble-free as well. The draw weight can be adjusted at the limb bolts in a matter of minutes, as is standard for most newer compound bow packages.
The Prism's draw length adjustments can also be made quickly, efficiently, and on the fly.
In recent years, Diamond Archery has perfected rotating cam module technology, which allows such adjustments (read.. diamond archery provider review) to be made by simply removing the module's screws, rotating this module to its corresponding indexing marks, and retightening. 
Additionally, the 80% let-off that is offered by the Diamond Prism comes as much benefit to youth archers. This drastically cuts the bows holding weight, allowing for even the smallest framed of archers to shoot comfortably and retain proper form.
Shootability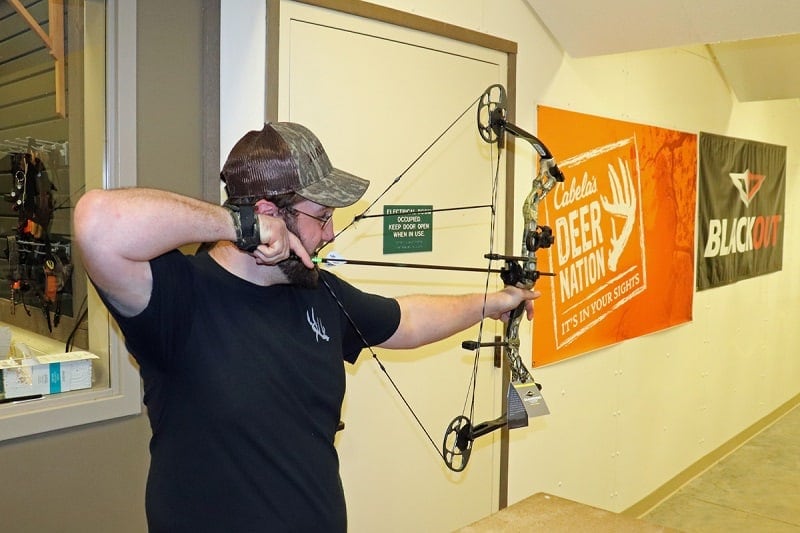 ---
After setting the bow's draw length as needed, as well as tying on a D-loop and installing a peep sight, it was time to send some arrows downrange. Upon drawing the Prism, I was quite surprised as to how smooth its entire draw cycle was. 
While perhaps not quite as smooth as that of some of the upper-end Diamond compound bows that I've shot, it was substantially smoother than any other youth-focused bows that I've drawn to date. The bow's transition into the valley as the cams actuated was also far more consistent than I expected. This transition was gradual and absent of any significant problem areas.
Upon reaching full draw, the benefits of the bow's 80% let-off were immediately apparent. Holding the Prism at full draw was absolutely effortless, and literally felt as if it held in the valley under its own power, with no real exertion needed.
Upon every shot, I noted a crisp and concise release. This seems to be consistent among all of Diamond's most recent compound bows and fosters an enjoyable shooting experience overall. This is a great bow.
While some hand shock was observed, it was minimal to the point of barely being worthy of a second thought. 
The Prism was also relatively quiet overall when shot. Though a slight amount of noise could be heard, it is safe to say that consumers will be hard-pressed to find any quieter of a youth bow.
What noise was observed, was far below the level of what would be of concern to the average archer in regards to spooking game.
The only feature found on the Diamond Prism that I was not fond of was its grip, or rather a lack thereof. The grip found on the Diamond Prism is quite minimal in nature and offers little advantage over holding the bare riser itself.
However, I personally prefer a bulkier grip, but this is not always the case for others. So this comes as more of a personal preference than a problem.
PROS and CONS
 PROS:
Highly Versatile Draw Weight Adjustment
Draw Length Adjustability
Comes with Sight, Arrow Rest, Stabilizer, and Quiver
Smooth, Effortless Draw Cycle
Lightweight Design
CONS:
Basic 3-Pin Sight Is Minimal In Features
Does Not Come With Wrist Sling
Grip Might Be Problematic For Some Archers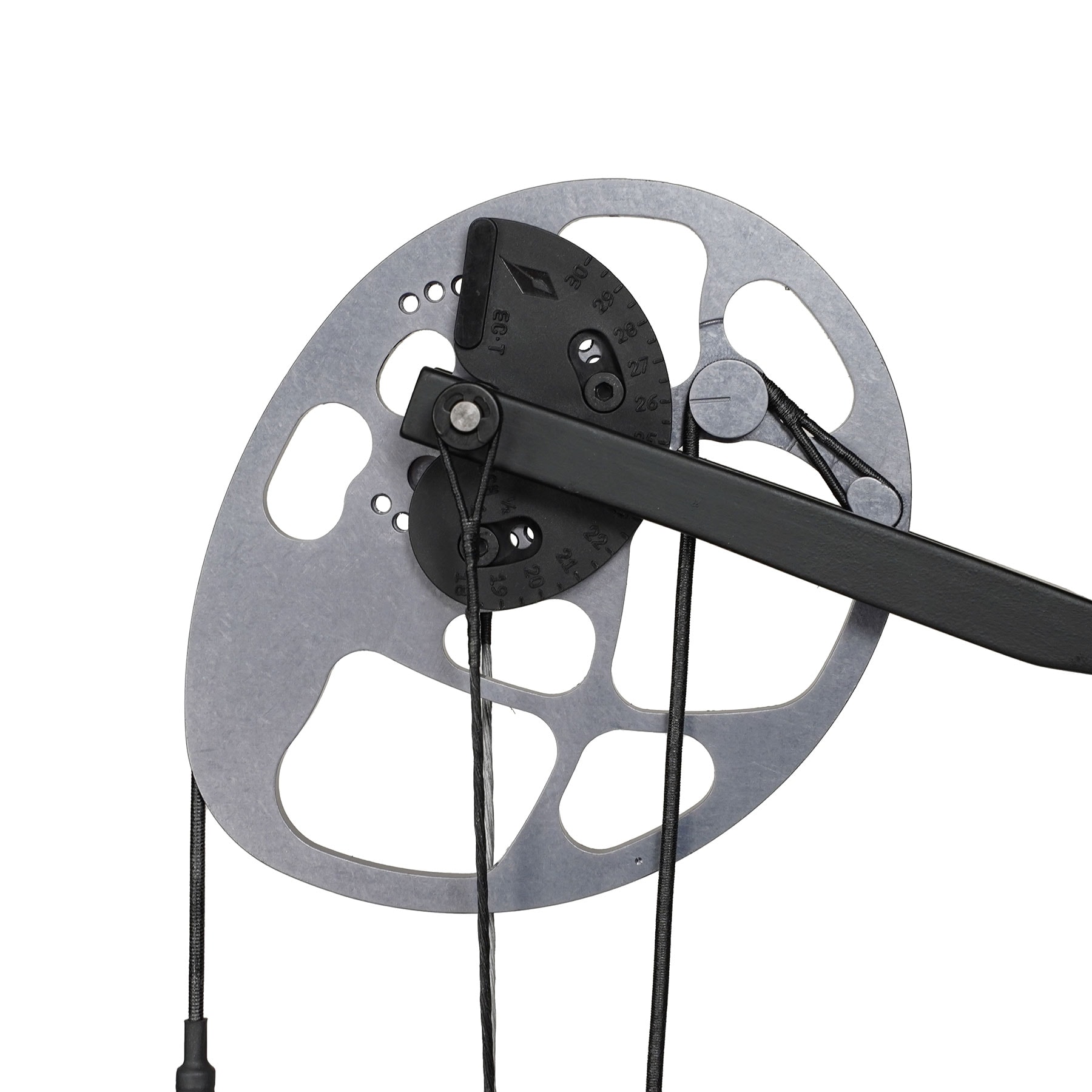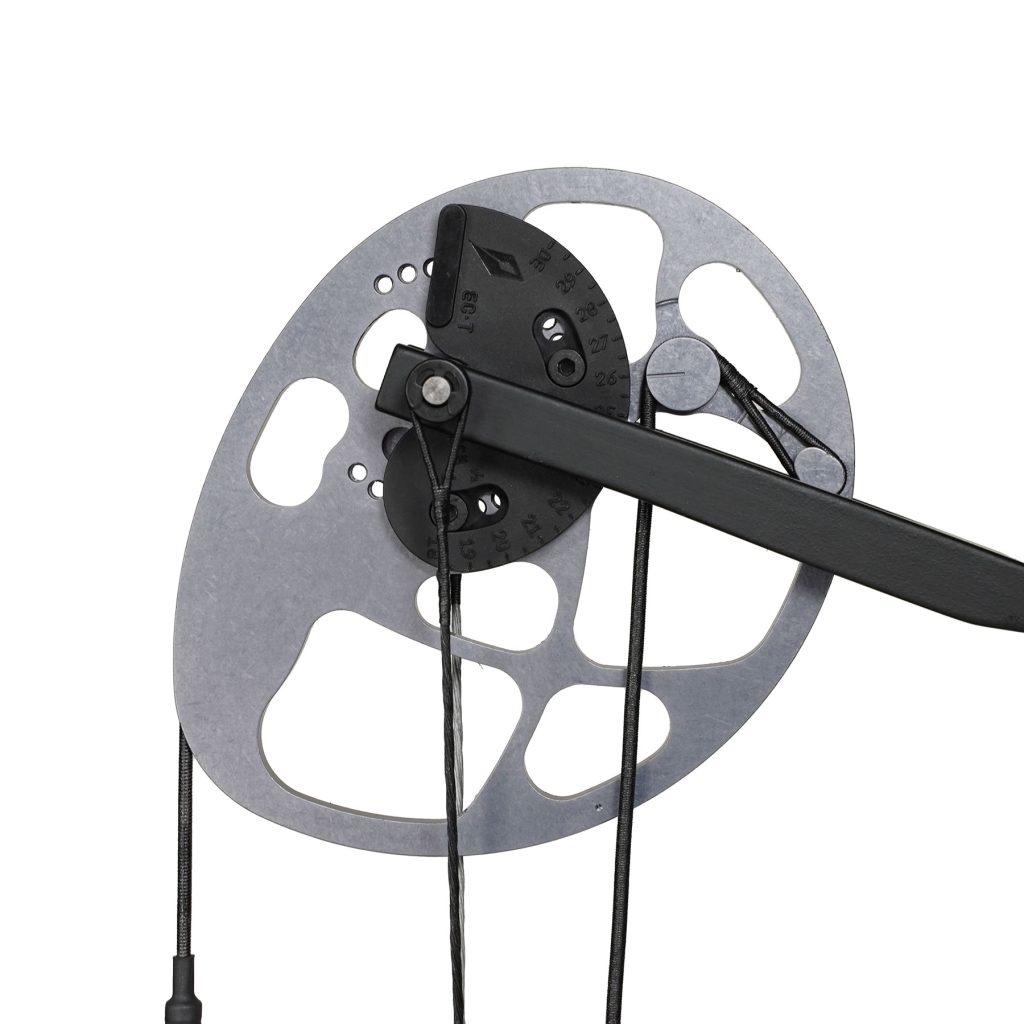 Accessories
If you are searching for a bow that is ready to pull from the box and take to the woods, with minimal additional effort, then you will likely find favor in the Diamond Prism Bow Package.
This bow comes as a package and is pre-outfitted with a sight, arrow rest, stabilizer, and quiver.
The 3-pin tundra sight that comes with the Prism is pretty well on par with most package-based sights on the market. This is not to say that this sight is not functional, it just offers nothing particularly special in the way of features. However, you can easily upgrade to the sight of your choice at a later date if desired.
A Whisker Biscuit style arrow rest is included with the Diamond Prism, and in my book, this comes as a major advantage. This style of rest is a captive model, meaning that it is virtually impossible to inadvertently dislodge an arrow from within.
I personally used a Whisker Biscuit rest for the first 10 years of my archery career, and my wife still uses one today. I was also quite fond of the Prism's stabilizer. To be honest, I had my doubts at first, because it certainly does not look like much.
However, this stabilizer does a fine job of dampening vibration and makes a perfect addition to this package.
How Does The Diamond Prism Compare to Other Bows
| | | | | | | | | |
| --- | --- | --- | --- | --- | --- | --- | --- | --- |
| Diamond Prism | medium | 295 | 80% | 18″ – 30″ | 70lbs | 7″ | 3.2lbs | L/R |
| BOW | Price | IBO (fps) | Let-Off | Draw Length | Max. Draw Weight | Brace Height | Bow Mass Weight | Hands |
| --- | --- | --- | --- | --- | --- | --- | --- | --- |
| Bear Paradox | medium | 330 | 80% | 23.5" - 30.5" | 70lbs | 6.25" | 4.3lbs | L/R |
| Bear Divergent EKO | med/high | 338 | 90% | 26" - 30" | 70lbs | 6.5" | 4.1lbs | L/R |
| Bear Cruzer G2 | medium | 315 | 70% | 12" - 30" | 70lbs | 6.5" | 3lbs | L/R |
| PSE Uprising | medium | 302 | 70% | 14" - 30" | 70lbs | 6.625" | 3.2lbs | L/R |
| Diamond Deploy SB | medium | 330 | 80% | 26" - 30.5" | 70lbs | 6.75" | 3.2lbs | L/R |
| Blackout Epic | medium | 340 | 90% | 26" - 30" | 70lbs | 6" | 4.1lbs | L/R |
| PSE Stinger MAX | medium | 312 | 80% | 21.5" - 30" | 70lbs | 7" | 3.8lbs | L/R |
| Diamond Edge 320 | medium | 320 | 85% | 15" - 31" | 70lbs | 7.25" | 3.6lbs | L/R |
| Diamond Edge Pro | medium | 310 | 80% | 13" - 31" | 70lbs | 7" | 3.2lbs | L/R |
| Diamond Prism | medium | 295 | 80% | 18" - 30" | 55lbs | 7" | 3.2lbs | L/R |
| Predator Raptor | low | 315 | 75% | 24.5" - 31" | 70lbs | 7.5" | 3.8lbs | L/R |
| PSE Brute NXT | medium | 328 | 80% | 22.5" - 30" | 70lbs | 6.5" | 3.7lbs | L/R |
| Diamond Provider | medium | 310 | 80% | 25.5" - 31" | 70lbs | 7.5" | 3.3lbs | L/R |
Overall Evaluation
After spending some one-on-one time at the range with the Diamond Bow, I can honestly say that there was a lot to like.
I do not recall a time when I have shot or reviewed a youth bow that I was this impressed with, and any young archer will surely find favor in this bow and its extreme versatility.
I found little to be lacking from the Prism in design, function, or versatility. My only grievances toward this bow were in the form of accessories, all of which can be replaced to suit any archer's personal tastes.
If I were to have any suggestions for Diamond regarding the Prism, it would be that the addition of a wrist sling and a more pronounced grip would be welcomed. However, with all things considered, the Prism would make the perfect bow for any developing archers and offers a level of adjustability that you likely will be hard-pressed to find in any other youth bow.
While the bow's 295 FPS IBO speed certainly makes it no speed demon, it is more than adequate for any type of hunting or level of target archery.
When you factor the Prism's wide-ranging attributes with its nominal price point, I cannot imagine any way to go wrong with its purchase.






different colors available
---
This bow affords your child the ability to grow through their early archery endeavors with a single bow that they are well accustomed to and still remains suitable for use even upon reaching adulthood. We hope you found our Diamond Prism review helpful. Leave us a comment!
Special thanks to the staff at Cabela's of Bowling Green, Kentucky, for allowing us to use their bows and range for test and review purposes. Cabela's was acquired by Bass Pro Shop in 2016 and now operates as a branch of the company, with retail locations nationwide.