In recent years, Diamond Archery has blazed a path all its own, offering highly adjustable, user-friendly compound bows to the masses. The company's Edge line of bows spawned a revolution in the industry, proving that the saying "one size fits all" can indeed apply when speaking of compound bows.
One important note: I tested the Provider in real life. I went and actually sent some arrows downrange. The following is a comprehensive look at what I found to be true of the Provider in the form of features and functionality.
Several exciting offerings by Diamond have descended from the original Edge model, one of which is the Diamond Provider.
This compound bow offers the same high rate of draw weight adjustability that has become a staple of the Diamond brand (read.. Diamond Archery Deploy SB Review).
I recently received a chance to put the Diamond Archery Provider through its paces at the range. The following is a comprehensive look at what I found to be true of the Provider in the form of features and functionality.
At a Glance
Design & Construction

90%
Initial Thoughts
Coming into this review, I was excited to get my hands on yet another Diamond bow (read our Edge 320 Hands-On Review). Diamond has quickly grown to be one of the top-selling bow manufacturers in the world, with much of this success being attributed to the company's dedication toward catering to all archers.
This principle has made Diamond bows a favorite among beginning and experienced archers alike. The Diamond Archery Provider is billed as being an easy-to-shoot and accurate bow, that is user-friendly in every way.
This piqued my curiosity, as I could not wait to see how well the Provider truly shot, and if it was as accurate and forgiving as often claimed.
First Impression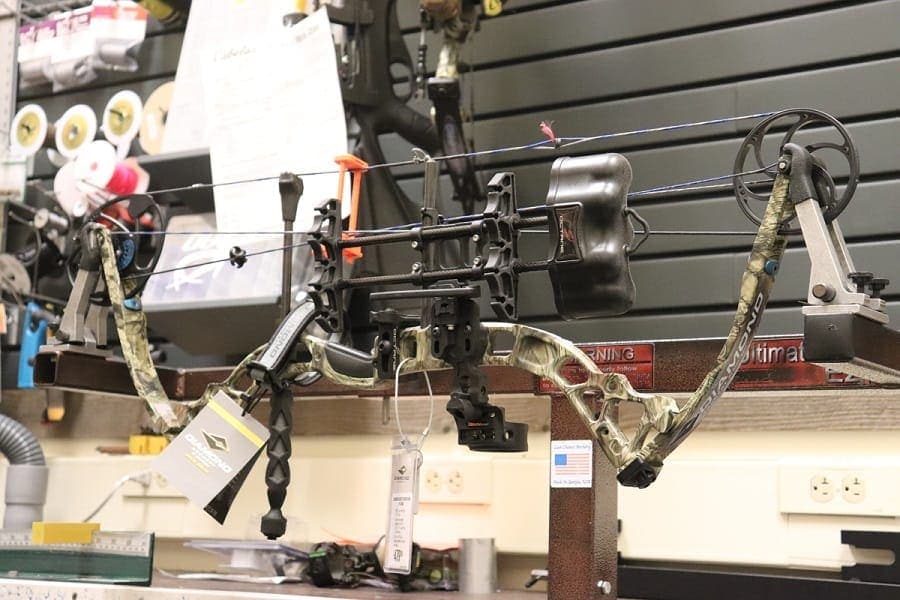 ---
Like most of Diamond's bows, I was initially struck by just how lightweight the Provider was.
With a carrying weight of just 3.3 pounds, I feel confident that virtually any archer could carry the Diamond Archery Provider on even the longest of spot and stalk hunts, with little to no noticeable fatigue.
This lightweight profile also makes the Provider a suitable choice for small framed archers.
Diamond Archery Provider Specifications
Published Specs
Let-Off: 80 percent
Brace Height: 7.5 inches
Weight: 3.3 pounds
Axle-to-Axle Length: 31 inches
Speed: 310 fps
Draw Weights: 20 to 70 pounds
Draw Lengths: 25.5 to 31 inches
Finishes: Camo
Suggested Retail:
check price
I was also pleasantly surprised by the fit and finish of this bow. The Provider's camo finish was well applied, with no noticeable imperfections to speak of. The bow also felt solid in my hand and included a quality, adjustable wrist sling, of which I was instantly a fan.
Technical Features
Several key technical talking points exist regarding the Provider's functionality and specifications. Perhaps the most notable of these is this bow's high degree of draw weight adjustability.
The Provider's draw weight quickly and easily adjusts from 20-70 lbs.
This offers a huge range of versatility, making it suitable for use by archers of all frame sizes.
While the Provider lacks the adjustability in draw length of many of its fellow Diamond models, its 25.5"-31" range is still viable for almost any adult archer. The only time when this less extensive range might foreseeably become an issue would be in regard to its limitations for youth archers.
If you are looking for a bow for your daughter or son, you should read our Diamond Prism Hands-On Review.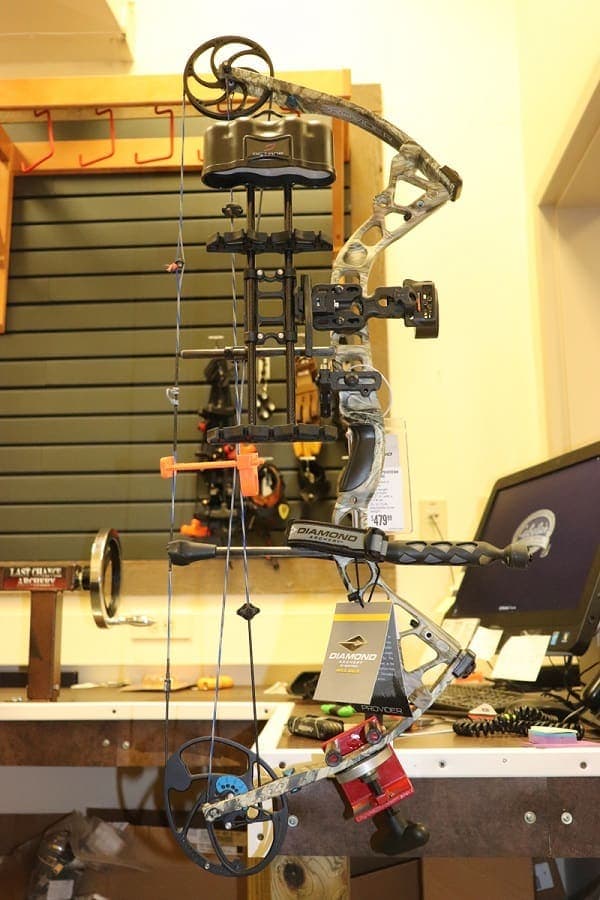 ---
One nice feature found in conjunction with the Provider is the compound bow's 80% let-off factor. This is on par with many of the highest let-off rates found across the industry and should allow an archer to easily hold at full draw, even with the compound bow set to its 70 lbs maximum draw weight.
The Diamond Archery Provider employs the use of a single cam design, which makes initial tuning a breeze. Without a second cam, many timing issues are eliminated, and the bow's draw length can be adjusted in just minutes, as only one module must be rotated (make sure to read our latest blackout bow review).
With an IBO speed of 310 FPS, no one is claiming that the Provider is an absolute speed demon.
However, this is plenty enough speed for virtually any hunting or target archery scenario and is still quite a respectable overall rating.
Shootability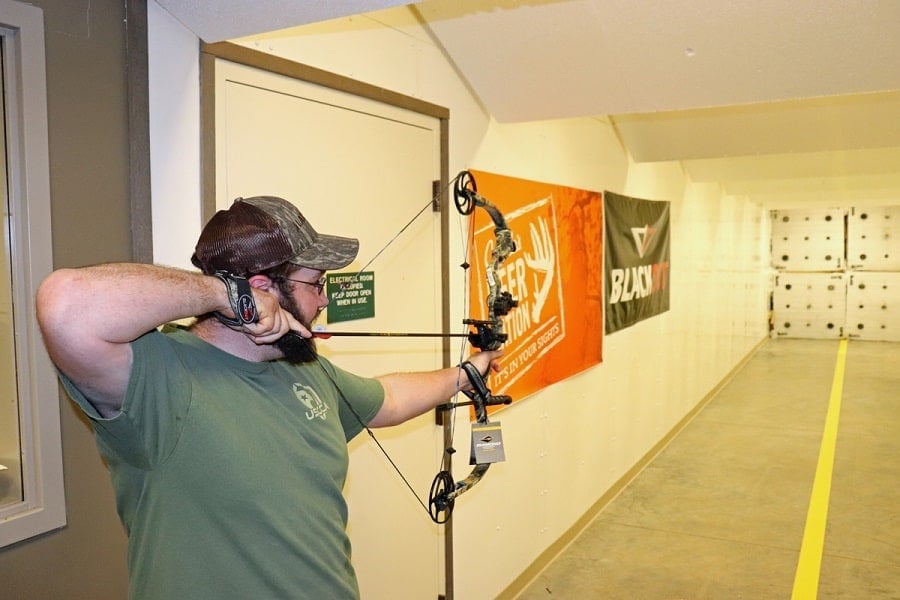 ---
After adjusting the Provider compound bow to my particular draw length, and installing a D-loop and peep sight, it was time to send some arrows downrange.
Upon drawing the Diamond Archery Provider, I have to say that I was not initially impressed. The draw cycle itself, while not unbearable in any way, lacked the same ultra-smooth pull that is typical of Diamond's other bows.
While the actual draw cycle of the Provider was not as refined as I had hoped, the bow featured a perfectly solid back wall, which I found to be an enormous benefit.
I am quite the fan of a solid back wall, as I feel that this allows you to anchor your shot consistently every time, in turn leading to increased accuracy.
I did note how easy it was to hold the Diamond Archery Provider at full draw. The bow's 80% let-off factor serves it well, allowing an archer to hold even the heaviest of draw weights with ease. This can be a huge benefit for bowhunters, as one must often be patient when trying to find the perfect window of opportunity to make their shot count.
read.. bear paradox
Upon releasing my arrow, the shot cycle itself was quite crisp. I was also pleasantly surprised to find that the Provider presented minimal hand shock and audible noise upon the release.
In fact, the Provider was whisper quiet, emitting little more noise than that produced when an arrow struck the target.
When shooting the Provider, I did quickly begin to notice a pattern. This bow shoots as excellent as it looks, and is extremely forgiving. Upon shooting my first group of 5 arrows, after the Provider was initially set up, I was able to place my shots in a 2" group at 20 yards.
Much of this accuracy and forgiveness (single cam) can be directly attributed to the Provider's generous 7.5" brace height.
PROS and CONS
PROS:
Solid Back Wall
80% Let-Off
Weights only 3.3 Pounds
Accessory Package
Generous Brace Height of 7.5″
CONS:
Draw Cycle not as Ultra-Smooth as on Diamonds other bows
Shorter

Draw Length Settings are not ideal for youth archers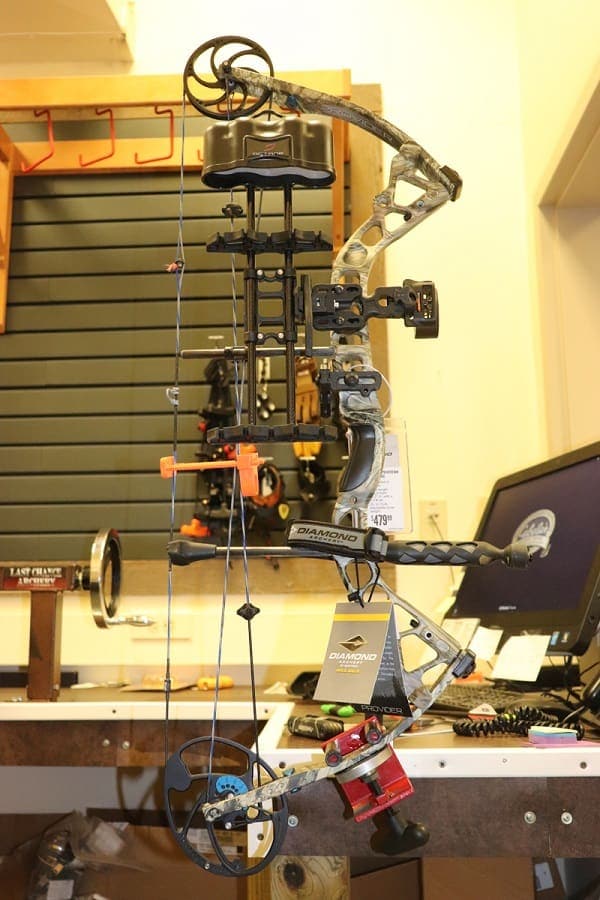 ---
Accessories
The Diamond Archery Provider's accessory compound bow package, in my opinion, is quite a bit more impressive than that found on many of the company's latest bows.
This bow comes with a sight, quiver, arrow rest, stabilizer, and wrist sling.
I would rate the Provider's accessory package as being moderate in quality and features, which is well beyond that of what is offered with many package bows. 
The R.A.K. Package from Diamond Archery offered in conjunction with the Provider includes a 3-pin Apex sight. This sight is actually quite nice in quality and makes a wonderful option for beginner and intermediate archers.
My wife actually uses a very similar Apex sight on her bow and is very fond of it.
I am also a fan of the Whisker Biscuit style rest that is offered in conjunction with the Provider.
This is a captive-style rest that securely holds an archer's arrow in place, without fear of incidental contact knocking it out of place.
This style of rest is perfect for beginning archers but is also quite beloved by many experienced shooters as well. The Octane rest supplied with the Provider is also a nice touch. It does a suitable job of balancing the bow and is superb at dampening vibration during the shot.
Most archers will find no need to replace this stabilizer in the future, as it is already quite effective without an upgrade.
How Does The Provider Compare to Other Bows
| | | | | | | | | |
| --- | --- | --- | --- | --- | --- | --- | --- | --- |
| Diamond Provider | medium | 310 | 80% | 25.5″ – 31″ | 70lbs | 7.5″ | 3.3lbs | L/R |
| BOW | Price | IBO (fps) | Let-Off | Draw Length | Max. Draw Weight | Brace Height | Bow Mass Weight | Hands |
| --- | --- | --- | --- | --- | --- | --- | --- | --- |
| Bear Paradox | medium | 330 | 80% | 23.5" - 30.5" | 70lbs | 6.25" | 4.3lbs | L/R |
| Bear Divergent EKO | med/high | 338 | 90% | 26" - 30" | 70lbs | 6.5" | 4.1lbs | L/R |
| Bear Cruzer G2 | medium | 315 | 70% | 12" - 30" | 70lbs | 6.5" | 3lbs | L/R |
| PSE Uprising | medium | 302 | 70% | 14" - 30" | 70lbs | 6.625" | 3.2lbs | L/R |
| Diamond Deploy SB | medium | 330 | 80% | 26" - 30.5" | 70lbs | 6.75" | 3.2lbs | L/R |
| Blackout Epic | medium | 340 | 90% | 26" - 30" | 70lbs | 6" | 4.1lbs | L/R |
| PSE Stinger MAX | medium | 312 | 80% | 21.5" - 30" | 70lbs | 7" | 3.8lbs | L/R |
| Diamond Edge 320 | medium | 320 | 85% | 15" - 31" | 70lbs | 7.25" | 3.6lbs | L/R |
| Diamond Edge Pro | medium | 310 | 80% | 13" - 31" | 70lbs | 7" | 3.2lbs | L/R |
| Diamond Prism | medium | 295 | 80% | 18" - 30" | 55lbs | 7" | 3.2lbs | L/R |
| Predator Raptor | low | 315 | 75% | 24.5" - 31" | 70lbs | 7.5" | 3.8lbs | L/R |
| PSE Brute NXT | medium | 328 | 80% | 22.5" - 30" | 70lbs | 6.5" | 3.7lbs | L/R |
| Diamond Provider | medium | 310 | 80% | 25.5" - 31" | 70lbs | 7.5" | 3.3lbs | L/R |
Overall Evaluation
After shooting and handling the Diamond Provider, I am quite impressed overall. Although this bow did not draw as smoothly as I would have hoped, it more than made up for this fact in forgiveness and overall accuracy.
This compound bow is an absolute tack driver and is quite capable of grouping arrows with outright precision. The quality of the accessories included in the Provider R.A.K. Pack far exceeded that of many package bows.
This offers archers of any experience level the opportunity to hit the range with their newly purchased bow, just minutes after taking delivery. Overall, I would say that the Diamond Provider Compound Bow would make an excellent choice for most any archer, though youth archers might find some hardship with the bow's lack of shorter draw length settings.
If you are an archer that is currently in search of a new compound bow, you should give the Diamond Provider a look.
Special thanks to the staff at Cabela's of Bowling Green, Kentucky, for allowing us the use of their bows, and range, for test and review purposes. Cabela's was acquired by Bass Pro Shop in 2016 and now operates as a branch of the company, with retail locations nationwide.