Over the past several years, Bear Archery has made quite the habit of producing consumer-friendly bows at an even friendlier price. As a result, the company's following has grown tremendously, as many have jumped at the opportunity to purchase a premium compound bow without the premium price tag.
One important note: I tested the bow in real life. I went and actually sent some arrows downrange. The following is a comprehensive look at what I found to be true of the Bear Archery Paradox in the form of features and functionality
One such bow that highlights Bear Archery's emphasis on providing archers with the most bang for their buck is the Paradox.
The Bear Paradox has received its fair share of attention over the past year, largely for its excellent balance of cost and performance. Many have described the Paradox as an excellent all-around bow for archers of every experience level.
As luck would have it, I was recently presented with the opportunity to shoot the Bear Paradox, much to my excitement. The following is a detailed account of that which I observed when putting the Paradox through its paces.
At a Glance
Design & Construction

95%
Initial Thoughts
The Paradox holds what many would refer to as a "traditional" spot within Bear Archery's current lineup.
Unlike many of Bear's current offerings, the Paradox does not feature a wide range of adjustability in draw length or draw weight, nor does the Paradox utilize the manufacturer's highly-popular EKO adjustable let-off system. 
Quite the contrary, the Paradox is intended to be a rather straightforward bow that is rich in performance yet offered at a fraction of the price associated with many comparable compounds on today's market (read.. Divergent EKO review).
With a rated IBO speed of 330 FPS, I was relatively certain that the Paradox held more than its share of potential. However, I was curious to see how it would stack up against my expectations.
First Impression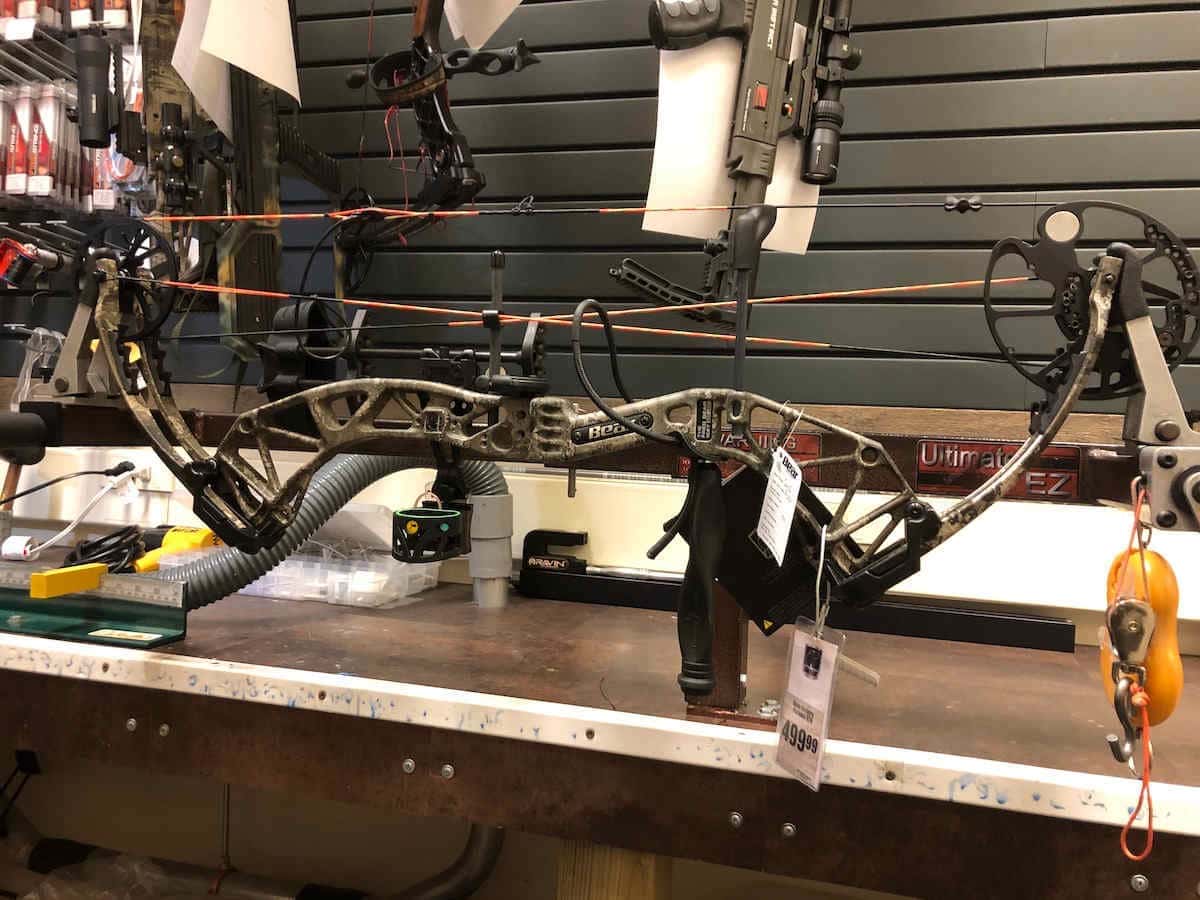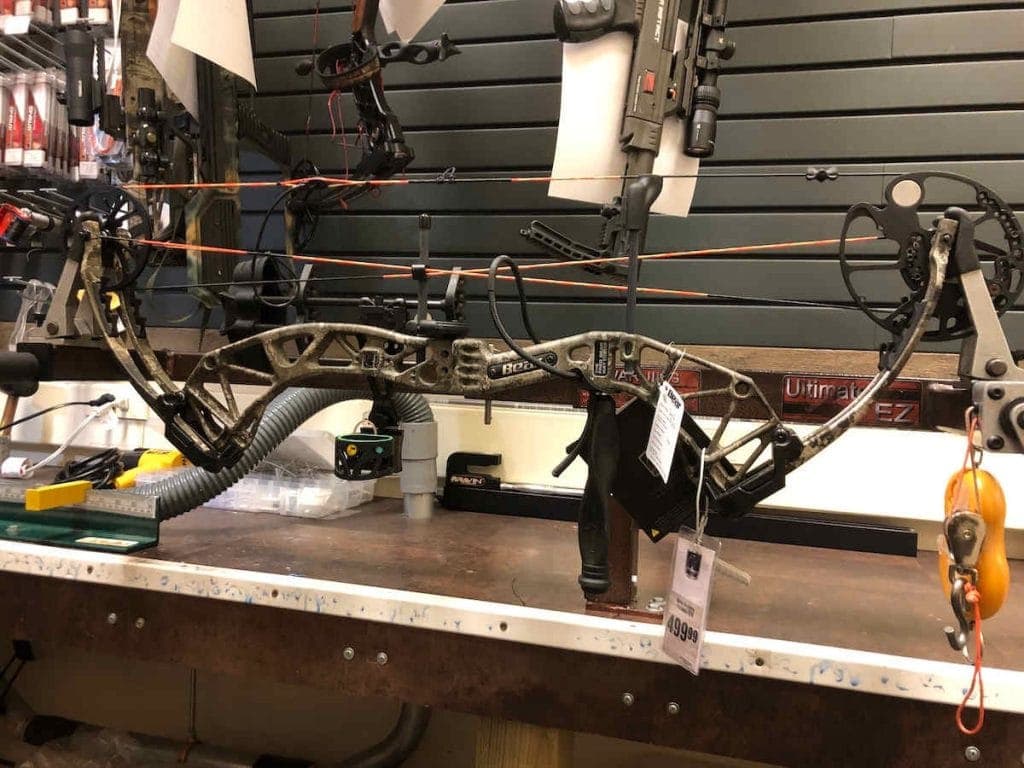 Bear Archery Paradox – Straightforward and rich in performance
---
Upon taking the Bear Paradox in my hand, I was immediately impressed with its overall fit and finish. The particular bow that I tested looked to have been cleanly machined and was free of any obvious visual defects.
This bow also featured a Realtree Edge camo finish, which complemented its aesthetics quite well. I also was quite stricken at how light the Paradox truly was. Weighing in at only 4.2-pounds, the Paradox felt excellent in the hand, even more so than I initially anticipated (read.. Cruzer G2 Review).
I did, however, notice that the Paradox lacks a standard grip, in the true sense that many would expect. Alternatively, the bow's riser is machined into the form of a rather basic grip, which features a relatively streamlined profile.
Bear Paradox Bow Specifications
Published Specs
Let-Off: 80 percent
Weight: 4.3 pounds
Brace Height: 6.25 inches
Axle-to-Axle Length: 32 inches
Speed: 330 fps
Draw Weights: 45 – 60 or 55 – 70 pounds
Draw Lengths: 23.5 to 30.5 inches
Finishes: TrueTimber Strata
Suggested Retail:
check price
Technical Features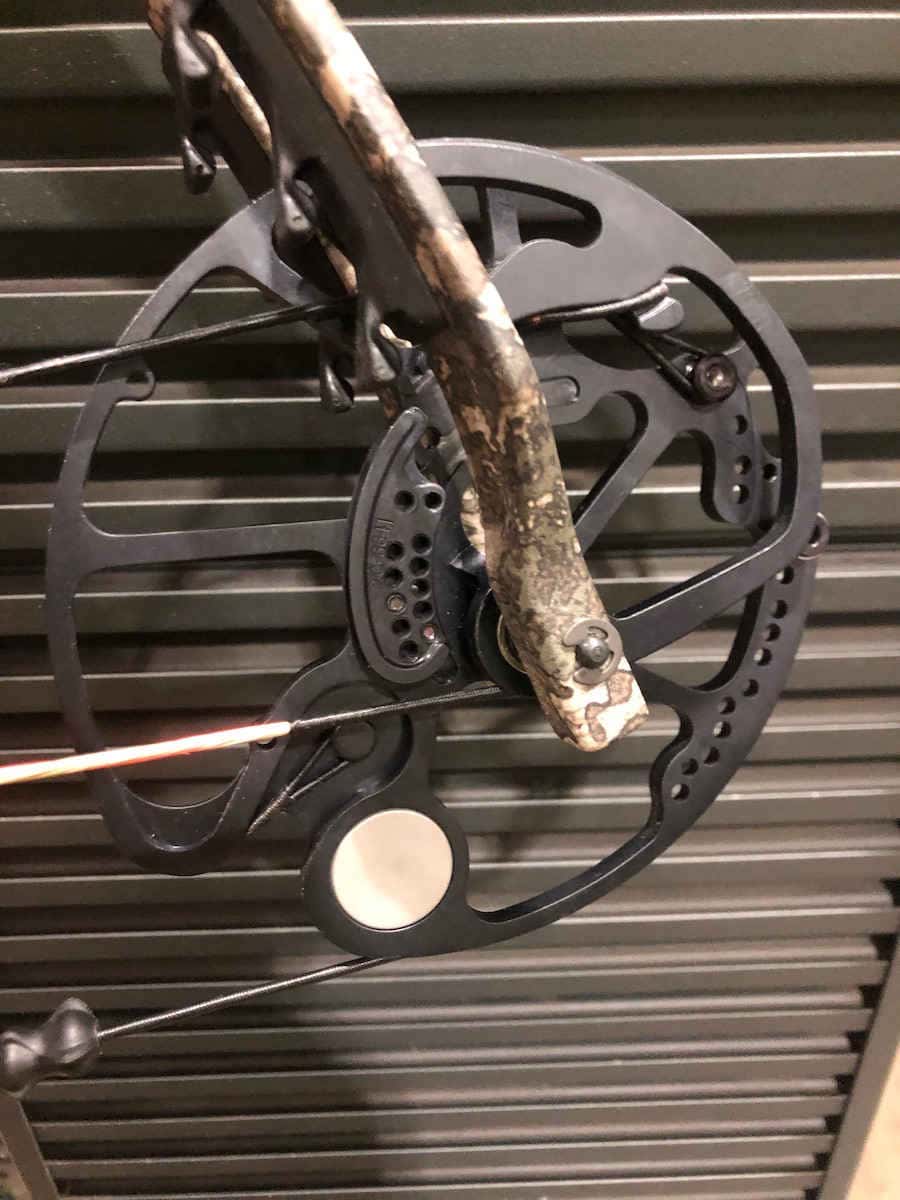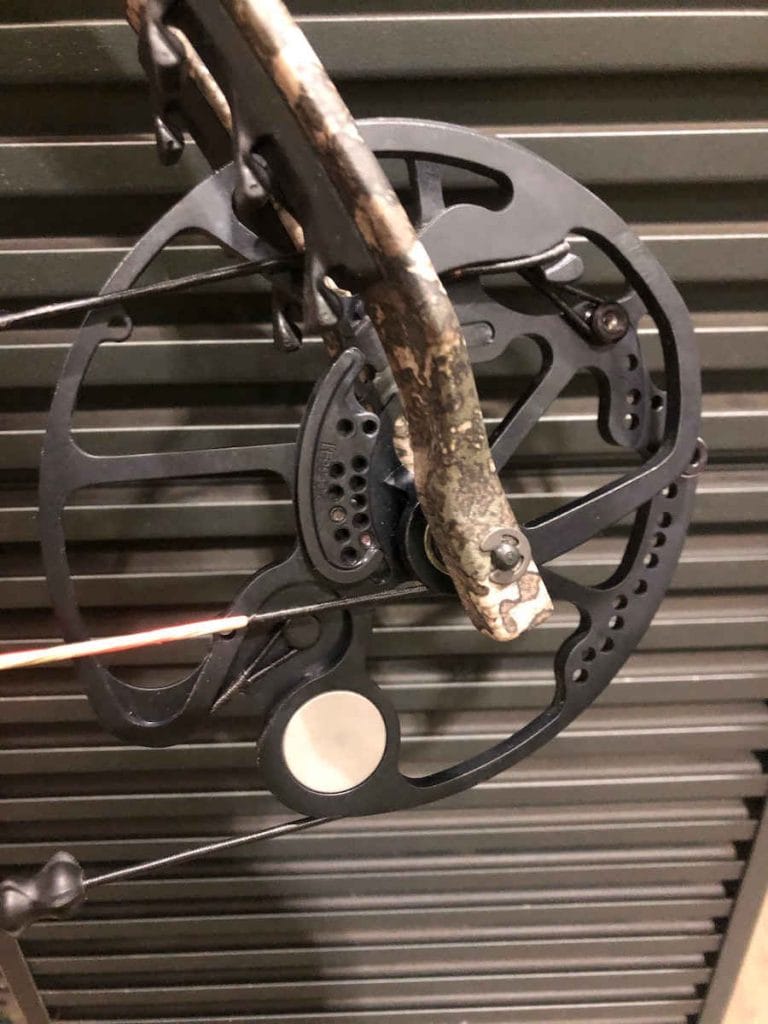 Bear Paradox – Cam Closeup
---
As mentioned, Bear opted to forgo the use of ultra-adjustable limbs and cams when engineering the Paradox.
Alternatively, the Paradox is offered in two individual draw weight ranges, including 45-60 LBS and 55-70 LBS models. Likewise, the Paradox is offered in a standard draw length range of 23.5"-30.5".
The Bear Paradox also features a single let-off factor of 80%, unlike other Bear models, which now utilize the company's proprietary EKO adjustable cams.
However, at 80% let-off, most consumers should find the Paradox quite comfortable to pull and hold at full draw, assuming that an appropriate draw weight is selected upon setup. Also of note is the Paradox's 6.25" brace height, which falls quite nicely into the 6"-7" sweet spot for optimal forgiveness.
This can be a valuable figure to consider for any prospective consumer, but especially for those who are still relatively new to archery and who are still in the process of mastering proper form.
---
The Bear Paradox measures 32" axle-to-axle, which should be ideal, in almost any application.
At this measurement, there is little worry of the Paradox becoming cumbersome when used within the confines of a ground blind or when hunting from a heavily brushed-in treestand, where a lack of space often serves as a limiting factor.
It is also worth mentioning that some archers might find value in the Paradox's single-cam design. In general, single-cam compound bows often encounter fewer timing and tuning-related issues, thereby minimizing the potential for accuracy robbing issues due to maladjustment.
Shootability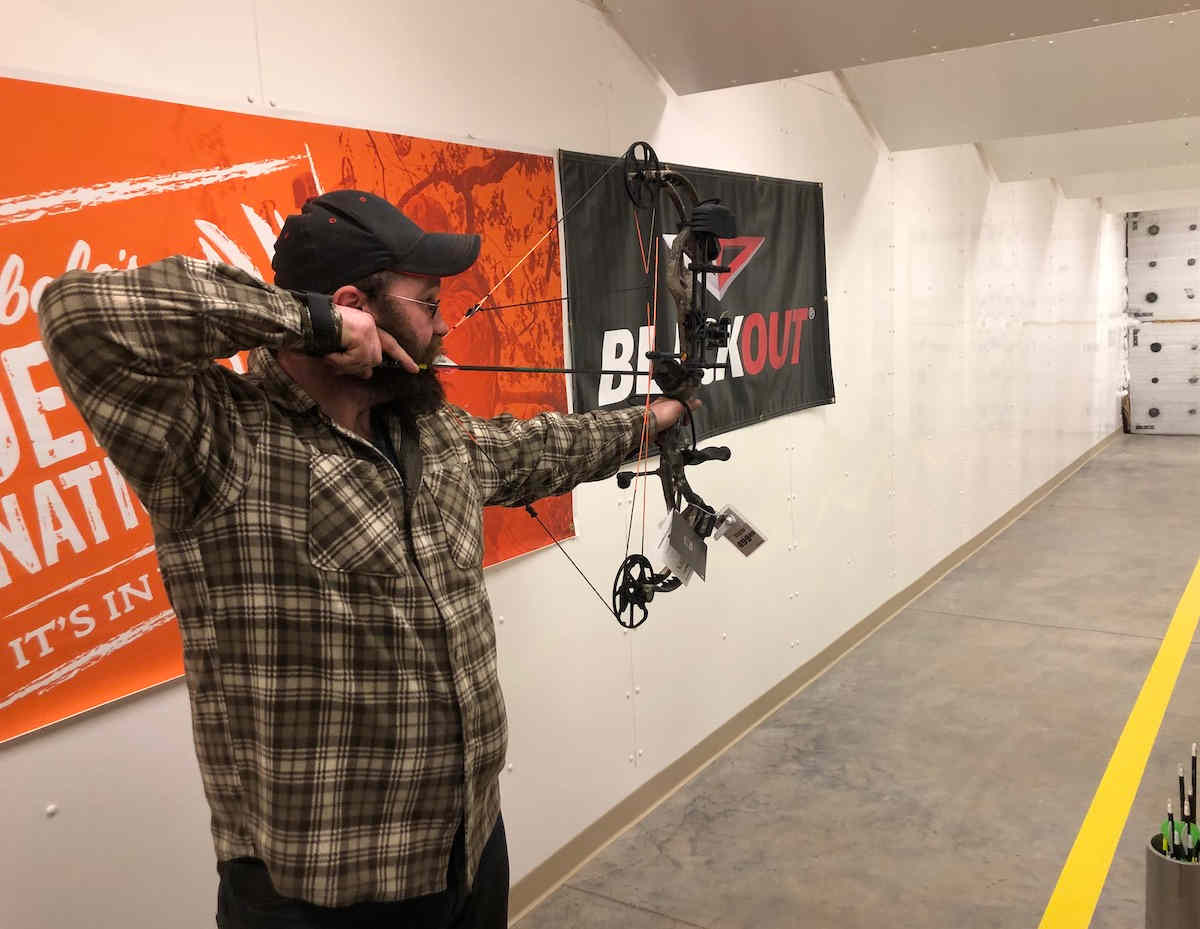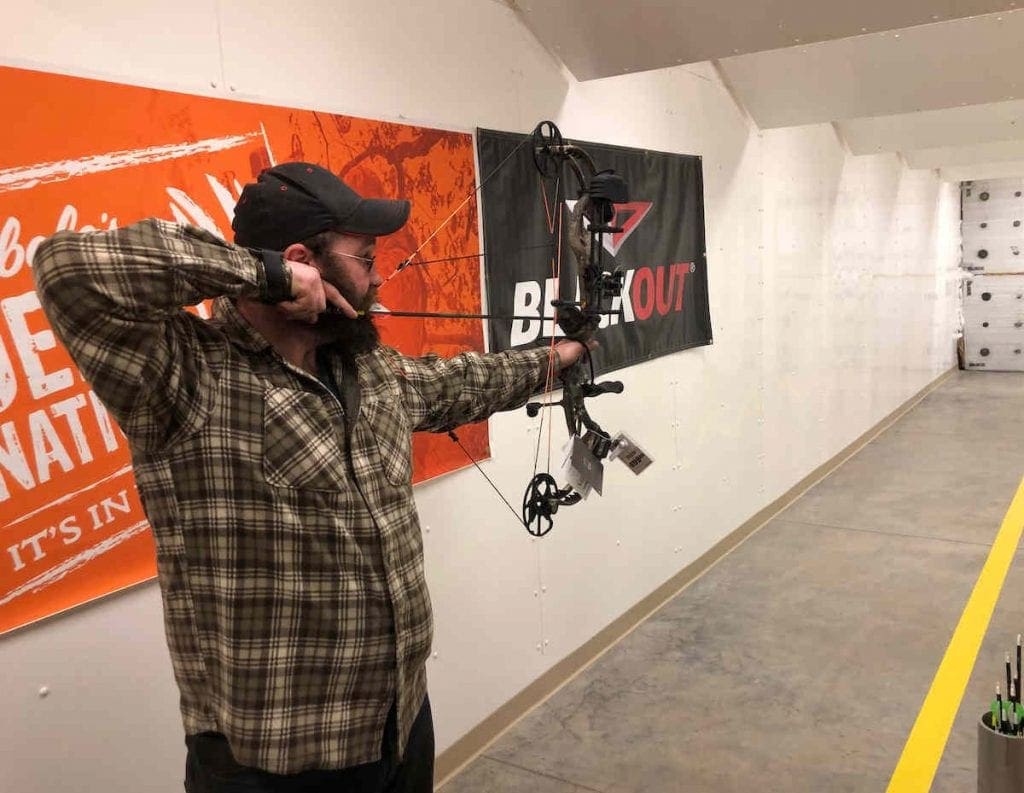 Bear Paradox – Rock solid back wall
---
After adjusting the Bear Paradox to my specific draw length, it was time to put it to the test. When preparing for the initial shot, I felt the Paradox's draw cycle to be relatively smooth.
However, I could definitely feel a certain level of "lope" as the bow broke over into the valley. While one would be hard-pressed to classify this as a drawback of any type, I could certainly feel the point of break-over of cam actuation. 
Upon reaching full draw, I was pleased to find a rock-solid back wall, of which I was quite fond. I am a fan of a solid back wall, as I feel that such a trait aids in consistency.
The Paradox's 80% let-off also felt quite comfortable, presenting no issue when attempting to hold the bow at full draw for prolonged periods.
The Paradox really hit its stride upon the shot's release. It immediately noticed how quiet this bow shoots. Outside of the arrow impacting its intended target, one would be hard-pressed to have noticed any noise whatsoever at the time of release.
The Paradox also offered up no noticeable hand shock during the shot, making it extremely pleasant to shoot.
The speed at which the Paradox sent arrows downrange was also quite impressive. The moment at which I triggered my release, and the moment when the arrow found its mark seemed to be singular in nature. To say the least, the Paradox's rated IBO speed of 330 FPS is extremely believable.
PROS and CONS
PROS:
Fast

Minimal Hand Shock

Quiet
CONS:
Grip
Actuation of Cam Slightly Harsher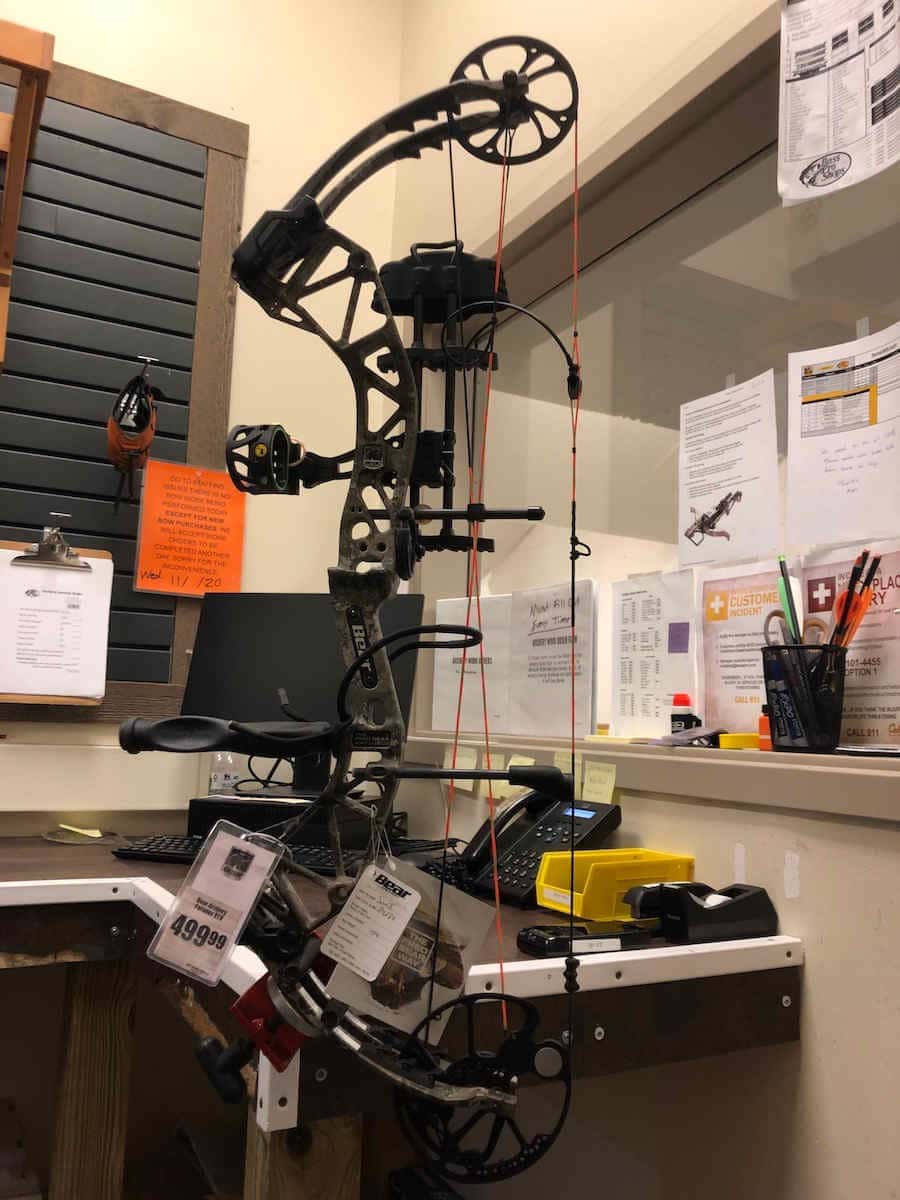 Bear Paradox – minimal hand-shock
---
How Does The Bear Archery Paradox Compare to the Bear Cruzer G2?
We reviewed several bows made by Bear Archery. Just recently, I had the chance to shoot the Bear Cruzer G2.
In comparison to the Cruzer G2 the Paradox has some points where it loses, but is winning in others:
The Paradox offers a let-off of 80%, whereas the Cruzer G2 offers only 70% let-off.
The Paradox is faster than the Cruzer G2. Paradox 330fps – Cruzer G2 315fps.
The Cruzer weighs in at 3bs. The Paradox is heavier with 4.3lbs.
Draw Length 12″-30" for the Cruzer but 23.5″-30.5″ for the Bear Paradox.
ATA Length: Cruzer 30″ and the Paradox 32″
Draw Weight Cruzer G2: 5-70lbs. The Paradox "Only" 45-70lbs.
How Does The Paradox Compare to Other Bows we Reviewed?
| | | | | | | | | |
| --- | --- | --- | --- | --- | --- | --- | --- | --- |
| Bear Paradox | medium | 330 | 80% | 23.5″ – 30.5″ | 70lbs | 6.25″ | 4.3lbs | L/R |
| BOW | Price | IBO (fps) | Let-Off | Draw Length | Max. Draw Weight | Brace Height | Bow Mass Weight | Hands |
| --- | --- | --- | --- | --- | --- | --- | --- | --- |
| Bear Paradox | medium | 330 | 80% | 23.5" - 30.5" | 70lbs | 6.25" | 4.3lbs | L/R |
| Bear Divergent EKO | med/high | 338 | 90% | 26" - 30" | 70lbs | 6.5" | 4.1lbs | L/R |
| Bear Cruzer G2 | medium | 315 | 70% | 12" - 30" | 70lbs | 6.5" | 3lbs | L/R |
| PSE Uprising | medium | 302 | 70% | 14" - 30" | 70lbs | 6.625" | 3.2lbs | L/R |
| Diamond Deploy SB | medium | 330 | 80% | 26" - 30.5" | 70lbs | 6.75" | 3.2lbs | L/R |
| Blackout Epic | medium | 340 | 90% | 26" - 30" | 70lbs | 6" | 4.1lbs | L/R |
| PSE Stinger MAX | medium | 312 | 80% | 21.5" - 30" | 70lbs | 7" | 3.8lbs | L/R |
| Diamond Edge 320 | medium | 320 | 85% | 15" - 31" | 70lbs | 7.25" | 3.6lbs | L/R |
| Diamond Edge Pro | medium | 310 | 80% | 13" - 31" | 70lbs | 7" | 3.2lbs | L/R |
| Diamond Prism | medium | 295 | 80% | 18" - 30" | 55lbs | 7" | 3.2lbs | L/R |
| Predator Raptor | low | 315 | 75% | 24.5" - 31" | 70lbs | 7.5" | 3.8lbs | L/R |
| PSE Brute NXT | medium | 328 | 80% | 22.5" - 30" | 70lbs | 6.5" | 3.7lbs | L/R |
| Diamond Provider | medium | 310 | 80% | 25.5" - 31" | 70lbs | 7.5" | 3.3lbs | L/R |
Accessories
The Bear Paradox is offered in a RTH (Ready To Hunt) package and comes outfitted with numerous accessories. This allows a hunter to head straight to the woods or range after receiving their bow, with minimal setup required.
The contents of this package include a Trophy Ridge sight, stabilizer, rest, quiver, wrist sling, and D-loop.
Of these accessories, the Paradox's Trophy Ridge sight is a true winner. Trophy ridge makes some of the highest quality sights on the market today, with that included in the RTH package being no exception.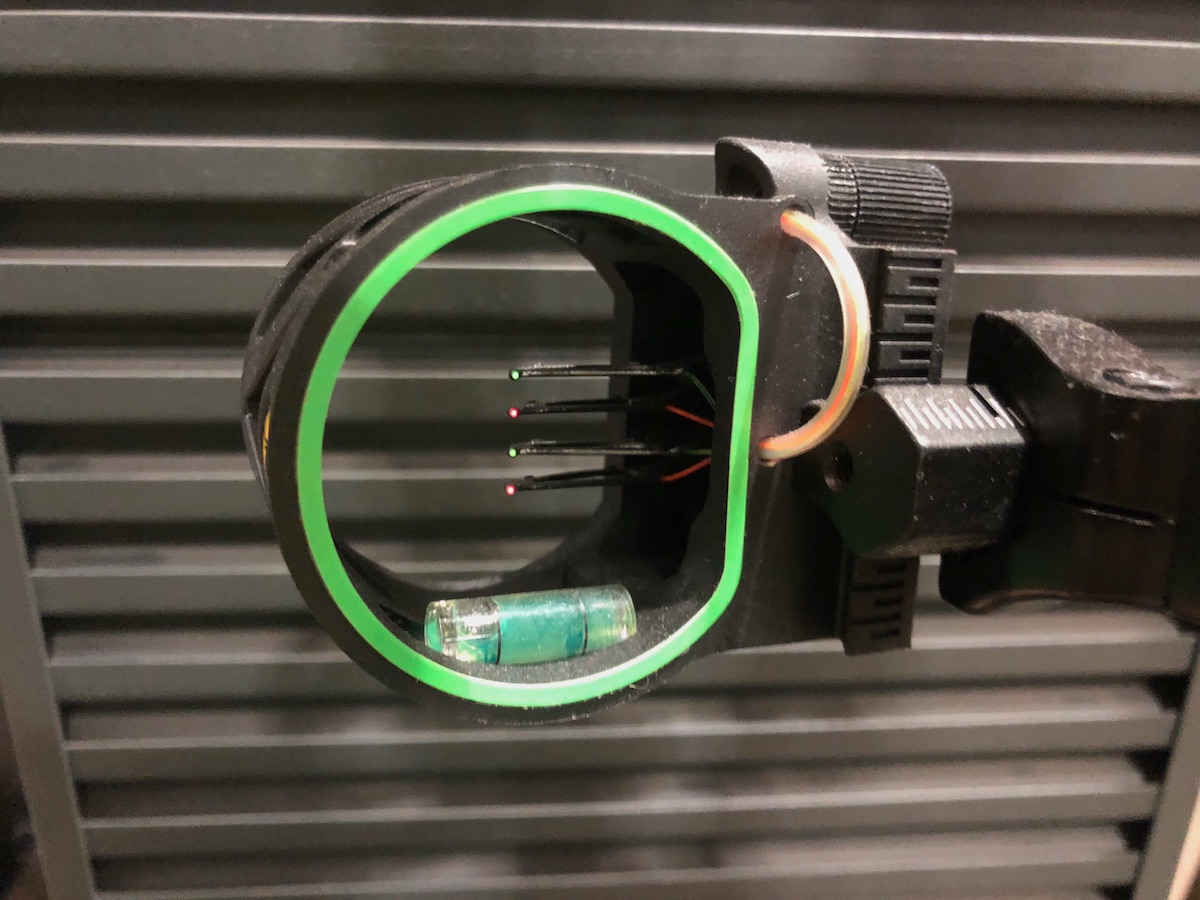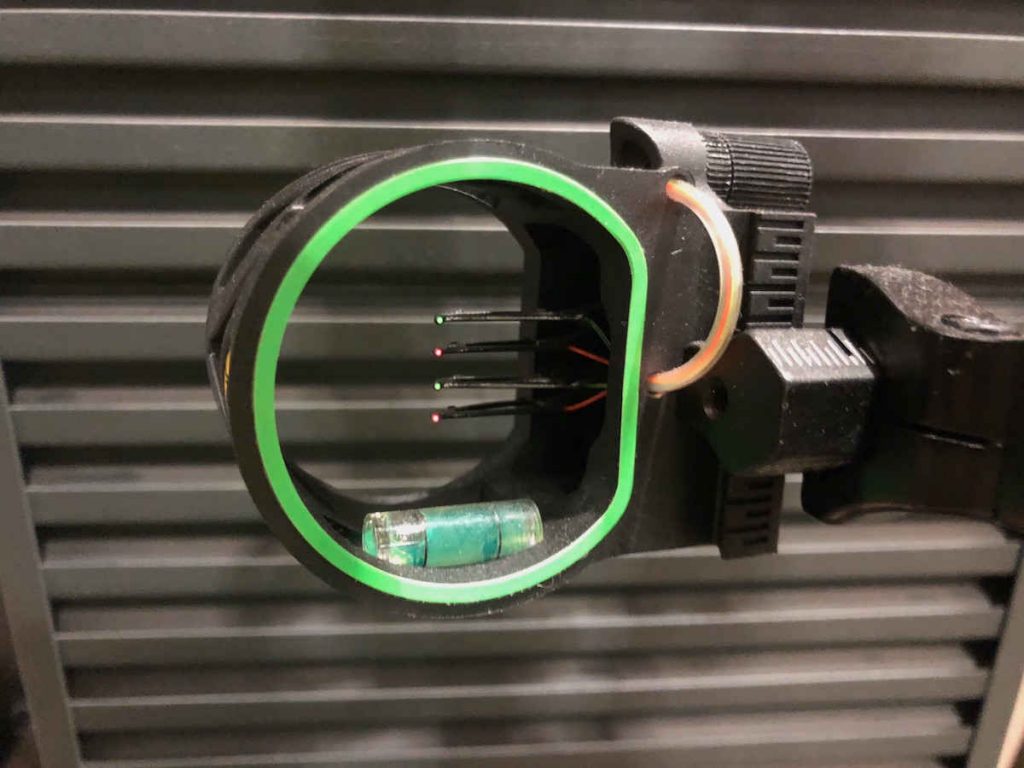 Paradox Sight – Included in the RTH Package
---
This sight is of a four-pin design, all of which are vividly illuminated with the use of quality fiber-optics. The Bear Paradox RTH package also includes a captive-style rest, which is a favorite among bowhunters.
This rest keeps an arrow fully contained until being released during the shot. This prevents an arrow from being inadvertently knocked loose from the bow's rest if contact is made with limbs, twigs, or other brush.
Overall Evaluation
After having had a chance to test and evaluate the Bear Paradox, I must say that I was quite pleased with what I found. The Paradox is certainly a performer in almost every sense of the word. With an IBO speed of 330 FPS, the Paradox is quite fast by any standard.
If the Paradox were to have one shortcoming, it would relate to the bow's draw cycle.
While it would be a stretch to say that the bow's draw was uncomfortable in any way, the actuation of the Paradox's cam was slightly harsher than I expected, though not overly off-putting.
Overall, the Bear Paradox would make an excellent selection for any adult archer searching for a moderately priced bow with larger-than-life performance characteristics.
This bow is concrete proof that Bear Archery has bridged the gaps in performance and quality between bows of widely varying price points.
Special thanks to the staff at Cabela´s of Bowling Green, Kentucky, for allowing us to use the compound bow and range for test and review purposes. Cabela´s was acquired by Bass Pro Shop in 2016 and now operates as a branch of the company, with retail locations nationwide.