In an era that has seen bow manufacturers consistently stretch the bounds possibility, it is easy to assume that there are few frontiers in compound bow technology left to conquer. However, Bear Archery has continued to push this envelope, most notably with the release of their new Divergent EKO model.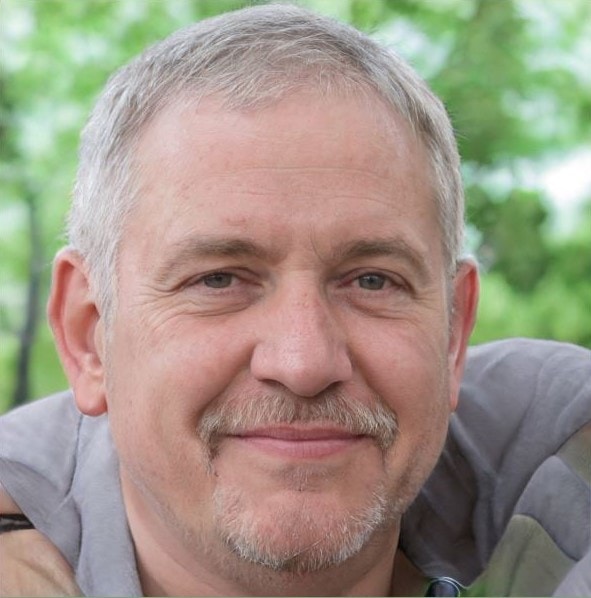 One important note: we tested the bow in real life. Yes – We went and actually send some arrows downrange. The following is a comprehensive look at what we found to be true of the Bear Archery Divergent EKO in the form of features and functionality.
Today, it seems as if nearly every compound bow available features a range of adjustability that is second to none.
However, the Divergent EKO offers a different variation of adjustability than that of many other bows found on today's market, as it features an adjustable let-off factor, which can be set as desired in just minutes.
With all of the buzz surrounding the Divergent EKO's release, I jumped at a recent opportunity to do a Bear Divergent Review. The following is what I found when putting the Divergent EKO through its paces at the range.
At a Glance
Design & Construction

95%
Initial Thoughts
One of the most talked-about features of the Bear Divergent EKO is its adjustable let-off factor. While bows featuring adjustable draw weight and draw length are nothing new, this is something that has seldom been seen to this point (read.. Bear Archery Species Review).
The Divergent EKO allows archers to set their bows' let-off in five percent increments from 75%-90%.
This bow has also drawn a significant amount of attention for its stellar speed. With an IBO rating of 338 FPS, few can question the Divergent EKO's performance merit. In total, these key features alone make this bow worthy of a closer look.
First Impression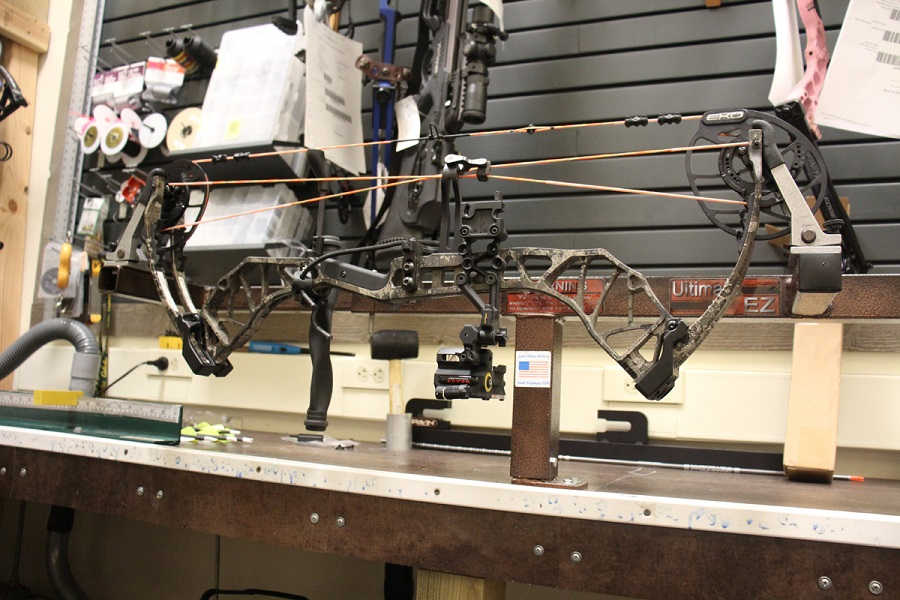 Upon handling the Bear Divergent EKO, I immediately noticed how striking this bow is in its visual appeal. Everything from the EKO's aggressively swept limbs, to its purposefully placed riser cutouts, give it an impressive look that is truly one of a kind.
The bow's look could most accurately be described as one of aggressive performance.
Bear Archery Divergent EKO Specifications
Brace Height: 6.5"
Let-Off: 75%, 80%. 85%, 90%
Axle-to-Axle: 30"
Draw Length: 26"-30"
Draw Weight: 45-60/55-70 LBS
Speed: 338 FPS
Weight: 4.1 LBS
The Bear Divergent EKO is also notable for its compact size and its smooth draw, which was also a primary point of focus.
At only 30" axle-to-axle, it quickly became apparent that this bow would be perfect for those who spend most of their time in the woods hunting from a ground blind.
Technical Features
The Bear Divergent EKO is nothing short of a technological masterpiece. This bow manages to combine lightning-quick performance, compact design, and previously unheard-of adjustability, all into a single package.
To say the least, Bear, as a company, put a significant amount of time, energy, and effort into creating the Bear Divergent EKO. The bow was designed with the whitetail bowhunter in mind!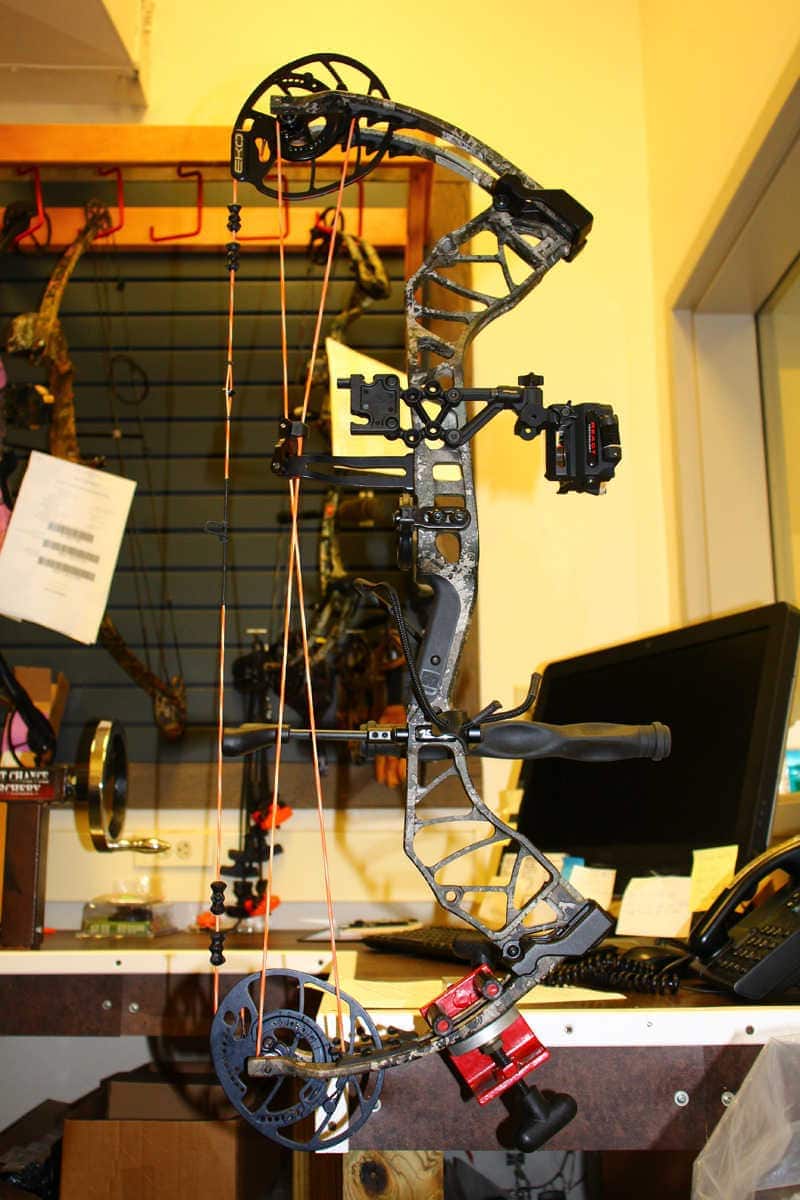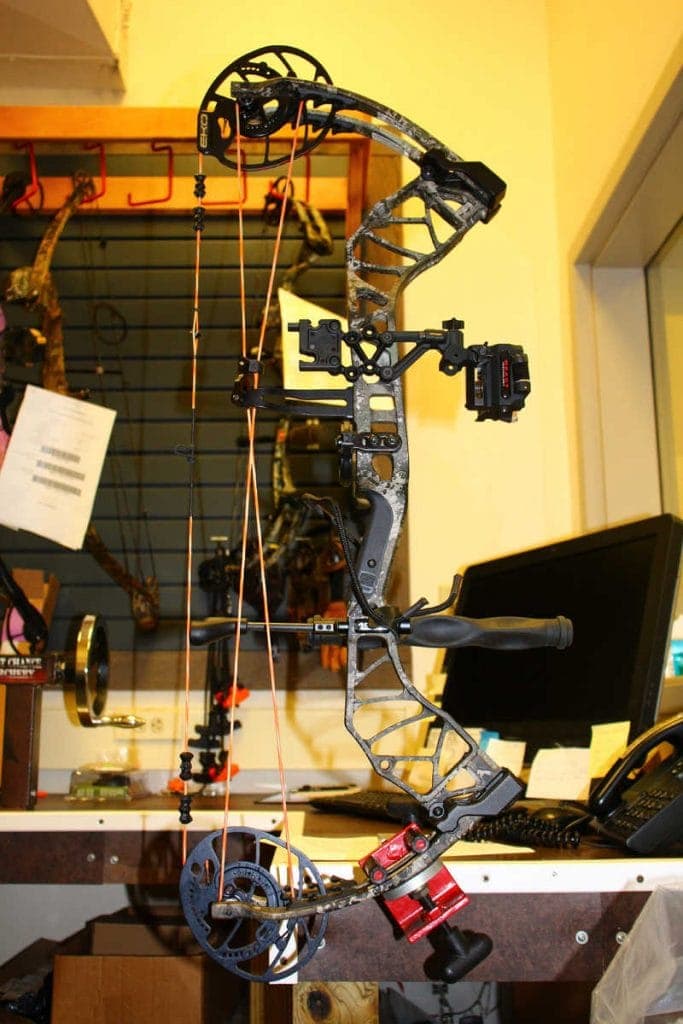 The Divergent compound bow is perhaps best known for its range of let-off adjustability. Archers can select from let-off values of 75%, 80%. 85%, and 90%.
This is a very interesting feature, as it effectively allows one to dial in the exact feel of how their bow rides when held in the valley.
While some archers prefer a maximum amount of let-off, others prefer to hold a little bit more weight to aid in maintaining proper form (read.. Bear Species RTH Review).
With the Bear Divergent EKO, archers can have both. To adjust between the bow's various let-off values, simply rotate the hybrid cams' modules and cable stops.
This process takes no more than a few minutes to complete and can be performed by archers of any skill or experience level.
The Divergent EKO is also notable for its high IBO speed rating. At 338 FPS, there are few bows on the market today that can offer this level of performance, at a similar price point (read.. Bear Pledge Buying Guide).
The EKO is offered in two different limb packages, 45-60 LBS, and 55-70 LBS. This enables archers to choose the individual model which best fulfills their needs, and can be drawn most efficiently.
Bear Archery has also still managed to maintain a 6 ½" brace height while producing significant speed.
This is of value, as bows with shorter brace heights of approximately 6" are known to be somewhat less forgiving than their counterparts. Bears shockwaves limb dampening system helps to eliminate shock and vibration.
This means that the Divergent EKO will not only propel arrows downrange at blistering speeds but be capable of accurate delivery while doing so.
One factor of note, which some archers might find of significance, is that the EKO does not feature the same range of draw length or draw weight adjustability as some of Bear's other current offerings, such as the Cruzer G2.
With a draw weight range of 45-60/55-70 pounds and a draw length range of 26"-30", this bow will work for most adults, but not likely children. The compact platform and hybrid cams will ensure an outstanding shootability.
Shootability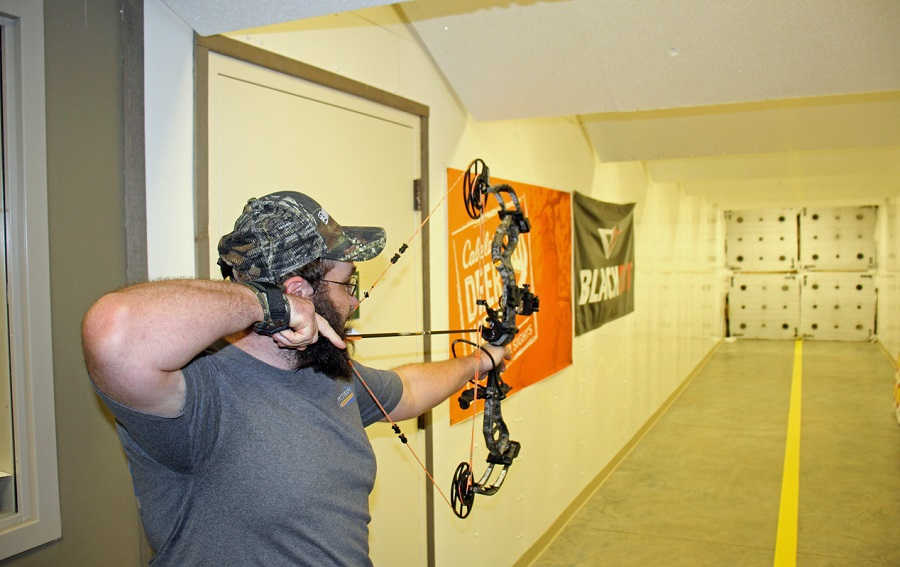 After adjusting the Bear Divergent EKO to my specific draw length, it was time to put it to the test. Upon drawing the EKO, I noticed that its action was smooth as silk.
There were no notable rough spots or points of hesitation within the draw cycle, and the bow pulled into the valley without much effort.
When testing the Divergent EKO, the let-off was adjusted to its 90% setting, as I wished to see for myself what all of the hype was about.
I can honestly say, the Divergent did not disappoint. Once in the valley, it felt as if the Divergent EKO would hold itself at full draw without any effort. This will be a major advantage to bowhunters who are waiting at full draw for the perfect shot opportunity.
Upon releasing my shot, the true performance of the Divergent EKO became evident. At 20 yards the release of the arrow and its impact with the target seemed to occur simultaneously and was nothing short of immensely impressive.
Those who wish to locate a bow that puts speed high upon the priority list will not be disappointed with this bow.
I also noted that virtually no perceivable noise was emitted when the Divergent EKO is fired, which is a feat of engineering in itself, especially considering its lightning-quick arrow speeds. There was also minimal hand shock associated with the EKO. That which was evident was minor enough to be negligible (read.. Bear Paradox Review).
PROS and CONS
PROS:
Blazing Fast 338 FPS I.B.O. Speed
Virtually no noise emitted when fired
Minimal hand shock
Let-Off: 75%, 80%. 85%, 90%
CONS:
Draw Weight might not be adaptable enough for some archers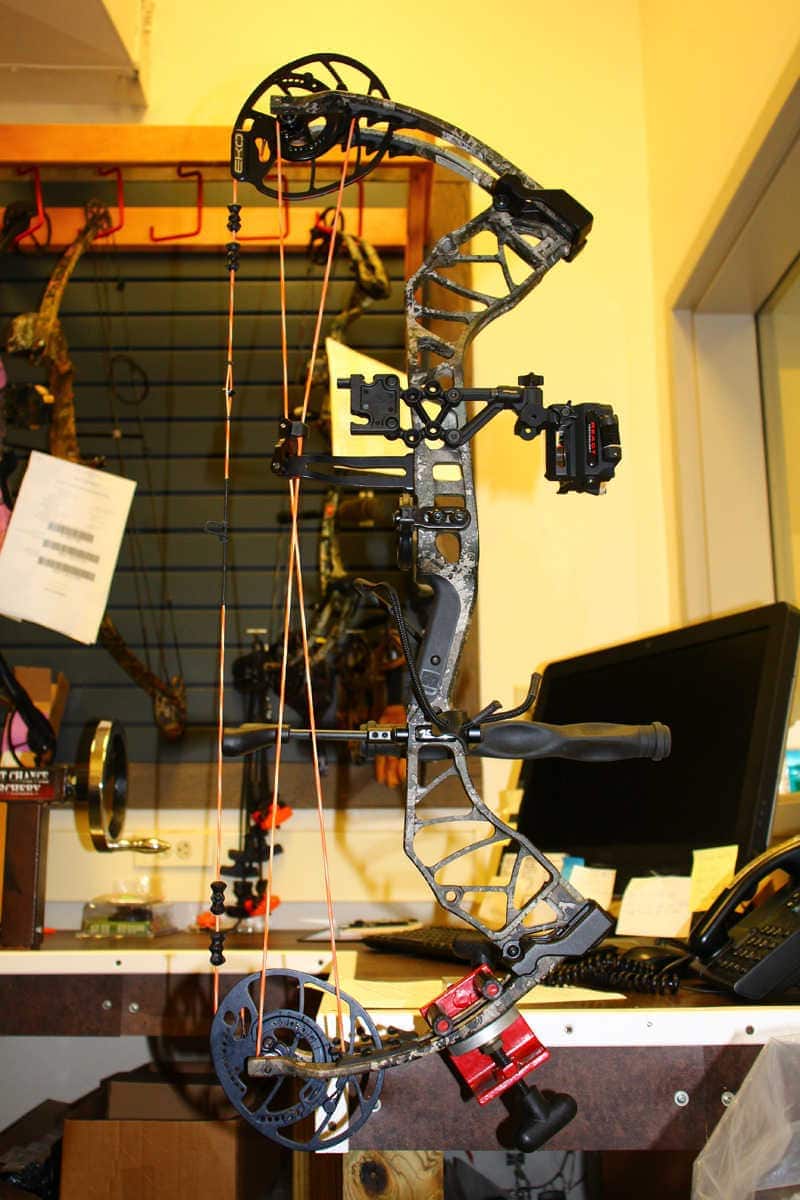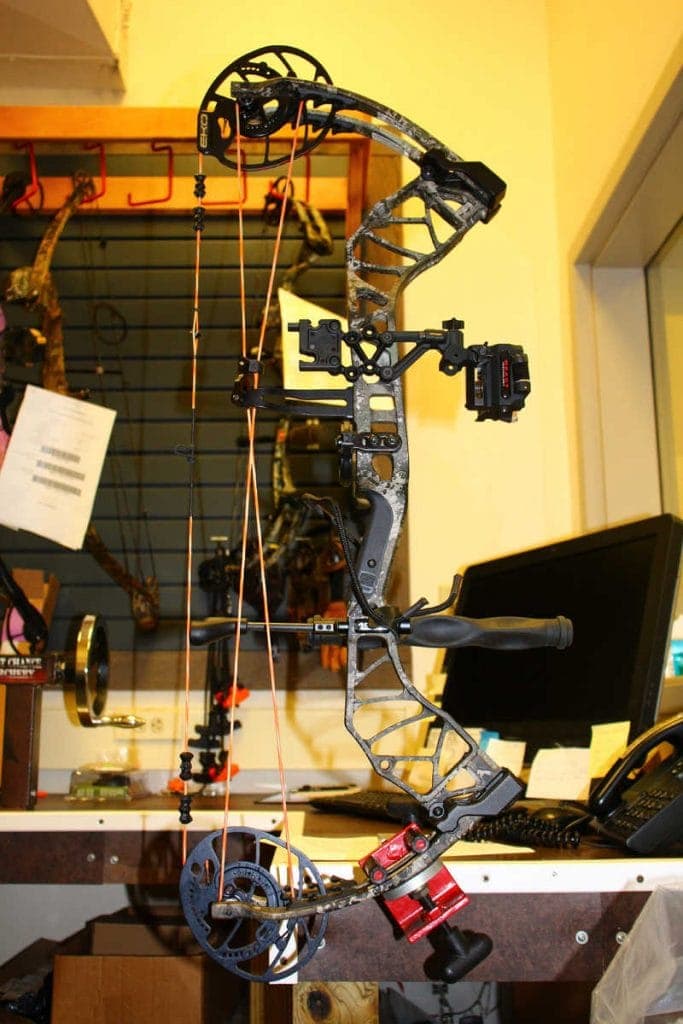 How Does The Bear Divergent EKO Compare to Other Bows
| | | | | | | | | |
| --- | --- | --- | --- | --- | --- | --- | --- | --- |
| Bear Divergent EKO | med/high | 338 | 90% | 26″ – 30″ | 70lbs | 6.5″ | 4.1lbs | L/R |
| BOW | Price | IBO (fps) | Let-Off | Draw Length | Max. Draw Weight | Brace Height | Bow Mass Weight | Hands |
| --- | --- | --- | --- | --- | --- | --- | --- | --- |
| Bear Paradox | medium | 330 | 80% | 23.5" - 30.5" | 70lbs | 6.25" | 4.3lbs | L/R |
| Bear Divergent EKO | med/high | 338 | 90% | 26" - 30" | 70lbs | 6.5" | 4.1lbs | L/R |
| Bear Cruzer G2 | medium | 315 | 70% | 12" - 30" | 70lbs | 6.5" | 3lbs | L/R |
| PSE Uprising | medium | 302 | 70% | 14" - 30" | 70lbs | 6.625" | 3.2lbs | L/R |
| Diamond Deploy SB | medium | 330 | 80% | 26" - 30.5" | 70lbs | 6.75" | 3.2lbs | L/R |
| Blackout Epic | medium | 340 | 90% | 26" - 30" | 70lbs | 6" | 4.1lbs | L/R |
| PSE Stinger MAX | medium | 312 | 80% | 21.5" - 30" | 70lbs | 7" | 3.8lbs | L/R |
| Diamond Edge 320 | medium | 320 | 85% | 15" - 31" | 70lbs | 7.25" | 3.6lbs | L/R |
| Diamond Edge Pro | medium | 310 | 80% | 13" - 31" | 70lbs | 7" | 3.2lbs | L/R |
| Diamond Prism | medium | 295 | 80% | 18" - 30" | 55lbs | 7" | 3.2lbs | L/R |
| Predator Raptor | low | 315 | 75% | 24.5" - 31" | 70lbs | 7.5" | 3.8lbs | L/R |
| PSE Brute NXT | medium | 328 | 80% | 22.5" - 30" | 70lbs | 6.5" | 3.7lbs | L/R |
| Diamond Provider | medium | 310 | 80% | 25.5" - 31" | 70lbs | 7.5" | 3.3lbs | L/R |
How Does The Divergent EKO Compare to its Predecessor Model?
The Divergent EKO grew two inches from 28″ to 30″, with only 0.2 pounds additional weight being added – resulting in a bow that weighs 4.1 pounds bare.
This is definitely not a lot! The Bear EKO Cam System is Bear's main innovation. EKO stands for Equalized Kinetic Orientation.
Basically, the EKO Cam System provides synchronization without giving up performance, and is extremely adjustable.
The "old" model had a let-off setting of 75%. Now you can select between four different let-off settings of up to 90%.
Who Is This Bow For?
This bow is designed to be a hunting bow and its 30-inch ATA length is ideal for a ground blind or a treestand. Obviously, nobody will stop you from taking part in some 3-D Archery action – certainly not the bow!
Accessories
For those who like to outfit their bows with nothing but the highest quality accessories, the Divergent EKO has you covered.
Out of all the package bows offered on the market today, few can boast of such a noteworthy line-up of top-notch accessories, as that which is offered with this bow.
This package includes a sight, arrow rest, 5-arrow quiver, stabilizer, and peep sight.
The Divergent's Trophy Ridge React H4 sight is highly respectable for use by archers of any age or experience level. This 4-pin sight features ultra-bright fiber optics, and a rheostat light for enhanced pin visibility, even when used in low-light conditions.
The React H4 also allows quick, on the fly adjustability, thanks to its use of tool-less elevation and windage adjustments.
Also included in the EKO's accessory package is a full containment Whisker Biscuit arrow rest.
This rest is a favorite of archers of every age and experience level, due in large part to its ability to keep arrows in place, even when inadvertently bumped or jostled.
This can be of immense value when in a hunting scenario. For those of you that already have all accessories ready, you could always try to buy this bow without the RTH package.
Overall Evaluation
After being able to experience all that the Bear Divergent EKO has to offer, I must say that this bow is everything I expected it to be, and more. The Divergent may be one of the best short axle-to-axle bows on the market!
The Divergent offers speed up to 338 feet per second. In combination with the Divergents revolutionary let-off adjustment and a 6.5-inch brace height, it offers a smooth drawing and is almost vibration-free. Between its revolutionary let-off adjustment, stellar performance, and compact size, there is a lot to like about the Divergent EKO.
There are a host of noteworthy features offered by the EKO, which make it a true value to consumers, especially at its moderate price point.
Between its revolutionary let-off adjustment, stellar performance, and compact size, there is a lot to like about the Divergent EKO.
If there was any shortcoming worth mentioning, it would be that the Divergent EKO is relatively subdued in its range of draw weight and draw length adjustment.
However, this should be of little concern, unless one was searching for a bow to be used specifically by their child.
Regarding the Divergent EKO, Bear Archery states, "This is hands down, the best bow we've ever engineered." In my opinion, this statement rings true, and the archery world as a whole is better for the legendary bow manufacturer's efforts.
Make sure to check out our post about this excellent compound bow.
Special thanks to the staff at Cabela's of Bowling Green, Kentucky, for allowing us the use of their bows, and range, for test and review purposes. Cabela's was acquired by Bass Pro Shop in 2016 and now operates as a branch of the company, with retail locations nationwide.
Bear BlackOut Bow Sight Bowtech Compound Bow compound overview Diamond Archery equipment overview Hands-On Accessoires Hands-On Compound Bow Hoyt hunting arrow Mathews News News August 2020 News December 2020 News February 2021 News January 2021 News November News October 2020 News September 2020 Obsession PSE Recurve Overview