Since 1931, Hoyt Archery has produced a number of the industry's most advanced bows. The company's legacy is a lengthy one, and quite storied in almost every regard.
Perhaps this is the reason that I typically find myself drawn to Hoyt's various offerings. Of course, I cannot deny that I favor the balance of shootability and raw speed afforded by many of the manufacturer's compound bows as well.
Key Information
Smooth and Accurate
The Hoyt Defiant has a balanced feel, a seamless draw cycle, and a solid back wall. It shoots with minimal hand shock and noise, and groups arrows well at various distances.
Optimized String Angle
The Hoyt Defiant features a design that allows the archer to see through the peep sight without stooping. This improves posture and form, and enhances accuracy and consistency.
DFX Cam System
The Hoyt Defiant uses a redesigned cam system that blends speed and accuracy. The bow has an arrow speed of 331 FPS, which is fast enough for most hunting and competitive situations.
Customizable Accessories
The Hoyt Defiant came as a barebow, leaving me to choose my accessories. As I did…
In any event, I have been quite the fan of Hoyt Archery's numerous compound bows, for as long as I can remember. In fact, I currently shoot a Hoyt Defiant of my own, which I have now owned for approximately 2 ½ years.
During this period, I have spent a significant amount of time both on the range and in the woods, putting the Defiant through its paces. The following is an account of my experiences with the Hoyt Defiant thus far, including the manner in which I chose to outfit my bow, as well as my reasoning for doing so.
Hoyt Defiant Specs
Let-Off: 80 percent
Weight: 4.2 pounds
Brace Height: 7 inches
Axle-to-Axle Length: 30.5 inches
Speed: 331 ATA
Draw Weights: 30-40, 40-50, 50-60, 55-65, 60-70, 70-80 pounds
Draw Lengths: 24-26, 26-28, 28-30 inches
Finishes: BlackOut, Buckskin, RealTree, Under Armour Ridge Reaper Barren
Technical Features
The Hoyt Defiant features a number of noteworthy technical specifications, all of which add significantly to its value. Perhaps the most highly regarded of these specifications, relates to the bow's optimized string angle design.
When at full draw the Defiant's string is positioned in a way that eliminates the need to stoop in order to see through the bow's peep sight. This improves an archer's posture, as well as their overall form. 
Also of significance, is the Defiant's redesigned DFX Cam system. This cam system, though mild by certain standards, provides the Defiant with an excellent blend of speed and accuracy, making it ideal for use in both hunting and competitive settings.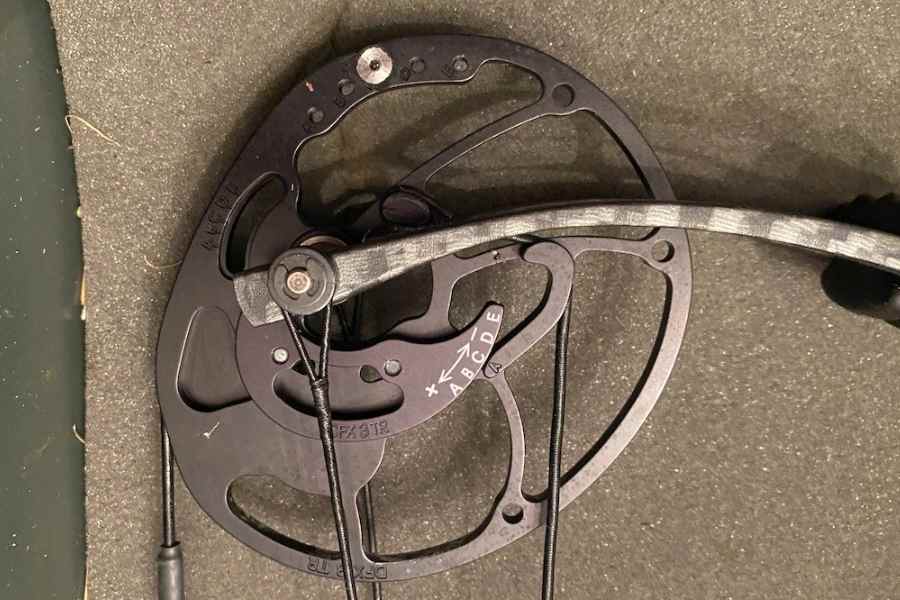 Hoyt Defiant Cam
---
Further complimenting this technology, is the addition of revised limb pockets and preloaded limbs.
Speaking of speed, the Hoyt Defiant features a relatively fast arrow speed of 331 FPS (ATA). While the Defiant is certainly not the fastest bow on the market, it is quick enough to accomplish all that is asked of it.
read.. new Hoyt VTM-31
In truth, the Defiant is often regarded as one of the most accurate and smoothest shooting bows within its given range of speed. This is a judgment that I wholeheartedly agree with. I am also a huge fan of the bow's 7-inch brace height, as this bodes well to the Defiant's innate sense of accuracy and forgiveness.
As such, all archers, from beginners to highly experienced, should be capable of shooting the Defiant quite accurately. This is a characteristic that is somewhat rare to find in many of today's "high-performance" compounds.
Behind My Decision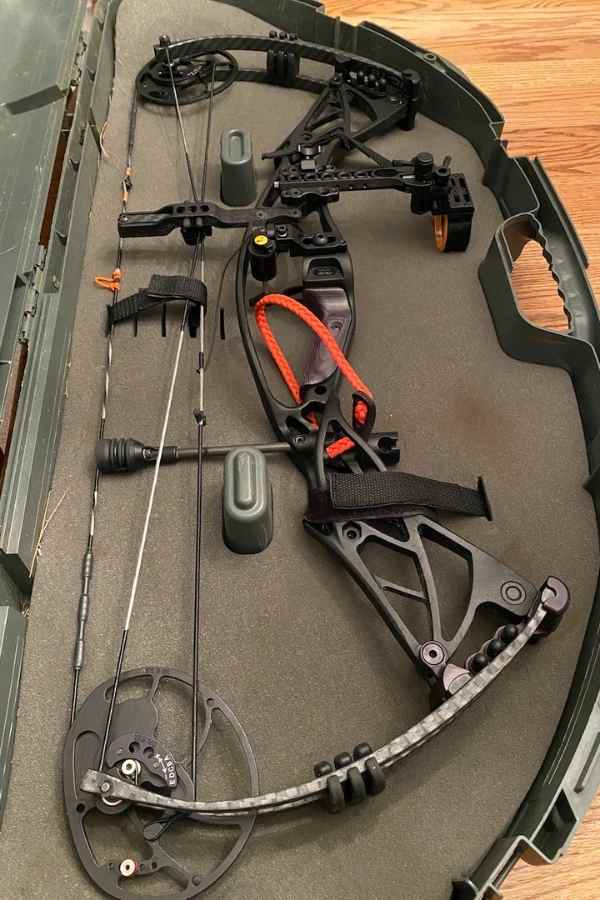 My Hoyt Defiant Compound Bow
---
I can honestly say that my purchase of the Hoyt Defiant was purely by chance. On the afternoon in question, I entered one of my favorite archery shops with no intention of making a purchase.
Quite the contrary, I was simply killing time and looking around. However, the Defiant quickly caught my eye, and within minutes I was trying it out on the shop's indoor range. I was immediately impressed with the Defiant's balanced feel, as well as its superior fit and finish. Every individual component of the Defiant appeared to have been expertly crafted, and the bow itself felt natural within my hands. 
I was also quick to find favor in the Hoyt Defiant's insanely smooth draw cycle. The bow drew from rest, into the valley, in the most seamless of fashion. Holding at full draw required little effort, and a solid back wall kept me anchored precisely as intended.
These are both features that I hold in high regard, as each has a direct influence upon an archer's ability to maintain accuracy.
With the release of each shot, I grew even more impressed. There was virtually no hand shock to speak of, and the only audible noise was that of the arrow making contact with the target downrange.
Still to this day, I cannot single out any other bow that I have tested, which shoots quite as smoothly as the Hoyt Defiant.
Within minutes, I was standing in front of the archery shop's counter, as the clerk rang up the sale of my new Hoyt Defiant.
When you locate the perfect bow for your needs, you will know it rather quickly. This is a point that became quite evident on this occasion.
Outfitting The Defiant
The Hoyt Defiant comes for the factory as a barebow, leaving an archer to select his or her accessories of choice. This is a task that I enjoyed, as I have my own preferences regarding certain accessories that I have found success with in the past. While one could outfit the Hoyt Defiant in any manner that they see fit, the following is a personal account of the gear that I hand-picked during set-up.
Bow Sight: Dead Ringer Tack Driver DT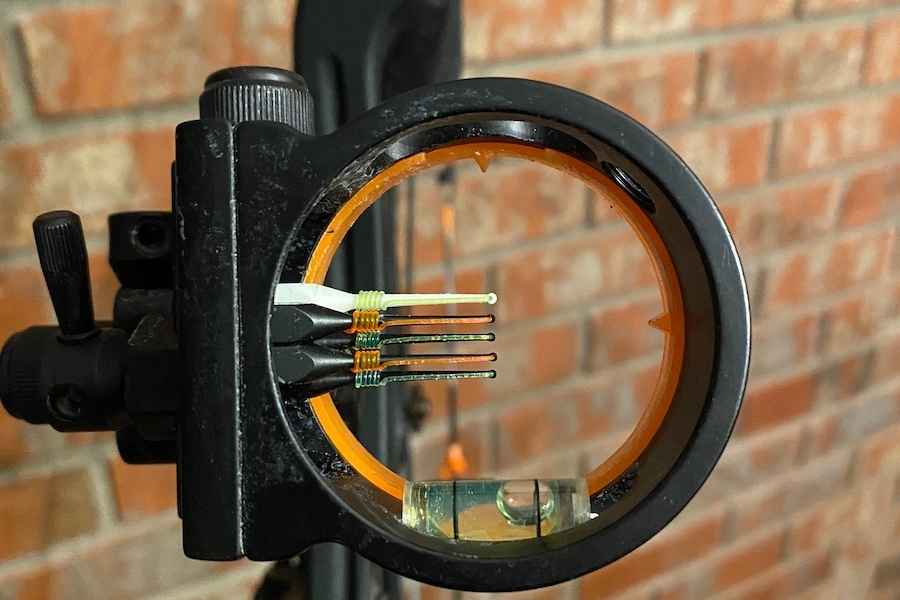 Bow Sight Dead Ringer Tack Driver DT
---
I selected the Dead Ringer Tack Driver DT as my bow sight of choice, for several reasons. I am quite a fan of the Tack Driver's five-pin design, as well as the sight's "glow in the dark" top pin.
The combination of these factors allows me to accurately aim at any reasonable distance, while also making the most out of every last moment of legal shooting light.
Of course, I am also a fan of the Tack Driver's incredibly reasonable sale price.
Arrow Rest: QAD Drop-Away
When outfitting my bow, I was sure to include a drop-away arrow rest. I find favor in rests of this style, as they minimize the amount of interference upon any arrow that is fired.
Furthermore, I chose to spend my money with QAD, as the company is a leader in the development of drop-away technology, and harbors an impressive reputation within the industry.
Peep Sight: G5 META (Blue)
I specifically selected the G5 META as my peep sight of choice, due to its special design. The G5 META can be ordered in a variety of colors, with my personal favorite being the color blue. Many, including myself, feel that a peep sight of this color assists in light-gathering when faced with poorly lit conditions.
Stabilizer: Dead Ringer Vector 8"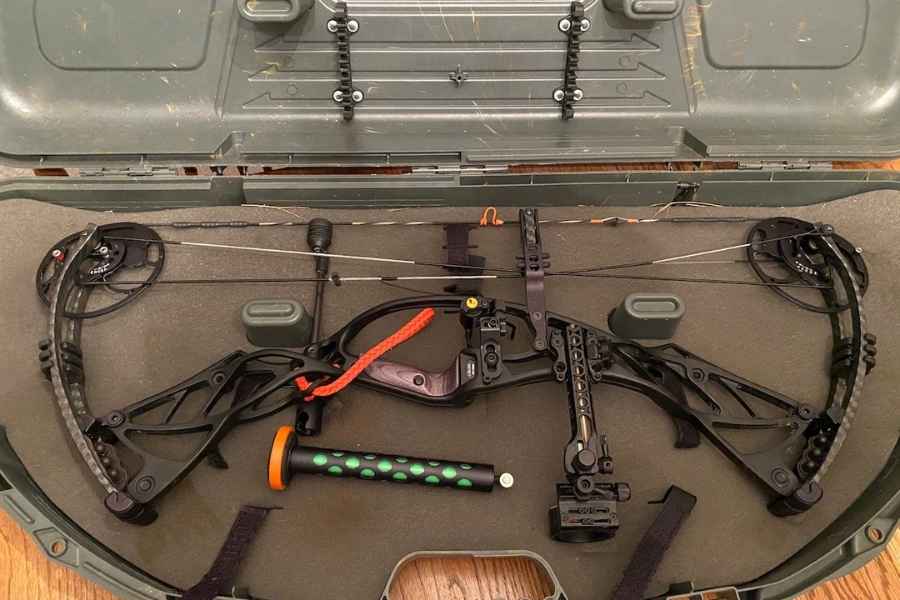 Dead Ringer Vector 8″
---
When outfitting my bow, I selected the Dead Ringer Vector as my stabilizer of choice. I did so to provide my bow with greater balance, in a bid for increased accuracy.
I purchased the Vector in its 8-inch configuration, though I now feel this to be at least somewhat excessive in length, for the bulk of hunting applications.
In fact, I plan to order another Vector stabilizer, this time in a shorter length.
Quiver: Apex Reactor 5-Arrow
The Apex Reactor 5-Arrow quiver has served me quite well over the past two years. This quiver has proved more than durable, and holds arrows snugly in place, no matter the situation. The Apex Reactor is also relatively compact, making it perfect for use in a treestand or ground blind, where space is often limited.
A Satisfied Customer
Over the past 2 ½ years, I have spent a significant amount of time in the woods and at the range, with my Hoyt Defiant in hand. To say I am pleased with the Defiant's performance, would be the understatement of the year. I have found this bow to be highly accurate, as it groups arrows quite well, at a wide array of distances.
The Hoyt Defiant has also proven to be equally as potent in a hunting situation, serving as my bow of choice on several successful hunts.
I would recommend the Hoyt Defiant to any archer, who is looking to graduate to a more intermediate-grade bow.
In my opinion, the Defiant, though somewhat pricey, is worth every penny of its asking price, and is sure to provide any archer with all that they could ask for.