When you lay your hands on the Hoyt VTM, what should come to mind? High performance, integration, flow, system, alignment, and synergy.
These attributes are meticulously woven into Hoyt's new flagship bow, available in two flavors – the 31-inch and 34-inch axle-to-axle models.
But what's got bow enthusiasts all fired up is the introduction of an inline accessory system.
Hold onto your quivers; Hoyt's design and engineering teams are about to blow your mind!
You see, Hoyt didn't just rest on its laurels; they took their battle-proven Tec Riser and wide-stance limbs and injected the VTM with cutting-edge tech.
Picture this:
An updated Hole Shot string dampener
Structure-enhancing riser flares on the top and bottom
A lower-profile grip
Specialized riser cutouts for accessories
And that's just the tip of the arrow!
The Platform
Hoyt's Tec Riser is unmistakable, wrapping gracefully around the grip, ensuring vibrations meet their untimely demise far from your hand. But they didn't stop there.
The top of the riser got a dose of extra width, structural chambers that flare both top and bottom, precision-cut slots, and well-placed crossbeams for added rigidity.
Talk about a rock-solid foundation!
Hoyt engineers did the math: bring all the vital components smack dab in the bow's centerline.
So they threw in a Picatinny Inline sight mount and an Integrate rest mount right into the VTM riser.

And that's just the beginning! Hoyt's complete Inline Accessory System is a game-changer.
It includes the Hoyt Integrate Ultrarest by QAD, SL Sidebar Mount, Superlite Quivers, Pro Series Stabilizers, and Hoyt Picatinny Xero A1i laser-rangefinding bow sight from Garmin.
When you go all-in with this accessory lineup, you're looking at a 59 percent reduction in residual vibration and an 11 percent drop in shot noise compared to going bare-bow (according to Hoyt).
But wait, there's more! To keep things balanced, Hoyt engineers focused on centralizing all major components within the bow.
To achieve this, they integrated a Picatinny In-Line sight mount and rest mount directly into the VTM riser, bringing everything to the center.
Hoyt's VitalPoint grip makes an appearance, tweaked to match the RX-7 carbon bow's front end, and a clever cutout in the Tec Riser strut lets the Integrate rest cord glide through, reducing friction and wear.
Unleashing The Beast
The VTM means business regarding power, and it's all thanks to the HBX Pro Cam. Reduced vibrations, lighter weight, easier tuning, and a smoother draw are just some of the perks.
This cam style ties each cable to the opposite cam, forcing it to work in perfect harmony and automatically compensating for any minor system hiccups. The cam hubs are no slouch either; they position the string just right for a flawless center shot and sight picture.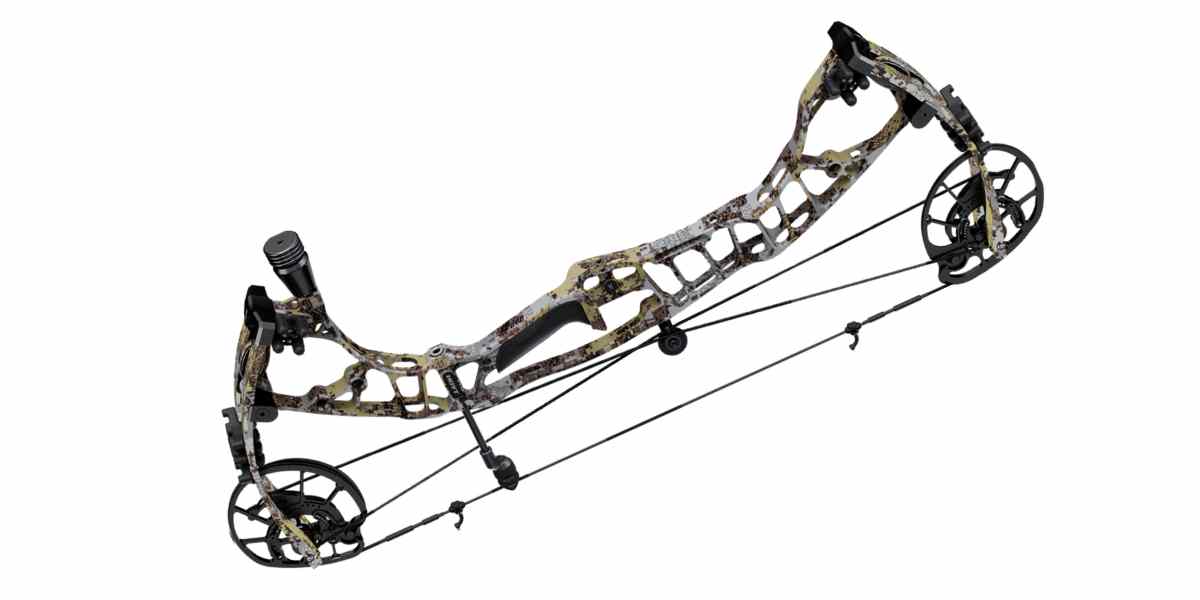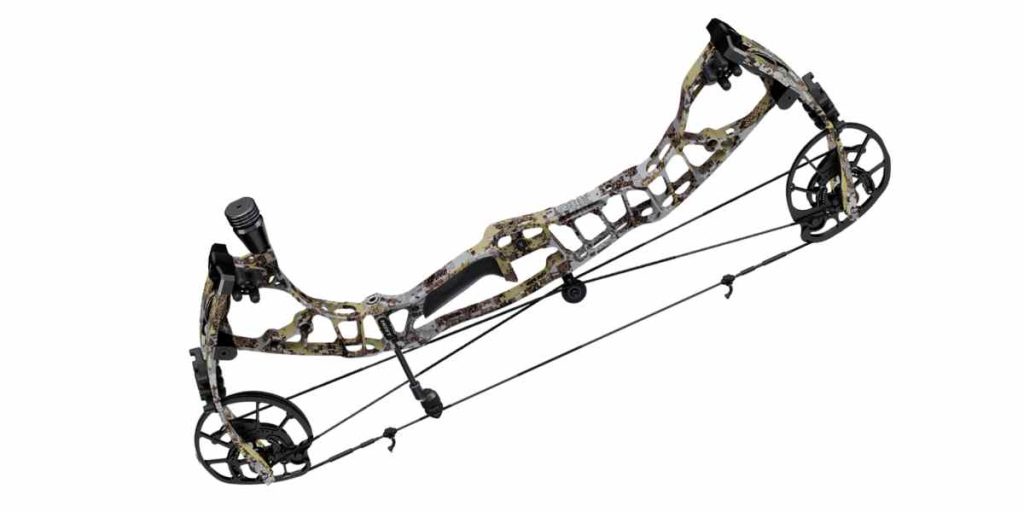 And to top it off, Hoyt fits the new cam system with the Fuse Custom X-99 string and cables. It's like a symphony in motion!
Here's where the magic happens – the two rotating modules. The VTM 31 rocks a draw-length range from 25-30 inches, with half-inch increments.
The VTM 34? You're looking at 26-31 inches. Arrow speeds? Brace yourself for 342 fps on the VTM 31 and a blistering 334 fps on the VTM 34.
And in the flexibility department, you've got adjustable let-off from 80 to 85 percent. In other words, it's a speed demon.
Chasing Perfection
Hoyt knows that bowhunters crave stealth, and they've decked out the VTM with tech to make it a ninja in the woods.
It starts with those beautiful Hybrid EXT limbs, sitting parallel and past-parallel to quash shock, vibration, and noise. These limbs aren't just quiet; they're as tough as nails.
And when it comes to silencing tech, the Hole Shot V2 is in a league of its own. With a center stud designed to eliminate high-frequency sounds that game animals use to detect danger, you have the drop on your prey.
But that's not all; Hoyt packs in Limb Shox and Shock Pods between those split limbs, plus the Short Stop Stabilizer and Stealth Shot String Stop with two setscrews.
The result? Hoyt's internal testing showed a 31 percent reduction in hand shock compared to the Ventum Pro – that's next-level quiet!
The Perception
So, what's it like to shoot the VTM 31? The draw cycle is smoother than a buttered arrow sliding down a string. You'd swear a 70-pound draw weight feels more like 50 pounds.
The grip? It fits like a glove, and the bow holds steady at full draw. No more wrestling with that sight pin; it stays put.
When you release, you'll feel a tiny bump but almost zero vibration. The VTM serves up a sweet shooting experience with Hoyt's legendary reliability and a host of hunter-friendly features.
It's not just a bow; it's a hunting partner.
Specs
Let-Off: 80-85 percent (adjustable)
Brace Height: 6 inches
Mass Weight: 4,6 pounds
Axle-to-Axle Length: 30 5/8 inches
Speed: 342 fps
Draw Weights: 30 to 80 pounds
Draw Lengths: 25 to 30 inches
Finishes: 13 camo & solid-color options
MSRP: $1,349
Our Take
If you're a bow enthusiast, the Hoyt VTM is more than just a bow; it's a masterpiece of engineering and design built to perform.
This bow is all about high performance, integration, and synergy, and it's packed with innovative features that set it apart from the rest.
Whether you're a seasoned hunter or a newcomer to the sport, the VTM will surely impress.
With its impressive specs, it's ready to take your hunting experience to the next level.