When Fred Bear launched Bear Archery in 1940, he could have hardly imagined what his company would become. As the years passed Bear Archery soldiered on, first crafting traditional bows, and later joining into the quickly growing compound bow market.
Though Fred Bear passed away in 1988, his company, Bear Archery, continues today, offering a comprehensive line of innovative traditional and compound bows.
This level of innovation has spawned many noteworthy compound bows in recent years, with perhaps the most highly regarded being the Cruzer G2.
The Cruzer G2 has been well received by critics and carries a rather large following of archers worldwide. So it was only natural that we jumped at the chance to get our hands on this late offering by Bear Archery, as soon as the opportunity arose.
We carefully studied the Cruzer and spent some time with it on the range to adequately gauge its characteristics. During this process, we recorded our findings, allowing us to present to you this Hands-On Review…
Initial Thoughts
The Bear Cruzer has received much initial praise due to its range of adjustability and rugged construction. Like many of the industry's newest offerings, the Cruzer G2 takes a one-size-fits-all approach to bow fitment and selection.
However, this bow stands out within Bear's lineup as being their most versatile selection to date.
Additionally, much of the buzz surrounding the Cruzer relates to its reputation as being built in an uncompromising fashion.
Many consumers have noted that this bow's construction is on par with most any bow that can be found at the premium price point.
First Impression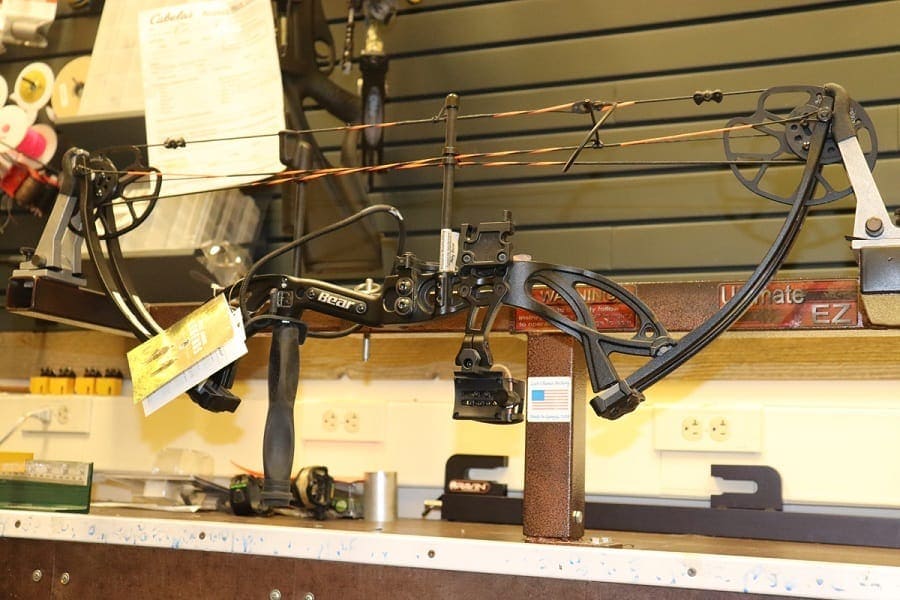 Upon first glance, I quickly noted that the Cruzer was quite pleasing to the eye. The bow's intricately woven riser cutouts offer a unique level of visual appeal, which creates a seamless look when combined with the unit's split-limb layout.
The Cruzer G2 that I shot, as well as all others on location, showcased a level of fit and finish that was as good as any bow I have seen.
Another fact that became immediately obvious was just how lightweight the Cruzer is.
Although this bow is advertised at a weight of only 3.0 pounds, it is difficult to wrap your head around how this translates into the overall feel of a bow, until it is held in hand.
Bear Archery Cruzer G2 Specifications
Technical Features
The Cruzer G2 is notable on a technical level for more reasons than one. Perhaps the most glaringly obvious of these reasons is the bow's level of adaptability and versatility regarding draw length and draw weight.
Though several bows are now offered with wide draw weight and draw length ranges, few can boast of having a more significant range than the Bear Cruzer (read.. Bear Species Compound Bow Review).
With a level of draw length adjustability that ranges from 12"-30", and a draw weight that ranges from 5-70 pounds, the Cruzer G2 is truly a bow for every archer.
Children are also afforded the opportunity to use the same bow from their younger years, onward into adulthood.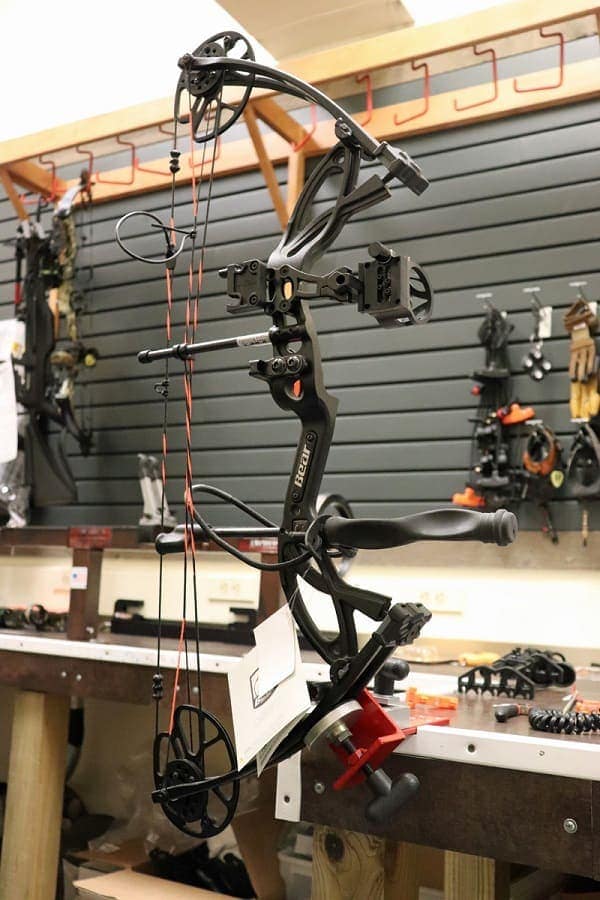 The beauty of this design is that no bow press or specialty equipment is needed to make any necessary adjustments to change the draw weight or draw length of the Cruzer G2.
On the contrary, a simple set of Allen wrenches is all that is needed to set your bow as specified, based upon your own personal needs.
As mentioned above, the Cruzer is remarkably lightweight. Weighing in at only 3.0 pounds, this bow can be packed for miles through the woods, without any notable fatigue.
Much of the bow's weight reductive properties can be directly attributed to its one of a kind, all-aluminum riser.
This bow also employs the use of some of the toughest limbs in the industry. These split limbs are composed of EnduraFiber, offering stability, increased longevity, and substantial reflex action.
The heartiness of these limbs is just one reason that Bear offers a limited lifetime warranty with the purchase of the Cruzer G2.
Shootability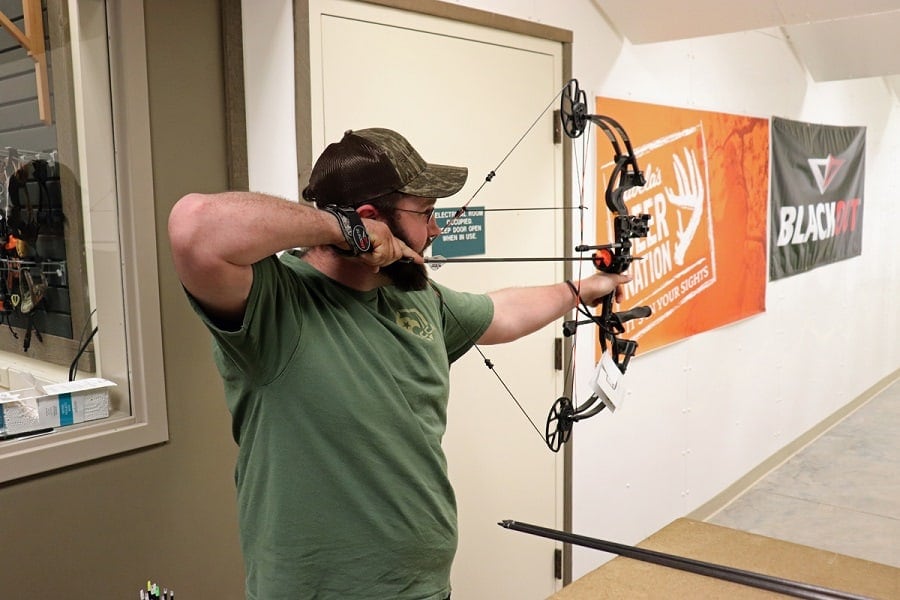 After outfitting the Cruzer G2 with a D-loop, it was ready to be put to the test. When drawing the bow, I was immediately greeted with a notably smooth draw cycle.
In fact, the cams actuated so smoothly, that it was virtually impossible to tell when I had broken over into the valley, short of the reduced holding weight that became apparent.
Upon reaching the full draw length, I noticed that the bow's back wall was not firm, nor spongy. This left me feeling conflicted, as I am a huge advocate for a firm backwall and the benefits that this offers to one's form.
However, this is purely a personal preference, and most archers would find no fault in this particular concern.
The Cruzer's 70% let-off was, however, quite noticeable. In an age where 80%-85% let-off bows are the norm, the 70% let-off offered by the Cruzer left a little to be desired.
Again, this is purely a matter of personal preference, and many archers, especially those with no preconceived notion as to what modern let-off values feel like, will find no real issue in this regard.
Upon releasing an arrow, I was impressed with how quiet the Cruzer G2 is. There was virtually no audible noise to be heard, except for the arrow striking its intended target.
Additionally, there was zero hand shock to be felt. I was blown away by this fact, as I have fired some bows with a price point three times that of the Cruzer, which this did not prove true for.
PROS and CONS
PROS:
Whisper Quiet

Smooth Draw Cycle

Only 3lbs.
Easy to adjust draw length and draw weight
No bow press needed

Comes With 5-Arrow Quiver, Stabilizer, Peep Sight, Arrow Rest, and a D-Loop
CONS:
Somewhat Lacking 70% Let-Off Factor

Lack of a rock-solid back wall
Accessories
One of my favorite characteristics of the compound bow was the accessory package that it comes outfitted with. Most bow packages feature accessories that are beginner grade at best and often get replaced in short order.
However, this is simply not the case with this bow, as it comes complete with a full range of Trophy Ridge accessories.
This compound bow package includes a four-pin sight, Whisker Biscuit arrow rest, 5-arrow quiver, stabilizer, peep sight, and a D-loop. These accessories all fall into what many would refer to as an intermediate-range product category.
This in itself adds tremendous value to the Cruzer G2, as future replacement of these accessories would be solely out of personal preference, as opposed to necessity.
This fact can potentially save an archer an untold amount of money in the long run, when the purchase price of additional accessories is factored in.
Overall Evaluation
After being able to evaluate the Bear Cruzer G2 compound bow in person, I am quite pleased to say that Bear has hit a home run in the area of bow development once more.
This bow not only shoots well, but also looks absolutely fantastic, and is outfitted from the bottom up with a number of quality accessories.
If I had to say that the Cruzer G2 had any shortcomings, it would likely be in regards to the compound bow's somewhat lacking 70% let-off factor, and its lack of a rock-solid back wall.
However, these concerns are all relative in nature, as one archer's preference does not necessarily define that of another.
The Cruzer G2 shines when one realizes just how smooth its draw cycle is. There are few bows that I have ever shot that can rival how smooth the Cruzer G2's draw cycle really is.
Additionally, this bow's vibration and noise dampening technology is top-notch. Shooting the Cruzer is a whisper-quiet proposition, and hand shock is effectively zero.
Overall, the Bear Cruzer G2 is a highly versatile, easy to shoot bow, that is ready for anything you can throw at it, right out of the box.
If you are looking for a moderately priced compound bow, with premium price shootability, the Cruzer G2 is just what you have been searching for.
Make sure to check out our post "The Top Compound Bows of 2021" too…
Special thanks to the staff at Cabela's of Bowling Green, Kentucky, for allowing us the use of their bows, and range, for test and review purposes. Cabela's was acquired by Bass Pro Shop in 2016 and now operates as a branch of the company, with retail locations nationwide.
Bear BlackOut Bowtech Diamond Archery Hoyt Mathews News News August 2020 News December 2020 News February 2021 News January 2021 News November News October 2020 News September 2020 Obsession PSE
Last update on 2021-03-04 / Affiliate links / Images from Amazon Product Advertising API