The challenges of bowhunting can feel intimidating for a beginner. Luckily, many bows are designed with entry-level shooters in mind. Bear Archery offers a range of American-manufactured options that combine quality design with excellent prices.
We reviewed one of their highest-rated compound models, the Species RTH, to help you decide if this is the perfect bow for your needs.
Our Bear Archery Species RTH review examines a popular single-cam compound bow. While it's priced and designed for beginners, its accuracy and comfort are comparable to higher-end models. At its affordable price point, customers receive all the accessories they need to start shooting the moment it's out of the box (except for arrows and release).
Read on to learn the pros, cons, and overall review of this bow's performance.
First Impression
The moment you open the box, you'll find the accessories that Bear Archery sends with the Species. These include a bow stabilizer, 4-pin sight, peep sight, and nock loop. You'll also receive a Whisker biscuit quiver for your arrows. With these items, you should have close to everything you need to start testing your new bow.
Many experienced bowhunters could make further adjustments at home, but taking it to a bow shop is always an option, especially when you are unsure about your draw length.
The Species is super-customizable, and if you are not a complete beginner you'll easily make your way to the settings that suit your needs best.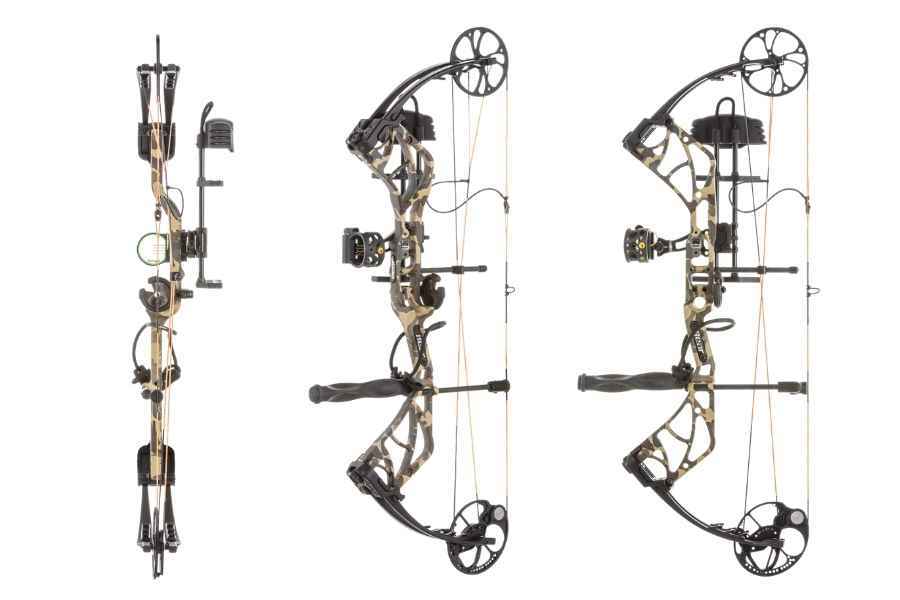 up to 320 fps – brace height 6,75″ – ATA 31″ – draw length 23″ – 30″
---
This bow has an exceptional value for the price range, even tough you still need to pick up a set of arrows.
Pros & Cons
Pros:
Lightweight: the Species is only 4.3 lbs.
Single-cam system: Shooting is fast, accurate, and stable.
Compact Bow
Highly-adjustable: Adjust the draw weight and length to your preference.
Limited Lifetime Warranty: Bear Archery covers limbs, risers, and cams for five years.
Cons:
45 lbs draw weight may be too much for samller framed archers
Bear Archery Species Specifications
Published Specs
Let-Off: 75 percent
Weight: 4.3 pounds
Brace Height: 6.75 inches
Axle-to-Axle Length: 31 inches
Speed: 320 fps
Draw Weights: 55-70 or 45-60 pounds
Draw Lengths: 23 to 30 inches
Finishes: TrueTimber Kanati, TrueTimber Strata
Suggested Retail:
check price
(Stats according to bearchery.com)
Design and Features
The Species RTH includes several nifty features. Bear Archery installs SonicStops on their bows to eliminate string vibration, which is essential for silence and stability.
They also have a limb dampener device to prevent shock from traveling through the bow.
The limbs themselves are crafted from cutting-edge Endurafiber, which is both flexible and rigid. The material allows for shooters to fine-tune the weight adjustment on their bow. Even the shape of the limb is uniquely designed to provide optimal weight distribution (read.. Bear Divergent Hands-on Review).
The single-cam model of this bow is both a blessing and a curse. While a single-cam system could shoot faster and more accurately than multi-cam, it's also heavier, which can be challenging for new bowhunters.
The Ready To Hunt Package includes:
Trophy Ridge 4-pin sight
Whisker Biscuit arrow rest
Trophy Ridge 5-arrow quiver
Peep sight
Nock loop
However, it means you can hold onto this bow as your strength and skills advance. Even highly experienced hunters give a glowing Bear Archery Species RTH review (read.. Paradox Hands-On Test).
The sights are surprisingly good for a package. They are fiber-optic and illuminate nicely in natural sunlight. The light for low-light conditions is also doing its job beautifully.
The lightweight design of this model is another major plus. Weighing in at just 4 lbs will cause less fatigued, no matter the distance it's carried.
For new bowhunters who are building strength, this is a perfect companion on an extended hunting trip or exessive training sessions.
Performance
It's a single cam bow. And the Species bow has a remarkably smooth draw cycle. Loyal customers enjoy the crisp feeling of pulling back an arrow, then letting it off with no shock or vibration through the Endura Fiber material.
The shot is quiet and smooth, which is critical for hunting. Because of its SonicStops and limb dampener, even beginner bowhunters can expect to hit the mark consistently.. 
While this bow's draw weight makes it excellent for big game hunting, bowhunters who are hoping to chase squirrels and rabbits could find it too high for their needs.
Although the single-cam system will present challenges at first, it's the optimal design for taking down prey with speed and precision
Summary
We're satisfied with the findings of our Bear Archery Species RTH Review. Its American manufacturers have delivered a quality bow that can be compared to much more expensive models at a fraction of the price.
A combination of excellent materials, cutting-edge technology, and unique features make for a smooth and comfortable shooting experience.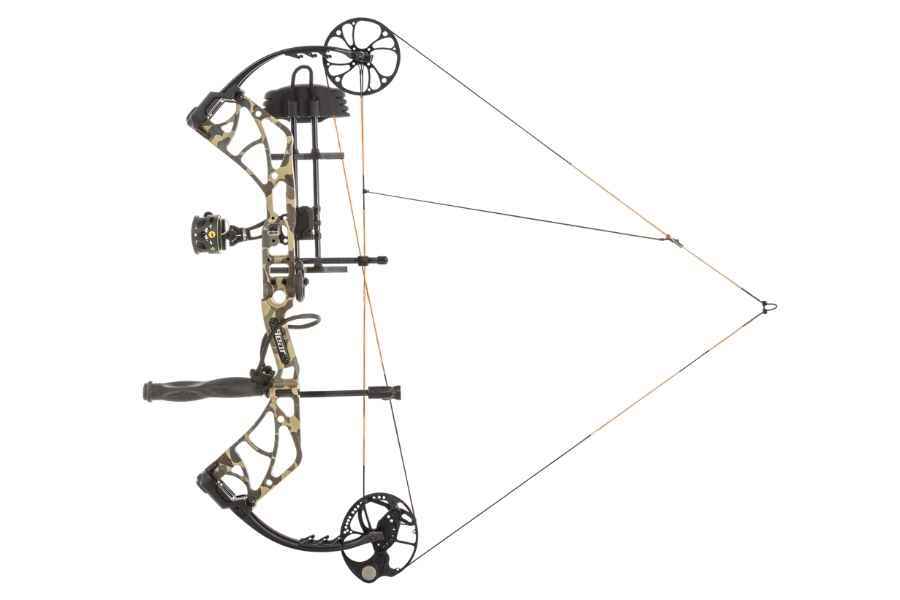 lightweight – comfortable – quality – performance
---
Beginners should expect to make adjustments to the bow when it comes out of the box. The draw weight should be manageable for your arm, while tough enough to let off an arrow with speed and precision.
A bow shop should fine-tune your new Species RTH, or you can consult Bear Archery's comprehensive manual for advice on proper care and adjustment.
Whether you're new to bowhunting or an advanced user looking for a lightweight, comfortable option, we hope our Bear Archery Species Review helps you make up your mind on adding this bow to your arsenal.
No doubt, a serious bowhunter would probably go higher end, but for a beginner or casual shooter, this bow is perfect!
archery bamboo self bow Bear BlackOut bleaching Bow Sight Bowtech broadheads camo Compound Bow compound overview deer deer skull Diamond Archery DIY dominant eye elk english longbow tutorial DIY equipment overview food freezer habitat Hands-On Accessoires Hands-On Compound Bow hedge apple hunting arrow hunting land kids Mathews mineral licks oak self bow tutorial Obsession Parallax property PSE recurve bow Recurve Overview repair kit self made bow treestand untuned bow wax whitening wood youth