Do you know how to choose the best bow for your needs? Before you go out and spend your hard-earned money on a new compound bow, take some time to do research. This will help ensure that you purchase the right one for your specific needs.
Read on to find out more about the best bows in 2022 and which bow suits you best!
What Are The Best Compounds Available Online?
No one likes to spend more money on gear than necessary, which is why we have gathered together the best affordable bows and tested them first hand. These are all compound bows that offer great performance at an unbeatable price! We review everything from beginner models to more advanced ones.
The bows in our test lineup each have their own unique qualities, so make sure you read through them all before making your choice!
+ BEST OVERALL – Bear Archery Divergent EKO. This bow manages to combine lightning-quick performance, compact design, and previously unheard-of adjustability, all into a single package.
___________________
+ BEST BEGINNER BOW – Diamond Infinite Edge. Great range of adjustability that is quite impressive, featuring a variable draw length of 15"-31" and a draw weight range of 7-70 pounds.
___________________
+ BEST BOW FOR YOUTH – Diamond Prism. This bow offers a range of adjustability that is second to none and comes fully outfitted with all of the accessories that your young outdoorsman or woman needs to begin their journey.
___________________
+ GREAT VALUE- Diamond Archery SB 1. The SB-1 is based on Diamond's enormously popular Edge platform and offers outstanding performance at an exceptional value
___________________
+ FASTEST BOW – PSE Bow Madness Unleashed. This bow features a blistering fast ATA speed of 340 FPS. Even more appealing is that this PSE bow looks and feels as good as it shoots.
___________________
+ BEST WOMEN – Diamond Carbon Knockout. A bow that is specifically engineered for the female archer, offering lightweight handling, notable performance, and a striking appearance in a single package.
BEST OVERALL Bow: Bear Archery Divergent EKO
Bear Archery Divergent EKO – Our Winner
---
Not too long ago we had the chance to put the Divergent EKO to a proper bow test.
While on the range, we didn´t notice any rough spots or points of hesitation within the draw cycle. With a weight of around 4.1lbs, the Divergent EKO is a relatively light and easy to carry bow.
This EKO is not as adjustable as the Bear Cruzer G2, for example. But the fact that you can choose from two different limb packages (45-60 lbs. and 55-70 lbs.) and its high IBO speed rating of 338 FPS make this bow absolutely our favorite bow on this list.
If you want to read more, check out our in-depth Hands-On Review of the Bear Divergent EKO.
And yes, one of the most talked-about features of the Bear Divergent EKO is its adjustable let-off factor of up to 90%.
This compact bow is very versatile and can most accurately be described as one with an aggressive performance. The bow has Max Preload Quad Limbs attached to the riser by machined aluminum limb pockets.
Bear Archery Divergent EKO Specifications
Published Specs
Short Recap
The Divergent EKO is the perfect fit for whitetail hunting, big game hunting, and everything in between. Well, we liked what we found! So as of right now, we would go so far as to declare the Divergent EKO the best bow on this list!
Here's why: It's affordable, the quality is excellent, it got a lot of speed (up to 338 fps), and it´s available in different configurations.
(Another great bow from Bear Archery we recently had the chance to review "hand-on" is the Cruzer G2. Read our Bear Archery Cruzer G2 Review here).
---
Best Bow for Beginners: Diamond Infinite Edge 320
Diamond Archery Infinite Edge 320 – Perfect for Beginner
---
This bow is directly derived from the infinite edge pro model bow that spawned Diamond's success in the mid-2000s. It´s an awesome bow not only for deer hunting but also for hobby shooting too. Make a note that this model offers a pretty smooth draw cycle.
Make sure to check out our in-depth and hands-on review of the Infinite Edge 320.
This exact platform has remained the company's flagship ever since. Most of this fanfare stems from Edge's one-size-fits-all form. A high point of the Diamond Archery Infinite Edge is the bow's immense adjustability and its draw cycle.
The adjustable draw weight settings range from 5-70 pounds, while the bow's draw length can be adjusted from 13"-31". These features allow archers of all ages and experience levels to enjoy all that the Diamond Infinite Edge offers. The bow is available with a right-hand or left-hand configuration.
Diamond Archery Edge 320 Specifications
Published Specs
Features:
Easily adjustable for use by archers of all ages
Redesigned cam system for smooth draw cycle
Stabilizer for perfect balance
Short Recap
Although this bow is somewhat of a no-frills model, it is still offered in a R.A.K. package that features the necessary accessories to get started in your archery endeavors. The included sight, arrow rest, stabilizer, quiver, peep sight, and D-loop will allow your bow to be set up in no time, getting you on the range much faster than you would have ever thought possible.
Wait: Want to read more about the perfect bows for beginners…
---
Best For Youth: Diamond Prism
Diamond Prism Bow – Perfect for Younger Archers
---
This bow offers a range of adjustability that is second to none and comes fully outfitted with all of the accessories that your young outdoorsman or woman needs to begin their journey. This bow also works well for target practice.
Interested in more information about the Diamond Prism? We did an in-depth hands-on review of the Diamond Prism Bow – Check it out!
The Prism features a draw weight range of 5-55 pounds, as well as a draw length that adjusts from 18"- 30". The draw cycle is good. This creates a unique set of circumstances where any child can essentially "grow-up" with the Prism, as it accompanies them along with their archery career all the way into adulthood.
Diamond Prism Specifications
Published Specs
Features:
Adjustable from child to adult
Excellently balanced for comfort
Comes with ready to shoot package
This bow features a 3-pin Tundra sight, captive-style arrow rest, quiver, D-loop, and peep sight.
While these are package-level accessories, they are true of decent quality, and an archer can always update these items at a later date as they see fit.
Short Recap
I do not recall a time when I have shot or reviewed an entry-level youth bow that was this impressive, and any young archer will be in absolute love with the versatility of it. I found very little wrong with Prism's design, function, or versatility. My only gripes were its lacking accessories which can easily be replaced to suit any archer's personal taste.
Read.. Hoyt Defiant Hands-On Review
---
Best For the Money: Diamond Archery SB-1 Edge
Diamond SB-1 Bow – Great Value
---
If you are looking for the deal of the century, then the Diamond Archery SB-1 Edge is the bow for you. The SB-1, based on Diamond's enormously popular Edge platform, offers outstanding performance at an exceptional value. We think of it as the best value compound.
To begin with, the range of adjustability that this bow feature is outstanding. With a draw range of 5-70 pounds, as well as a draw length adjustment of 15"-30", the SB-1 is truly a bow that fits any archer and one of the best affordable bows available. We also liked its draw cycle.
Combine this with the SB-1's lightweight 3.6-pound frame, and you have a bow that can hold its own against many offerings in the premium price point range.
Diamond Deploy SB Specifications
Published Specs
Features:
Adjusts from 5-70 pounds, for any archer
EZ Adjust pocket system
Excellent draw cycle
Perfectly symmetrical cams
Also included with the purchase of a Diamond SB-1 Edge are a sight, arrow rest, stabilizer, quiver, peep sight, and D-loop. These items alone easily could save a consumer an additional $150 in accessory purchases.
Short Recap
An excellent bow at a reasonable price point. Based on Diamonds Edge platform, this bow shows an outstanding performance at an exceptional value. The 7″ brace height will allow beginners to "get the grip" more easily and make it also a great bow for someone how hasn´t much experience yet.
Not for you? Here you´ll find our favorite takedown recurve bows…
---
Fastest Bow: PSE Bow Madness Unleashed
PSE Bow Madness Unleashed – up to 340 fps
---
Just ten years ago bows were barely breaking the 300 FPS threshold. Now, several bows on the market have bested that number substantially. One such bow is the PSE Bow Madness Unleashed.
This bow features a blistering fast ATA speed of 340 FPS. Even more appealing is that this PSE bow looks and feels as good as it shoots.
Much of this speed is due to PSE's revolutionary 3-track binary cam. It is also worth mentioning that this cam is capable of actuating in an incredibly smooth manner, despite its aggressive profile. This is something that is seldom experienced out of a bow that features this level of performance.
Looking for the fastest bows? Here is our article about the fastest compound bows
PSE Madness Unleashed Specifications
Published Specs
Features:
Good draw cycle
85% let-off
Built on stiffer and stronger riser for comfort and speed
Comes equipped with ready to shoot package
Short Recap
The PSE Bow Madness Unleashed also makes the perfect bow for an experienced archer. High speeds and a draw weight adjustability of 50 – 70 lbs., make this a less forgiving bow. This bow is not for you if are a beginner …
The let-off of 85% allows any bowhunter to wait out the perfect shot, without succumbing to muscle fatigue, or being forced to let their bow down.
---
Best For Women: Diamond Carbon Knockout
Diamond Carbon Knockout
---
The Diamond Carbon Knockout is a bow that is specifically engineered for the female archer, offering lightweight handling, notable performance, and a striking appearance in a single package. This women's bow comes in multiple draw configurations, including 40, 50, and 60-pound models.
Perhaps the biggest advantage offered to the female archer by the Diamond Carbon Knockout is its ease of handling. Weighing in at just 3.2 pounds, this bow is light enough to carry on spot and stalk hunts without becoming excessively fatigued, and a compact 30" axle-to-axle measurement offers ample maneuverability.
Diamond Carbon Knockout Specifications
Published Specs
Features:
Lightweight with carbon riser design
Synchronized binary cam system
Nice Draw Cycle
Compact 30″ axle-to-axle length
The Carbon Knockout features an IBO speed of 302 FPS, which is suitable for most any type of hunting situation.
Short Recap
Easy to adjust – the bow's binary system makes tuning a breeze, keeping you on the range and in the woods, instead of in the shop sorting out poor shoot ability issues. Specifically engineered for the female archer: ATA 30″, Draw weights from 40- 60 lbs., lightweight at 3.2 pounds.
Looking for the Best bows for women? Want to know more about the best bows for women? Check out our top 5 list.
---
---
Best Cheap: SAS Outrage Perfect Bow
SAS Outrage – Good Priced Entry Bow
---
Best New Compound Bows For 2022
Bowhunters and archers of all levels are always on the lookout for a new bow. This year's ATA show was held virtually, but not to worry: we still had the chance to take a look at some of the new flagship bows offered by various manufacturers.
The following are some of the most noteworthy bows unveiled for the 2021 model year. We hope this quick overview helps you make an informed decision when it comes time to buy your next bow!
Hoyt Ventum 30 and Ventum 33
Based in Utah, famed bow manufacturer, Hoyt recently unveiled two of its newest offerings, the Ventum 30 and Ventum 33. Compound bows within the Ventum series will possess many of the same traits already found in Hoyt's legendary carbon lineup, yet feature all-metal risers.
These bows also possess an all-new Picatinny rail sight mount.
The 2021 Hoyt 2021 Ventum 30 / 33
---
As its name would suggest, the Ventum 30 measures 30" axle-to-axle, while weighing in at only 4.6-pounds. The Ventum 30 will come in 80% and 85% let-off variants, both featuring a draw length range of 25"-30".
This bow is also poised to be quite fast, with a rated arrow speed of 342 FPS. The Ventum 33 measures in at 33 ½" axle-to-axle, and weighs 4.7 pounds, while sending arrows downrange at speeds up to 334 FPS. The Ventum 33 is available in both 80% and 85% let-off forms, both featuring an effective draw length range of 26"-31".
Find out more: https://hoyt.com/compound-bows/ventum
Bear Redemption EKO
The Bear Redemption EKO, with a rated arrow speed of 342 FPS, is poised as Bear Archery's flagship bow for the 2021 model year. This bow measures 31" axle-to-axle, and carries an effective draw length range of 26"-30".
The Redemption also features Bear's proprietary EKO system, which allows an archer to select between 4 individual let-off settings (75%, 80%, 85%, 90%).
Bear Archery Redemption EKO 2021
---
Also of note, is the Redemption EKO's inclusion of an integrated Align-Lok system, which allows archers to more accurately align their sights, on a second and third axis level.
Additionally, the Redemption EKO features an all-new Vibration Reduction System (VRS), which serves to eliminate hand shock and mute any unnecessary noise at the shot.
Find out more: https://www.beararchery.com/products/bear-redemption-eko-compound-bow
Elite EnKore
The Elite EnKore is designed with versatility and ultimate shootability in mind. This bow measures 33" axle-to-axle while weighing in at only 4.55-pounds. The EnKore features a rated arrow speed of 340 FPS, and a rather significant draw length range of 23"-30". An archer can also select between several different peak draw weights (40, 50, 60, 65, and 70 pounds).
Elite Archery EnKore 2021
---
Perhaps even more interesting, is the EnKore's inclusion of an independently adjustable let-off factor, much like that which is standard for newer offerings by Bear Archery. One can select between four let-off settings, ranging from 70%-90%. The EnKore can also be adjusted and tuned without the use of a bow press, requiring little more than the use of basic Allen wrenches.
Find out more: https://www.elitearchery.com/product/enkore
Mathews V3
The V3 is also noteworthy for its use of a specialized Centerguard Cable Containment System, which equalizes the bow's cable angles throughout the draw cycle.
This, in turn, optimizes cam timing, while also creating a greater degree of vane clearance. Additionally, the Mathews V3 features new Nano 740 dampeners, which are specifically designed to eliminate unnecessary vibration.
The NEW 2021 Mathews´s V3
---
Mathew's new V3 compound comes in both 27" and 31" axle-to-axle variants.
The V3 27 weighs in at only 4.29-pounds, and carries a rated arrow speed of 342 FPS, while the V3 31 weighs 4.5-pounds, also with a rated IBO speed of 342 FPS.
Find out more: https://www.mathewsinc.com/v3/
---
If you want to read more, check out our in-depth Hands-On Review of the Bear Divergent EKO.
Much like the saying "beauty is in the eye of the beholder," one archer's impression of what the ideal bow consists of might be completely different than the opinion of the next individual.
Who Makes The Best Bow
Well, we´re only going to mention some of the best bow companies. The list is far from complete; there are more out there. Also, this list does not represent any specific order like from good to … not so good. Just click on any of the names, and we redirect you to their homepage.
Best Bow Brands
What's your purpose?
One thing you should ask yourself before you make a buying decision is what you´re actually up to with the bow? Do you want to do target shooting at a range or your backyard? Or do you even plan to go hunting with it?
Bow Hunting
According to statista.com, the number of participants in bow hunting in the United States from 2011 to 2019 was approximately 4.63 million. If you have not been bow hunting as of yet – you might wonder how can you be good at hunting?
There are plenty of reasons to learn to hunt. First, it is a way to provide lean and healthy meat for your family, and secondly, hunters play a big role in preserving our wildlife.
Hunting is a regulated activity. That´s why you need to pass hunter ed before you can go and buy a hunting license.
Once you pass, your hunter ed its good for life
Make sure to check your state laws. It is possible that you need not only hunter ed but also bowhunter ed too. You can find out if your state requires bowhunter ed here.
Hunting takes time, gear, and lots of work. So how can you be good at hunting? Be consistent and willing to learn from others
Deer Hunting
Do you want to go deer hunting? Take a look at our list of bows we recommend. Or read through some of our hands-on reviews- We compiled a list of affordable but highly effective and adjustable compound bows.
If you plan to go small game bow hunting, no need to go overboard with your bow!
What are the Hunting Season Dates?
Here's a clickable map:
Who is the God of Hunters?
Things you Should know about before Buying a Compound Bow
If you are an experienced archer, you will be aware of the stuff mentioned below. But in case you are new to archery, read on – as that stuff is really important!
Arrow Speed
The more the better right? Well, not necessarily. First of you should know, that two standards regarding speed specifications exist.
IBO (International Bowhunting Organization)
ATA (Archery Trade Association)
The most commonly used metric is still the IBO rating. Even though the ATA rating is the more accurate one. Why? Because draw- length, height, and arrow weight is set forth for testing purposes.
IBO speed is the speed an arrow with a weight of 5 grains per pound of draw weight, fired from a given bow, has.
There is no requirement regarding draw length, no limits in the maximum weight – as long as the arrow weight is adjusted. Every added inch of draw length will approximately 10-15 fps of arrow speed …
Does this mean that speed is not essential? No, arrow speed is an important factor. FPS is measured at the point-blank range. Plus it is a factor when calculating the kinetic energy of your arrows.
What Is FPS
Speed is measured in feet per second or FPS. More fps generally means a faster bow. A bow rated at 330 fps is faster than one rated at 300 fps.
The further the arrow travels, the more it slows down. Starting with a relatively high FPS will, in most cases, increase your effective bow range (this, of course, is a simplification as many factors depending on your set up impact arrow speed).
What Is A Good FPS For A Bow
There is no right or wrong answer. I depends on what you plan to do with your bow. If you plan on bowhunting small game, a bow with a lower fps will be sufficient. If you plan to go deer hunting, your arrows will need minimum kinetic energy of 25-41 ft. lbs. to ensure good arrow penetration.
Kinetic energy = (FPS²) * (Weight of Arrow) / 450240
Bow Weight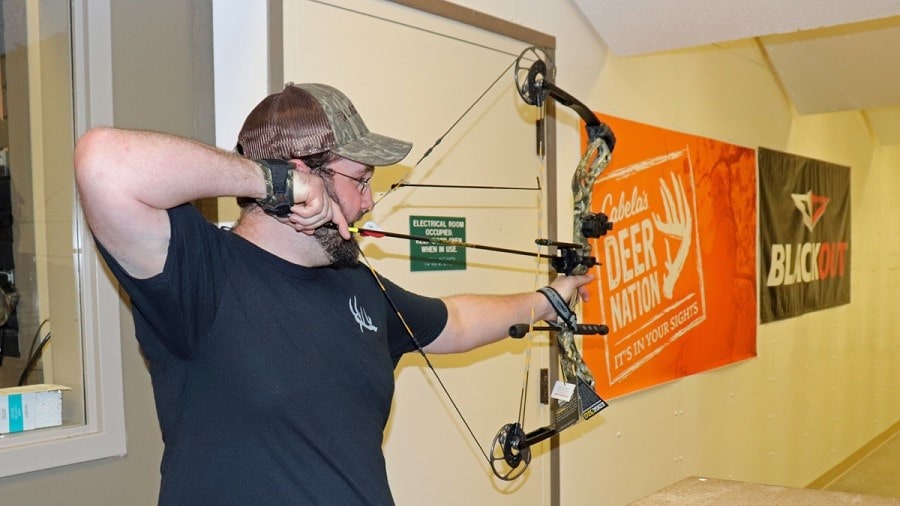 Shooting the Diamond Edge 320
---
The actual weight of your bow is essential. Even one pound makes a big difference.
Be it that you are at the range and fire 100 arrows per training session or you are out in the woods, holding your bow at full draw, waiting for the perfect moment to harvest the game you were following the last two days.
Light Weight Bow
The latest carbon fiber compound bows only weight in at 3.2 pounds. It is not uncommon that bows comprise different materials.
Some of the carbon fiber compound bow parts available right now are:
Riser
Cam
Limbs
Idler wheel
Arrows
What are the Benefits of a Light Weight Bow
If you have a lighter bow, you can put weight where it makes the bow steady. End of stabilizers or closer to axles.
Bow Limbs
Solid or split limbs? The times when manufacturers argued which limb type is superior over the other are over. You´ll find either type with almost all major bow brands. Huntersfriend.com has an extensive article talking about cam & limb technology.
Here is what they say regarding limb trends:
…"Short of wandering onto hallowed ground, we can make one observation about limb trends. All of today's really fast 340/350 fps speed bows seem to be utilizing a similar limb concept – what we loosely call the Willow Tree limb"…

https://www.huntersfriend.com/cam-and-limb-technology-compound-bow-research-selection-guide.html
We highly suggest you go and check out their articles. They´re really informative and cover a lot of topic in depth.
Let-Off
Modern compound bows offer a let-off of 70% or more. Don´t be fooled by this. It does not mean you are pulling only 30% of the actual weight. You need to be able to draw whatever draw-weight your bow has. The let-off reduces the weight (by x%) you need to hold when you´re at full draw.
A high let-off will allow you to remain at full draw longer, with less effort. This is helpful when you already had to draw your bow and are still waiting for the game to move into a better position to place the perfect shot.
Bow Length
As with recurve bows or traditional bows, bow length is measured from the tip of the top limb to the tip of the bottom limb. Your draw length would determine what bow length should be a good fit.
Recurve bows most commonly come in lengths of 58, 60, and 62 " – the shorter you draw length, the shorter the bow should be.
Axle to Axle Length
Compound bow length is measured from axle-to-axle. The abbreviation is ATA
Cam System
Each cam of a compound bow has two tracks: an inner track that is connected to the opposite limb or cam through cables, and an outer track through which the bowstring runs. The ratio of bowstring pay-out and cable take-up relative to limb-weight and cam leverage changes as the bow is drawn.
Different cam systems available are:
Single Cam System
Dual Cam System
Hybrid Cam System
Binary Cam System
Cam synchronization is key. Single cam and binary cam systems, due to their nature, require less maintenance. Basically, it all depends on personal preference; modern bows are technically sound, regardless of the cam system used.
Draw Length
Draw length is the distance between your bow´s riser and the most distant part of a bowstring when you are at full draw. The ATA defines it as follows: "Draw length is the distance from the nocking point on the string to the pivot point on the bow grip plus 1 3/4 inches."
What is Your Draw Length
There are several ways to determine your personal draw length
Wingspan Measurement
With this method, you only need an assistant, a tape measure, and a calculator. Straighten your back and extend your arms outward. Now let your assistant measure the distance from the furthest fingertip on the one hand to that on the opposite side.
Be sure to keep the tape on tight. Note down the distance, then divide it by 2.5. Here we go!
Sternum Midline Measurements
This method of measurement is not as accurate and should only be used as a first guideline. Standing upright, extend your bow arm outward, so it is parallel with the floor. You will then record the distance from the sternum to the base of the wrist of the extended arm using a tape measure. The number recorded in inches will be your personal drawing length.
Measurement Arrows
These special arrows are marked with varying length designations on their shafts, used to take stock of the archer's draw length.
This method requires nothing but a bow, a measurement arrow, and an assistant.
Nock a measurement arrow onto the bowstring. Have your assistant watch as you draw back your bow until full draw.
Note down your findings, and voila.
Adjustable Draw Length
Most modern compound bows offer an adjustable draw length – so unless you are 7 feet or taller, you can adjust your bow accordingly – using one of the above-mentioned methods.
To learn even more about draw-length measurement, read our article here. But honestly, if you're new to archery, you should visit your local archery shop!
Does Draw Length Affect Draw Weight?
So the question is, will a shorter draw length affect the maximum poundage of the bow?
No, at least not for a compound bow. A compound bow with 60 lbs at 28 inches will remain at 60 lbs with a 27 inches draw length.
Recurves and longbows have progressively heavier draw weights the farther they're drawn. The standard for measuring their draw weight is for 28 inches draw – a draw length of 26 inches will result in lesser poundage. To determine the exact weight corresponding to your draw length, use a bow scale.
Does Draw Weight and Bow Weight Determine Draw Length?
Always make sure you choose a draw weight within your skill range! If you can´t pull a 50 lbs bow, chances are you won´t be able to reach your draw length …
Other than that: no, they shouldn't. Draw length is determined by your physical appearance, using one of the methods mentioned above.
There are several ways to determine your draw lengths. You can read our article about draw-length measurement here. But honestly, you should go to your nearest bow shop, especially when you´re new to archery!
Draw Weight
Draw weight determines how much weight (measured in pounds) you need to apply, to draw the bow.
Draw weight also determines the speed at which your arrow leaves the bow. And that is why it is an important part of the kinetic energy formula. Let's talk about kinetic energy for a moment. It is the standard figure to determine arrow penetration. In case you're interested: here is the formula
(FPS²) X (Weight of Arrow) / 450,240 = Arrow's Kinetic Energy
Example:
300 fps² = 300 x 300 = 90000
90000 x 350 (grains arrow weight) = 31500000
31500000 / 450240 = 69.96
Arrow´s Kinetic Energy = 69.96 ft-lbs
How much Kinetic Energy for Bowhunting?
Although kinetic energy may not seem like the best indicator for bowhunting, it is actually an essential factor. It can help determine how much force your arrow will have and its range (as well as penetration).
Generally speaking, you should stick to the following numbers to be on the safe side:
Small Game < 25 ft. lbs
Medium Game (Deer) 25-41 ft. lbs
Large Game (Elk) 42-65 ft. lbs
XL Game (Grizzly) >65 ft. lbs
Adjustable Draw Weight
The advantages of an adjustable draw weight are that the bow can be set up for different purposes. Depending on what you plan to hunt, you can adjust draw weight and arrow weights accordingly until you find your perfect setup.
Additionally, this is probably more important to someone just starting – it gives you "room" to grow. As you grow stronger physically, you can increase your bow´s poundage accordingly.
How do you Know your Draw Weight?
You have to try! Yes, no guessing there. You need to pick up your bow and try. Your draw weight should be as heavy as you can manage in a controlled manner.
Draw, aim and follow-through all should be done in a controlled manner!
Does Draw Weight Affect Accuracy?
The poundage itself does not affect your accuracy. But it affects range and arrow drop. Plus, if you are over bowed, your form and aiming will suffer – and eventually your accuracy too.
Most modern compound bows allow increments in 5 or 10 lbs steps. Starting from as low as 7lbs. all the way up to 70 lbs.
Brace Height
Brace height is measured between the deepest part of the grip and the bowstring. An extra inch on the brace height will make your bow more forgiving. This has to do with how long the arrow is being "pushed" by the bowstring.
For example, 28″ draw length with a 7″ brace height means you'll draw the bowstring 21″. With the same draw length, but a 6″ brace height, you'll draw 22″.
Shorter brace height = longer draw, but higher arrow velocity
Greater brace height = arrow leaves string faster, less time to mess up, usually slower
Bigger brace heights are generally more recommended for beginners.
Bow Sights
Different types of bow sights exist.
Fixed Pin Sight
Single Pin Bow Sights / Multiple Pin Bow SIghts
Pendulum Bow Sights
The fixed pin bow sights are the ones you´ll find most commonly used. Typically between 3 and 5 pins in quantity. At the range, you are adjusting these pins to the distances you are using the most (20, 30, and 40 yards).
A big advantage is, that when you are out in the field, no adjustments need to be made. Just pick the pin that is closest to the yardage you´re shooting at.
Obviously you need to be able to judge the distance correctly…
An example would be the trophy ridge pursuit (single), or the Dead Ringer Tack Driver DT (multiple)
The Pendulum Bow sight works on a pivoting axis and compensates trajectory discrepancies when shooting at a steep downward angle.
Treestand- or saddle tree hunters will find the use of those sights especially useful. Distances over 30 yards will diminish accuracy quickly.
A good product is the Truglo Pendulum Sight.
What is Bow Sight Made of?
The majority of bow sights are made of aluminum and/or polymer plastics.
What is a Peep Sight?
A peep sight is a small, hollow circle that is installed on an archer's bowstring. They use a bow sight on their bow in conjunction with their peep sight to narrow their field of vision as well as to aim at a distant or distant target.
Arrow Rests
You need your arrow to be in place when drawing and shooting your bow. There are different technologies available.
Shoot-Thru Arrow Rests
Containment Arrow Rests
Drop Away Arrow Rest
Pressure Rests
3D & Special Rests
Most likely you´re going to use a containment rest. The Whisker Biscuit as a containment rest is dominating the market. More than 50% off all bows sold use some sort of Whisker Biscuit.
One of the downsides of the whisker biscuit is that it makes contact with the vanes. Other containment rests hold the arrow at three points and are designed to not to make fletching contact.
Also popular are drop away arrow rests. They appeared first during the 1900s. And the main benefit of them is that they won´t make contact with the arrow once it is released.
Release Aid
While traditional archers or recurve bow archers use their fingers to release the bowstring, most compound archers use a release aid for this task.
Modern compound bows feature short axle-to-axle lengths and make finger shooting difficult (finger pinch).
A release aid minimizes the chance of string torque and typically yields an increase in arrow speed and aids in consistent arrow grouping.
Types of Releases
Index finger release
Thumb trigger release
Back pressure style releases
The most favorite release aid among hunters is the index finger release. You can read more about the topic here.
Summary
Well, I genuinely hope that this article was helpful while finding the best bow of 2022. I tried to cover many topics, but there is much more to it – see this article as the first step into archery and bowhunting.
As always, feel free to contact us if there's anything that we can help with!
Last update on 2022-05-24 / Affiliate links / Images from Amazon Product Advertising API