As an experienced bowhunter, I know how overwhelming it can feel when you're just starting out and walk into a pro shop full of fancy, high-end bows.
But here's the good news – you absolutely don't need to break the bank to get a reliable, accurate budget compound bow that will carry you through those first hunts and beyond.
I've tested and handled all kinds of bows over the years, from top-tier flagship models to budget options, and some of the best values out there are budget-friendly packages from top brands.
These bows offer great features and performance at very reasonable prices.
I'll give you my honest, hands-on reviews of my picks for the top five dependable budget compound bows, based on my extensive testing and experience.
My goal is to give you the real scoop on what each beginner bow truly offers, so you can find the perfect fit for your needs and budget as you start your archery journey.
The Diamond Infinite Edge 320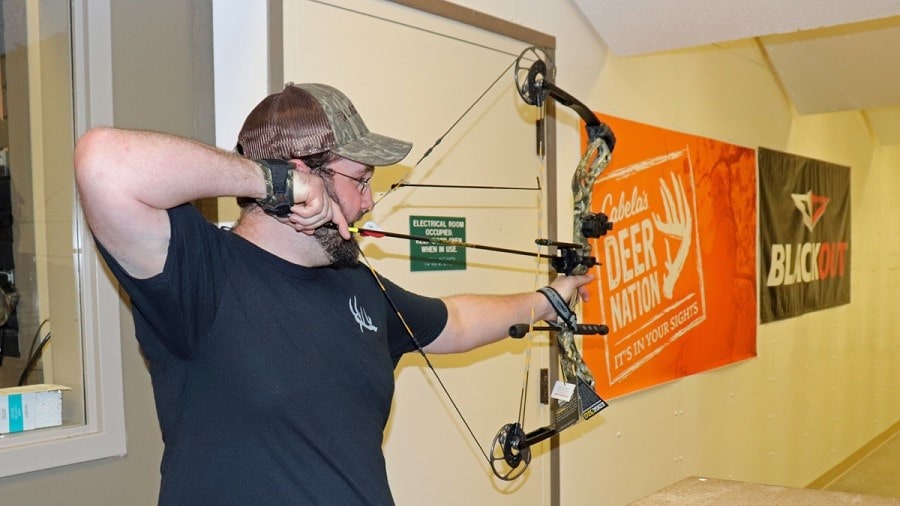 The Diamond Infinite Edge 320 is one of my favorites for new archers. I was impressed by its smooth draw cycle, solid back wall, and blistering 320 fps speed.
Let-Off: 85 percent
Brace Height: 7 1/4 inches
Mass Weight: 3.6 pounds
Axle-to-Axle Length: 32 inches
Speed: 320 fps
Draw Weights: 7 to 70 pounds
Draw Lengths: 15 to 31 inches
Finishes: Mossy Oak Break-Up finish, Black and Purple Blaze Finish
Suggested Retail:
check price
It comes ready to hunt with a full package of accessories. While the included sight is basic, it gets the job done, and you can upgrade later as your skills progress.
For the price, this is one of the best all-around starter budgets bows out there.
Bear Archery Paradox RTH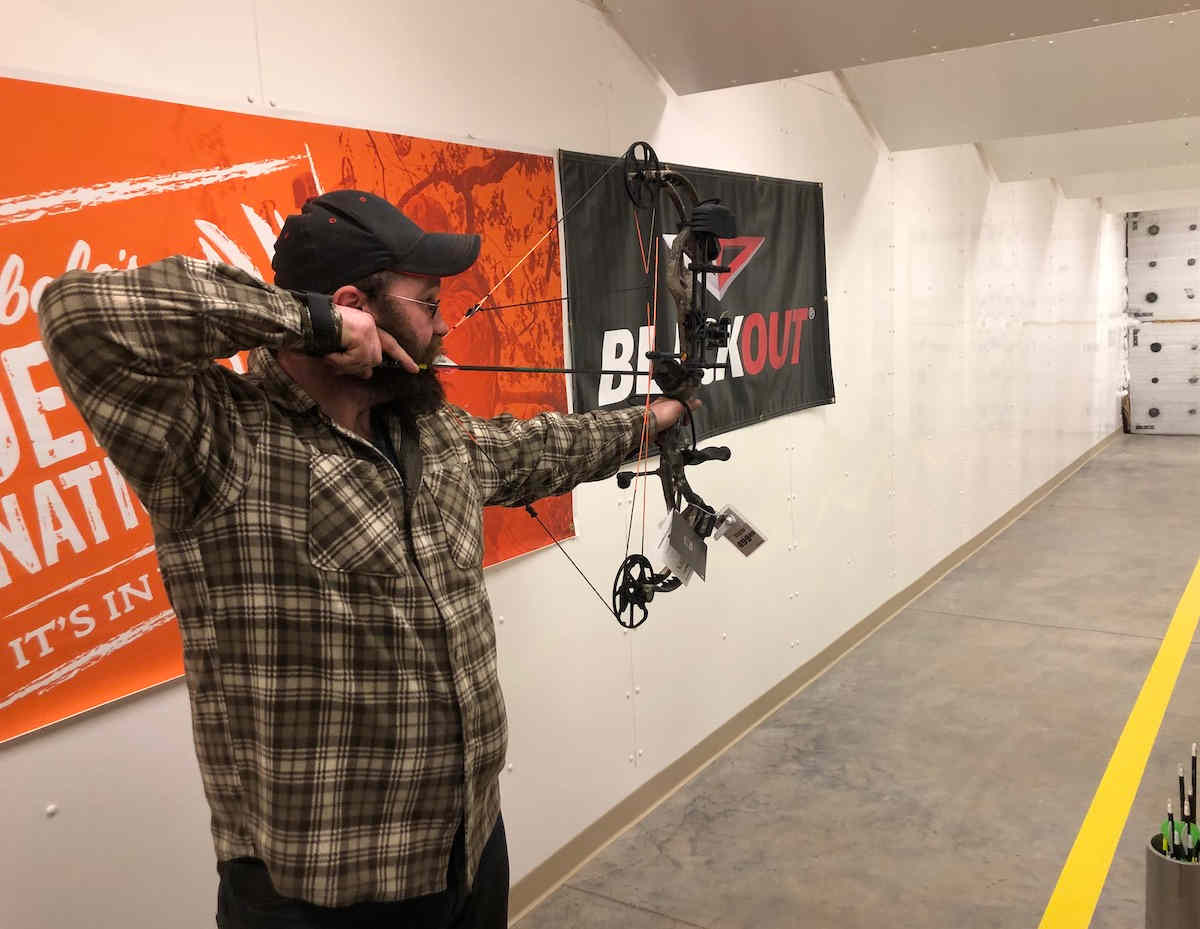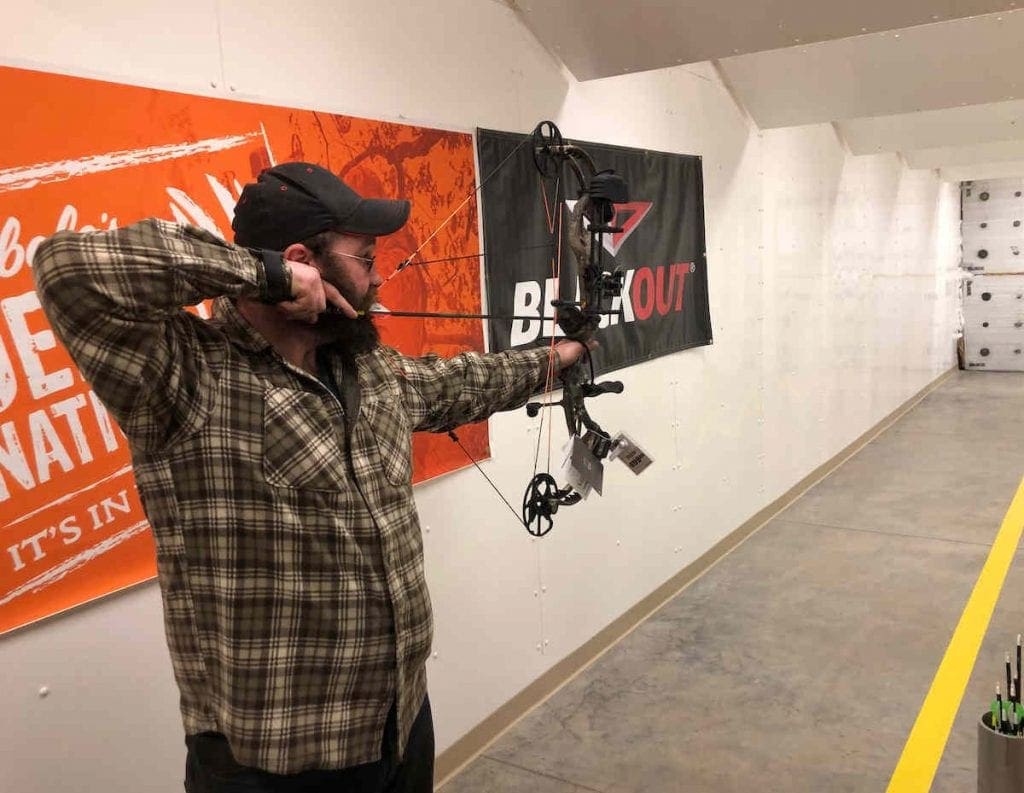 When I got the chance to test out the new Bear Archery Paradox RTH, I was eager to give it a shot (pun intended).
After spending some time shooting the Paradox, I'm seriously impressed. The draw is smooth and easy to pull back, even at the higher end of the 45-60 lb adjustable draw weight. And let me tell you, this thing is fast! With an IBO speed rating of 330 fps, arrows fly like missiles out of the Paradox.
The 80% let-off really surprised me too. I can comfortably hold this thing at full draw all day long if I need to wait for the perfect shot. Speaking of shots, this bow has practically zero hand shock or vibration on release. It's deadly quiet, too – definitely a plus when trying not to spook wary game.
Let-Off: 80 percent
Weight: 4.3 pounds
Brace Height: 6.25 inches
Axle-to-Axle Length: 32 inches
Speed: 330 fps
Draw Weights: 45 – 60 or 55 – 70 pounds
Draw Lengths: 23.5 to 30.5 inches
Finishes: TrueTimber Strata
Suggested Retail:
check price
The ready-to-hunt package on the Paradox is a great value, too. It comes equipped with a quality sight, rest, and stabilizer already installed and tuned. That's money I would have had to shell out anyway, so getting it all set up from the factory is awesome.
If I had to nitpick, I'd say the grip could be a little more comfortable, and the cams feel a touch harsh when actuating. But those are minor gripes on an otherwise fantastic hunting bow.
I'd highly recommend the Paradox to any bowhunter looking for a fast, smooth shooting, and quiet setup right out of the box. This thing is primed and ready for the treestand!
Bear Archery Divergent EKO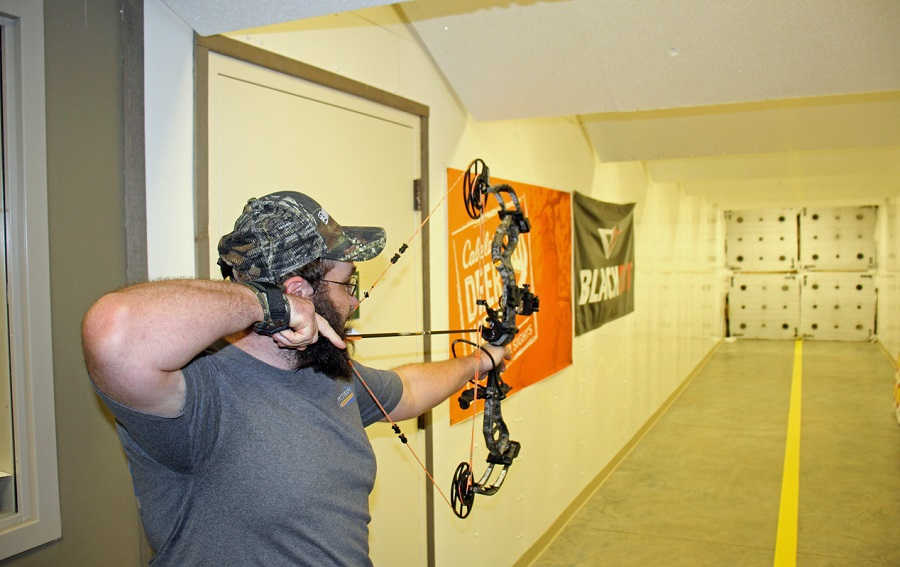 I was struck by its aggressive and unique look when I took the Divergent EKO out of the box. The sharply swept limbs and strategic cutouts on the riser give this bow a very modern and edgy aesthetic.
When I started shooting it, I was impressed with how smooth and easy the draw cycle felt. As I pulled back, there were no rough spots or hesitations, and it settled gently into the valley. I cranked the let-off up to 90% to really test it out, and let me tell you – this thing holds like a dream at full draw! My arms didn't get tired at all.
Let-Off: up to 90 percent
Weight: 4.1 pounds
Brace Height: 6.5 inches
Axle-to-Axle Length: 30 inches
Speed: 338 fps
Draw Weights: 45-60 or 55-70 pounds
Draw Lengths: 26 to 30 inches
Finishes: TrueTimber Strata
Suggested Retail:
check price
But it's not just comfortable to shoot – this bow is fast! The IBO speed rating of 338 fps is no joke. I swear, when I released an arrow, it hit the target instantly. The speed is astonishing, yet the Divergent EKO is surprisingly quiet on the shot with minimal vibration.
I love that you can adjust the let-off between 75-90%. That's a lot of customization for your preferences. The draw weight range of 45-60 or 55-70 pounds is decent, though some archers might want something more adaptable.
Overall, I'm thrilled with the Divergent EKO. It looks awesome, it's fast and smooth to shoot and has very little noise or kickback.
PSE Uprising RTS Bow Package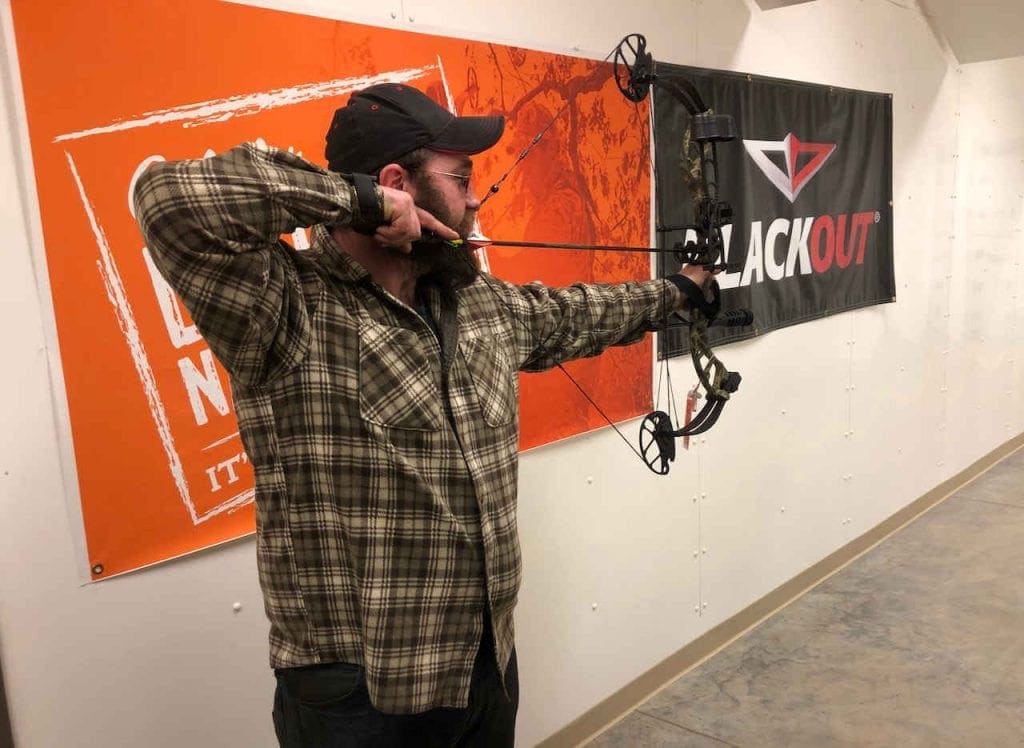 The PSE Uprising immediately stood out to me because of its super compact size. At only 30″ axle-to-axle and weighing just over 3 lbs, this is one of the smallest adult bows I've ever shot. As someone who often hunts from ground blinds and tight treestands, I love how easy the Uprising is to maneuver in confined spaces.
The specs are impressive, too – with an IBO speed rating of 302 fps, this little bow can still deliver some zip. The 6 5/8″ brace height provides a nice, forgiving feel as well. I was able to shoot pretty good groups, even as a beginner.
Let-Off: 70 percent
Weight: 3.2 pounds
Brace Height: 6 5/8 inches
Axle-to-Axle Length: 30 inches
Speed: 302 fps
Draw Weights: 15 to 70 pounds
Draw Lengths: 14 to 30 inches
Finishes: Black, Mossy Oak Breakup Country
Suggested Retail:
check price
While the 70% let-off is lower than other flagship bows out there, I had no issues holding at full draw within my proper draw weight. And the draw cycle is buttery smooth! The cams roll over into the valley with zero roughness or hitching.
Accuracy and forgiveness combine with a whisper-quiet shot. I was able to fling arrows in the backyard without disturbing the neighbors – a big perk for those with houses nearby. And the lack of hand shock is outstanding, making for a very comfortable shooting experience.
My only gripe is the minimalist grip. I prefer something more molded to my hand, but that's my personal preference. Others likely won't mind the simple grip design.
For a budget-friendly bow packed with high-end features, the PSE Uprising RTS is a winner in my book. The compact size, smooth draw, and quiet shot make this an ideal choice for shooters and hunters alike.
BlackOut Epic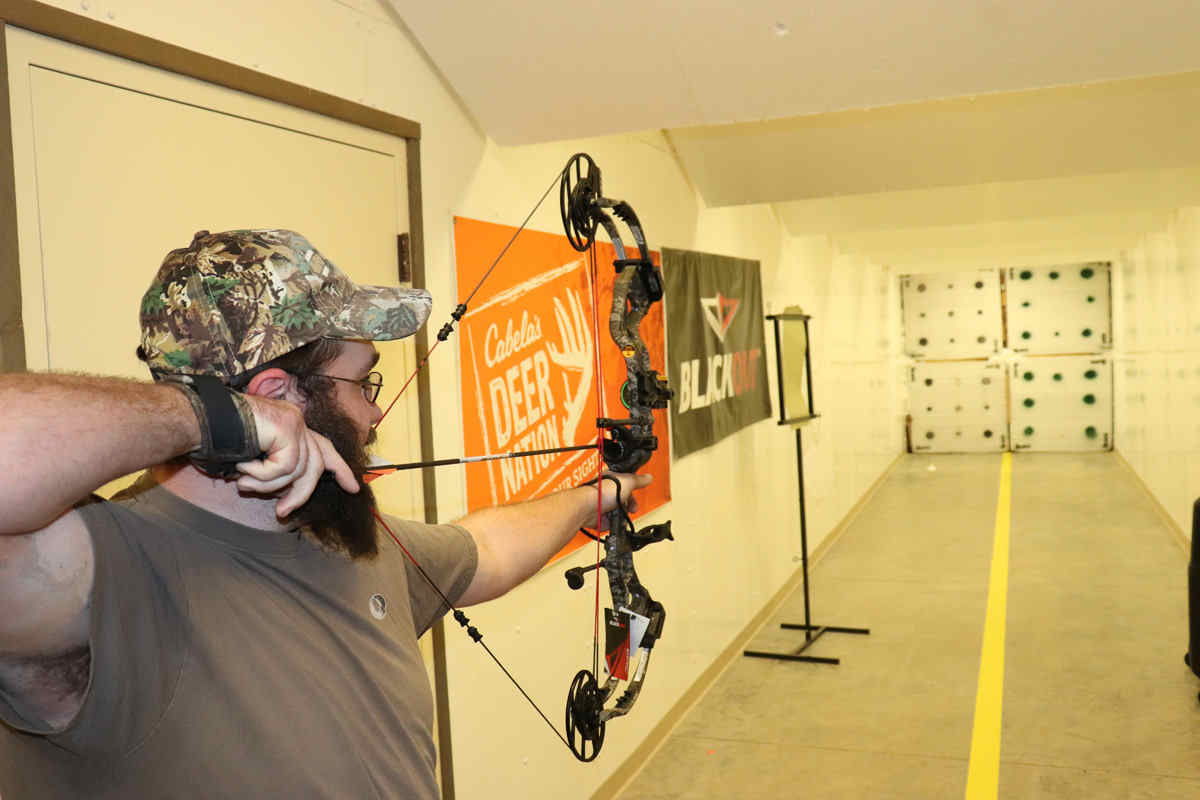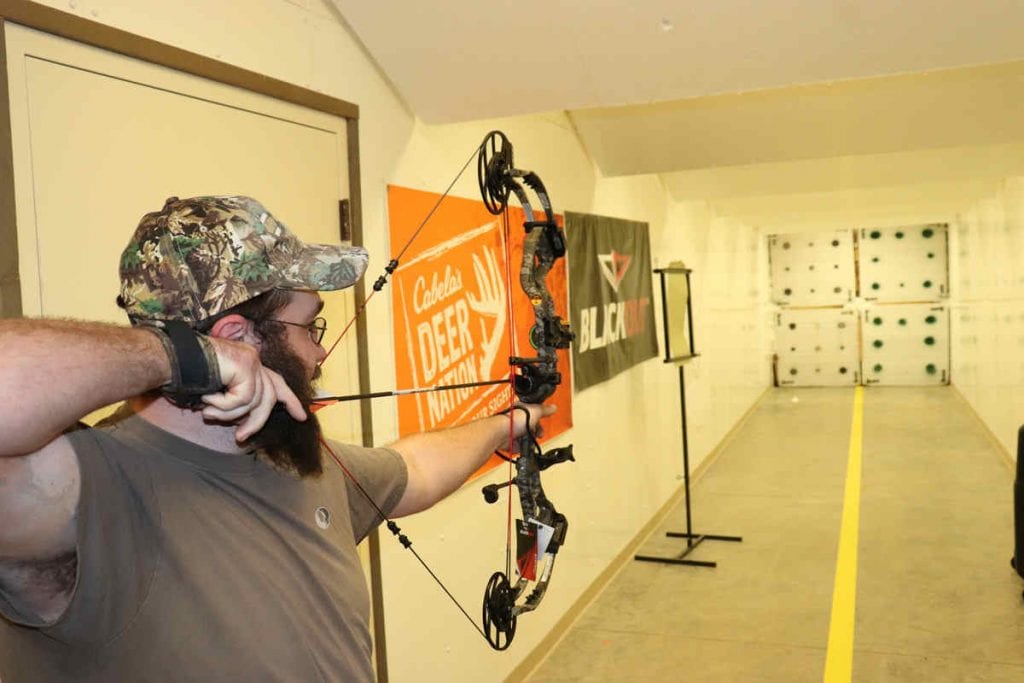 The BlackOut Epic is one sharp looking bow! The aggressive limb sweep and strategic cutouts give it a very modern vibe that looks as premium as bows twice the price.
Despite weighing in at 4.1 lbs, heavier than some of the latest lightweight models, the Epic still feels nicely balanced and comfortable in hand. The extra mass isn't really noticeable during shooting.
One of the coolest features on the Epic is the adjustable let-off between 75-90%. Being able to fine tune the holding weight at full draw is awesome. As a hunter, I'll likely crank it up to 90% for long waits at full draw.
But when target shooting, I may dial it back for a bit more holding weight and increased control. This level of customization really appeals to my shooting style preferences.
The draw cycle and power stroke are buttery smooth, no harshness at all. And even with an aggressive 6″ brace height, the Epic aims with plenty of forgiveness for my amateur shooting abilities.
At 340 fps IBO, arrows absolutely fly out of this bow! The speed is thrilling when targets downrange just explode on impact. Yet the Epic manages to remain quiet and low in vibration. Impressive!
For the price, the BlackOut Epic surpasses expectations. It looks and feels like a premium flagship bow but at a budget-friendly price point. Between the adjustability, speed, and shooter-friendly balance, BlackOut has a real winner here.