With every passing year, an increasing number of women pick up a bow, seeking to take in all that is enjoyable about archery. This trend has benefitted the hunting and shooting sports community in general, turning outdoor adventures into a family affair.
In a quest to find the gear that best suits their needs, many female archers are left searching for the best compound bows for women. In our opinion, the best hunting bow for women is the Diamond Archery Infinite Edge Pro.
At a Glace our 5 Recommended Compounds for Women
+ BEST OVERALL – Diamond Archery Edge Pro. A bow that truly fits any archer. Highly adjustable – ideal to cover a wide range of different draw lengths and weights!
___________________
+ FASTEST – PSE Stinger MAX. Extremely user-friendly, forgiving, and smooth shooting bow with a strong history.
___________________
+ BEST VALUE – PSE Archery Uprising RTS. A highly adjustable compound bow, which caters to archers of every age group.
___________________
+ BEST PRICE OPTION – XGeek Compound Bow. Extensive accessories come with this bow. A great package for an even better price.
___________________
+ YOUTH BOW – Bear Archery Brave Bow Set. If you want your daughter to pick up a bow, this is the right set for her! Low draw weights to start with, different optics to choose from, and a package that has everything to get started.
While much is written regarding men's compounds or those that are not gender-specific, little information exists to assist a female archer in selecting a women's specific bow. But to be honest, the only features a "women" compound bow should have is a wider range of adjustability in regards to draw length and draw weights.
If you are among this growing list of female archers, be sure to check out our overall favorite the Diamond Archery Pro Bow, as well as the other great products on this list.
Best Lady Compound Bow
Diamond Archery Infinite Edge Pro Bow Package – Best Women Compound Bow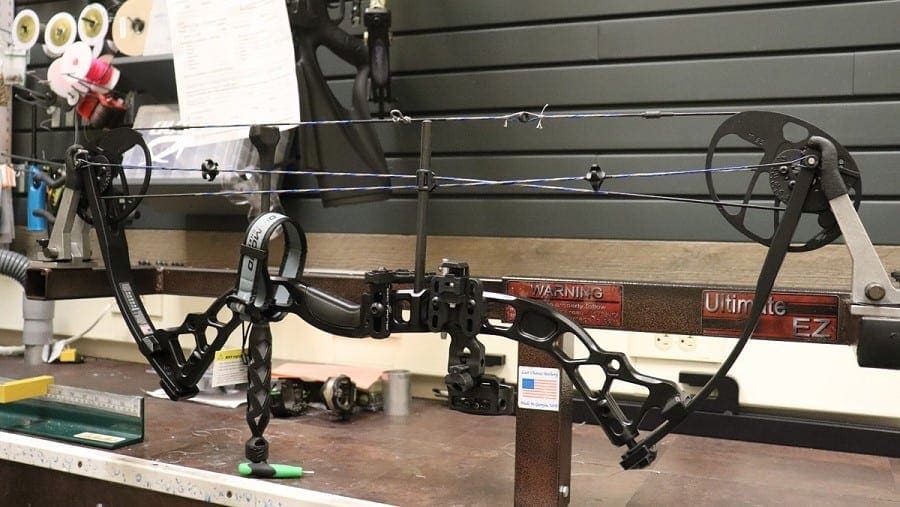 The Diamond Archery Infinite Pro is a bow that truly fits not only women bowhunters, but every archer. Its draw length adjusts from 13"-31", meaning that female archers of all sizes will find this bow well suited even at full draw.
The Infinite Edge Pro also features one of the most highly variable draw weights of any bow on the market, ranging from 5-70 lbs. The range of draw lengths is also highly adjustable. A new and redesigned cam system supports all shooting styles.
Features:
Choosable hand orientation
Great choice for women
Draw length adjustments are easily done
Peak Draw Weight up to 70 pounds
Comes with a full range of accessories for out of the box shootability
Redesigned cam system creates a smooth draw cycle
Highly adjustable Draw Weights
Read our Hands-On Review of the Diamond Archery Edge Pro- click here
Published Specs
The Infinite Edge also comes as a package, meaning that a bow sight, arrow rest, stabilizer, and quiver are included. This, itself, adds a significant amount of value, as these accessories are far from cheap when purchased independently.
PSE Stinger MAX Pro Package – Most Durable
PSE Archery is a bow manufacturer known for its storied history in the archery industry, which began in 1970. Through the years, PSE has turned out a number of innovative compound bows, and the Stinger MAX is no exception. This bow is extremely versatile, as it features a highly adjustable draw length ranges from 21.5" to 30", which makes it the perfect fit for nearly any archer.
Features:
Widely adjustable draw length for proper bow fitment
80% let-off allows comfortable shooting
Fully outfitted package gets you to the range sooner
Read our Hands-On Review of the PSE Stinger MAX – click here
Published Specs
Additionally, the PSE MAX Package includes a Sierra Micro 5 Pin Sight, Phantom Drop-Away arrow rest, Torment Quiver, Recon 6″ Stabilizer, Mongoose Peep, and a nocking loop. This means that you can head straight to the range with your new purchase, and will be shooting in no time.
PSE Archery Uprising RTS Package – Best Value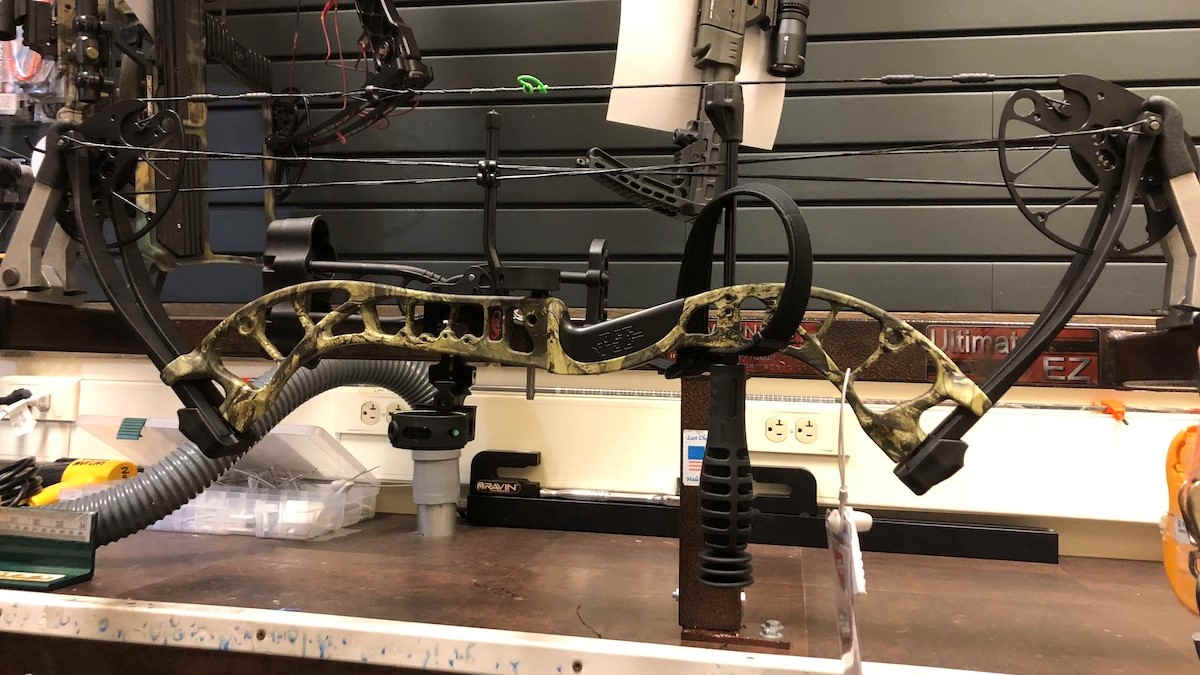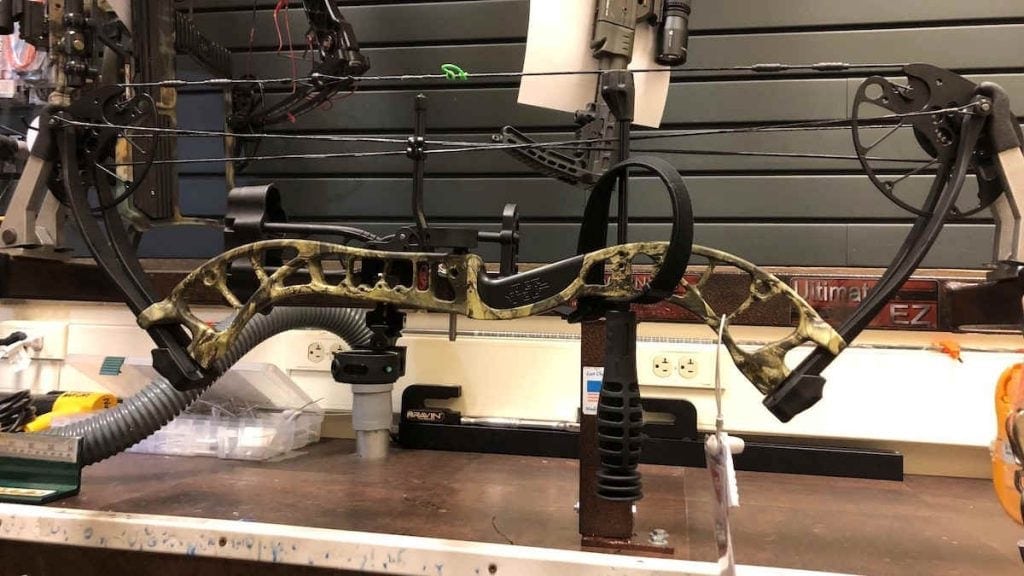 The PSE Uprising RTS is a wonderful bow for any woman or girl, no matter their age or experience level. This bow offers wide sweeping versatility, with its 14"-30" adjustable draw length and 15-80 pound variable draw weight.
This makes this hunting bow for women a fine option – especially for younger archers that need a bow that will grow with them.
Features:
High level of adjustability that suits the needs of any archer
Comes with a full line of accessories for instant shootability
more than 6-inch brace height
Read our Hands-On Review of the PSE Uprising – click here
Published Specs
The relatively short ATA is ideal if you plan to hunt out of a ground blind. This package also comes with a 3-pin sight, arrow rest, 5-arrow quiver, and 6″ stabilizer. Simply purchase a release and a dozen arrows, and you will be ready to begin practice. This bow is a great option not only for women archers.
XGeek Compound Bow – Most Complete Package
The XGeek Compound Bow is a wonderful option for those in search of a great compound bow for women on a budget. As the bulk of the bows on this list, the XGeek is extremely versatile in regards to the archers that it caters to.
This bow adjusts in draw length from 19"-30" and features a draw weight range of 19-70 lbs. Beginner archers looking to get into the sport will love the lower price point.
Features:
Highly adjustable draw length and weight for custom set-up
Lightening fast IBO speed
Comes with an immense amount of accessories, including arrows
Published Specs
Perhaps the greatest thing about the XGeek Compound Bow is the sheer number of accessories and additional items that it comes with.
Bear Archery Brave Bow Set – Best Women´s & Youth Bow
As most outdoorsmen and women are well aware, it is of immense importance to get our children outdoors as early of an age as possible.
This is precisely why the Bear Archery Brave Bow Set is just what you need when your daughter begins to show interest in going afield. This ladies' bow offers youth archers the ability to build their archery prowess, while shooting a real compound bow, thereby learning the ins and outs of the sport.
Features:
Perfect draw length and weight for most children between the ages of 8-11
Comes with a Whisker Biscuit Arrow rest for the ultimate in safety
Includes 2 arrows and an arm guard to minimize additional purchases
Published Specs
Check Latest Price
This bow features a 13.5" draw length that is well suited to most children, a draw weight that ranges from 15-25 pounds, and comes with two fiberglass arrows. A perfect choice if you want your daughter to get started with target shooting.
Just recently we had the chance to get our hands onto the Bear Archery Cruzer – click here – if you want to read our hands-on review.
What Makes A Quality Women´s Compound Bow?
When purchasing a bow, it is immensely important to consider all factors of value before coming to a final conclusion. In the absence of consideration of these factors, you might come to regret your hastily made purchase.
The times when woman archers that were looking to buy a compound bow had to choose a bow originally made for children are over! Most bow manufacturers have realized that there are more and more women out there enjoying hunting and archery. So what should you be looking for when shopping for the best women's compound bow?
A Bow That Fits Like A Glove
In the years before female-oriented compound bows, women were forced to make do with bows that were not suited to their stature – nor their level of strength. This led to difficulty when attempting to shoot with correct form, as draw lengths (and draw weights) were often far from adjusted as they should be.
Luckily, several bows now exist that are widely adjustable in both draw length and draw weight.
Draw Length Quick Reference Chart
One such bow is the Diamond Infinite Edge Pro. This bow features an adjustable draw length that ranges from 13"-31", and a variable draw weight that can be set from 5-70 pounds.
The Diamond Infinite Edge Pro will fit any archer and equates to a one-size-fits-all approach when selecting a bow.
A Bow That Is Tougher Than Nails
A bow is an investment, and as such, it should last for a lengthy time, providing years of trouble-free service. All points of mechanical operation should be sound and free of defects, and all components should operate as expected.
One of the best ways to ensure that a bow stands the test of time is to only purchase from reputable bow manufacturers. This is just one of the many reasons that we love the PSE Stinger MAX. PSE has a 50-year long history of providing archers with some of the most reliable bows on the market.
The Stinger MAX is no exception to the company's admirable legacy and should provide years of tireless service.
A Bow That Comes Well Equipped
Purchasing all the necessary accessories for outfitting a bow can get quite expensive in short order. Sights, arrow rests, stabilizers, and quivers, all carry a price tag that is often not easy on the wallet. Therefore, it is best when the bow comes in a package, including everything that is needed to make it range-ready, can be extremely efficient.
This is where the XGeek Compound Bow shines. This bow not only comes with all bolt-on accessories but also includes 18 arrows and a release as well. This assists in getting you in the woods or on the range in record time.
Which Women´s Compound Bow Is Best?
When comparing the bows that are presented on this list, I feel without a doubt that the Diamond-Archery is the best women's compound bow, with the Stinger MAX coming in as a not-so-distant runner-up.
The Diamond Archery Infinite Edge Pro (read.. Infinite Edge Pro Review) features an unheard-of level of adjustability, is built by Bowtech, one of the most trusted names in archery, and comes outfitted with everything you need to hit the woods within a matter of minutes following unpackaging. Together, these factors make the Edge Pro a bow that is limitless in its potential.
Best Compound Bows for Women
Obviously, women can shoot any bow they like. There is no limit in regards to gender! Therefore we put together an extensive post about the "most desired compound bow" in 2021. Might want to check it out too!
Last update on 2021-10-27 / Affiliate links / Images from Amazon Product Advertising API