As a company, PSE is about as old as compound archery itself. The company's history has spanned more than 50-years, throughout which time this prestigious manufacturer has produced a number of the industry's most sought-after bows. 
One important note: I tested the bow in real life. Yes – I went and actually sent some arrows downrange. The following is a comprehensive look at what I found to be true of the PSE Uprising in the form of features and functionality
Over the past decade, PSE has joined the push to offer new, highly adjustable compound bows, which cater to archers of every age group.
For all intents and purposes, this has been an endeavor that the company has been quite successful in. For proof of this fact, one needs to look no further than PSE's Uprising, which is renowned for its stellar range of adjustability.
Recently, I was presented with the opportunity to spend some time shooting the Uprising, which I graciously accepted. The following is a detailed report of what I found when putting the PSE Uprising through its paces.
At a Glance
[PROGRESSBAR_WP id=3013679]
Initial Thoughts
Over the past several years, ultra-modern, highly-adjustable bows have grown immensely in popularity. As a result, many manufacturers have jumped head-long into the production of such bows, with PSE being no exception.
The Uprising serves as a true testament to this fact, featuring a draw weight range of 15-70 lbs and a draw length range of 14-30 inches.
First Impression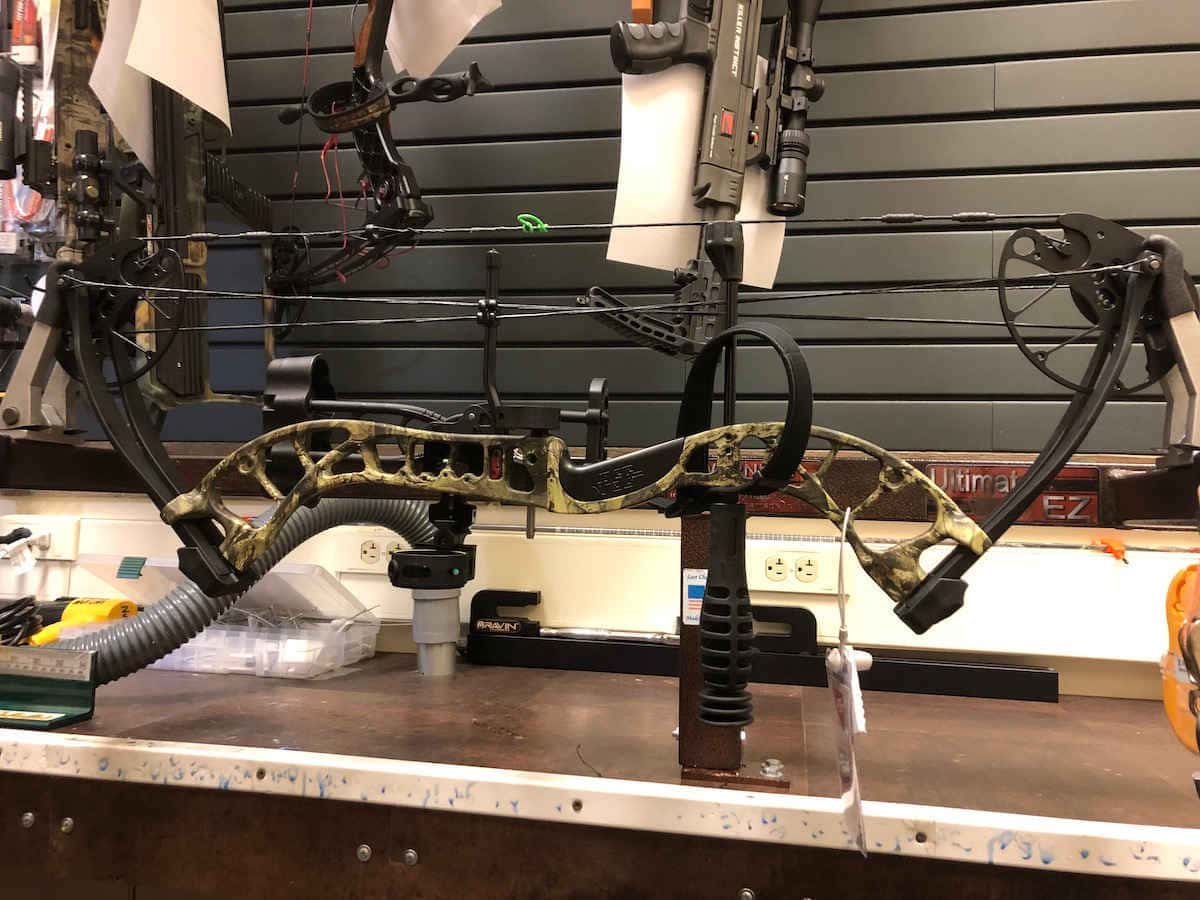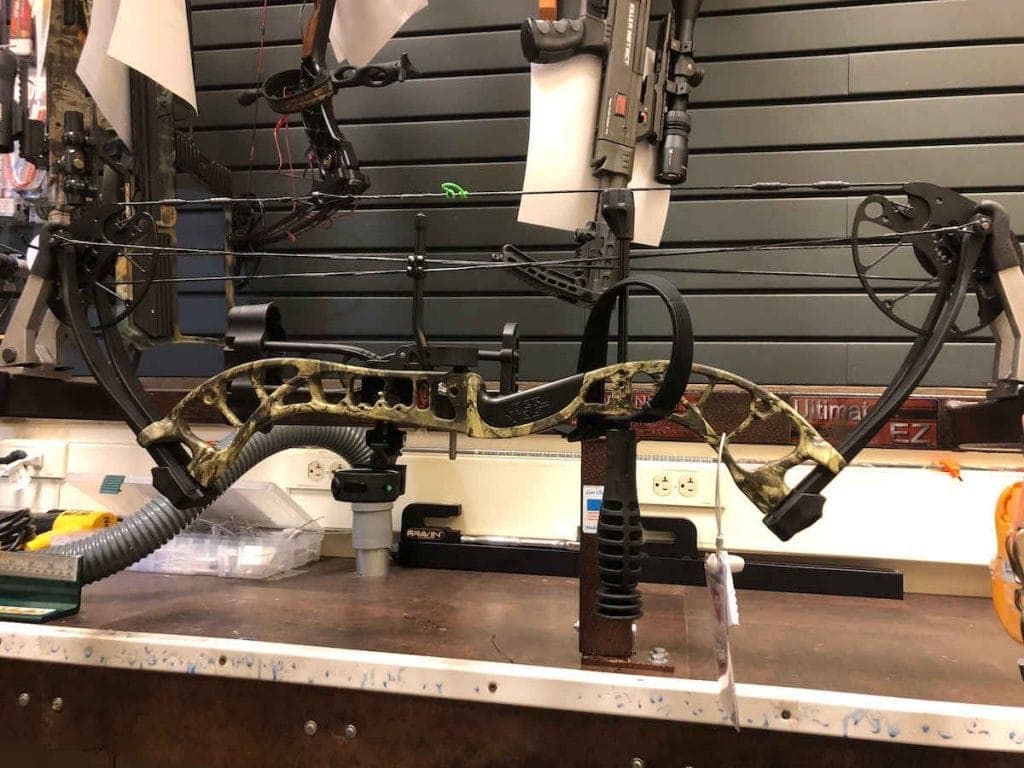 PSE Archery Uprising Compound Bow
---
I was also quite excited to get a feel for the Uprising's compact size. This bow weighs only 3.2 LBS while measuring 30" axle-to-axle. In many ways, these values seem almost unfathomable, further piquing my curiosity.
PSE Uprising Bow Specifications
Published Specs
Let-Off: 70 percent
Weight: 3.2 pounds
Brace Height: 6 5/8 inches
Axle-to-Axle Length: 30 inches
Speed: 302 fps
Draw Weights: 15 to 70 pounds
Draw Lengths: 14 to 30 inches
Finishes: Black, Mossy Oak Breakup Country
Suggested Retail:
check price
Of note is the Uprising's compact size. This bow measures only 30" axle-to-axle while weighing in at just over 3 lbs. These characteristics should be appreciated by those who routinely hunt in tight confines, such as a ground blind or a well brushed-in treestand.
Technical Features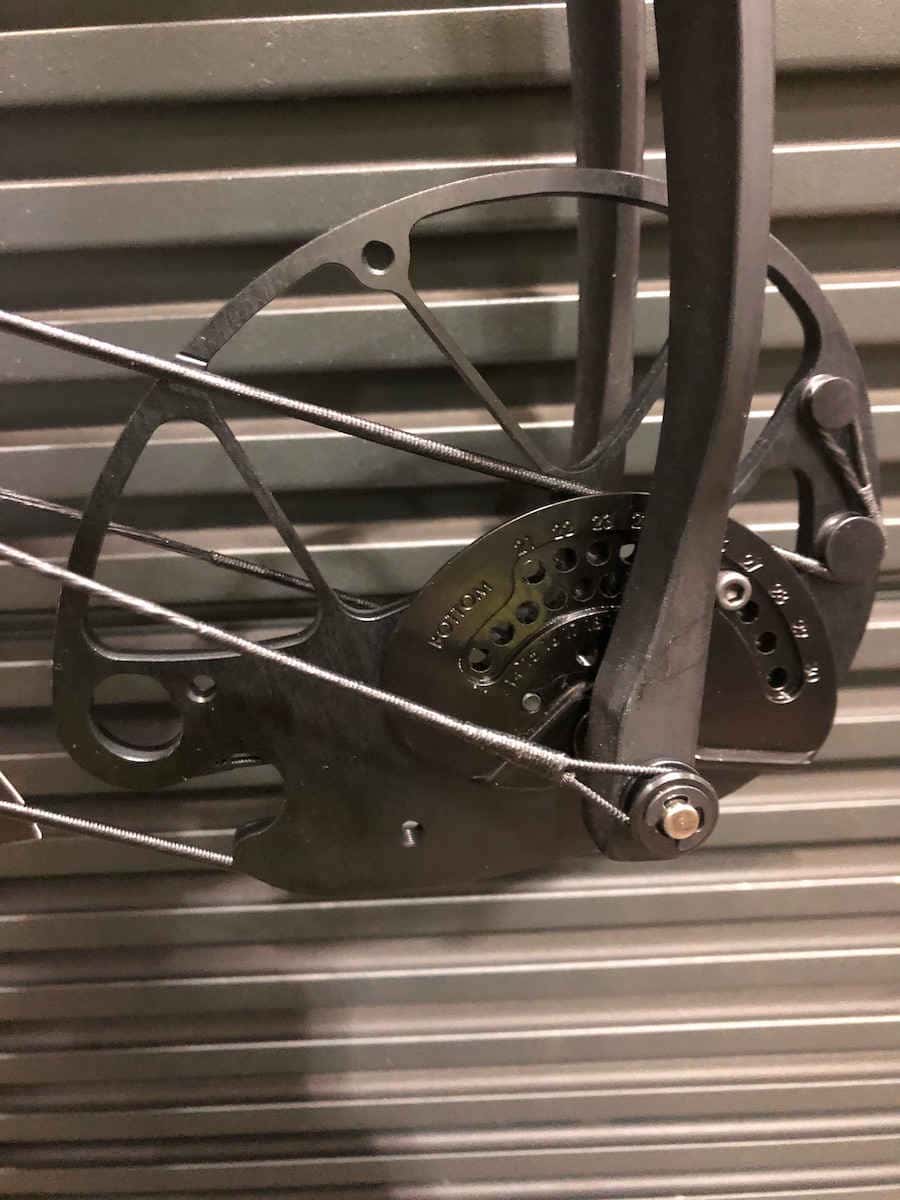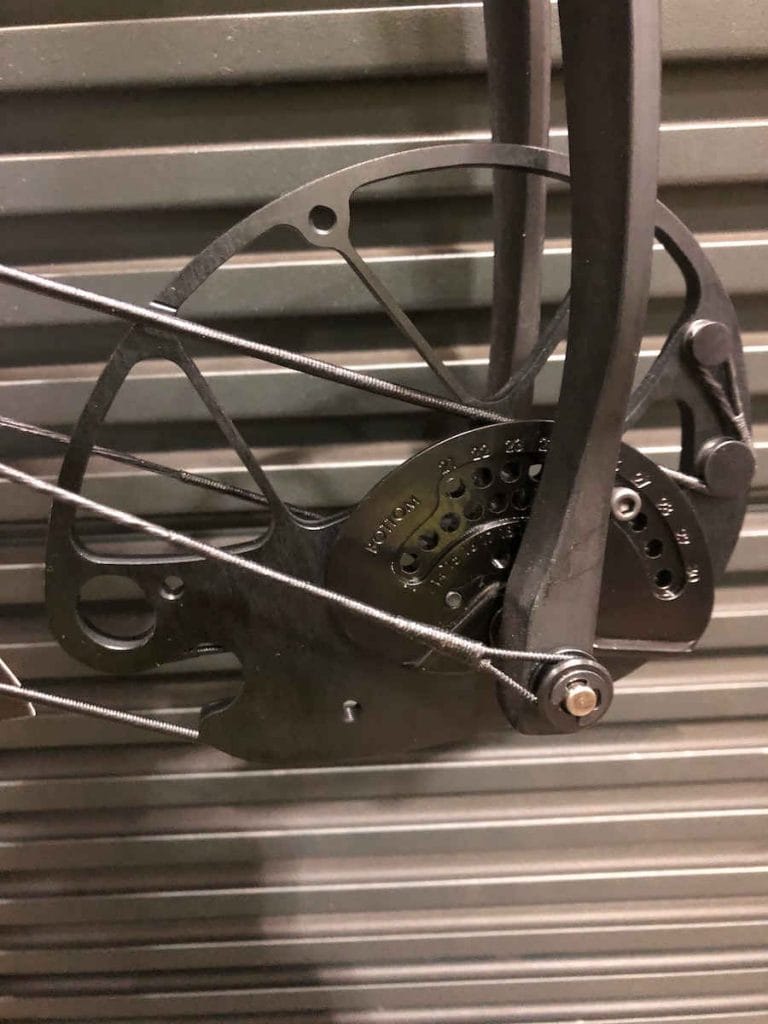 PSE Uprising Cam Closeup
---
As mentioned, the PSE Uprising's top selling point is its extreme range of adjustability. The Uprising features a draw weight range of 15-70 lbs and a draw length range of 14"-30".
These values are of significant worth to youth archers, who traditionally require a non-standard draw length and a rather subdued draw weight.
The PSE Uprising features a set let-off factor of 70%. While this is indeed lower than the vast majority of modern compound bows on the market today, most archers should still have no trouble holding at full draw, assuming that draw weight has been carefully selected.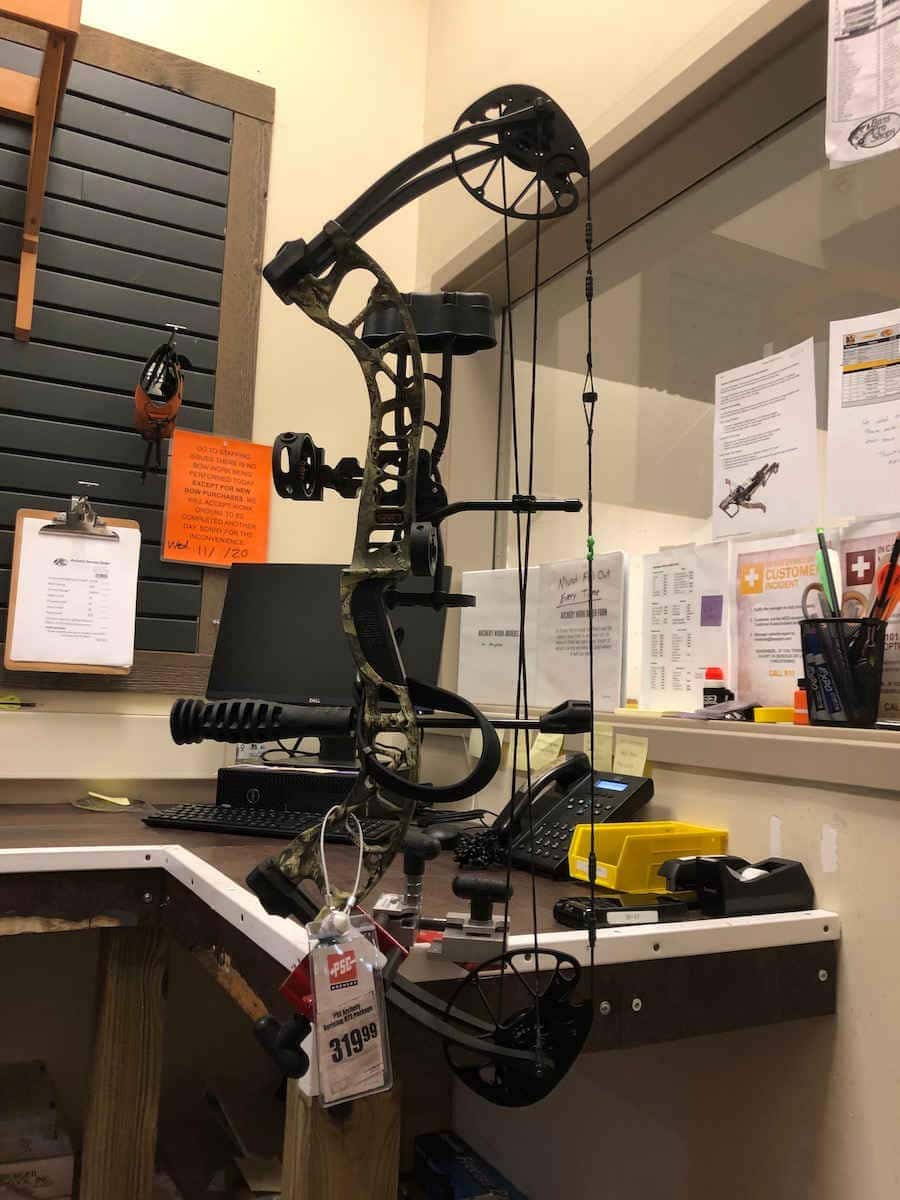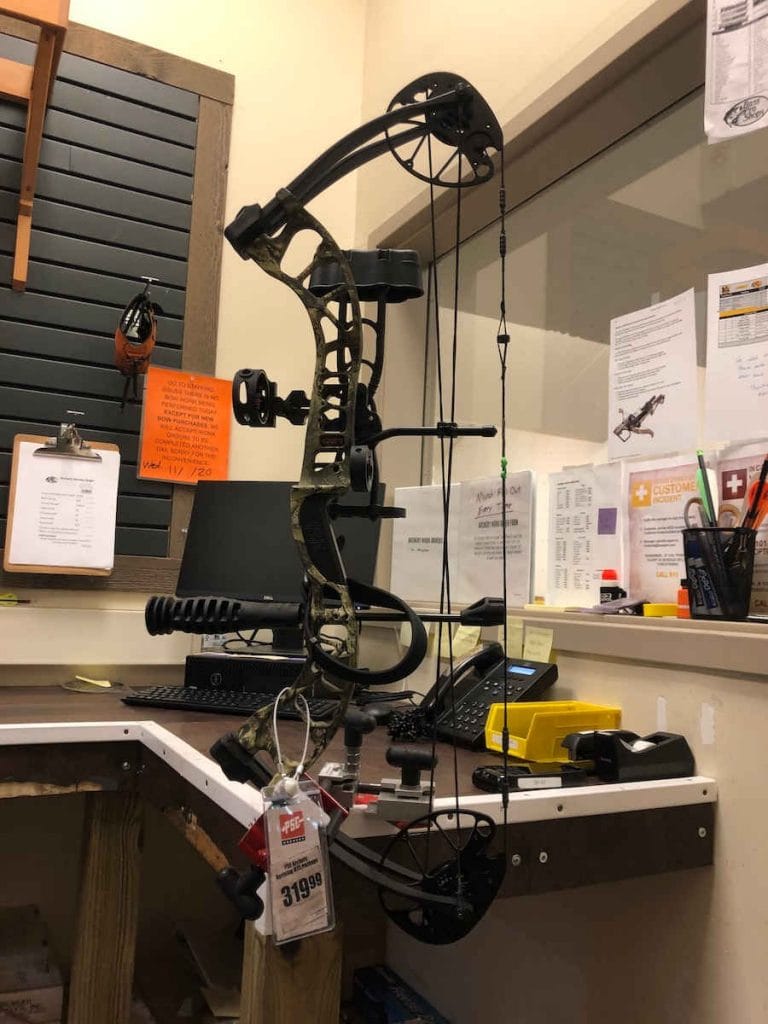 PSE Archery Uprising – Whisper Quite
---
The Uprising carries a brace height of 6 ⅝", which should promote forgiveness, at the shot. As a general rule, the closer a bow's brace height is to 7", the more forgiving it will be to shoot.
This is yet another characteristic of value for beginning/youth archers, who are often still in the process of perfecting their form.
Another factor of note is the PSE Uprising's IBO speed. With an official IBO speed rating of 302 FPS, the Uprising is certainly not the fastest bow on the market.
However, this is still plenty enough speed to produce stellar results in almost any application.
From hunting to target shooting, the Uprising should still be more than capable of achieving all that is asked of it, despite its somewhat underwhelming IBO speed.
Shootability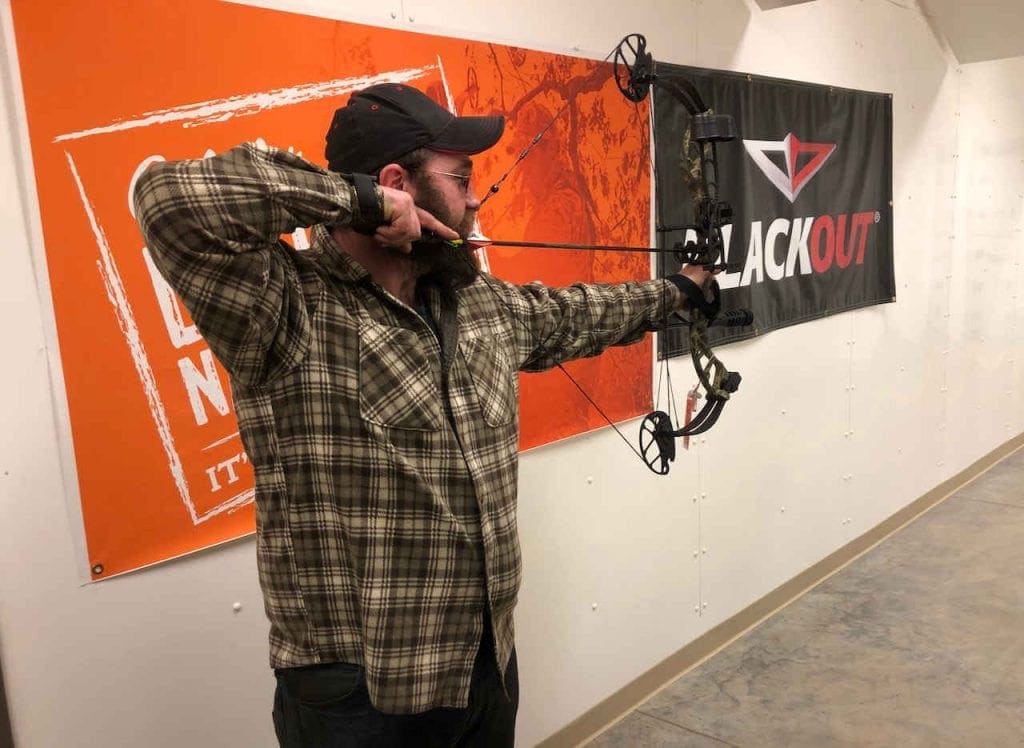 PSE Archery Uprising -Light Weight Compound Bow
---
After adjusting the PSE Uprising to my specific draw length, it was time to put it to the test. Upon coming to a full draw, I was pleasantly surprised.
The Uprising's draw cycle was substantially smoother than I had initially anticipated, especially considering the price point at which it is offered. The Uprising's cams also actuated in a smooth manner, settling effortlessly into the valley.
While holding at full draw, the Uprising's relatively low let-off factor was indeed noticeable. However, I did not feel this lack of let-off to be overly detrimental, even when shooting the Uprising at its maximum draw weight of 70-pounds. 
I can honestly say that I was not a huge fan of the Uprising's minimalistic grip, as the bow itself seemed less stable in my hand than I had hoped.
This, however, is largely a matter of personal preference and might be of no issue to others who favor a less pronounced grip.
For what the Uprising lacks in speed, it more than makes up for in its quiet operation. Each shot was propelled downrange in whisper-quiet fashion, which was relatively impressive, to say the least.
I also noted an overall lack of hand shock during each subsequent shot. Both of these characteristics are sure to be appreciated by the bulk of consumers.
PROS and CONS
PROS:
Whisper-Quite

Minimal Hand Shock
Light Weight 3.2 lbs
CONS:
Minimalistic Grip (well, might be no issue to others…)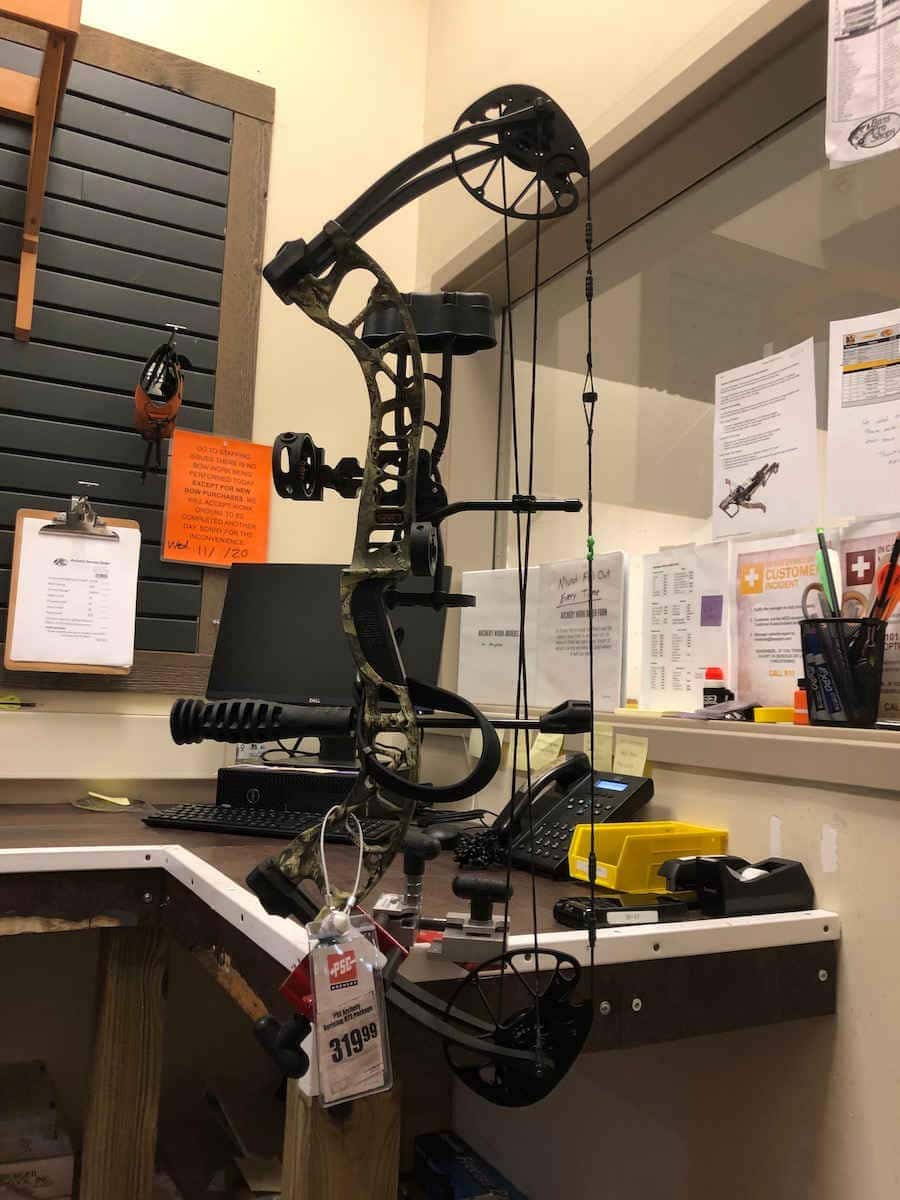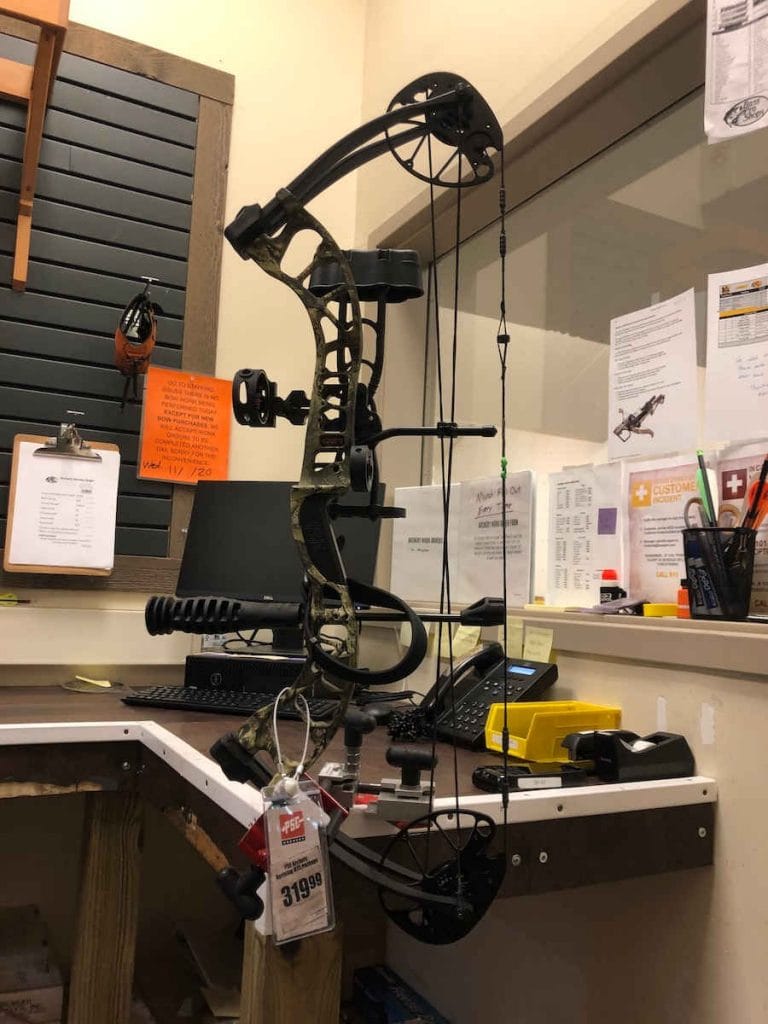 PSE Archery Uprising BassPro Package
---
How Does The PSE Uprising Compare to Other Bows
| | | | | | | | | |
| --- | --- | --- | --- | --- | --- | --- | --- | --- |
| PSE Uprising | medium | 302 | 70% | 14″ – 30″ | 70lbs | 6.625″ | 3.2lbs | L/R |
| BOW | Price | IBO (fps) | Let-Off | Draw Length | Max. Draw Weight | Brace Height | Bow Mass Weight | Hands |
| --- | --- | --- | --- | --- | --- | --- | --- | --- |
| Bear Paradox | medium | 330 | 80% | 23.5" - 30.5" | 70lbs | 6.25" | 4.3lbs | L/R |
| Bear Divergent EKO | med/high | 338 | 90% | 26" - 30" | 70lbs | 6.5" | 4.1lbs | L/R |
| Bear Cruzer G2 | medium | 315 | 70% | 12" - 30" | 70lbs | 6.5" | 3lbs | L/R |
| PSE Uprising | medium | 302 | 70% | 14" - 30" | 70lbs | 6.625" | 3.2lbs | L/R |
| Diamond Deploy SB | medium | 330 | 80% | 26" - 30.5" | 70lbs | 6.75" | 3.2lbs | L/R |
| Blackout Epic | medium | 340 | 90% | 26" - 30" | 70lbs | 6" | 4.1lbs | L/R |
| PSE Stinger MAX | medium | 312 | 80% | 21.5" - 30" | 70lbs | 7" | 3.8lbs | L/R |
| Diamond Edge 320 | medium | 320 | 85% | 15" - 31" | 70lbs | 7.25" | 3.6lbs | L/R |
| Diamond Edge Pro | medium | 310 | 80% | 13" - 31" | 70lbs | 7" | 3.2lbs | L/R |
| Diamond Prism | medium | 295 | 80% | 18" - 30" | 55lbs | 7" | 3.2lbs | L/R |
| Predator Raptor | low | 315 | 75% | 24.5" - 31" | 70lbs | 7.5" | 3.8lbs | L/R |
| PSE Brute NXT | medium | 328 | 80% | 22.5" - 30" | 70lbs | 6.5" | 3.7lbs | L/R |
| Diamond Provider | medium | 310 | 80% | 25.5" - 31" | 70lbs | 7.5" | 3.3lbs | L/R |
Accessories
The PSE Uprising comes outfitted from the factory with a number of essential accessories, thereby eliminating the need for additional purchases beyond that of the bow itself.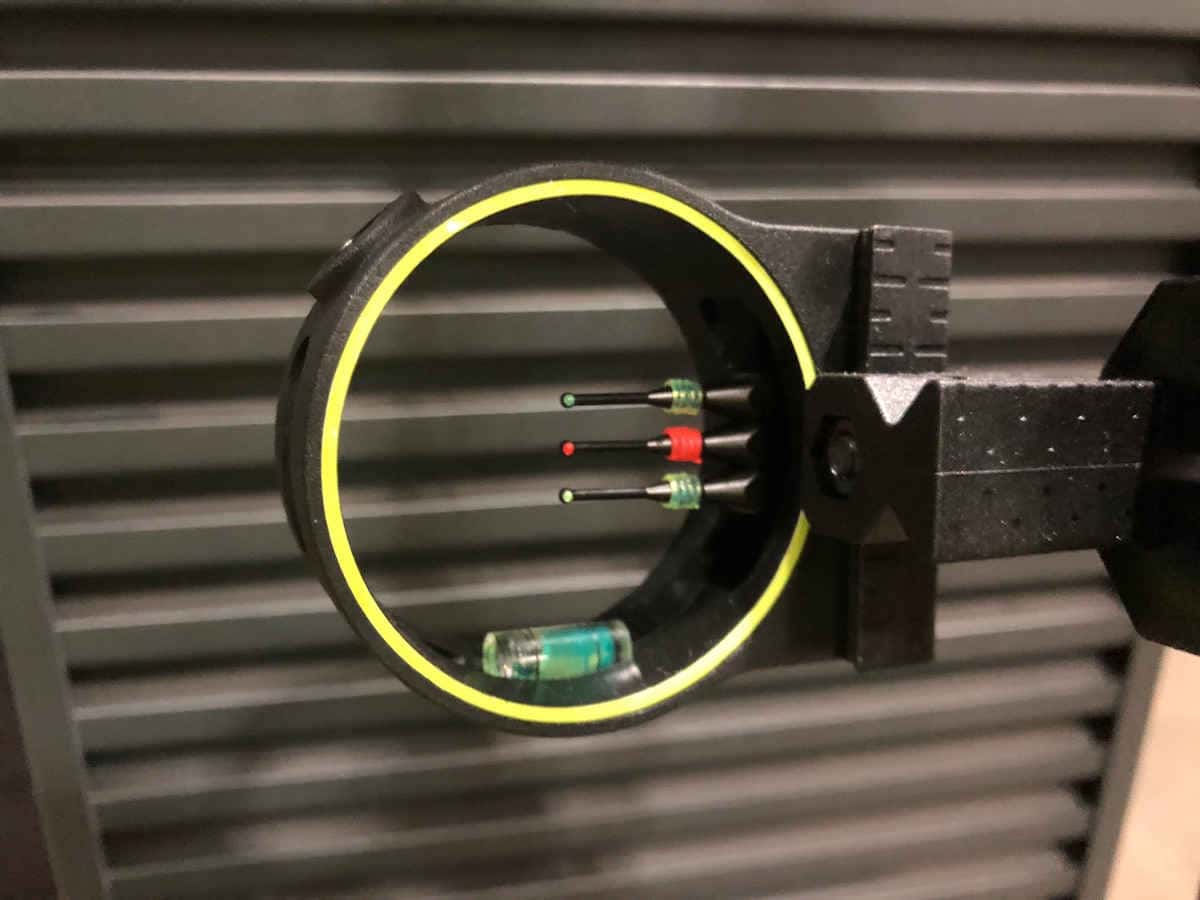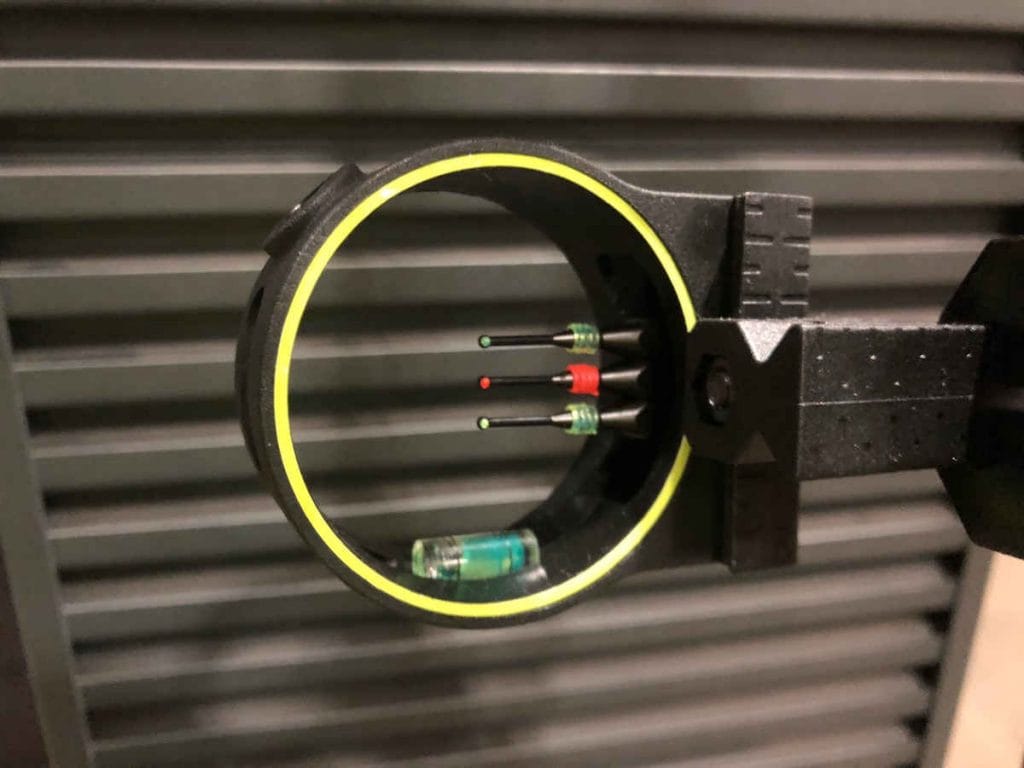 3-Pin Sight Included
---
These accessories include a 3-pin sight, arrow rest, stabilizer, wrist sling, and peep sight.
While the sight that is included within the Uprising package is rather basic in design, it certainly serves its intended purpose and is relatively efficient in doing so.
The sight's pins are easily focused within the Uprising's peep sight and readily visible under a wide range of lighting. This sight also includes an integrated level to aid in bow leveling.
The Uprising's arrow rest is of a "captive" style, which holds an archer's arrow securely in place, no matter the situation at hand.
The sight's tri-segment bristles make full arrow containment possible while minimizing rest to fletching interference. This reduces speed loss, by eliminating any unnecessary friction.
Overall Evaluation
After taking the time to test and assess the PSE Uprising, I must say that I was quite pleased. The Uprising has a lot to offer for a bow at its price point.
This bow can be adjusted to fit almost any archer and is quite a joy to shoot. One would also be hard-pressed to find a lighter, more compact compound bow on today's market.
If the Uprising had one shortcoming worth mentioning, it would be its relative lack of speed.
Though it would be a stretch to refer to the Uprising as slow, there are certainly faster compounds to be had.
However, this does not negate the Uprising's true value or extreme versatility in any way.
Overall, I would have to classify the PSE Uprising as the ideal bow for any young archer, who is looking to get off to an excellent start.
Unlike many "beginner bows" that most will outgrow with time, the Uprising is a bow that has the potential to provide immense value throughout each stage of an individual's archery career.
Special thanks to the staff at Cabela's of Bowling Green, Kentucky, for allowing us the use of their bows, and range, for test and review purposes. Cabela's was acquired by Bass Pro Shop in 2016 and now operates as a branch of the company, with retail locations nationwide.