So, you're on the hunt for the perfect beginner bow, huh? Well, you're in luck. We've done the legwork to bring you the top five compound bow packages that won't break the bank, and will also stick with you as you progress from a novice to a seasoned archer.
Let's face it, entering into the world of bowhunting & archery can be a tad overwhelming, especially when it comes to choosing the right gear. With so many brands and models out there, it's easy to feel like a deer caught in headlights. But worry not dear reader, we've got your back.

We've not only compiled this list, but we've also done you one better – we've personally tested each and every bow on this roster. That's right, we've taken these bad boys out for a spin, tested their mettle, and are now ready to present you with the lowdown.
All our reviews are hands-on, in-depth, and honest, giving you an accurate picture of what you're getting into.
But first, let's address the elephant in the room – what should you look for in a bow that will stick with you for a long time?
We'll break it down for you in our comprehensive reviews. So buckle up, and let's dive into the world of bowhunting!
At a Glance: My Top Picks for the Best Compound Bows for Beginners
+ BEST STARTER OVERALL – Diamond Edge 320. Great range of adjustability that is quite impressive, featuring a variable draw length of 15"-31" and a draw weight range of 7-70 pounds. The very best beginner compound bow package for adults!
___________________
+ RUNNER UP – Bear Archery Cruzer G2. This bow's construction is par with almost any bow found at the premium price point. Draw length of 12"-30", and a draw weight range of 5-70 pounds.
___________________
+ GREAT VALUE- BlackOut Epic. The fastest bow on our list – 340 fps. Very well balanced and has a possible let-off of up to 90% – One of the best bow for beginners.
___________________
+ HIGH END – Bear Divergent EKO. This bow manages to combine lightning-quick performance, compact design, and previously unheard-of adjustability into a single package. A great hunting bow!
___________________
+ LIGHT BOW – PSE Uprising. Draw weight range of 15-70 lbs and a draw length range of 14-30 inches. Weights in at only 3.2 lbs.
You will also learn the difference between right and left-handed archers, your draw length, draw weight, and the importance of brace height. Well, there's even more we're going to talk about …
This is going to be a long post. If you are just here for the reviews and/or our buying suggestions, here we go:
Best Starter: Diamond Archery Infinite Edge 320 Bow Package
Diamond Edge 320 – Our Winner
---
Diamond Archery has been around since 1996 and was originally a privately owned bow manufacturer. In the late 2000s, they were acquired by Bowtech and are now part of their company.
When I handled the Edge 320, I was impressed by its fit, finish, and balance.
The Infinite Edge felt fairly balanced, and after the bow´s draw length and draw weight were adjusted to my needs, I started sending arrows downrange.
What I first noticed was how smooth the draw cycle was. The rise to peak draw weight was even throughout the cycle, and the bow transitioned over into the valley as the cams actuated gradually.
An additional find I really liked was the solid back wall and the 85% let-off. I could basically hold the bow at full draw without it being uncomfortable – almost effortless. 
read.. Hands-On Review Diamond Edge 320
This is especially helpful for beginners, as it makes it easier to maintain proper form and make use of your bow sight without getting too tired too early.
Specifications:
DRAW LENGTH – 15″-31″
DRAW WEIGHT – 7-70 LBS
SPEED – 320 fps arrow speed
BRACE HEIGHT – 7 1/4″
AXLE TO AXLE – 32″
WEIGHT – 3.6 LBS
EFFECTIVE LET-OFF – 85%
I´ll get into the details of what draw weight, brace height, let-off, and so on later in this article. Click here to get to the relevant section of this post right away. 
Time to Send some Arrows down the Range
Diamond Edge 320 – Me shooting the bow
---
I released arrow after arrow, and, to my astonishment, there wasn't any real hand shock. That was a pleasant surprise, especially for a bow of this price – Making it one of the best beginner compound bow out there.
PROS & CONS
Pro:
Versatile Draw Weight (7-70 lbs draw)
Versatile Length Ranges
Fast 320 fps
solid back wall
smooth draw cycle
good entry level compound bow
Cons:
the sight is minimal in feature
Accessories
The accessories are sufficient for any beginner – Yes, as you get better and progress in your journey, you would probably start by replacing the sight and the quiver.
Other than that, the R.A.K. (ready aim kill) pack is fully outfitted with a bow sight, arrow rest, stabilizer, and quiver. You do need to buy a release and arrows, though.
When you factor in the Edge 320´s blistering quick 320 fps I.B.O. speed, its weight of only 3.6 lbs, and its adjustability, you are looking at a steal of a deal. The bow is also available for left-hand archers.
Why the Infinite Edge 320 Bow is a Good Start for Compound Bow Hunting
Diamonds Edge 320 is a highly versatile bow with awesome arrow speed, a smooth draw cycle, and all the hunting gear a beginner wants. As with most packages, arrows and release are not included.
In my opinion, this is one of the best beginner compound bows – no matter if you are a target shooter or plan to go hunting, too.
Runner-Up: Bear Archery Cruzer G2
Bear Archery Cruzer G 2 – The Runner-Up
---
Bear Archery is another trustworthy brand known for its innovative and quality-focused approach. The G2 has received much initial praise due to its adaptability and versatility.
read.. Hands-On Review Bear Cruzer G2
You will likely start with a more moderate draw weight as a beginner. As you gain experience and strength, you want to increase draw weights to the next level. Well, this is exactly what the G2 will allow you to do.
Specifications:
Brace Height: 6.5"
Let-Off: 70%
Axel-to-Axel: 30"
Draw Length: 12"-30"
Draw Weight: 5-70 lbs.
Speed: 315 FPS
Weight: 3 lbs.
Its draw length and draw weight adjustability offer such a wide range – The G2 is truly a bow for every archer! The all-aluminum riser and its split limbs are some of the toughest in the industry.
I also liked that no bow press or specialty equipment is needed to make any necessary adjustments to change the draw weight or draw length of the Cruzer G2. A simple set of Allen wrenches is all you need!
Time to Send some Arrows down the Range
The first thing I noticed was how lightweight the bow really is (3 lbs). The draw cycle and how smooth the cams actuated made it almost impossible to tell when I had broken into the valley:
simplified illustration of valley and back wall
---
The back wall felt not firm nor spongy. I prefer a firm back wall, which left me feeling conflicted. But I have to say that this is purely my personal preference. The G2 offers a let-off of 70%, which is less than what other modern compound bows offer.
PROS & CONS
Pro:
Quiet
Smooth Draw Cycle
Very Light-Weight
Easy to adjust
Cons:
70% Let-Off Factor
Lack of a rock-solid back wall
Accessories
In many bow packages, the featured accessories are mainly beginner grade at best. Not so with the Cruzer G2. The G2 comes complete with a full range of Trophy Ridge accessories.
This package includes a four-pin sight, Whisker Biscuit arrow rest, 5-arrow quiver, stabilizer, peep sight, and a D-loop.
As with most packages, arrows and release aid are not included.
The Blend of Compound Bow Features in Bear Archery Cruzer G2
Bears Cruzer G2 is the compound bow I tested that offers the most flexibility regarding draw weight and has a highly adjustable draw length. I liked how lightweight the bow felt.
The accessories are top-notch, including a four-pin bow sight. And if you don´t mind, with a somewhat lower let-off of 70%, this bow is perfect for you.
Great Value: BlackOut Epic
Blackout Epic – Great Value
---
Bowtech Archery actually manufactures the BlackOut Epic for Cabelas / BassPro. Therefore, this medium-priced bow has features you would rather expect from a more expensive bow.
read.. Hands-On Review BlackOut Epic
The bow's advertised weight is 4.1 pounds, which is heavier than most other bows on our list. But I was pleased to find it wasn't hefty or awkward holding it in my hand. The Epic could be considered BlackOuts flagship bow.
Specifications:
Brace Height: 6"
Let-Off: 75%, 80%. 85%, 90%
Axle-to-Axle: 32"
Draw Length: 26"-30"
Draw Weight: 45-60/55-70 LBS
Speed: 340 FPS
Weight: 4.1 LBS
The Epics draw length ranges from 26″ – 30″ and is a good fit for most adult archers. Make sure to measure your draw length before purchasing! The axle-to-axle bow length is 32″ – and makes the bow more forgiving.
In my opinion, this bow ranks among the top five choices for the best starter compound bow.
One thing to mention, especially if you're a beginner. The Epics brace height is 6″, which is short. Longer brace heights (around 7″) tend to be more forgiving. So I expect a steeper learning curve for novice archers.
Two versions of this model are available
Draw weight 45 – 60 lbs.
Draw weight 55 – 70 lbs.
Again, this is something you must consider before buying this bow. In my opinion, the 45 – 60 lbs. is aimed more at female archers or kids. Let-Off is available in four different settings. 75%, 80%, 85% and 90%.
Time to Send some Arrows down the Range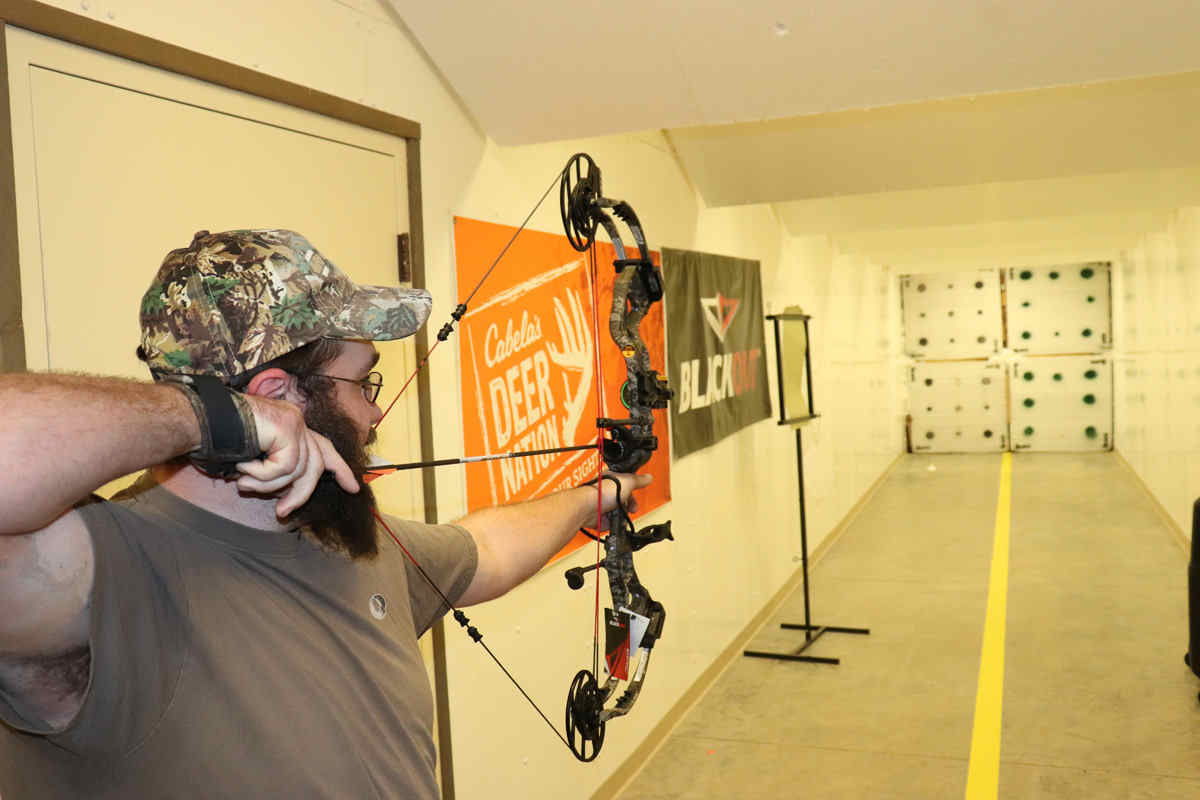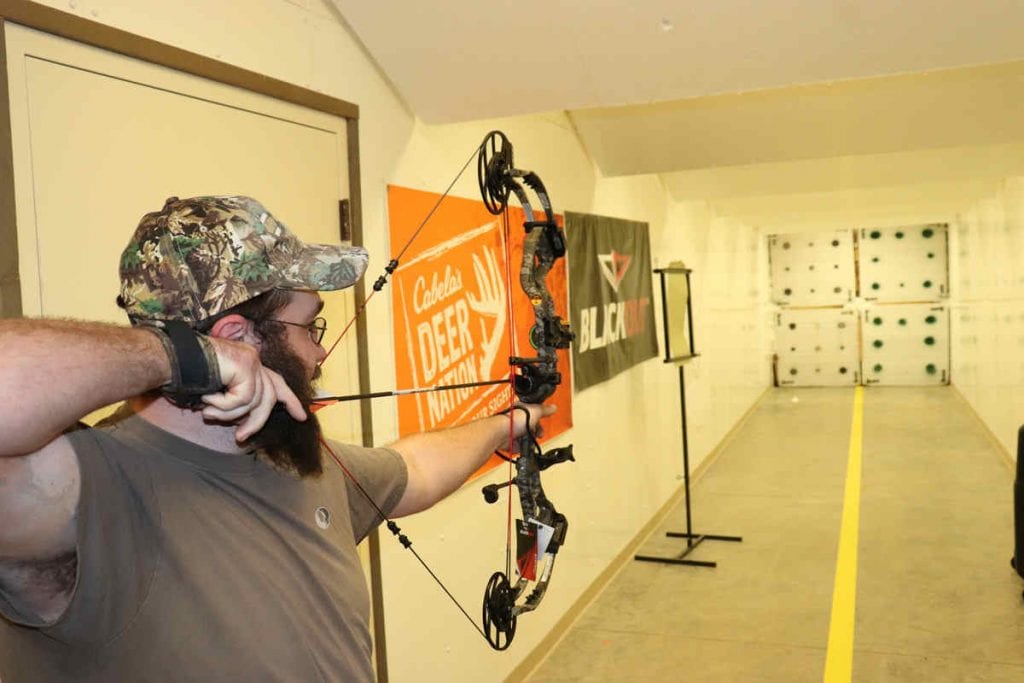 Blackout Epic – Fast, quiet, smooth draw cycle
---
The draw cycle is smooth, and there were no hard spots or hesitations when pulling to full draw. I had the epic set at 90% let-off, and it was the easiest bow to hold at full draw I had tested so far.
Each release was crisp, and despite the bow's lightning-quick speed of 340 fps, the sound was quiet. Nothing much was heard upon release except when the arrow hit the target. The perfect hunting bow!
PROS & CONS
Pro:
Let-Off 75% – 90%
340 FPS
Quality accessories
Cons:
Draw Length 26″ -30″
Minimum Draw Weight 45 pounds
Brace Height 6″
Accessories
Besides arrows and bow release, all the necessary accessories are included
Volt 5-Pin Sight
5-arrow quiver
Whisker Biscuit arrow rest
6″ stabilizer
TruPeep
D loop
The sight features hi-vis fiber optic pins and a convenient aiming level. It has 5 pins for covering significant distances. The arrow rest is a containment-style rest that securely holds the arrow.
Short Recap
BlackOut Epic isn't as adjustable as some other bows on my list, and the shorter brace height might present a greater learning curve for beginners. This bow is a modern compound bow I still would recommend for beginners.
Here's why: I found it´s affordable, the quality is excellent, it got a lot of speed (up to 340 fps), and it's loaded with a bunch of accessories. Out of my personal experience, I can recommend this bow for beginners and seasoned bow hunters.
High End: Bear Divergent EKO
---
The Bear Archery Divergent EKO is a powerful bow with up to 338 fps and an adjustable let-off beginning at 75% up to 90% offered in 5% increments.
read.. Hands-On Review Bear Divergent EKO
This bow combines speed with adjustability and a compact design into a single package. If you are an adult beginner, this bow truly is for you as it offers everything a seasoned archer or hunter would be looking for – at an interesting price point.
Specifications:
Brace Height: 6.5"
Let-Off: 75%, 80%. 85%, 90%
Axle-to-Axle: 30"
Draw Length: 26"-30"
Draw Weight: 45-60/55-70 LBS
Speed: 338 FPS
Weight: 4.1 LBS
Maybe you have noticed, that the Blackout Epic and the Divergent EKO have almost identical specs? Well, almost: brace height for Bears model is 6.5″ and for the Epic it´s 6″.
No big deal you might think, but if you are a beginner, longer brace heights are easier to handle / are more forgiving.
This bow is available in two versions:
Draw weight 45 – 60 lbs.
Draw weight 55 – 70 lbs.
Time to Send some Arrows down the Range
Bear Divergent EKO – silky smooth draw cycle — and Fast!
Once I held the bow in my hands, I noticed how striking this bow is in its visual appeal – the riser has an impressive look to it! The bow is notable for its compact size.
When I first pulled the Divergent EKO, I noticed that the action was silky smooth. After letting go, the true performance of the Divergent was obvious. 
The release of the arrow and its impact with the target was simultaneous at 20 yards and was nothing short of impressive. If any hand shock was noticeable it was negligible. Bears shockwaves limb dampening system at its finest!
PROS:
Blazing Fast 338 fps
no noise emitted when fired
Minimal hand shock
No bow press needed
Let-Off: 75%, 80%. 85%, 90%
CONS:
Draw Weight not as adaptable
Accessories
Nothing but the highest quality accessories! Really impressive. This package includes, besides the bare bow, a sight, whisker biscuit arrow rest, 5-arrow quiver, stabilizer, and peep sight.
Trophy Ridge React H4 sight is a well-known sight suitable for any archer of any skill level. As usual, neither the arrows nor the release is included in this package.   
Brace Height and its Role in the Bear Divergent EKO Compound Bow
With a draw weight of 45-60 lb/55-70 lb and an adjustable draw length of 26″-30", this bow will suit most adults but likely not kids. Also the Brace Height of 6.5" makes this bow a perfect beginners compound bow!
The compact platform and hybrid cams ensure excellent shootability and will make it a solid hunting bow.
If you don't mind spending a little more, The Bear Archery Divergent EKO is the perfect bow for beginners. It gives you tons of room to grow and is a full-grown bow that even experienced hunters would love to call their own. 
A Lightweight Bow: PSE Uprising
PSE Uprising – Lightweight and an extreme range of adjustability.
---
The company's history dates back more than 50 years, and it's produced a lot of industry-standard bows during that time. The following is a detailed report of what I found when putting the PSE Uprising through its paces.
read.. Hands-On Review PSE Uprising
Getting a feel for the Uprising's compact size was a real treat. This bow weighs only 3.2 lbs while measuring 30″ axle-to-axle.
Specifications:
Brace Height: 6 ⅝"
Let-Off: 70%
Axle-to-Axle: 30"
Draw Length: 14"-30"
Draw Weight: 15-70 lbs
Speed: 302 FPS
Weight: 3.2 lbs
The Uprising carries a brace height of 6 5/8″. As a general rule, the closer a bow's brace height is to 7″, the more forgiving it will be to shoot. Making it the best entry level compound bow.
With an IBO speed rating of 302 FPS, the Uprising is not the fastest bow on the market. Nevertheless, this speed is plenty for almost any application – Whether target shooting or hunting.
Time to Send some Arrows down the Range
PSE Uprising – Easy to adjust to almost any archer
---
PROS:
Whisper-Quiet
Minimal Hand Shock
Light Weight 3.2 lbs
No bow press needed
CONS:
Minimalistic Grip
Let-Off 70% max.
Accessories
PSE Uprising comes with a number of accessories, eliminating the need for additional purchases. 
These accessories include a 3-pin sight, arrow rest, stabilizer, wrist sling, and peep sight.
Why the PSE Uprising Compound Bow Suits Beginners' Archery Needs
After testing and assessing the PSE Uprising, I must say I was impressed. The bow has a lot to offer for its price point. This bow is easy to adjust to almost any archer due to its adjustable draw weight/draw length and shoots amazingly well.
You'd be hard-pressed to find a lighter, more compact compound bow today—the perfect starter bow.
Basic Things a Beginner Should Know
The best compound bow for beginners isn´t the same for experienced archers, as beginners typically benefit from a bow that offers ease of use, forgiveness in shooting, and adjustable features to accommodate their learning curve.
In contrast, experienced archers may require a more specialized, high-performance bow that suits their skill level and specific needs.
Best entry-level compound bow options can vary widely based on your budget, body size, and intended use.
Our selection includes models from well-known brands like Bear Archery, Diamond Archery, and Genesis Archery.
Why is Adjustability in Bows Important?
Regarding adjustability, I'm primarily talking about the draw length and the draw weight.
As a beginner to archery, you might not have the strength to pull back the bowstring with as much weight (draw weight) as somebody who has been practicing archery for a while. It is almost like going to the gym – the more you practice – the stronger you'll eventually get.
A bow with multiple draw weight settings will let you start low and gradually increase draw weights as you build your back and upper body strength.
The draw length of the bow determines how far it can be drawn. Contrary to recurve bows, which you can draw back any distance (well until it breaks), compound bows are engineered only to allow you to pull back a certain distance (draw length).
This is why buying a bow that's adjustable to your draw length is so important. A quick way to figure out your draw length is the armspan method.
It works by measuring your armspan and dividing that by 2.5- I'll explain later what that's all about. Click here to read about the armspan method now.
This section is for those who have just started learning how to shoot compound bows and would like an FAQ to get them up and running in their first week.
Draw Length
I briefly mentioned draw length before. So, what is it all about? Read on and learn how you can measure your personal draw length. It is an important number that you´ll need to set up your bow properly.
Remember? Your individual draw length must match up with your bow's draw length! So how do you do it? I personally use the arm-span method. You basically stretch out your arms and let someone measure the distance from fingertip to fingertip.
Please write down your findings and divide them by 2.5. You now have successfully measured your draw length. Make sure to buy a bow that offers correlating draw length adjustment options.
We published an article about this topic.
Draw Weight
Basically, this is the force you need to apply to draw the string back. It is measured in pounds. With compound bows and due to their technical set-up this process is not linear – lower at the beginning and the end of the draw cycle – in the middle, you´ll hit the maximum poundage you need to pull.
Some of the best beginner bows for archery start with as low as 7 lbs draw weight. With regular practice comes more strength; eventually, you can increase your draw weight.
Over-Bowed
The term "over-bowed" is used when your draw weight is too high for you. Too much draw weight can cause problems when you shoot, such as jerking the bow forward before aiming and not shooting smoothly. Your form and your accuracy will suffer.
What Speed of Bow is Ideal for Beginners?
Speed is measured in FPS or feet per second, so if you're a beginner looking for the best bow speed, it's important to know what that means!
It comes down to your draw weight and draw length. The higher your draw weight, the faster your bow is. There is more to it, but let's say that's how it works.
That being said, the ideal speed depends on your physics. 75% of the draw weight you could manage to draw is what you should be aiming for.
You should be able to draw your bow 20 times without being totally exhausted.
For example, If you could handle a maximum of 50 lbs draw weight – 75% of this is 37.5 lbs. You should set your bow at a draw weight of 37.5 lb – which will directly influence the maximum speed you will reach (plus some other things).
Once you get stronger and more experienced, you can slowly increase the draw weight, resulting in a higher FPS and more speed.
So the question shouldn't be what speed is ideal but what draw weight is ideal. And as stated above, this comes down to your physical strength.
Let-Off
Due to their technical capabilities, modern compound bows will help you reduce the weight you have to hold the bow at, at full draw.
This reduction in weight held at full draw is called "let-off". It is calculated as a percentage of the overall draw weight. 
For example, a let-off of 80% means you'll only hold 14 pounds at full draw on a bow with a set draw weight of 70 lbs. That doesn't mean you'll only have to draw 14 pounds. You still need the strength to draw the bow until you reach full draw.
In some states, the maximum let-off for bow hunting is limited. Make sure to check with your local authorities.
If you are more of a target shooter, this won´t concern you as much. But – many target archers prefer a lower let-off – it is said that for the overall process of drawing, holding, releasing, and precision, something like 65% let-off is ideal.
Basically there has to be a happy spot in the middle of the letoff range, somewhere where the amount of resistance at full draw is not taxing yet the tension on the string is enough to facilitate a stable hold and release

Steve Ruis (Archery Coach)
Source: https://archerycoach.wordpress.com/2018/03/13/what-letoff-is-best-for-target-archery/
Backwall
The back wall is what you reach when you have drawn your bow completely (remember how we talked about setting draw length).
You will feel resistance once you reach the point of full draw. Some bows have rock-solid back walls; others have "softer". It´s hard to explain, but once you have shot different compound bows, you will know what I am talking about.
I personally prefer a solid back wall, and I think it will help you to be more consistent with your form. No guessing if you pulled back as far as the last time. Every little change will have an influence on how accurately you can shoot. Consistency in execution is important to achieve replicable results.
Axle-To-Axle Length
Each cam of your compound bow operates on an axle. If you measure the distance between those to you´ll get your ATA (Axle-to-Axle),
ATA length is measured from axle to axle
---
Some bows have a longer ATA, others a shorter. If you plan to hunt from small confined places such as a ground blind, a shorter ATA might be useful as you need less room to operate your bow. If you are a target shooter – a longer axle-to-axle is preferable.
Speed
The speed of your bow is measured in feet per second. The correct abbreviation is fps. IBO speed is the speed at which an arrow with 5 grains per pound of draw weight is fired from a given bow. 
A bow labeled with 270 fps is slower than a bow with 320 fps. IBO Speed specs are meant to standardize how bow speeds are measured across the industry so inaccurate claims won't confuse consumers. You can read more about it in our article here.
Brace Height
What is brace heigth and how is it defined? It is the distance between the deepest part of the grip and the bowstring. If you are a beginner, every extra inch of brace height will make your bow more forgiving. This concerns how long the arrow is "pushed" and in contact with the bowstring.
For example, 30″ draw length with a 7″ brace height means you'll draw the bowstring 23″. With the same draw length, but a 6″ brace height, you'll draw 24″.
Shorter brace height = longer draw. The arrow is longer in contact with the string, more room for mistakes, but higher arrow velocity.
Greater brace height = arrow leaves bow string faster, less time to mess up, generally slower.
That's why higher brace heights are generally more forgiving.
Determine Your Dominant Eye
Here´s a video about how to determine your dominant eye.
The importance of determining your dominant eye
---
You may wonder why it's important to know which eye is dominant. That's because if you don't know your dominant eye, you'll have problems while aiming at a target.
You might always be a bit off – this greatly impacts your accuracy at long ranges. 
Since most archers' dominant eye is on the same side of their dominant hand, this also indicates whether you are a right-handed or left-handed archer. 
Are you a Left or Right-Handed Archer?
If your dominant hand is your right hand: You will hold the bow with your left hand and draw with your right hand. If your dominant hand is your left hand: You will hold the bow in your right hand and draw with your left hand.
Common Mistakes Newbies Make
Not Talking To An Expert
Don't just purchase any bow just because it looks "cool." The bare minimum you need to figure out is your draw length, draw weight, dominant eye,…
Go to a bow shop near you, shoot different bows, listen to what the guys there have to say, and make an informed decision.
Buying Based on Price
Don't buy a bow just because it's cheap. A cheap-o bow might ruin your archery experience. A moderately priced bow makes buying your next one less stressful when you figure out what you like and don't like.
Glossary
Compound bow archery can be a tricky sport to get into. With so many different terms, it is hard to know what they all mean. That's why we have created this glossary of compound bow terms for beginners!
Here you will find definitions and explanations of some common compound bow words that are used in the world of archery.
Important Parts of Compound Bow
Important compound bow parts
---
Riser
The riser is the "heart" of the bow. It connects to the bow´s limb pockets. Many risers are made out of Aluminum. Lighter versions are made of carbon.
The benefits of aluminum risers are that they are more affordable. The negative with aluminum risers is that they feel extremely cold when you are out and shooting your bow in the cold.
Carbon risers are even lighter than aluminum risers and feel not as cold when outside in frigid temperatures. Longer risers are easier to handle for beginning archers. Shorter risers are more maneuverable, especially in confined places such as a ground blind.
Bow Grip
This is basically where you hold the bow. Some bows (risers) have a direct-to-riser grip. Others have the grip screwed or glued to the riser.
Limbs
The bow limbs are what "powers" your bow. They store the energy needed to accelerate the arrow towards the target. If you damage your bow, it will most likely be the limbs that suffered. Most popular are split-limb designs and single-limb designs.
Limb Pocket
It is here that the limbs attach to the riser. While some of these items are machined, others aren't. Particularly at a greater distance, those that are are more accurate. 
Limb Bolts
Usually, limbs are attached to the riser by sliding into limb pockets provided by the riser and then bolted on by the limb bolts.
Cams
The cams are what make your bow a compound bow.
Bow Cam Diamond Deploy
---
Single cam system – One round wheel at the top of the bow, power cam at the bottom
Hybrid-cam system – Two elliptical cams, power cam at the bottom and control cam at the top
Binary-cam system – Two elliptical cams, self-correcting any imbalances, introduced by Bowtech
Twin-cam system – Two symmetrical round or elliptical wheels. One at the top, the other at the bottom. Need more maintenance, offer high accuracy and speed.
Cables
Single-Cam bows have one cable and one long string
Dual-Cam bows have two cables and one string
Cable Guard
In compound bows, cables are running the cams. If you draw your bow, you don't want those cables to get into the path of your arrow.
A cable guard does exactly this – it pulls the cables aside so that the path is clear when you are drawing and releasing the arrow.
Center Serving
A serving material is used to protect your bowstring form and it also provides a better fit for your arrow nock.
Arrow Rest
An arrow rest does what its name implies. It holds the arrow in place. There are basically two different kinds of arrow rests available:
containment rest
drop away arrow rest
Here is an example of a containment-style arrow rest:
Whisker Biscuit Arrow Rest
---
And here is an example of a drop-away arrow rest: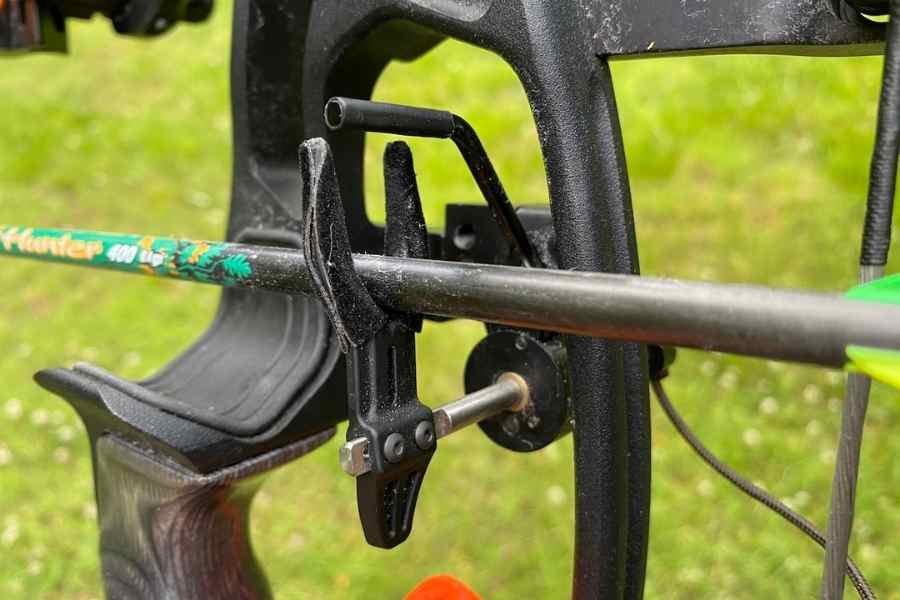 Drop Away Arrow Rest
---
Bow Sight
Compound bows are usually fitted with a pin sight. Those are used to aim at targets – with every pin resembling the distance to the target. More pins offer a more granular approach by providing more distances.
Peep Sight
In archery, the Peep Sight plays an important role in accuracy and consistency. It assists you while aiming at the target. The sight is generally attached to the bowstring by a serving material between the strands. You line up the peep sight with the bow sight when you're at full draw.
There are several types of peep sights. The smaller the diameter, the more precise you can aim. The disadvantage of a smaller diameter is, that in low light conditions, it is harder to keep your target in focus.
That's why the most common size for hunters is slightly larger.
Release Aid
Release Aid Stinger XL
---
This is a device to help you draw the bowstring. You attach the caliper of the release aid to the D-Loop. Now you pull back the bowstring (draw), at full draw and after (hopefully) proper aiming, you trigger the release aid to open the caliper, and of go the arrow.
Modern compound bows allow high draw weights. It would be almost impossible to draw the bow with your bare fingers.
D-Loop
Also called string loop. This is where you attach your release aid to the bowstring. The D-Loop should not move. Otherwise, it will affect your accuracy.
Stabilizer
Bow Stabilizer
---
The stabilizer is attached to the riser and reduces the vibration and noise of your bow once fired. It also helps to balance the bow, due to its weight. There are many different stabilizers available to match the needs of any archer.
Wrist Sling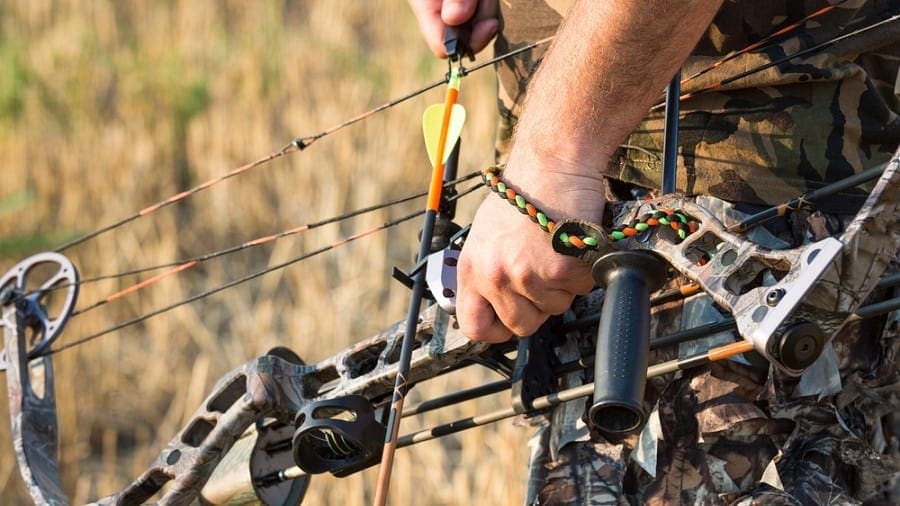 Wrist Sling
---
The idea of the wrist sling is, to help you keep your bow hand relaxed before and during the shot. It is not necessarily needed but it psychologically helps. Y
ou don't have to worry about dropping the bow. The stronger you grab and hold the bow, the more likely it is an error or inaccuracy will happen.
Think about it this way: the bow by itself (given a proper tuning) would shot totally straight. You clinging onto the bow and subconsciously moving it is a possible point of failure.
.