Recurve bows are perfect for those who want to really connect with their weapon, to enjoy a simple form of archery that relies upon their core skills.
It's for those who understand their bow to such a degree that it feels like an extension of their body.
It can be a highly enjoyable, natural experience, one that brings you back to basics and helps you fall in love with archery all over again.
But does the inherent simplicity of a recurve bow mean it won't (or can't) come with a sight?
And if they are compatible with sights, do they really need them?
Well, if these are the questions that have been bugging you lately, you're in the right place.
Today, I'm going to be giving you a comprehensive guide on recurve bows and sights.
Do Recurve Bows Arrive With Sights?
Some recurve bows may well arrive with specialist sights, but most of the time, they won't.
Now, this isn't to say that you can't make an aftermarket purchase and customize your recurve bow with a cool sight, but I wouldn't count on one arriving at your doorstep with the bow.
It's also possible that your recurve bow has some sort of natural sight facility incorporated into the core design.
This won't be as effective as a discrete sight, but it will certainly help you shoot accurately in its absence.
Do Recurve Bows Need Sights
One of the best things about using a recurve bow is the simplicity of it all — It's just you, some string, and a stick.
As long as you spend time getting to know your bow and feeling it out, you won't need a sight, especially if you're a mostly short-range target shooter. That being said, experienced archers may shoot distances of 40 yards without sight on their recurve bow.
Punching paper from a few yards is perfectly possible without a super high-tech sight.
Conversely, however, there are certain scenarios in which a nice sight will go down an absolute treat on a recurve bow. It's all about context.
When Should You Invest In A Sight For A Recurve?
The key to deciding whether you should invest in a sight for your recurve is determining if the issue you're having is down to your limited skills, or your skills being limited.
For example, if you can't for the life of you hit your targets over 10 to 15 yards, a sight isn't the answer.
It's much more likely that there's a problem with your form.
If this is the case, bringing a sight into the fold may only exacerbate your situation, as it won't help, and you'll have wasted time that could have been spent refining your technique.
If you're unsure if a sight is what you need, I'd recommend heading down to an archery range and asking a buddy if you can give their bow with a sight a test.
Should the sight improve your accuracy, it's probably a good idea to buy one. If it does not, then it's time to assess your stance and technique.
Don't know anybody with a sighted recurve bow? You can create a makeshift sight on your own bow with a matchstick and some scotch tape.
It'll be incredibly trashy but should give you enough insight to make your decision.
How Do You Choose A Sight For A Recurve Bow?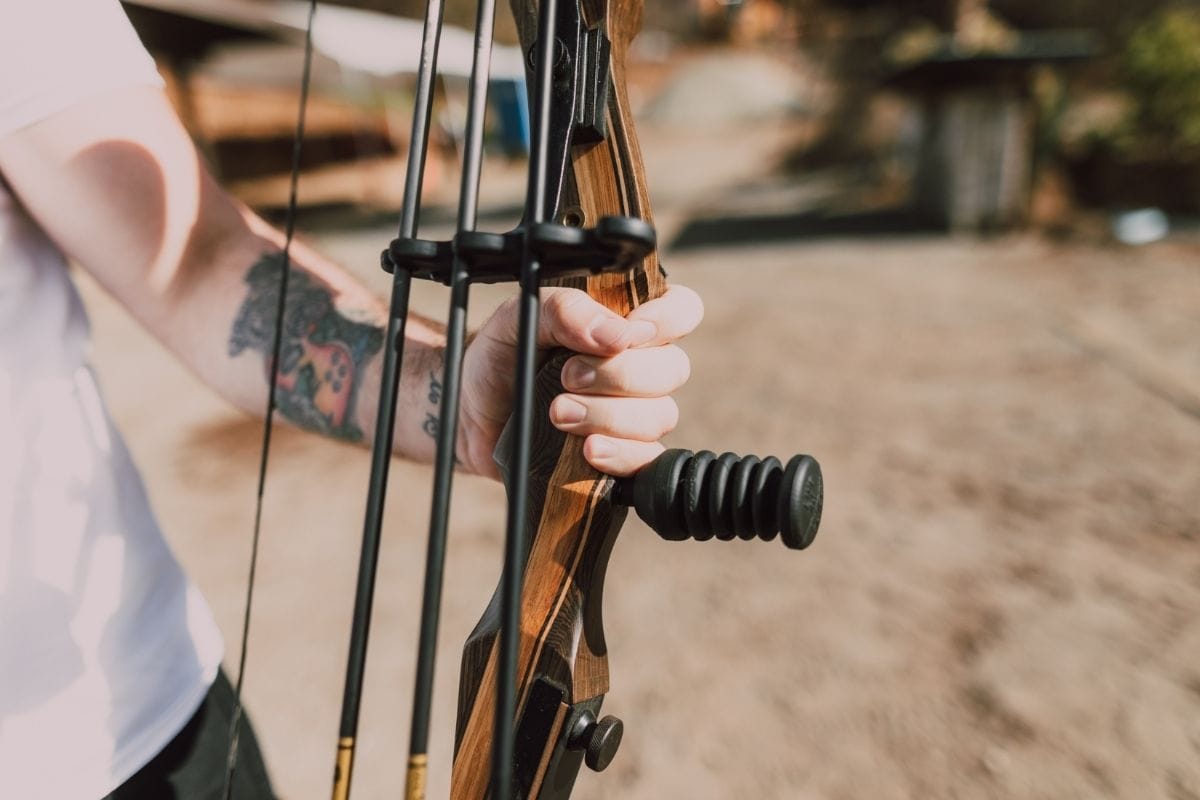 Should you come to the decision that a sight is the right next move, you've got a pretty confusing time of it ahead, as there are a bunch of different kinds on the market.
However, stick with me, and you'll navigate this consumer conundrum with aplomb.
Here are three sight types that I think work incredibly well with recurve bows.
The Open Ring Sight
This kind of sight is exactly what it sounds like — it's literally just a ring. The idea here is to view your target through the ring, and then let 'er rip.
They're affordable, effective, and elegantly simple; however, they're only suitable for short-range archery.
When you're shooting for distance, you have to aim higher, meaning you can't use the ring to zero in on your target.
And even if you've got a powerful recurve bow that you won't need to aim higher with, further away targets will look very small within that large ring, limiting your accuracy (read.. do recurve bows need an arrow rest?).
The Pin Sight
Pin sights are similar to open ring sights, except that they have one or more central pins, allowing you to focus on smaller targets with precision.
I'd suggest trying out a single-pin design with your recurve bow if you enjoy shooting static, nearby targets, but if you're a bow hunter that needs to act quickly in the face of moving targets, targets that might be far away, a three-pin will be best.
The multi-pin format allows you to set a pin for multiple distances.
Typically, you'd set one pin for your average range shot, one for a longer shot, and one for a shorter one, giving you a lot of range when out in the field.
Sadly, as fantastic as pin sights are, they're tricky to find for wooden recurve bows, and installation can be quite invasive.
That said, if you've got a metal riser, you'll have multiple options available to you.
In regards to what kind of pin sight will be most suitable for your recurve bow, it really doesn't matter. They're very simple devices.
If you've seen one, you've seen them all, so it's best to find one that seems durable and falls within your budget.
To give you an example, this Trophy Ridge pin sight is a fantastic specimen, but the fourth pin may be overkill for a lot of archers.
Trophy Ridge also makes a dynamite single pin sight!
The Target Sight
Target sights are the cream of the crop, so if you're after the best of the best, these are the ones for you and your recurve bow, but be warned, they're incredibly expensive.
A lot of the time, you could pick up a sweet new recurve bow for the price of one of these state-of-the-art sights.
Another caveat worth mentioning is that they really do reward highly skilled archers.
If you're more of a beginner or intermediate, you may not see the benefit, and you'll have smashed your piggy bank for no good reason.
What's more, these are the bulkiest of all the sights out there, and this can completely change the feel of your recurve bow.
So, if you have a good connection to your bow as it is, you're probably best off choosing something a little lighter.
Having said that, these sights are highly adjustable, and so can be tuned to suit almost any application, and if money's no object, they are extremely cool bits of kit to bring into the fold.
Final Thoughts
As discussed, for the most part, recurve bows will not arrive with a sight, and technically, they don't need them, but for certain situations, they will help a great deal.
These bows can be extremely enjoyable to use in their simplest form, but if you feel like a sight might unleash your potential, use what you've learned here to help you decide what kind will be right for you and your current ability level.