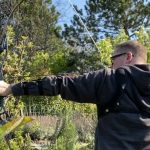 Alexander Knobloch
Hi, I'm Alex, the owner of BowAddicted. I've been shooting recurve bow since 2019 and recently got into string walking. I'm passionate about archery, the outdoors, and my kids. This journey has had its share of ups and downs, but the moments spent outside with friends and family are truly worth it. Feel free to get in touch!
Your support is highly appreciated. Clicking on links on this page may result in us earning an affiliate commission at no additional cost to you.
Do Recurve Bows Have (Or Need) Sights?