For bowhunters, finding the perfect release aid is a highly personalized process. With numerous styles, there are nearly endless configurations to suit each archer's needs.
It's rare to find two bowhunters who prefer the exact same setup.
This extensive customization explains why retailers like Lancaster Archery Supply offer hundreds of release aid models – currently 389 options.
Whether your loyalty lies with index finger, hand-held, or another unique style of release, you'll find our top recommendations tailored to enhance your bowhunting experience.
I, myself have used a T.R.U. Ball Stinger release for a lengthy period of time, both in target and bowhunting applications. As such, this has provided me with the opportunity to review the Stinger in a detailed manner.
At A Glance: My Favorite Bow Releases
+ MY PERSONAL FAVORITE -T.R.U. Ball Stinger. This is the release I personally used for more than 10 years! The solid stanchion between the unit´s wrist strap and trigger mechanism helps to eliminate slack from one end of the release aid to the next. This is a quality release aid that has proven to stand the test of time!
___________________
+ RUNNER UP – TRU-Fire Edge Buckle Foldback. An excellent release. Instead of using a V-shaped strap, it adopts a buckle design where you are able to adjust the fit to suit your comfort.
___________________
+ HIGH END – Tru-Fire Hardcore Buckle Foldback. Hands-free operation. Allows you to secure it to your wrist with one hand. Right & Left-handed. Helps to eliminate torque at full draw.
___________________
+ CALIPER GRIP RELEASE – Scott Archery. If I would have to buy a caliper release – it would be this one! Reliable. Best used with a loop.
___________________
+ HANDHELD RELEASE – Tru-Fire Edge 4 Finger. Solid Aluminum, highly adjustable, right & left-handed, CNC machined.
Now, let´s get started.
MY PERSONAL FAVORITE – T.R.U. Ball Stinger Release
Of T.R.U. Ball's numerous releases, few have remained as popular for such a prolonged period, as the Stinger. The T.R.U. Ball Stinger has served as one of the company's most popular releases for over a decade and is consistently ranked as one of the hottest-selling releases within the industry in any given year.
Stinger Specs
The T.R.U. Ball Stinger is a moderately priced, caliper-style release that has been on the market since shortly after the turn of the new millennium. This release features a wrist strap with velcro securement.
The Stinger's wrist strap is connected to its head via a metal rod covered in a rubberized coating. This rod is allowed to swivel and pivot at its connecting point with the release's wrist strap.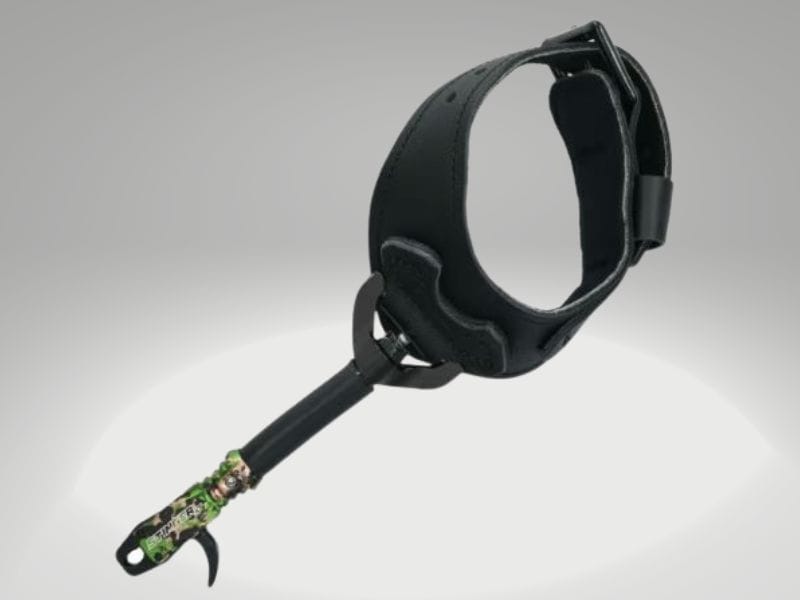 T.R.U. Ball Stinger Release in Action
---
The trigger/head mechanism featured on the Stinger is of a dual-caliper design, meaning that each jaw of the release opens independently from one another when actuated.
An integrated return spring returns the Stinger's jaws to the closed position when no pressure is being applied to its trigger.
The T.R.U. Ball Stinger Reviewed
I have owned a T.R.U. Ball Stinger release for approximately 15-years. In years since I have used this release exclusively for both hunting and target shooting. 
The following are my first-hand observations, regarding the T.R.U. Ball Stinger.
Comfort
I have always been, and continue to be, extremely pleased with the level of comfort provided by the use of my Stinger release.
The wrist strap featured on this release is somewhat padded in design and carries a wide enough profile to prevent indenting into an archer's wrist, even during prolonged practice sessions.
The Stinger also remains quite snug on the wrist and does not require constant readjustment, as is the case with many releases on today's market.
Simply velcro the strap around your wrist, tighten the exterior Velcro strap in place, and you are ready to shoot.
One is also spared from the hassle of fighting with a buckle-style clasp, as is found on most modern release aids of this type.
Trigger Dexterity
I am also extremely fond of the Stinger's trigger positioning. This release features a half-moon shaped trigger, which is simple to depress, even when wearing thick winter gloves.
I have found this to be of enormous value when bow hunting in the late winter cold. The trigger is also orientated at a 90-degree angle to the mechanism's body, rather than canted at an angle.
This seems to allow for a steadier trigger pull than would otherwise be possible.
The action of the trigger itself is quite smooth. Surprisingly, even today, after over a decade's worth of use, the Stinger's trigger action is as seamless as it was on day one.
I have never experienced any binding or hesitation within the period of time that I have owned my Stinger release.
String Wear
Many release aids are known to cause a certain level of wear to a bow's string or d-loop. In severe cases, this wear can even necessitate the replacement of these components.
However, I have never experienced issues of this nature when using the T.R.U. Ball Stinger. Throughout the years, I have owned a handful of bows, all featuring strings and d-loops of various compositions.
None of which have been negatively impacted by the Stinger's use.
These observations can be largely explained by the Stinger's use of a dual-jaw design. Since each jaw of the stinger's release mechanism opens independently, little additional torque is placed upon a bow's string or d-loop.
The Stinger's jaws do not roll off of the string, as is typical of a hook-style release.
Design Features
Overall, the design seems rather well thought out. One of my favorite Stinger design features is that which pertains to T.R.U. Ball's use of a solid stanchion between the unit's wrist strap and trigger mechanism.
This solid rod eliminates the use of traditional corded or strapped securement, thereby eliminating slack from one end of the release aid to the next.
This has proven useful, as the trigger mechanism can be quickly and effortlessly flipped into position prior to a shot.
This prevents an archer from being forced to fumble with a cumbersome strap of any type, which can cost valuable seconds when preparing for a shot at game.
Durability
I literally can not say enough regarding the Stinger's durability. Over a decade and a half of use, I have not experienced any mechanical issues with my Stinger release. For all intents and purposes, the Stinger is as reliable as the day is long. 
I have simply been unable to wear this release out, even after years of bowhunting in various weather conditions, and taking an untold number of shots.
The Stinger has remained a constant in my bowhunting arsenal, even when other pieces of gear have come and gone.
Overall Evaluation
I highly recommend the T.R.U. Ball Stinger to any archer who is looking for a quality release aid, that will stand the test of time.
After 15-years of use, I have found little if any issue with the Stinger, as a whole. Even more impressive, is the fact that the Stinger can be purchased for a reasonably subdued retail price. 
Pros:
I found the durability to be outstanding (15+ years)
Well thought out design
Easy on string wear
Smooth trigger action
Cons:
Not everybody likes the caliper style
The purchase of a T.R.U. Ball Stinger should be seen as an investment toward an archer's future, and the continued growth that they will experience along the way.
No matter your archery-related endeavor of choice, the T.R.U. Ball Stinger should be at the very top of one's "must-have" list of essential gear
RUNNER UP – TruFire Edge Buckle Foldback Archery Compound Bow Release
The TruFire Edge Bow Release is an excellent release. Instead of using a V-shaped strap, it adopts a buckle design where the hunter is able to adjust the fit to suit their comfort.
The interior is smooth and comfortable on the skin over long periods of wear and doesn't get hot either.
Pros
Durable nylon material with adjustable buckle strap instead of V-shaped strap
Ambidextrous design ideal for either hand
Spring-loaded dual caliper mechanism made in the USA
Adjustable sensitivity on the release
Shorten or lengthen the strap connecting the strap from the release
Release rotates 360-degrees
Cons
Highly sensitive release trigger which surprises some hunters uses to 3-5 lbs trigger pulls on pistols
The protruding trigger sticks out well. The amount of travel on the trigger to activate release is modifiable depending on personal preference.
The webbing between the strap and the head measures half an inch and is adjustable to bring the trigger closer (or farther away) from the hand.
The caliper is spring-loaded with a dual release made in the USA. The jaws open when the level is pulled back and closed again when easing off the release lever. The release rotates on a 360-degree axis. This is absolutely one of the best bow wrist releases out there.
HIGH-END TruFire Hardcore Buckle Foldback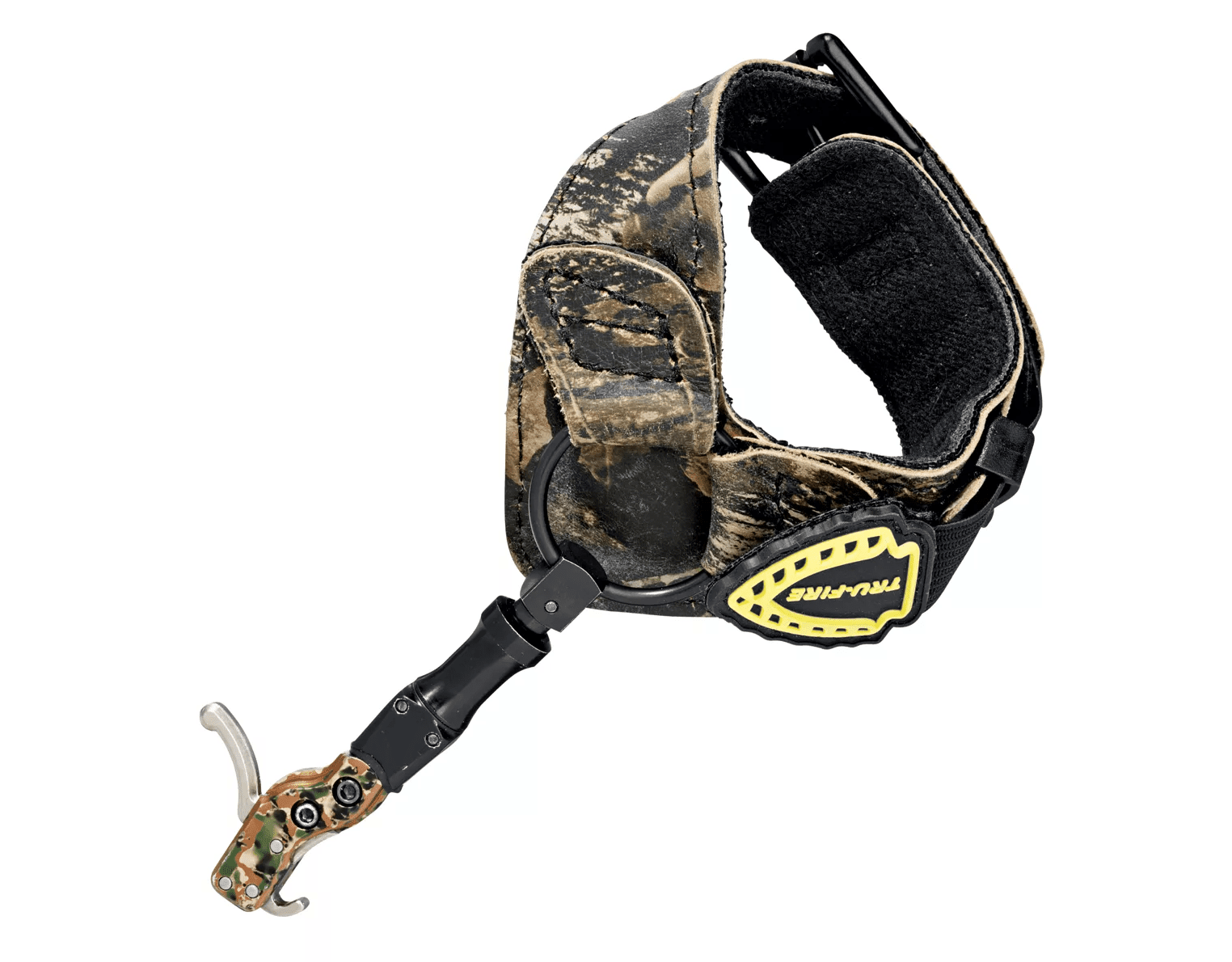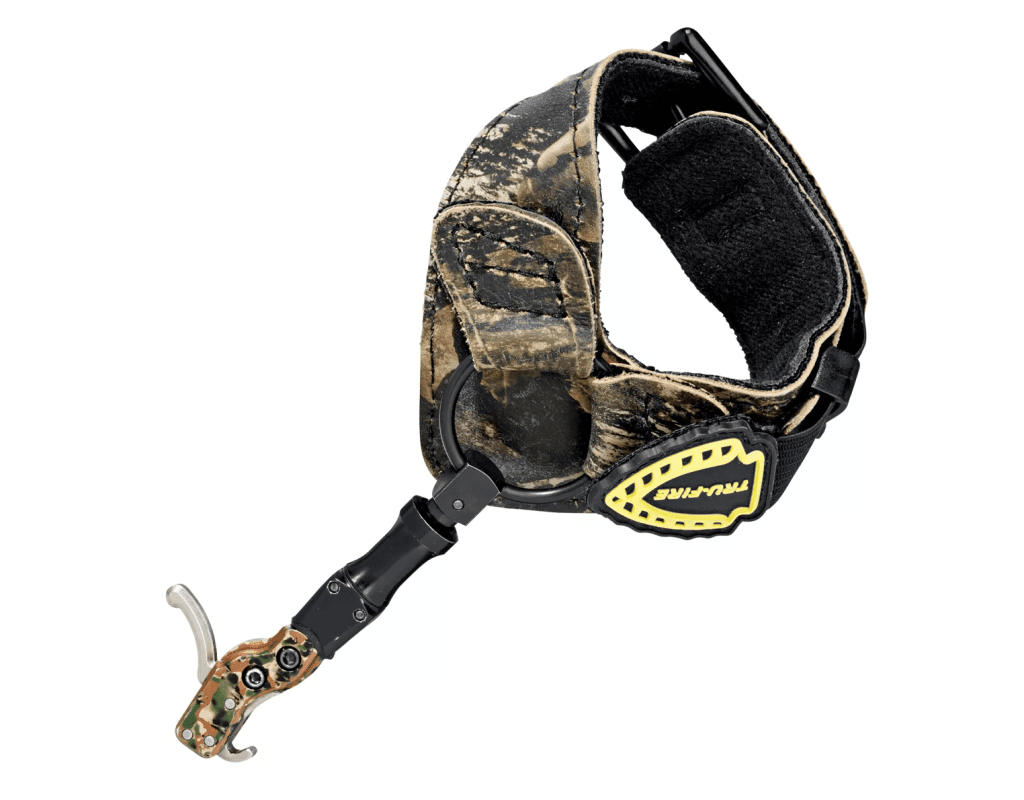 The TruFire Hardcore Buckle Foldback Adjustable Archery Best Bow Release aid comes with a self-closing mechanism as one hook.
The head pivots up to 20 degrees when ready to release to cut down on the amount of torque felt before shooting your arrow. The head pivoting feature is not found on many other similar products.
The buckle strap is adopted here instead of a more typical v-shaped design. This produces fast adjustments to cinch the strap tighter or bring the release nearer to your hand for easier activation and make it one of the best bow releases out there!
Pros
Camo wrist strap with a buckle fixture to adjust the fitting
Webbing between the strap and release can be lengthened or shortened
Trigger travel is adjustable too
4 lb trigger pull in default setting
Ambidextrous design
Head pivots up to 20 degrees to reduce or remove torque pre-release
Made in the USA
Cons
May slide down the wrist to the hand with smaller hands
The webbing between the strap and the release is half an inch and is adjustable to make it shorter.
The trigger itself is a 4 lb pull with the sensitivity adjustable using a screw turn to change the setting.
CALIPER GRIP RELEASE – Scott Archery, 4 Finger, Black
The Scott Archery Caliper Grip Release doesn't sit above the wrist (=not a wrist release aid) but instead is held in the hand. There is a hole at the end of the grip to help tie it to your wrist using paracord or hang it up between uses to avoid losing it (a common complaint of hunters with grip releases).
The benefit here is that the grip can be stored out of the way when not in use rather than having to be worn on the wrist the whole time during a hunt.
The grip supports four fingers with tall inserts between them. Designed in a gray/black color, the handle bears the Scott Archery logo.  
Pros
Molded black grip with four finger indents
Scott Archery logo is shown on the side of the grip
Soft feel
360-degree rotating release
Adjustable trigger release
Compact release vs. buckle strap release
Cons
Must be tied to the wrist to avoid losing the grip during a hunt
The black shiny trigger mechanism at the end has a long, knurled trigger which is adjustable for sensitivity.
The release rotates up to 360-degrees.
The caliper jaws are either red or hot pink depending on the version received and stand out against the darker body.
HANDHELD RELEASE – Tru-Fire Edge 4-Finger Aluminum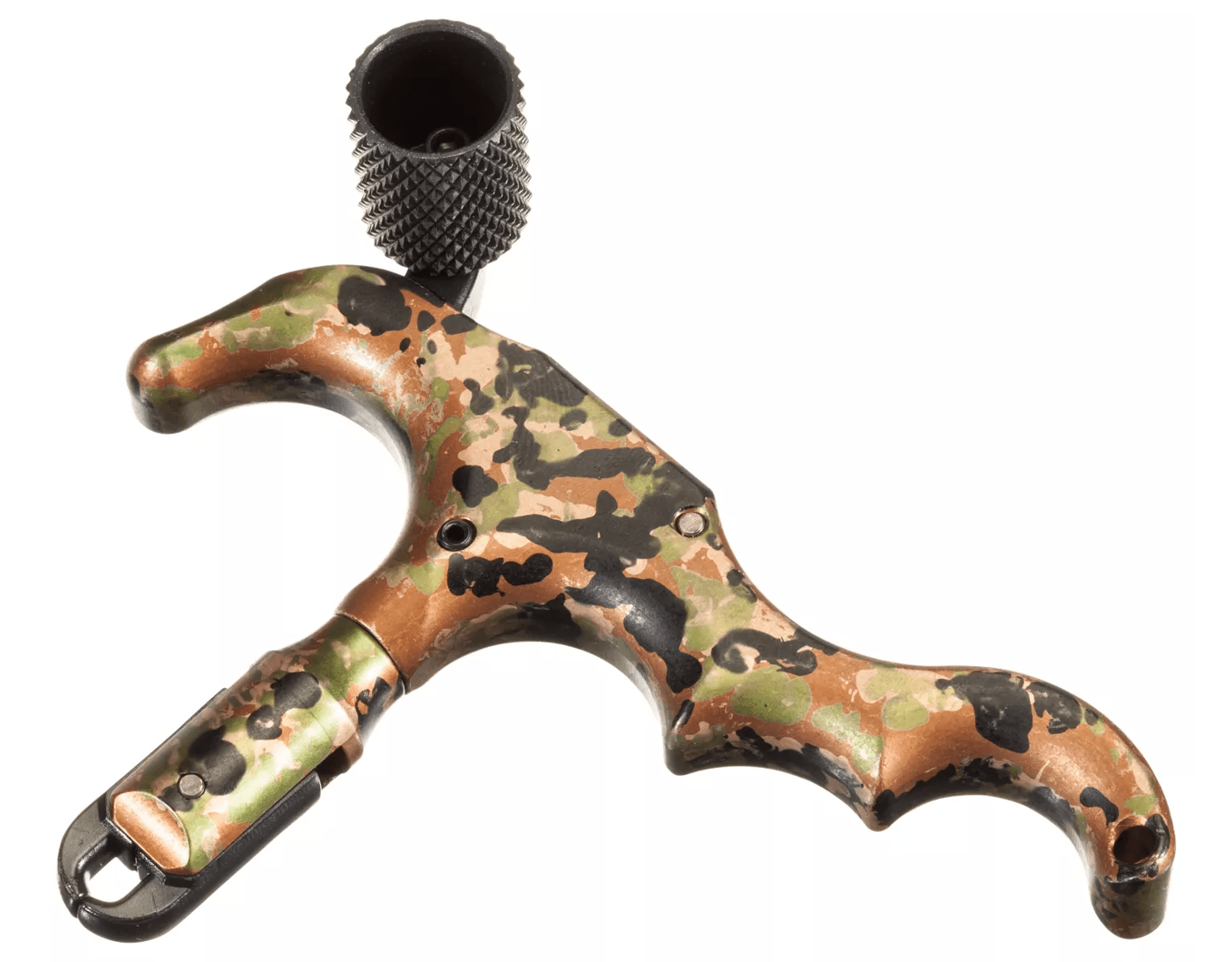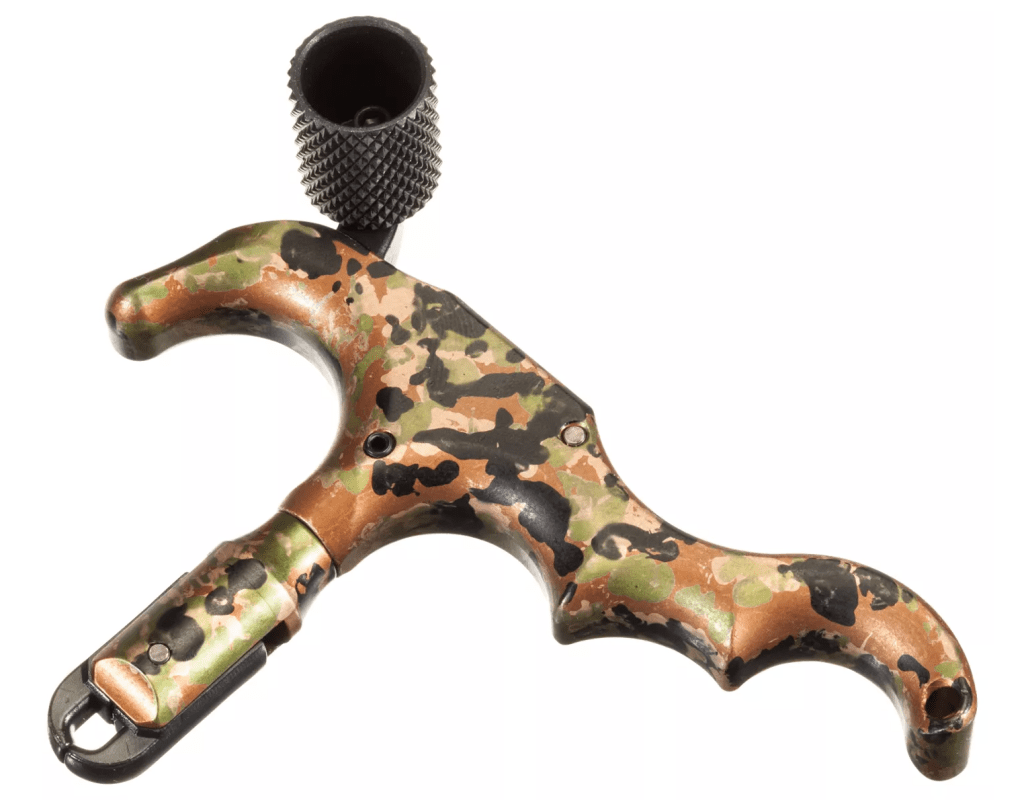 The Tru-Fire Edge 4-Finger Hand Held Bow Release is another hand-held product instead of a wrist-based release. This aluminum, American made model is durable.
The CNC cut handle is designed to fit the hand well. The head will rotate up to 360-degrees to keep up with the directional movement of the bow.
The jaws open and close based on the caliper movement. The spring-loaded trigger makes it easy to take aim and release in your own time. The large thumb knob at the top is easily adjustable.
Pros
Hand-held release
CNC cut aluminum handle
Spring-loaded dual caliper release
4-finger design for comfort
Very light compared to a nylon wrist model
Cons
Tie to the hand to avoid losing it
The camo is interesting here. It is a darker brown camo on the handle and a green-based camo on the release itself. The calipers are black color and merge in nicely too.
Comparision Table
Bow Release
Model
T.R.U. Fire Edge 4-Finger
Bow Release
Bow Release
Bow Release
Bow Release
Model
T.R.U. Fire Edge 4-Finger
Bow Release
TL;DR
1. Release aids are highly personalized pieces of archery equipment with many styles and customization options to suit individual preferences. Finding the right release comes down to choosing between index finger vs hand-held types and testing different models to find the best fit.
2. Top-performing releases promote consistency, crisp trigger breaks, and smooth drawing for target shooting and hunting. Qualities like comfortable handles, precise adjustments, quality sears, and versatile configurations are essential.
3. Some standout models offer excellent quality and reliability for each major release category, such as index finger, thumb trigger, back tension, and multifunctional.
4. While personal preference primarily drives choices, investing more in a finely crafted release yields better performance and longevity. However, quality options exist at lower prices for those on a budget. Taking the time to experiment with different releases is key to finding your ideal match.