When you're out bowhunting, you probably take great pains to conceal yourself from your quarry. While camouflage gear and deer blinds can help to hide your body, however, masking your scent is an entirely different matter. You can mask odors that might alarm game by using a scent eliminator before heading out hunting.
Once you've got your deer stand set up and your camouflage gear on, the next most important thing is to cover your scent. Hunters have been using various scent eliminators for years, but with so many options on the market, it can be hard to know which one is the best. In this blog post, we'll take a look at the three most popular scent eliminators and see how they stack up against each other.
Here are our top picks for the best scent killer on the market
+ BEST OVERALL- Dead Down Wind Trophy Hunter Kit. This handy kit comes with everything you need to stay safe and odor-free in the woods, including laundry detergent, field spray, face paint, and more. Plus, it's made in America and safe for your skin.
___________________
+ BEST BUDGET- 559 Wildlife Research Super-Charge Spray. Check out this scent-killing spray! Kills human odor at the molecular level, and continues to work even after drying. Plus, it comes in a super-charged version perfect for hunting outerwear and boot bottoms
___________________
+ MOST VERSATILE – No Scent Full Bundle. No Scent Field Spray is a game-changer, using state-of-the-art enzyme formulation to encapsulate and dissolve human malodor molecules. It's not a cover scent, and it doesn't use heavy metals or harsh chemicals.
___________________
Our favorite option is the Dead Down Wind Trophy Hunter Kit because it eliminates scent from head-to-toe without breaking the bank.
The Best Scent Blocker For Hunting
Best Overall: Dead Down Wind Trophy Hunter Kit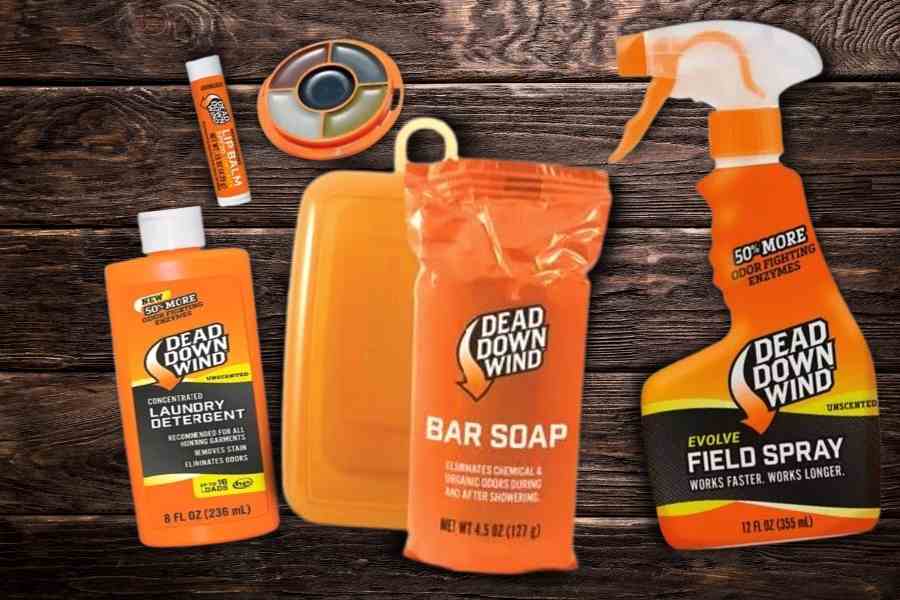 This ten-piece kit allows you to tackle smells from all angles, helping you to stay scent-free from head-to-toe. The kit includes laundry detergent and field spray as well as scent elimination bar soap and a travel case. There's also 5-color face paint to help you camouflage yourself and SPF 30 lip balm to protect you against UV rays.
Features:
10-piece kit eliminates odor from all angles
Gets rid of human odors across the spectrum
Gentle on both the skin and the environment
The Dead Down Wind kit gets rid of human odor across a wide spectrum, ensuring your target won't catch a whiff of you. The natural formula is safe for most skin types and is also environmentally friendly.
Best Budget Option: Scent Killer 559 Wildlife Research Super-Charged Spray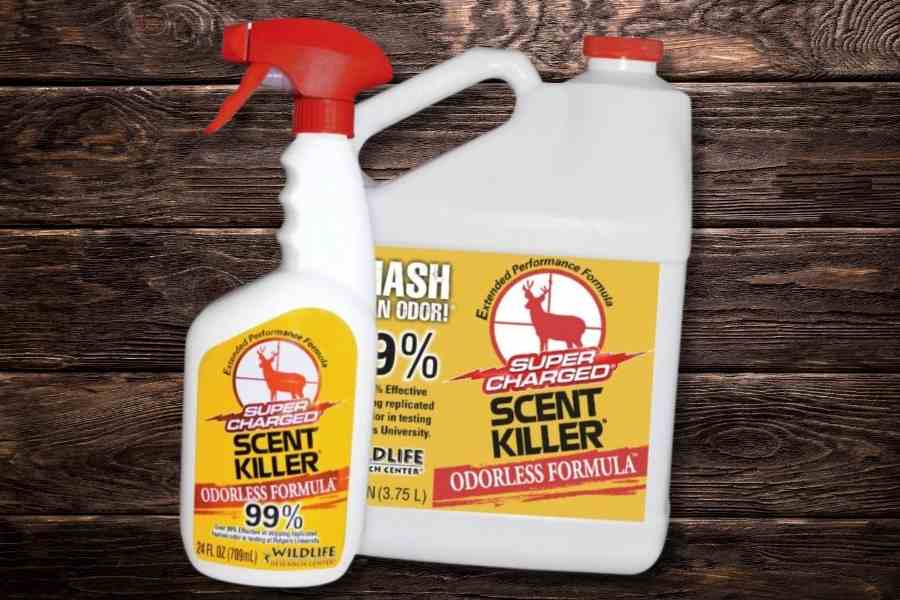 This value pack is budget-friendly and includes both a 24 oz bottle and a 24 oz refill. It's easy to apply to clothing, gear, and more using a simple spray nozzle. Simply apply the scent killer and wait for it to dry.
Features:
Value pack includes a refill pack
Works for days after drying
Blocks up to 99% of human scent
Thanks to Hunt Dry technology, this scent eliminator works for days after application. If you're going out on a long hunt, you don't have to worry about reapplying.
As long as you apply a heavy initial coat, this scent killer is up to 99% effective at blocking human odor.
Most Versatile Option: No Scent Full Bundle
The No Scent Bundle contains four different products to help eliminate the smell from your hair, body, and laundry all at the same time. The pack includes odor-eliminating field spray in both large and travel sizes, hair and body wash, and laundry pods.
Features:
Includes four different products for hair, body, and laundry
Powerful enzyme formula
No harsh chemicals or heavy metals
This scent eliminator uses an enzyme formula to dissolve the molecules that create distinctive human odors. It uses no heavy metals or harsh chemicals, making it suitable for even sensitive skin. The formula lasts between four and six hours to give you plenty of time to hunt.
Why Use a Scent Eliminator?
Humans produce a distinctive scent that causes most prey animals to flee when they detect it. It's most likely the reason why that buck you were just about to bag went bounding off at the last minute. Our natural scent can get in the way of a successful hunt, and so sometimes, it's necessary to block it.
Wearing perfume or taking a shower won't eliminate enough of your scent to fool a wild animal. Instead, you need to block the molecules from traveling through the air in the first place. Many hunters rely on scent killers to mask or eliminate their scent when out in the open.
The best scent killer will mask or block scent particles, often through chemical means. If you're going out on a hunt, you should make sure to apply an eliminator to both yourself and your gear. Bags and hunting clothing can take on human smells from your closet, while items such as bows may still smell from the manufacturing process.
Types of Scent Eliminators
Body Spray
Scent eliminators such as Scent Killer 559 Wildlife Research Super-Charged Spray most commonly come in spray form for easy application. They're stored as a liquid and applied in a fine, even mist before being allowed to dry. As long as the formula is gentle enough, you can directly spray most scent eliminators onto your skin, clothes, and gear.
Body Soap
If you're looking to wash the scent away, you can find specially formulated bar soap that you can use in the bath or shower. Simply wash off before your hunt with the soap, and you'll be good to go for a couple of hours. Some bar-style scent eliminators are also suitable to rub over your equipment to reduce smells (read.. how long does human odor last).
Laundry Detergent
Our bodies aren't the only thing that can give off human smells during a hunt. If your hunting gear has been sitting in your closet, it's likely soaked up scents that will be released as soon as you step outdoors. Fortunately, you can clean clothing, day packs, and more using scent-eliminating laundry detergents such as the Dead Down Wind detergent or No Scent laundry pods.
Which Scent Eliminator Wins?
Best Cover Scents For Deer Hunting 2021 Review Guide
If your quarry can smell you coming, you're not likely to have a very successful hunt. Scent eliminators are specifically formulated to mask the human scent, which allows you to catch your target unaware. Using a scent eliminator can help you to bag even skitting game like deer.
We think that the best scent killer for hunting is the Dead Down Wind Trophy Hunter Kit. It contains more types of scent elimination products than options such as Scent Killer 559, and it's more cost-effective than the No Scent Full Bundle.