Diamond is a name recognized by compound archers the world over. This manufacturer boasts a significant track record of excellence, having provided archers with some of the most user-friendly and highly adjustable bows ever produced. Diamond has also gained quite a reputation for producing economically priced bows, many of which retail for less than $500.
One important note: I tested the bow in real life. I went and actually send some arrows downrange. The following is a comprehensive look at what I found to be true of the Diamond Archery Deploy SB in the form of features and functionality
However, Diamond Archery has also produced several premium tier bows throughout the years, which retail at a more moderate price point.
One such model is the Diamond Deploy SB, which has received much attention for its remarkable speed, and featherweight form.
The Deploy SB currently serves as one of Diamond's flagship bows and has quickly become a favorite of discerning archers. I was recently granted an opportunity to test the Diamond Deploy SB, which I eagerly accepted. The following is what I found when putting the SB through its paces at the range.
At a Glance
[PROGRESSBAR_WP id=3013659]
Initial Thoughts
Upon receiving word that I would be shooting the Diamond Deploy SB, I was quite excited. I have tested numerous Diamond compound bows in the past and have been quite pleased with my findings.
However, the Deploy SB differs significantly from many of Diamond Archery's current offerings, as it is built for sheer performance, rather than maximum adjustability.
Much of the buzz surrounding the Diamond Deploy SB relates to its remarkable 330 FPS IBO speed. This is significantly higher than many bows within the Diamond line and is blazing fast by any standard.
Additionally, the Deploy SB has received much acclaim for its ultra-lightweight, 3.2-pound carrying weight, which makes it one of the lightest compound bows currently available.
First Impression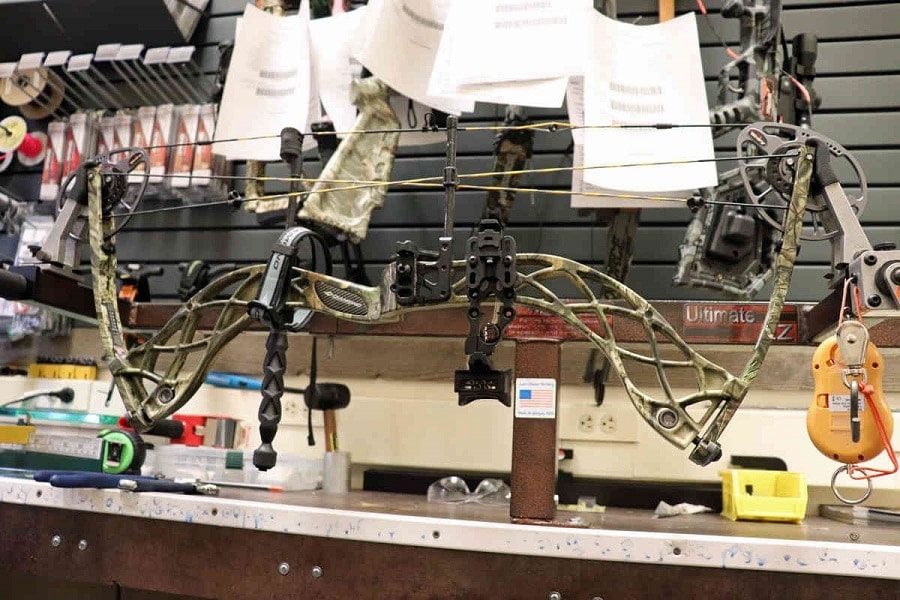 Diamond Deploy SB – RAK Package
---
Upon first laying my hands on the Diamond Deploy SB, I was blown away. To describe this bow as light in weight simply does not do it justice.
Although Diamond specifies that the Deploy SB weighs in at 3.2 pounds, I would have to weigh the bow myself to be convinced that it does not weigh even less than that. The Deploy is truly the lightest feeling bow that I have tested to date. The Deploy SB is also striking in its appearance.
The bow's camouflage riser and black limbs provide a multi-tone look that many selective archers should appreciate. The Deploy's riser is also rather aesthetically pleasing, as it features thoughtfully placed cutouts, which are just as appealing visually as they are functional in reducing the bow's overall weight (read.. Best Carbon Fiber Bows).
Diamond Deploy SB Specifications
Published Specs
Let-Off: 80 percent
Weight: 3.2 pounds
Brace Height: 6.75 inches
Axle-to-Axle Length: 31.5 inches
Speed: 330 fps
Draw Weights: 50, 60, 70 pounds
Draw Lengths: 26 to 30.5 inches
Finishes: Breakup Country, Mossy Oak Breakup Country
Suggested Retail:
check price
Technical Features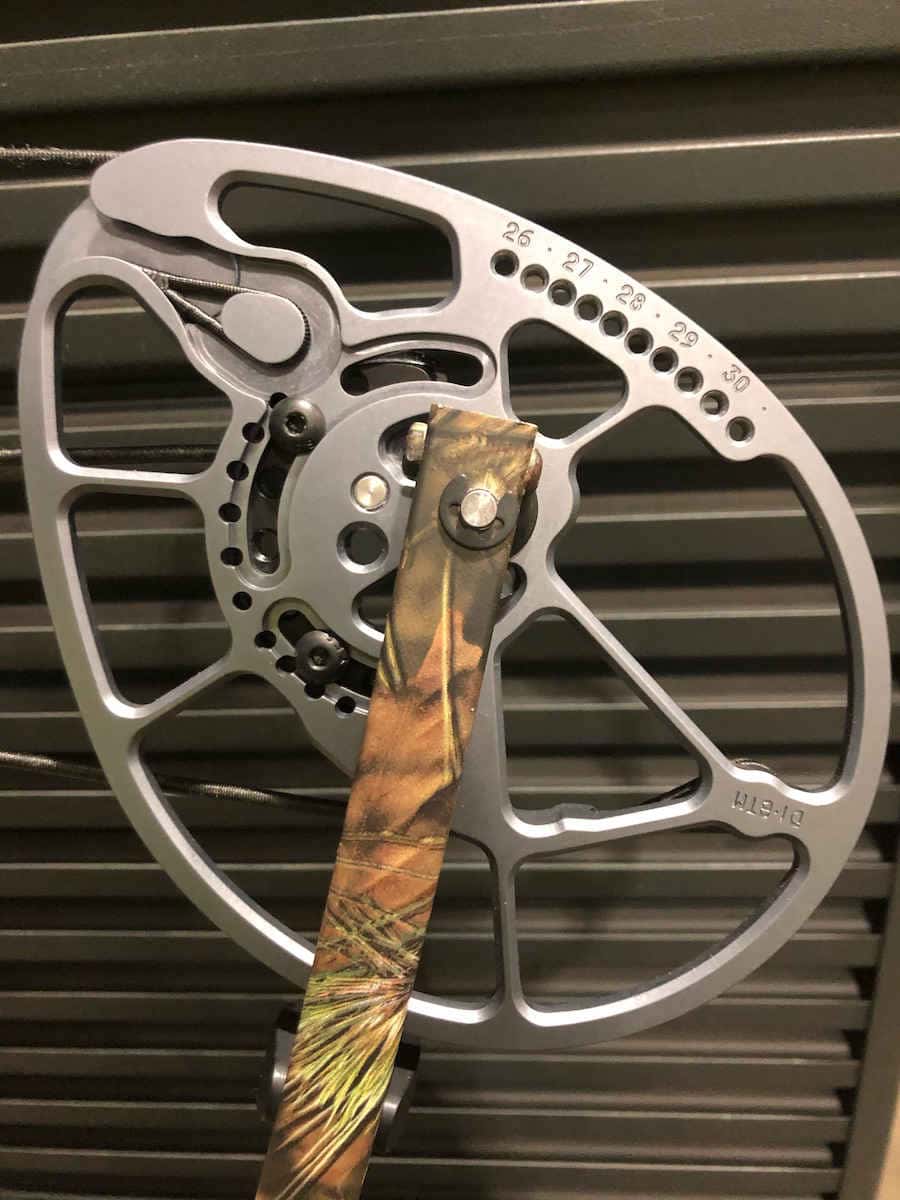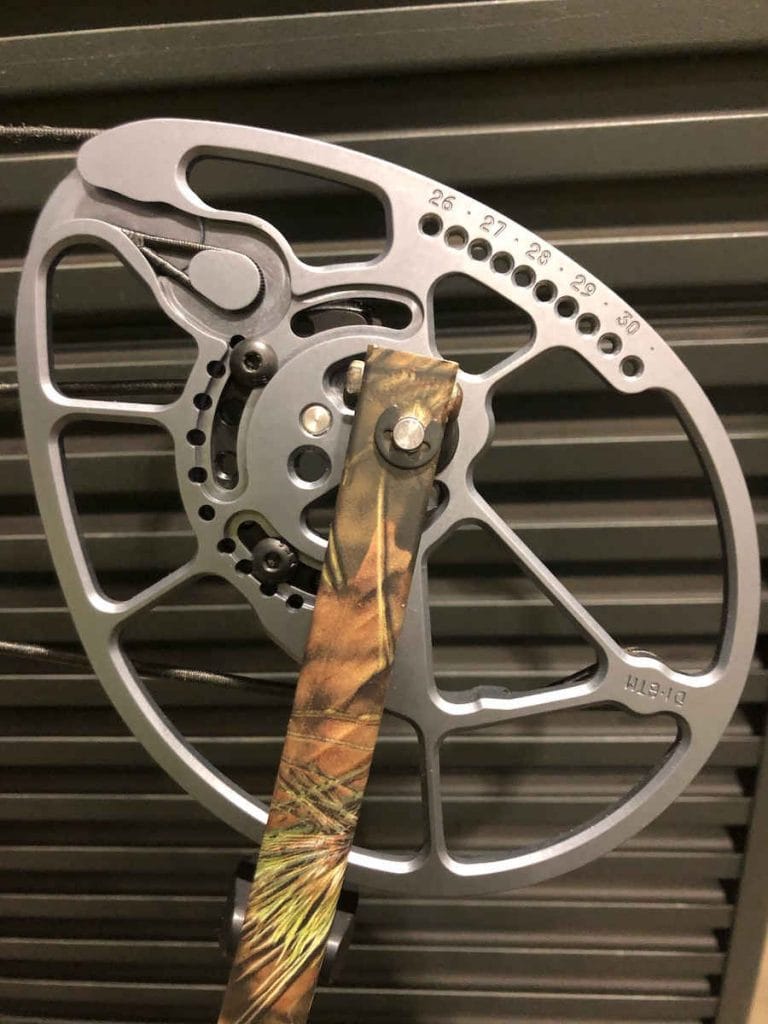 Diamond Deploy SB – Cam Closeup
---
When discussing the Diamond Deploy SB's technical specifications and features, there is quite a bit to talk about.
From an engineering standpoint, this bow is as much a work of art, as it is a typical compound bow. The team at Diamond Archery has managed to combine speed, forgiveness, and shootability, outfitting the Deploy with each attribute in equal proportions. 
The Deploy SB carries an IBO speed rating of 330 FPS, which is outstanding, to say the least. The vast majority of bows within Diamond's repertoire feature speeds of 310-320 FPS, so this was well above par for the burgeoning archery manufacturer (read.. Diamond Provider Review)
In fact, the Deploy's speed surpasses that of a significant number of premium bows on the market today, many of which retail at a much higher price.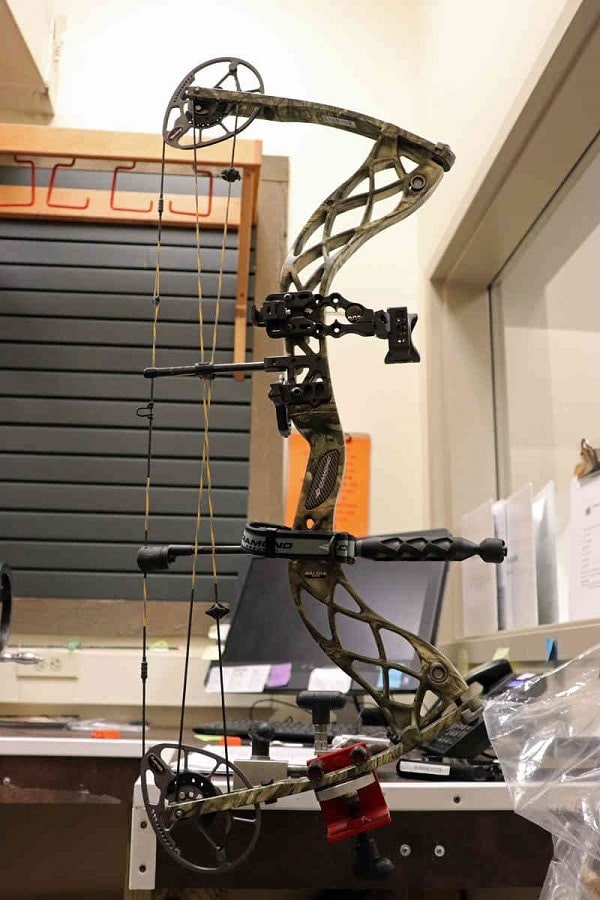 Diamond Deploy SB – RAK Package
---
Another attribute of the Deploy SB worth mentioning, is its 6 ¾" brace height.
This is a figure which most archers will be pleasantly surprised to see. The bulk of "speed" bows currently available feature brace heights of around 6", while slower, easier to shoot models typically maintain a brace height of approximately 7". 
This is of significance, as a higher brace height is generally indicative of a more forgiving bow, whereas a shorter brace height lends itself toward performance.
In this case, Diamond appears to have cracked the code of how best to supply remarkable performance, without shortchanging a bow's forgiveness and shootability. The Diamond Deploy SB also utilizes the same Binary Cam Technology which was made famous by the brand's parent company, Bowtech.
This cam system is renowned for its ease of tuning and adjustability. Diamond's Binary cam system also features rotating modules, which make draw length adjustment a breeze. Archers are allowed to select from multiple draw weight models when purchasing the Diamond Deploy SB.
This bow is available in 50, 60, and 70-pound versions, making it possible for any archer to select a bow that meets their particular needs. The Deploy SB also features an adjustable draw length, which ranges from 26" to 30.5".
Shootability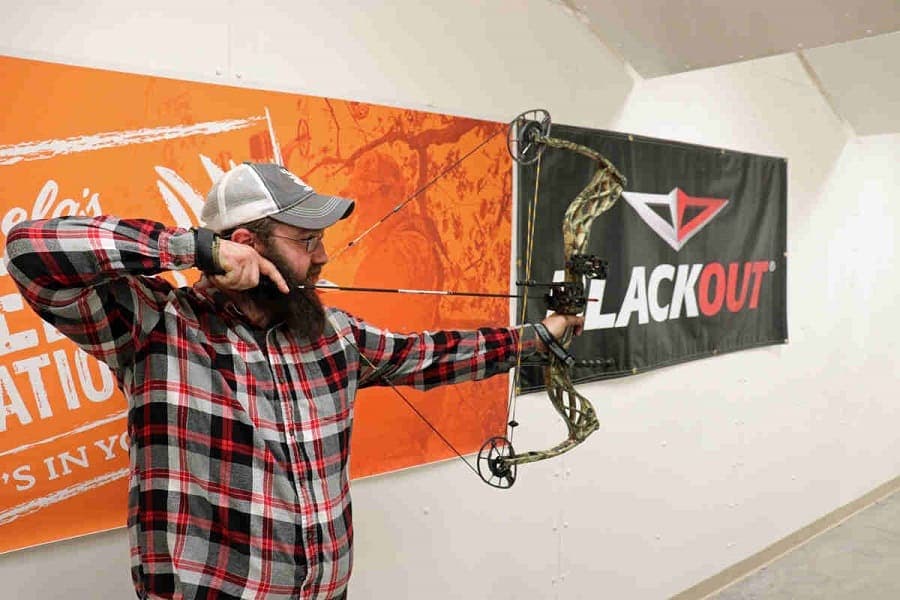 Diamond Deploy SB -Shootability
---
After adjusting the Diamond Deploy SB to my specific draw length, it was time to put it through its paces.
Upon drawing the Deploy, I mentally noted two individual points of value.
The first of which was how comfortable and balanced the bow's grip felt in my hand.
The second factor of worth was the Deploy's smooth draw, which was consistent throughout its range.
Upon easing my draw into the valley, it became evident that Diamond had put much thought into the use of their Binary Cam System. There was no notable hesitation to the bow's cams, and their action was gradual in nature.
I was also pleased to find that the Deploy SB featured a solid back wall, which is an attribute that seems to be standard throughout Diamond's line of bows.
As I triggered my release, the Deploy SB's performance merit became evident. Every arrow that I fired, sailed downrange with significant velocity, striking the target with an abundance of force.
The bow's IBO speed rating of 330 FPS seemed to be very realistic, and not over exaggerated in any way. 
Coming into this test, I had reservations as to the level of noise and hand shock that would accompany such a lightweight bow.
However, both were minimal, to non-existent.
The Deploy SB shoots with whisper-quiet efficiency and is largely void of any noticeable hand shock. This was a quality that I was immensely pleased with, as it had not been anticipated.
PROS and CONS
PROS:
Blazing Fast 330 fps I.B.O. Speed
Solid back wall
Balanced & comfortable bow grip

Smooth Draw Cycle

Quiet
Available as a barebow or with a R.A.K. package
CONS:
Not as adjustable as other bows from Diamond Archery
How Does The Deploy SB Compare to Other Bows
| | | | | | | | | |
| --- | --- | --- | --- | --- | --- | --- | --- | --- |
| Deploy SB | low/med | 330 | 80% | 26″ – 30.5″ | 70lbs | 6.75″ | 3.2lbs | L/R |
| BOW | Price | IBO (fps) | Let-Off | Draw Length | Max. Draw Weight | Brace Height | Bow Mass Weight | Hands |
| --- | --- | --- | --- | --- | --- | --- | --- | --- |
| Bear Paradox | medium | 330 | 80% | 23.5" - 30.5" | 70lbs | 6.25" | 4.3lbs | L/R |
| Bear Divergent EKO | med/high | 338 | 90% | 26" - 30" | 70lbs | 6.5" | 4.1lbs | L/R |
| Bear Cruzer G2 | medium | 315 | 70% | 12" - 30" | 70lbs | 6.5" | 3lbs | L/R |
| PSE Uprising | medium | 302 | 70% | 14" - 30" | 70lbs | 6.625" | 3.2lbs | L/R |
| Diamond Deploy SB | medium | 330 | 80% | 26" - 30.5" | 70lbs | 6.75" | 3.2lbs | L/R |
| Blackout Epic | medium | 340 | 90% | 26" - 30" | 70lbs | 6" | 4.1lbs | L/R |
| PSE Stinger MAX | medium | 312 | 80% | 21.5" - 30" | 70lbs | 7" | 3.8lbs | L/R |
| Diamond Edge 320 | medium | 320 | 85% | 15" - 31" | 70lbs | 7.25" | 3.6lbs | L/R |
| Diamond Edge Pro | medium | 310 | 80% | 13" - 31" | 70lbs | 7" | 3.2lbs | L/R |
| Diamond Prism | medium | 295 | 80% | 18" - 30" | 55lbs | 7" | 3.2lbs | L/R |
| Predator Raptor | low | 315 | 75% | 24.5" - 31" | 70lbs | 7.5" | 3.8lbs | L/R |
| PSE Brute NXT | medium | 328 | 80% | 22.5" - 30" | 70lbs | 6.5" | 3.7lbs | L/R |
| Diamond Provider | medium | 310 | 80% | 25.5" - 31" | 70lbs | 7.5" | 3.3lbs | L/R |
Accessories
The Diamond Deploy SB can be ordered as a bare bow or in conjunction with a R.A.K. (Ready, Aim, Kill) package. When ordered as a package, the Deploy comes outfitted with several accessories, allowing an archer to head straight to the woods or the range.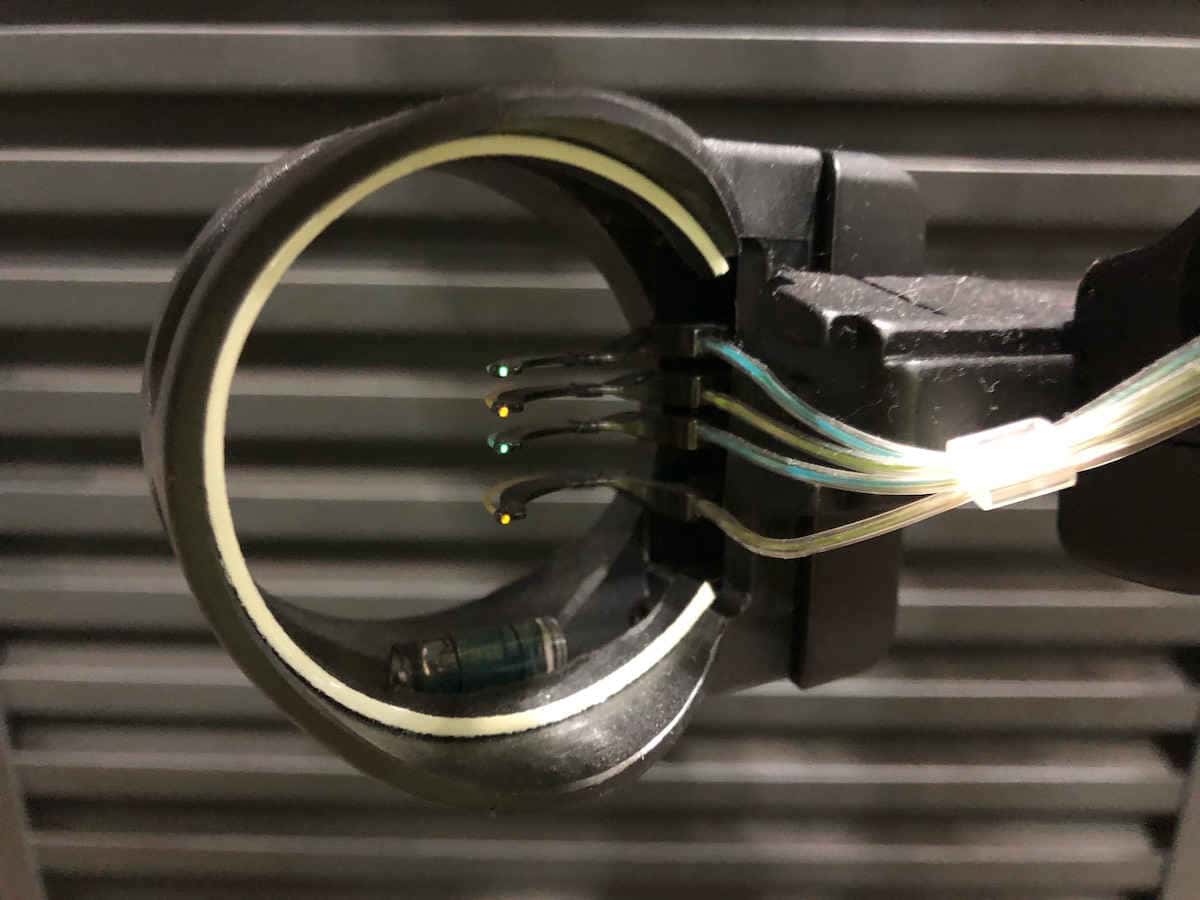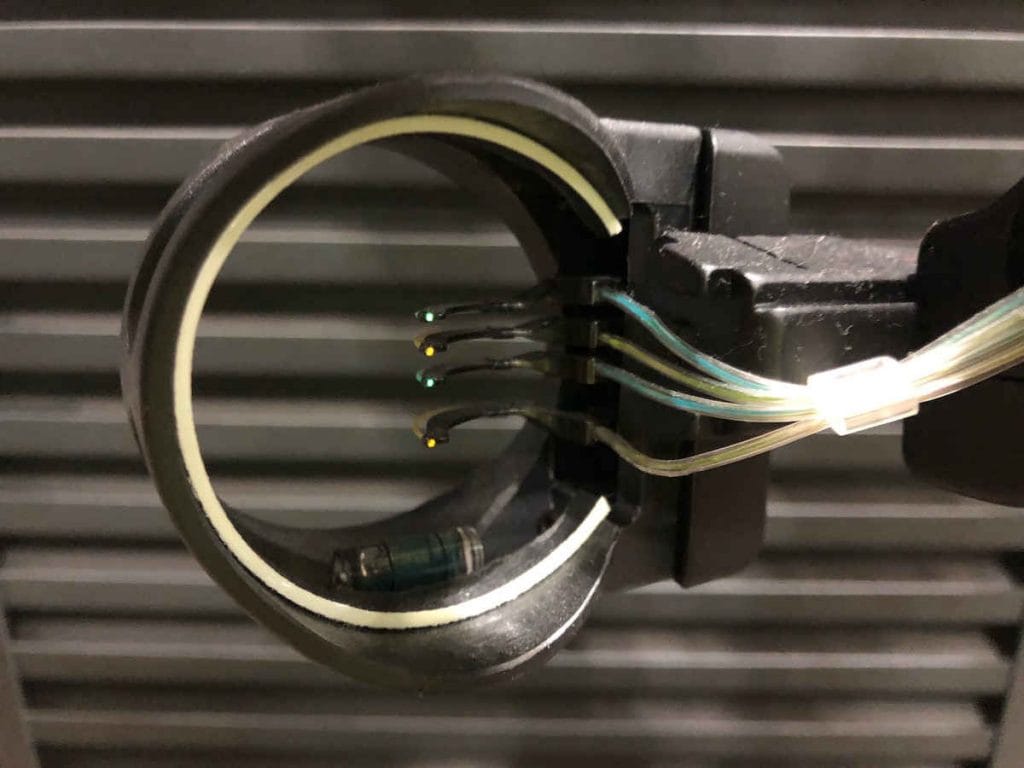 Diamond Deploy SB – RAK Package Sight
---
These accessories include a 4-pin custom sight, Octane Octagon Brush arrow rest, Octane Bantam 5 Quiver, Isolate 6 Stabilizer, carbon peep sight, D-loop, and comfort wrist sling (read.. best bow stabilizers).
These accessories would all likely be classified as intermediate grade and are significantly improved over those featured in many other bow packages. The Deploy SB's Whisker Biscuit style rest is a time-tested design, which securely retains an arrow until it is fired.
This can be especially helpful to new bowhunters, who are prone to dislodging their arrow from standard rests when inadvertent arrow to brush contact is made.
Many archers will also find favor in the R.A.K. package's included bow sight. This sight is of a 4-pin design, which allows for accurate target acquisition and aiming at distances toward the maximum extent of most archers' effective ranges.
Additionally, each pin contained within this sight features an extended fiber-optic strand, for enhanced light gathering.
Overall Evaluation
After shooting the Diamond Deploy SB, I am convinced that there are few bows available at a similar price point, which offer as significant of value.
With an IBO speed of 330 FPS, a 6 ¾" brace height, there is much to be excited about when shooting the Deploy SB. If there was any downfall worth mentioning that pertains to the Diamond Deploy SB, it would be rooted in its lack of adjustability in relation to other bows found within the Diamond line.
This is not a bow that features an infinitely adjustable draw weight nor an extensive range of draw length adjustability. However, if you know exactly what you will require regarding each adjustment, this fact is of little concern.
Overall, The Diamond Deploy SB is quite impressive, not only due to its performance, but in regard to its extremely lightweight form as well.
This bow is every bit as capable as those found at the $1000+ price tier, yet can be purchased for ⅓ less in cost.
Special thanks to the staff at Cabela's of Bowling Green, Kentucky, for allowing us the use of their bows, and range, for test and review purposes. Cabela's was acquired by Bass Pro Shop in 2016 and now operates as a branch of the company, with retail locations nationwide.