PSE Archery has done it again. The New Brute NXT RTS Compound Bow adds to their collection of high-speed compound bows with an excellent package product. PSE Archery is a name to be trusted, especially since tons of patents in the compound bow industry come from them.
This new PSE Archery bow is relatively cost-efficient for what you get. It comes with plenty of features, so you won't have to worry about buying the correct complementary products.
In this Brute NXT RTS Compound-Bow Package review, we will look at the model's specs and applications to determine if you should invest in it.
TL;DR
The Brute NXT compares well to competitors like the Blackout Epic, Bear Paradox, and PSE Uprising regarding speed, weight, and adjustability. It provides good value for a mid-priced bow. While the included accessories may need upgrading, the bow has great capabilities and positive reviews. With the RTS package, add arrows, and you're ready for hunting. Overall, this versatile, adjustable compound is well-suited for beginners and experts alike.
First Impression
When you first open the New PSE Archery Brute NXT RTS Compound-Bow Package, you will notice how light and compact it is.
The bow weighs only 3.7 pounds, and the draw length adjusts from 22.5 inches to 30 inches. This bow can extend to meet your changing needs.
This easy-to-handle compound bow comes with tons of features. The package includes the bow, Trophy Ridge Whisker Biscuit rest, 5-arrow quiver, a stabilizer, a 5 pin sight, a peep sight, and a D-loop.
---
This bow has an exceptional value for the price range, even if you need to pick up a set of arrows.
Pros & Cons
Pros:
Lightweight and portable
Shoots arrows quickly
Adjustable draw length and weight
Fits in tight spaces
Designed for hunting
Mid-price range
Cons:
The PSE Archery Brute NXT RTS Compound-Bow improves upon previous renderings of the design. They manufacture their products at home in the USA with bowhunters in mind (you might also like: PSE Uprising Review).
This ensures you will get a good start with the new Brute NXT, so you can start hunting powerfully as soon as possible.
read.. how you can find a cheap compound bow
PSE Archery Brute NXT Specifications
Draw weights: 35 – 70 lbs. or 22 – 55 lbs.
Let-Off: 80%
Brace height: 6-1/2″
Axle-To-Axle: 30 -3/4″
Draw Length: 22.5″ – 30″
Weight: 3.7 lbs.
FPS: up to 328
How Does The PSE Brute NXT Compare to Other Bows
| | | | | | | | | | |
| --- | --- | --- | --- | --- | --- | --- | --- | --- | --- |
| BOW | Price | IBO (fps) | Let-Off | ATA Length | Min Draw | Max Draw | Max Draw Weight | Bow Mass | Hands |
| PSE Brute NXT | med | 328 | 80% | 30.75″ | 22.5″ | 30″ | 70lbs | 3.7lbs | L/R |
| Blackout Epic | med | 340 | 90% | 32″ | 26″ | 30″ | 70lbs | 4.1lbs | L/R |
| Deploy SB | low/med | 330 | 80% | 31.5″ | 26″ | 30.5″ | 70lbs | 3.2lbs | L/R |
| Bear Paradox | med | 330 | 80% | 32″ | 23.5″ | 30.5″ | 70lbs | 4.3lbs | L/R |
| PSE Uprising | med | 302 | 70% | 30″ | 14″ | 30″ | 70lbs | 3.2lbs | L/R |
| Bear Divergent EKO | med/high | 338 | 90% | 30″ | 26″ | 30″ | 70lbs | 4.1lbs | L/R |
Design and Performance
One thing to take away from our PSE Archery Brute NXT RTS Compound-Bow review is that the PSE engineers designed this bow to be lightweight and fast, and they succeeded.
This edition features a newly redesigned binary cam that allows speeds of up to 328 fps.
The draw length and weight are adjustable, with the former varying from 22.5 inches to 30 inches and the latter from either 35 – 70 lbs. or 22 – 55 lbs. It has a 6.5-inch brace height and a 30-3/4 inch axle-to-axle length. These dimensions allow you to utilize it in narrow regions. Such as hunting from a ground blind or treestand.
This compound bow comes with an 80% let-off. Which conveniently allows you to hold it at full draw with minimal effort. The design facilitates hunting by providing precision, speed, and accuracy to your aim and fire.
This bow has a smooth draw cycle and forgiving brace height to help you shoot. It is also extremely quiet and has little hand shock.
Overall Quality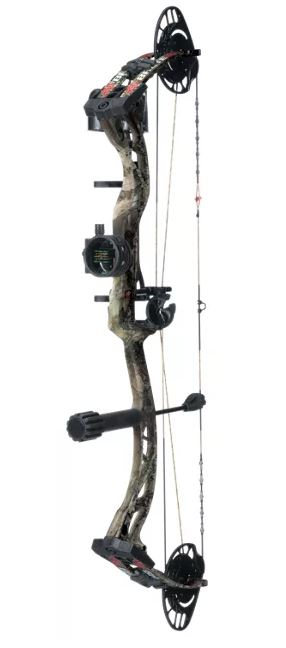 The Brute NXT has fantastic capabilities.
The bow itself has mostly positive reviews. Some buyers found that the package's accessories were sub-par. You may want to spend a little more on a better sight and rest. But if you get yourself some arrows, you are good to go!
Nevertheless, the bow has a silky smooth draw, and the cam makes it super simple to adjust draw weight. It has a quick speed shot and incredible accuracy.
If you are on a budget, this compound bow has good value. While the sight or rest may not last forever, it may provide you with a few good hunting sessions.
Summary
For those looking for a mid-price, fast and adjustable compound bow, the new Brute NXT may be the one for you.
It is light, compact, speedy, highly adjustable, and designed for all adults. While it may not be one of the absolutely high-end bows out there, it has plenty of great features. Even more so, considering its moderate price point.
We love how adjustable it is, so men, women, and maybe even children can use it as they gain strength and improve their archery skills for early-season success. Especially if you decide to go for the 22 – 55 lbs. version.
This PSE RTS package comes with everything you need to get started. The only thing you´re missing is the arrows (read.. hands-on review PSE Stinger MAX).