Pursuing geese with archery equipment is both fun and challenging, and if done correctly, it can be just as successful as turkey hunting with the bow. However, there are a few things you should keep in mind.
First off, you need to make sure it's legal in your jurisdiction to hunt geese with a bow (also, in many states, it's illegal to spot and stalk), and secondly, use the right equipment. Once that's out of the way – start thinking about where to shoot a goose. Okay, let's get started…
Goose Hunting with Bow & Arrow
Gear
Broadheads: Large Diameter Expandables 
For shooting geese on the ground, some use the gobbler guillotine. Or any other expandable broadhead with a large diameter. Yes, a pass-through with a "regular" broadhead will be fatal – but might not disable the bird immediately. The larger the diameter, the more damage it'll do.
Magnus Bullheads or maybe Rage Hypodermic is said to be ideal for honkers.
Guillotine Broadheads
Expandable Broadheads
A headshot-only broadhead is not recommended, in my opinion. No doubt, they work well, as they were designed to do, but geese aren't known for keeping their heads still long enough for a good shot. 
Arrows: Flu-Flu Fletching
Over Water 
Using "flu flu" fletchings will help you avoid landing your arrows in the next county. Nonetheless, if you shoot over water as most migratory bird hunters do, most of those arrows are probably going to be lost. Geese prefer deeper waters, so the chances of recovering your arrow are minimal. 
And if you consider that every arrow you shoot is going to cost you around $15…
On the Ground 
If you shoot them on the ground, you won't waste arrows or wound a bird while flying. After all, an ethical kill is always what you should be aiming for. Plus you are going to save a lot of money. 
Clothing: Waterproof & Warm 
Waders, waterproof jackets, and waterproof gloves will keep you dry. The pants don't matter that much as long as you're wearing waders. If you are hunting in cold weather, wear layers of clothing.
Decoy: Goose & Duck?
Goose and duck seasons overlap in many states. Great, right? Why not go after goose and duck at the same time? But in reality, you shouldn't mix decoys. Hudnall of Westport, Kentucky says, "Goose decoys draw ducks, but geese rarely come in to just a spread of duck decoys, so it can't hurt to use both…" 
So if you plan on hunting geese only, go with geese decoys. 
Bow
Compound bows, recurve bows, crossbows. Check your local hunting regulations what you are allowed to use.
Ideal Target Points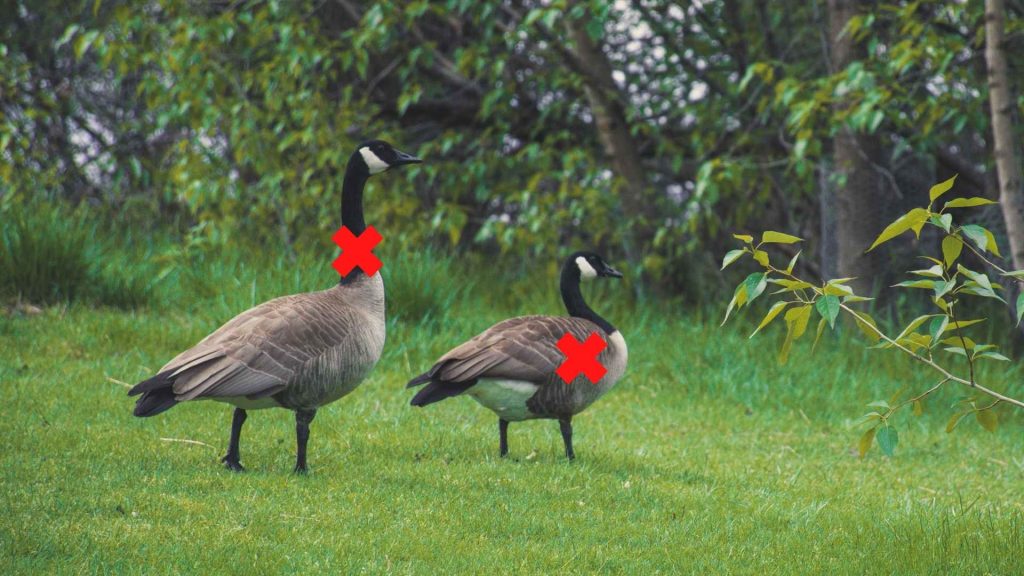 Geese Ideal Target Points
If you use guillotine-style broadheads such as the Gobbler Guillotine or Magnus Bullheads, the ideal target will be the lower neck. If you use smaller broadheads, you should aim for the body. Don't aim too low. You do not want to slice through their breast. 
How Do You Hide Goose Hunting?
One of the most complex parts is getting the birds to set down within your range. You want to make a clean, ethical shot. Ground blinds are a great option. They allow you to hide without disturbing the flock. 
You can also use a tree stand, which allows you to sit still and wait for the birds to land. This method works best when you have a good view of the area.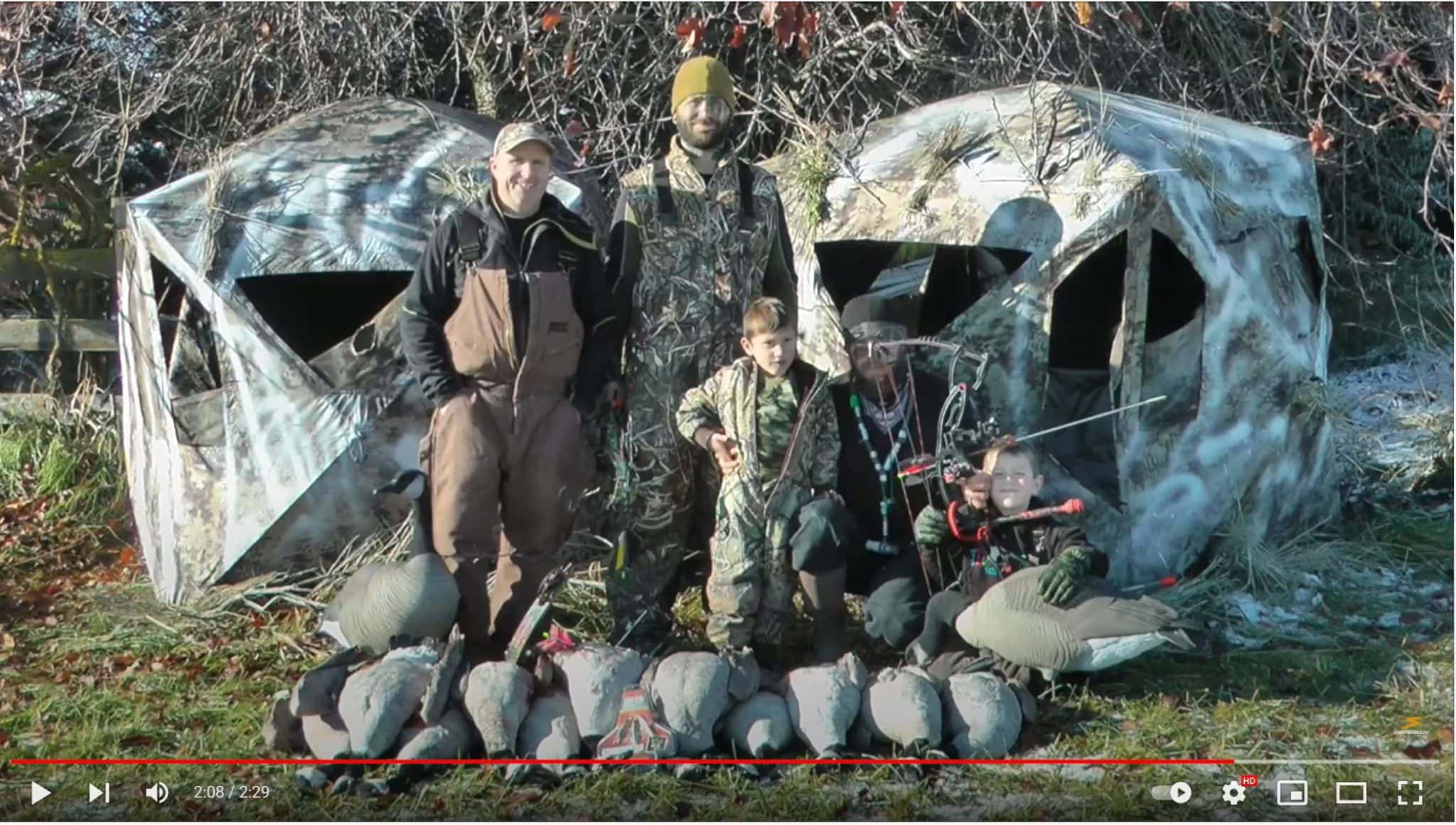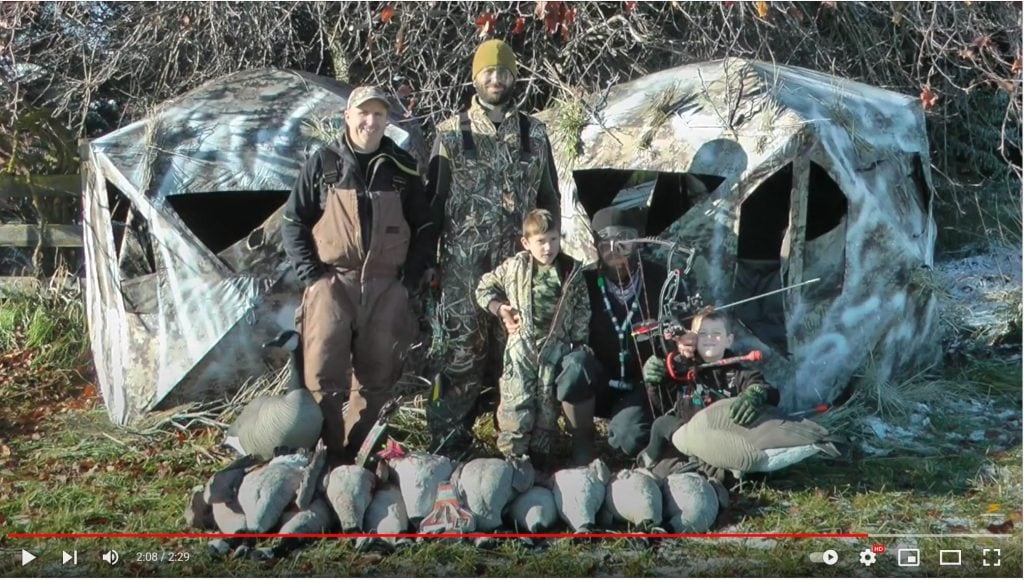 Summary
First of all, check your local hunting regulations. Not all states allow bowhunting geese. There are two ideal target points. One is the lower neck, and the other is the body. Choose your broadhead accordingly. The best decoy for geese is a goose decoy. It will draw in more geese than just a duck spread. Go for a clean and ethical kill – have fun!