Since its founding in 2004, Pennsylvania-based broadhead manufacturer Ramcat has built a loyal following among archers and bowhunters. Our Ramcat Broadhead review starts here, and we're going to devote some time to investigate the Ramcat Hydroshock Pivoting Broadhead.
The Ramcat broadheads have a loyal following in the bowhunting community. Many of the reviews and testimonials we found were overwhelmingly positive, with stories of successful hunts and cherished family memories.
Before you dive in and read our entire Ramcat Broadhead review, we thought it would be helpful to give you a sense of our findings right off the bat.
Pros & Cons
Pros:
American-made in Huntingdon, Pennsylvania.
Made from 100-grain stainless steel.
Razor-sharp blades
Revolutionary off-set blade design maximizes damage, makes for a deep wound channel, and a clean kill.
The concave scoop on head creates "air foil," which reduces wind resistance for a straight, level shot. 
Cons:
Will damage its shaft or break apart on contact with rigid surfaces.
Razor-sharp blades are difficult to extract from surfaces or remove from manufacturer packaging, without cutting fingers.
Sharpening blades could be a little tough
Features:
100% Stainless Steel
Ultra Sharp Blades
Made in the U.S.A.
First Impression
The vast majority of the reviews we read were positive. We were impressed by how many of the reviews mentioned pass-through shots that dropped quarry on the first try and ended with bolts found still intact and buried up to the fletching in brush or trees (read..
Some hunters complained about receiving broadheads that had broken blades, while others complained about receiving broadheads that had nicks and scratches along the beveled edges of the blades.
No product is perfect, of course, so some quality control issues are understandable, if not frustrating.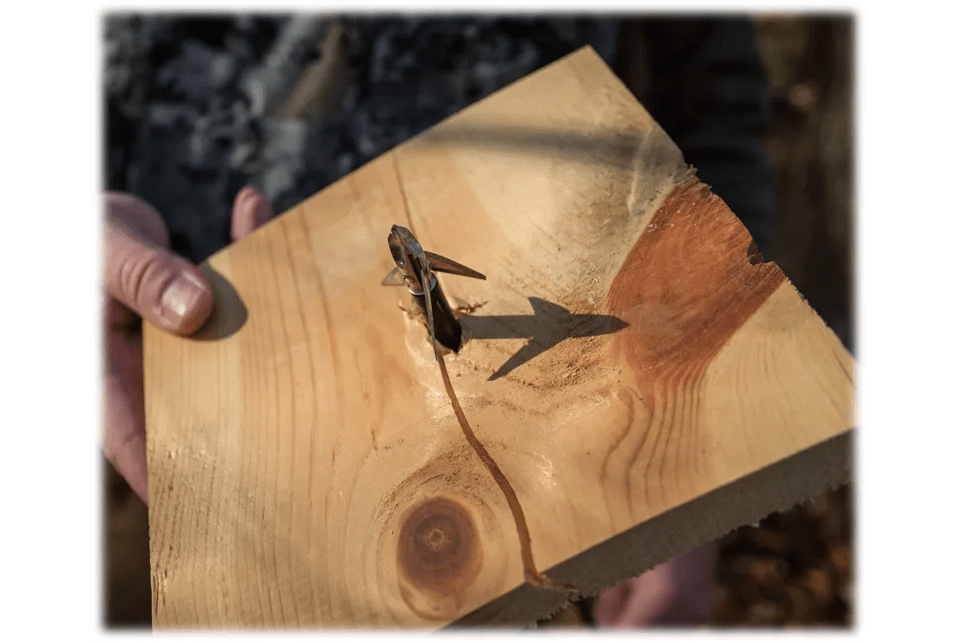 Technical Specs Ramcat Hydroshock Pivoting Broadhead
100 Grain (or 125-Grain)
1-3/8″ Inch Cut Diameter
3 pack
Pivoting Broadheads
Airfoil Aerodynamics for field-point accuracy and better flight
0.032-inch, rear-sharpened stainless steel blades
Blade Over Shaft Technology
Let's take a detailed look at this savage-looking broadhead's technical specifications. The Ramcat Hydroshock Pivoting Broadhead should not qualify as a barbed broadhead. But to be on the safe side, make sure to double-check!
For a state-by-state listing of broadhead hunting regulations, check here. That aside, if it's legit in your state, you'll appreciate the impact.
The Ramcat Broadhead is 100-grain stainless steel (also available at 125-grain).
The head features a concave scoop at the tip, with the overall design being a hybrid of a chisel-tip broadhead and a cut-on-contact broadhead (read.. QAD Exodus Review).
It weighs in at just over two ounces, and its rear-sharpened blades are .032″ stainless steel.
The scoops create "air foil," meaning when the arrow flies toward an intended target, the air is forced off the shaft and over the top of the fletching.
The air foil drastically reduces wind resistance, which allows the Ramcat Broadhead to fly straight and level toward the intended target.
The three back-cut blades that rotate off the chisel tip are arranged in an off-set pattern with razor-sharp beveled edges on all sides, making for a clean, deep wound channel upon impact.
Design and Performance
As you can see, the Ramcat Broadhead embedded itself into the ballistics gel to an impressive depth. The broadhead itself remained intact, and what was more impressive was the deep yet consistent wound channel (read.. Swhacker 2 Blades).
After seeing this, we knew that all of the hunters who provided accounts of near-perfect pass-through shots were not exaggerating.
Those broadheads are accurate and deadly and almost fly like a field point. Make sure to be careful when unpacking or changing them.
They are extremely sharp on both sides of the blade. Make sure to tighten the little Allen bolts that hold the blades on.
Great accuracy and penetration – produces substantial entrance and exit wounds. The blood trails should be easy to follow (read.. Muzzy Trocar Broadheads Review).
Summary
The verdict is that the dedicated folks over at Ramcat have produced another quality broadhead.
The amount of research put into the Ramcat Hydroshock Pivoting Broadhead design is nothing short of amazing.
Various field tests demonstrated that the Ramcat Broadhead would deliver a straight, level shot with a clean wound channel.
The number of positive reviews and testimonials we found far outweighed any misgivings we might have had.
We hope you've enjoyed reading our Ramcat Broadhead review. If you're looking for an effective and lethal broadhead for your next hunt, rest assured that the Ramcat Hydroshock Pivoting Broadhead has you covered.
A note of caution: Make sure to check if the design is legal in the states you will be hunting in!