Have you ever wondered which bow would prove superior when comparing the Diamond Edge 320 VS Diamond SB1? Both of these outstanding offerings by Diamond Archery are quite similar to one another in many regards, and the question of which is superior arises quite often.
One important note: we tested the bows in real life. Yes – We went and actually send some arrows downrange. The following is a comprehensive look at what we found comparing the Edge 320 with the Diamond SB1.
While many would argue that the Edge 320 holds a slight superiority in the realm of speed and effective let-off factor, it is also worth noting that the SB1 features a shorter overall axle-to-axle measurement for hunting in confined spaces.
Tech Talk
Diamond Edge 320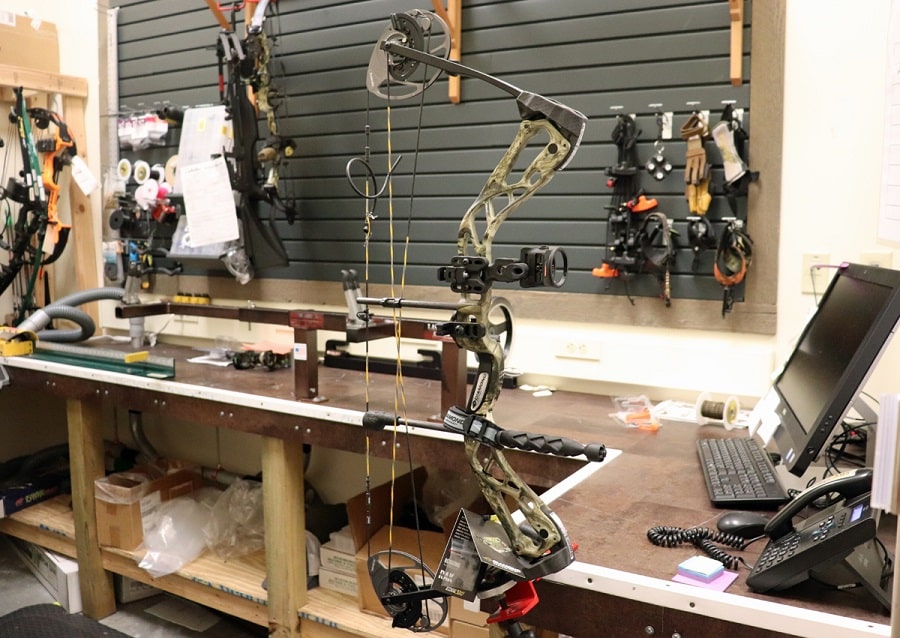 ---
The Edge 320, like the SB1, is manufactured by Diamond Archery.
Diamond's rise to mainstream notoriety has been rapid, with much of the company's success coming as a product of their attentiveness toward engineering bows to cater to the masses.
The Diamond Edge 320 is an extension of the company's massively popular Diamond Edge lineup. Bows offered within this platform are known for their immense range of adjustability.
True to form, the Diamond Edge 320 features an effective draw weight range of 7-70 pounds, and a variable draw length of 15"-31".
One characteristic that sets the Edge 320 apart from other offerings within the Diamond lineup is its highly respectable IBO speed.
The Edge 320 is capable of propelling arrows downrange at impressive speeds of up to 320 FPS.
Specs:
Draw Length – 15"-31"
Draw Weight – 7-70 LBS
Speed – 320 FPS
Brace Height – 7 1/4"
Axle-to-Axle – 32"
Weight – 3.6 LBS
Effective Let-Off – 85%
Pros:
Blazing Fast 320 FPS I.B.O. Speed
Highly Versatile Draw Weight/Length Ranges
Impressive Physical Characteristics
Smooth Draw Cycle and Solid Back Wall
Cons:
Basic 3-Pin Sight Is Minimal In Features
Quiver Mount and Cam-Lock Design Can Be Cumbersome
We had a chance to review the 320 – read all about it here.
Diamond SB1
The SB1 serves as a further extension of Diamond Archery's commitment toward the production of highly versatile, user-friendly bows.
This bow combines stellar performance and vast functional adjustability to provide consumers of all ages, sizes, and experience levels with a solution to all of their archery needs.
The SB1 features a noteworthy IBO speed of 318 FPS, yet still retains a significant amount of forgiveness due to its 7-inch brace height.
This provides users with a bow that can be shot accurately, without sacrificing anything in the way of notable performance. Another high point of the SB1's list of features is its extensively broad range of adjustability, both in draw length and draw weight.
The SB1 has an adjustable draw length range of 15"-30", and a 7-70 pound range of draw weight adjustability.
This sustained level of adjustability makes the SB1 extremely versatile and promotes the use by female archers, children, and other small framed archers (read.. recommended compound bows for women).
Specs:
Draw Length: 15"-30"
Draw Weight: 7-70 pounds
Speed: 318 FPS
Brace Height: 7"
Axle-to-Axle: 31"
Weight: 3.6 pounds
Effective Let-Off: 80%
Pros:
Compact design for ease of carrying
Comfortable slim grip allowing for repeated shooting
Long-lasting solid carbon composite limbs
Available in four color variations
Cons:
Some users cited concerns regarding excess noise upon shot release
Pronounced vibration when shooting
Head to Head Comparison
To provide a fair comparison between the Diamond Edge 320 and Diamond SB1, we must first compare the most prominent features of each bow in relation to one another. Here is how they stack up.
Here is how they stack up.
IBO Speed
When comparing IBO speeds between the Edge 320 and SB1, there is very little difference. The Edge 320 features a rated IBO speed of 320 FPS, while the SB1 is rated at a maximum IBO speed of 318 FPS.
Although these figures are almost too close to compare, the Edge 320 is indeed superior in arrow speed, if only by 2 FPS.
IBO Speed Comparison
| | |
| --- | --- |
| Edge 320 | SB-1 |
| 320 FPS | 318 FPS |
Effective Let-Off
The Edge 320 and SB1 are quite similar in regards to effective let-off.
The Edge 320 features a let-off factor of 85 percent, while the SB1's let-off factor is 80 percent.
Although these figures only differ by a small amount, those that shoot quite frequently or for long periods of time might potentially favor the Edge 320's slightly greater let-off.
Effective Let-Off
The Edge 320 reigns in this category. A 5% difference in let-off is not significant but still slightly better …
Adjustability
The level of adjustability in which the Edge 320 and SB1 displays are almost identical.
However, those who are taller in stature would likely benefit from the purchase of the Edge 320, as its maximum draw length is 31", as opposed to 30" for the SB1.
From the minimum draw length perspective, there is no difference to speak of, as both bows feature a 15" minimum.
| | | |
| --- | --- | --- |
| | Edge 320 | SB-1 |
| Draw Weight | 7 – 70 lbs. | 7 – 70 lbs. |
| Draw Length | 15″ – 31″ | 15″ – 30″ |
In an even comparison, the Infinite Edge Pro features a slightly greater range of adjustability.
Dimensions
When it comes to the overall dimensions of the Edge 320 vs that of the SB-1, there is not a big difference.
| | | |
| --- | --- | --- |
| | Edge 320 | SB-1 |
| Axle-To-Axle | 32″ | 31″ |
| Weight | 3.6 lbs. | 3.6 lbs. |
While the Edge 320 features an axle-to-axle measurement of 32" and a carrying weight of 3.6 pounds, the SB-1 measures 31" axle-to-axle, with the exact same weight of 3.6 pounds.
Additional Features
Outside the above-mentioned technical specifications, there is very little that differs between the Edge 320 and SB1.
Both bows feature Diamond's highly respected binary cam system and utilize similar riser and limb compositions.
Both bows also feature the same array of R.A.K. package accessories. This makes it quite difficult to go wrong with the purchase of either bow.
A Winning Choice
The Diamond Edge 320
is for you if:
Fast and has a high let-off
---
CHECK LATEST PRICE
You are looking for the fastest bow for the money
You shoot frequently and prefer a high let-off factor
You do not hunt from a blind where bow length might be of issue.
The SB-1
is for you if:
You need a compact bow that is ideal for any hunting scenario
You want an excellent bow at a value price
You are looking for a bow suitable for all skill levels
Please feel free to leave any comments that you might have. We appreciate receiving feedback from our readers.
archery Bear big game BlackOut Bow Sight Bowtech broadhead broadheads climbing Compound Bow compound overview deer Diamond Archery elk equipment overview fps gps Hands-On Accessoires Hands-On Compound Bow Hoyt hunting hunting arrow IBO kids Mathews News News August 2020 News December 2020 News February 2021 News January 2021 News June 2021 News November News October 2020 News September 2020 Obsession PSE recurve bow Recurve Overview repair kit saddle safety safety rules trees treestand youth
Last update on 2021-10-26 / Affiliate links / Images from Amazon Product Advertising API