Longbow hunting enthusiasts can be a creative bunch. One of the best ways to make sure that your longbow is always in good shape is by using a longbow tip protector.
These protectors are designed to keep your bow tip from being exposed and potentially damaged when you're not shooting and resting your bow.
This article will compare leather versus plastic or rubber. Which ones are right for you?
First off – You (only) want to protect the tip of the bottom limb. This is where you would most likely rest the bow on.
Why Use a Tip Protector at All?
The tips of your bow are vulnerable. A protector will prevent scuffs and scratches. It also holds the lower string loop in place. If you use one made of rubber – it might also help make your bow quieter (basically reduces the string vibration).
Do I need a Bow Tip Protector?
No, between shots, you could rest the tip of your longbow on your boot. Or place it on the ground – as long as you don't mind scratches.
A Bow Tip Protector will Save you Time and Money
Bow limb tip protectors are not expensive – actually, they are pretty cheap. Something like $3 – $5, and you are all set. And that´s true for either leather or plastic/rubber protectors.
In my opinion, it makes sense to use them. It´s cheap protection against damage. And the leather ones actually look pretty nice on a longbow!
Leather Tip Protectors
Leather tip protectors are a long-standing tradition in archery. They do have their drawbacks, however. Leather may hold moisture and over time could cause the tips to delaminate. I personally have not experienced it.
Rubber or Plastic Longbow Tip Protectors
Plastic or rubber is an alternative option for protecting the end of your lower bow limb. All you do is slide it over the tip.
Synthetic Rubber: It will adapt to the form of your bow.
When you apply heat to the protector, it will conform to the shape of your bow. A regular blow dryer should get the job done.
Plastic: Obviously, it won't adapt to your bow's form but should fit nicely so it won't come off.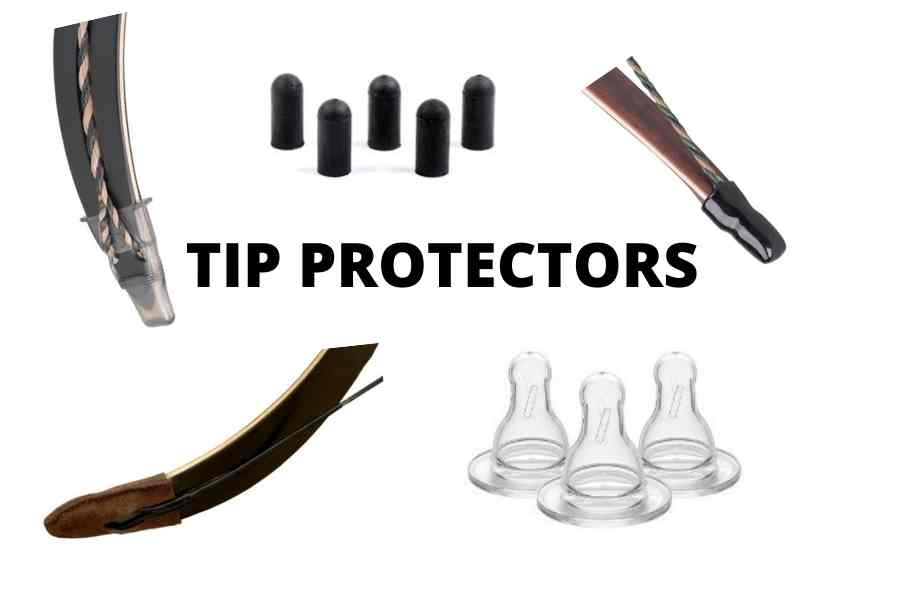 You could also make your own tip protector. A wrap or two of electrical tape should be enough. Some vacuum line cap will work too. Another good idea is to use baby bottle nipples. Cut it to the right size and slip it on the tip. Those do not cost much either.
If you rather want something that has a more of a traditional look to it
DIY – Bow-Tip Protector Longbow or Recurve Bows
Trace the outline of your bow limb-tip
Fold the pattern so that it has a bottom side – cut it out
Cut out a hole for the string
Use tanned leather and cut out the pattern
Mark the holes on your leather and use a tool called an awl to make those holes
Dye the leather
Stitch it up
Soak in hot water slide on the tip
Wait until dry
I am not sure if you save a lot of money building your own tip protector – But in case you don´t have time to wait for shipping or to go to the archery shop, those DIY solutions are a good alternative – and maybe you do have some of the needed items at home already.