It's frustrating when you lose an arrow during practice. Maybe you're new to the game and are still trying to get the hang of things. Or perhaps you're a seasoned pro, and losing an arrow means you have to waste time looking for it and restarting your practice session. In either case, it's helpful to know some tips and tricks on how to find those pesky lost arrows.
It can be challenging to find a lost arrow, especially if you're unsure where to start looking. One of the most important things to remember is to retrace your shot when you notice the arrow missed. Don't wait until the end of your practice session. The sooner you start looking, the more likely you will find it.
Use illuminated or Bright Nocks & Vanes
Illuminated or bright nocks and vanes are important for archers who practice outdoors. They make it easier to see the arrow after it's been shot, which can help locate the arrow more quickly. This is especially helpful if you're practicing in low light conditions or bad weather.
How Illuminated or Bright Nocks Work
Illuminated nocks use a small LED light to provide visibility. These are especially useful when the sun is down and you don't have time to search for your arrow in daylight. They can also be great in inclement weather conditions when lighting is poor. Bright colored nocks, like neon green, can make an arrow simply easier to spot.
Using brightly colored vanes instead of illuminated nocks can be helpful if you don't want to spend the extra money. Plus, it's easier for some people to see the bright color than the small light in an illuminated nock.
How to use Illuminated Nocks
Nocks with tiny LED lights are readily available for purchase, and they work well. I found some on AMAZON, or you might check with your local archer shop to see if they sell anything like that.
Make sure to buy the right ones for your arrows! Most of them will fit arrows with 6.2mm/0.244″ inside diameter. If you are unsure – go and check with your local archery shop.
Retrace Missing Shots Immediately
It can be frustrating when you lose an arrow during practice, but you can usually find it again with a little bit of effort. Waiting to retrace your shot can often mean that the arrow is harder to find. It's best to start looking as soon as you realize that you missed the target. 
Look up and check Brushes and Trees
Most archers will start scanning the ground, but make sure to check brushes and trees too! Look up and scan the area. This is not so much a thing if you are at a range – but if you happen to practice in your backyard, you might want to check up too!
Use a Rake in thick Vegetation
Again, not really an issue when you are at a professional archery range. But if you are shooting somewhere with thick ground vegetation, having a rake (or even a garden hoe) can be very helpful.
Use Archery Back Stop behind your target
This one is a classic – and if you happen to practice in your backyard, you might want to consider using an archery backstop behind the target. Depending on the size of the net, your chances of stopping misguided arrows are pretty high!
Find a Good Range to Practice
Archery can be a lot of fun, but it's also a challenging sport. If you're new to archery or still trying to improve your skills, it's essential to find a good archery range to practice in. It will also have plenty of open space so you can practice your shots without worrying about losing arrows.
Finding the Right Range
Locations for archery ranges vary greatly. Outdoor ranges are located on public land, college campuses, and even backyards. Some bowhunters develop their own backyard range to practice target shooting at different distances without the added expense of going to an archery range.
If there is a local archery or bowhunting club in your area, they may run an outdoor range and could be a good resource for you to investigate further.
You may not have to look far if you're looking for an outdoor range in your area. Many universities have colleges with open fields where students can practice archery. Some community centers offer classes or provide space for people to use their bows, and they usually have some targets set up already for students to shoot at.
Checking out Different Ranges
It is a good idea to check out different ranges so you can find the one that fits your skill level or maybe even offers archery classes. That way, you can learn more about the sport and improve your skills.
You may also want to consider looking into joining a local archery club. They can provide you with access to better ranges and even have classes available.
What to look for in a Good Archery Range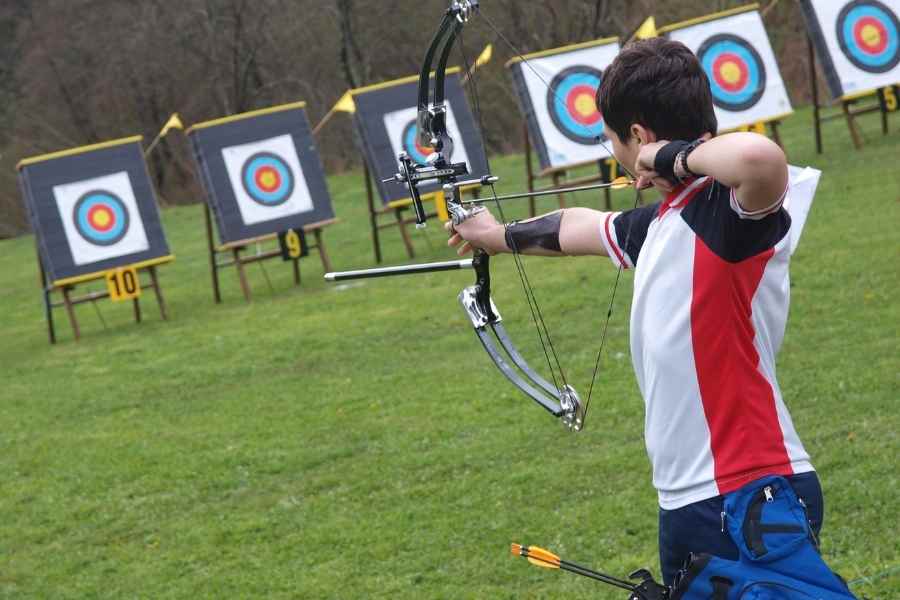 If you plan on practicing long-distance shots, make sure target distances exceed 40 yards. Otherwise, you will have a hard time honing your long-distance skills.
Conclusion
Archery can be a fun and challenging sport, but it can also be frustrating to lose an arrow. With a little bit of effort, you can usually find it again. We've outlined some tips and tricks on how to do just that-from finding the right range to practice in, using illuminated or bright nocks, to retracing your steps as soon as you notice a missing arrow. Happy practicing!
FAQ
How do I use illuminated nocks?
The process is simple-just install them! Most illuminated nocks have tiny LED lights inside, so they will function similarly to a marker light on your vehicle. Turn the switch on and shoot away!
What archer backstops should I look for?
There are quite a few commercial products worth checking out online or at local pro shops. Otherwise, haybales or any natural barrier (an old barn) will work great. This is especially helpful for backyard archers who haven't built a backstop yet.
Do I need to spend money on illuminated or bright nocks if I practice in good lighting conditions?
It's entirely up to you! Some people like to shoot with these, and some don't because they may think it could distract them when they're concentrating on their shot…but remember, practice makes perfect! Plus, if nothing else, any arrow you shoot is one extra arrow for your next practice session!
How do I find an archery range near me?
Check with local pro shops or online resources. You can also check out Google Maps – just type in "archery" close to your hometown and see what pops up. Most of these places offer a club system, so try signing up.
How do I find a local pro shop?
If you haven't found one yet, most cities have them! Just do a Google search or check your phone book for "archery" and pick up the phone.
Can I use my own arrows with illuminated nocks?
You would need to make sure these fit on your arrow shaft. Most of these work with 6.2mm/0.244″ inside diameter arrows – but it's always a good idea to double-check before purchasing something like this!