The role a scent plays in hunting big game is well known. Large animals can smell an odd scent from a distance, so scent control is an essential part of hunting. Your gear should be stored to keep it from absorbing odors and organized by season to be readily available when it comes time to use it. It is vital to store your hunting clothes properly to ensure a successful hunting season.
Cleaning Before Storing
Using a scent-free detergent should be your first step; it doesn't matter what kind of detergent you use as long as you leave no scent behind. Using baking soda, hunters can absorb any odor.
If you are storing camouflage gear, turn it inside-out before storing to prevent fading. Keep it in a cool and dry place if you're storing it for a prolonged period.
When you store your hunting clothing in the same place as other clothes, they can absorb odors from the other garments. When you don't have the option of an entirely isolated storage place, use a bag designed to prevent odors from getting into the bag or out of it, or even better, a rubber maid tote.
To absorb scents, some hunters use cedar chips or pine needles. It's a bit of a controversy. Several people swear this is the best way to do it. And others say the scent is so strong that it becomes a disadvantage. It's a judgment call.
Here is what Heath Wood over at mossyoak.com thinks about this:
"I also make sure I DO NOT use any cover scents such as fresh earth wafers or actual cedar and/or pine branches. I have done this in the past only to realize that the smell was so strong it was actually a disadvantage when the time came to hunt. I want to have a cover scent when hunting, however, I do not want it so overpowering that is alarming to wildlife instead of doing as it is designed to cover up my human scent. "
Source: https://www.mossyoak.com/our-obsession/blogs/hunting-gear/proper-ways-to-store-hunting-gear
Clothing Storage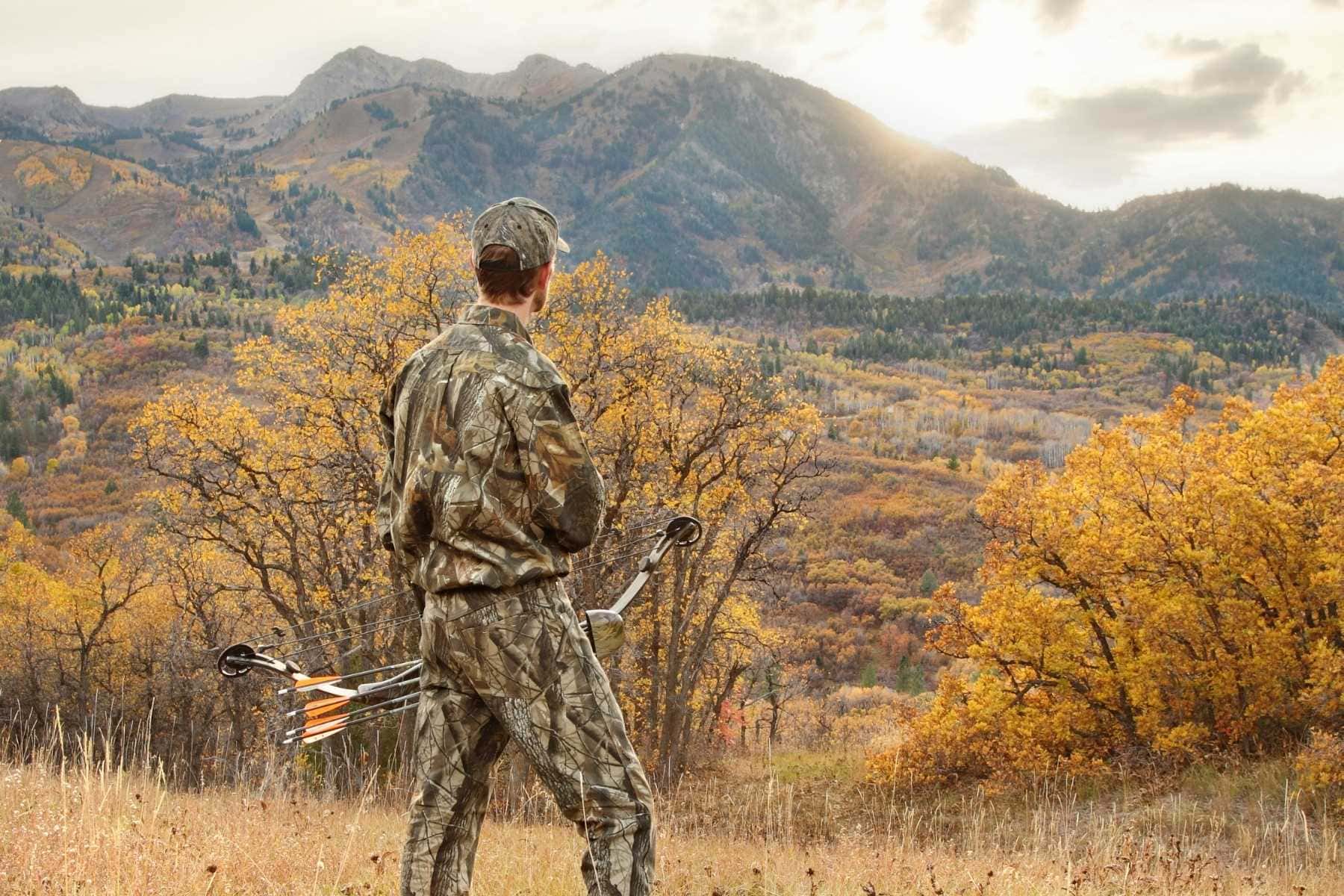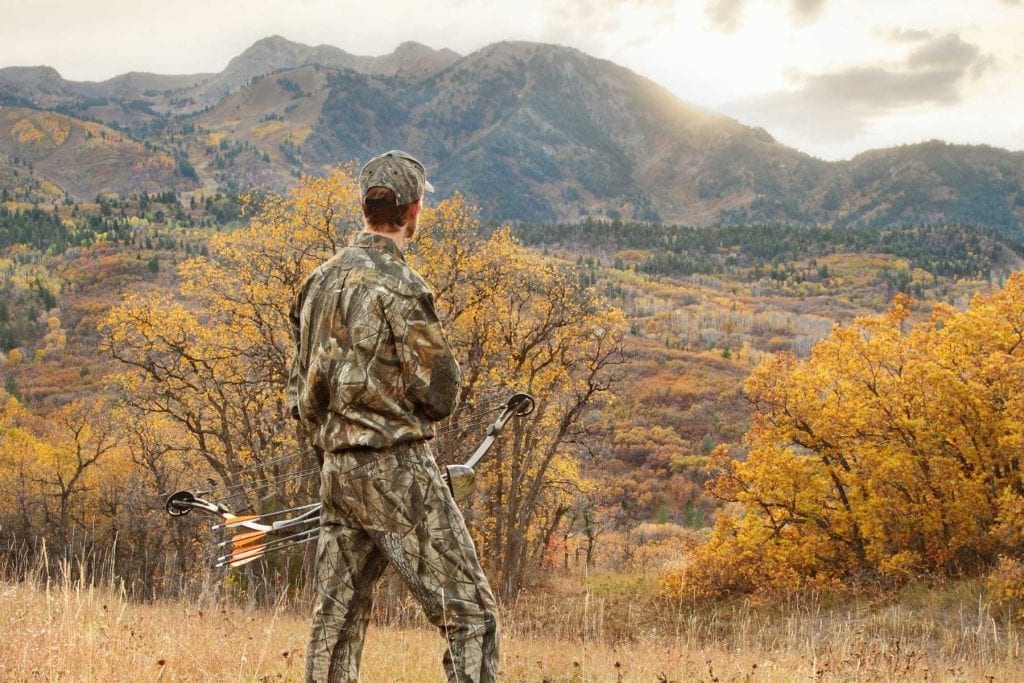 bowhunter in camo
---
Next, you need to store your clothes correctly. It's a good idea to keep them in an airtight bag and in a climate-controlled space. Clothes could absorb a lot of moisture in a garage or shed. Mold and mildew could develop, which can be harmful to humans. Plus, unpleasant smells can start to develop, which can be hard to get rid of later. Baking soda or moisture-absorbing packets can be put near clothing to absorb moisture.
You may want to designate a different place for your hunting gear to avoid having it come into contact with other items.
The ideal would be a climate-controlled basement, extra closet, or room in your house. You can store hunting clothes in a special material designed to prevent moisture from getting into the bag. Better yet, put the entire bag into a rubber maid tote.
Always put clothing inside a plastic bag before putting anything in storage. This will keep out dust, dirt, etc., which could cause damage as well as odors that would ruin your outfit.
And most importantly: Make sure that your clothes are dry before storing them. And I mean dry in like really dry!!
Hunting Shoes
As with all your gear, clean your hunting boots thoroughly before storing them. It's not that they should be completely spotless, but they should be clean enough to keep from absorbing odors from other items. Remove any laces or insoles and let them air dry away from heat, which can cause them to shrink. If you have waterproof boots, make sure they are not damaged before storing them.
Make sure that they are completely dry!
Store the shoes in an airtight plastic bag to prevent them from getting damaged by dust or grime or picking up scents.
Tip: Give your extra hunting clothing to someone who might like to try bowhunting if you no longer plan to wear it.
Your Bow
Check your bow before storing it. Here is what Jackie Holbrook over at bowhunting360.com has to say about it:
"Inspect your bow strings and cables. Remove dirt and debris, look for cuts and frayed strings, and give the bowstring a good waxing. Wipe the bow with a damp cloth. Use a moistened Q-tip to clean tight areas. Store the bow in a case or rack designed for archery equipment."
Source: https://bowhunting360.com/2020/01/16/how-to-store-hunting-gear/
Jackie continues that you need to "maintain a dry and climate-controlled environment" for the bow. And further says that it is possible to "sustain damage from extreme heat and cold." You should "never store your bow wet or unprotected in moisture-prone areas," as this can result in "rust and limb damage."
What About the Accessories?
Hunting accessories should also be stored in the off-season. Examples include
calls
scents
optics
game cameras
archery accessories.
It's best to store hunting gear in separate containers with a label, that way they are easy to identify. You should keep your hunting accessories in a climate-controlled space, just as with your clothing. You don't want mold or mildew to develop.
Avoid that gear will freeze during the winter or become too hot in the summer. Additionally, make sure to remove batteries from any electronic device.
When hunting gear is appropriately stored and maintained during the off-season, it helps to stay organized and extends the life of the equipment.
Treestands & Ground Blinds
Check with your local laws. Often it is necessary to remove treestands and/or blinds from public lands once hunting season is over. Many hunters store their blinds in their garage or shed because they are too large for most storage options. Set the blind up before the season to allow it to air out.
Summary
Wash all hunting clothes with a scent-free detergent. Keep clothes in a climate-controlled space, and always store clothing in a humidity-free environment. Additionally, make sure to store hunting clothing items and accessories separately. Use either airtight zipper bags or invest 50 bucks and get some rubber maid totes from Walmart. You don't want your stuff to pick up any scent.