If you're a seasoned shooter looking for a top-of-the-line crossbow, the Ravin R26 hits the target every time. It delivers fast and accurate firing in a remarkably compact package. Does the performance and construction of the R26 warrant a potential stretching of your budget?
We think: Yes! ABSOLUTELY!! This is a real hunting machine! Damn … it's fast! But see for yourself …
Pros & Cons
Pros:
Compact, lightweight and durable design
Trac-Trigger™ Firing System
Integrated, ambidextrous Versa-Draw™ Cocking and Uncocking System
Anti-Dry Fire
Frictionless™ Flight System
Fully assembled and pre-tuned
Cons:
This monster is for pros only!
It´s a little bit on the louder site – might want to buy some quality crossbow dampeners
If you´re a beginner check out this review: Best Budget Crossbows for 2020…
First Impression
The first thing you'll likely notice about this crossbow is its ultra compact size. It's a surprisingly small 5.75″ from axle to axle when cocked and only 26″ long.
But don't mistake small for weak. After firing a shot, you'll immediately notice it's fast, powerful, and responsive design.
Ravin R26 Crossbow Specifications
Up to 400 FPS
Kinetic energy: 142 ft. lbs.
Draw Weight: 340 lbs.
Overall weight: 6.5 lbs.
Power Stroke: 9.5″
5.75" wide cocked and 26" long
Versa-Draw Cocking System
Anti Dry-Fire Mechanism
Build-in sling mount
It's also hard not to notice the manufacturer. Ravin is an industry leader in crossbows. Their products are developed by a team of engineers and crossbow hunters.
Not only do they know what hunters want in a crossbow, but they also have the technical capability to create those features.
Aside from the R26 crossbow, the set also includes illuminated scope, three-arrow quiver, six 400-grain arrows with nocks and 100-grain practice points, removable cocking handle.
Design and Performance
Ravin loads their crossbows with a variety of unique features you won't find in ones from other manufacturers. Here's a closer look: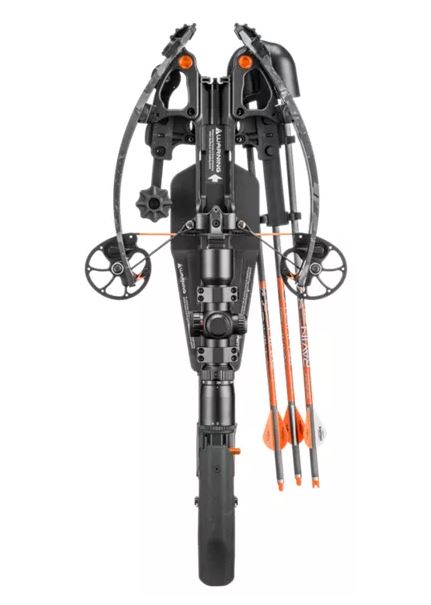 check latest price
The big draw (no pun intended) is the R26's HeliCoil technology. It provides rifle-like accuracy thanks to a coiling system that uses helical grooves to keep cables away from the top and bottom of the cams.
This results in the perfect balance for dead-on accuracy when drawing and shooting.
Another unique design element is the Trac-Trigger Firing System. It ensures an even trigger pull, for predictable arrow flight.
Along those same lines, the Frictionless Flight System provides additional aiming enhancement. Most crossbows place the arrow directly on the rail.
However, that creates friction, which slows the arrow down and slows its speed. The Frictionless Flight System lets the arrow float above the rail, free from friction.
Finally, note the Versa-Draw Cocking System. After all, all the accuracy and power in the world are meaningless if you can't fire fast enough to hit game.
The Versa-Draw system allows you to cock and shoot reflexively.
Versatility
Although it's a fun crossbow for target shooting (read.. the best crossbow targets review), it's designed from the ground up for hunting. With an arrow speed of 400 FPS, it'll pierce bone and takedown strong game, including some large game too.
Additionally, its compact size makes it ideal for aiming and shooting from a blind. Plus, the durable construction is water-resistant, making it well-suited for hunting waterfowl.
Also, the illuminated scope helps you zero in on your target for quick, clean kills. Because the crossbow is so lightweight, you'll have no issue carrying it on your way to your treestand or ground blind.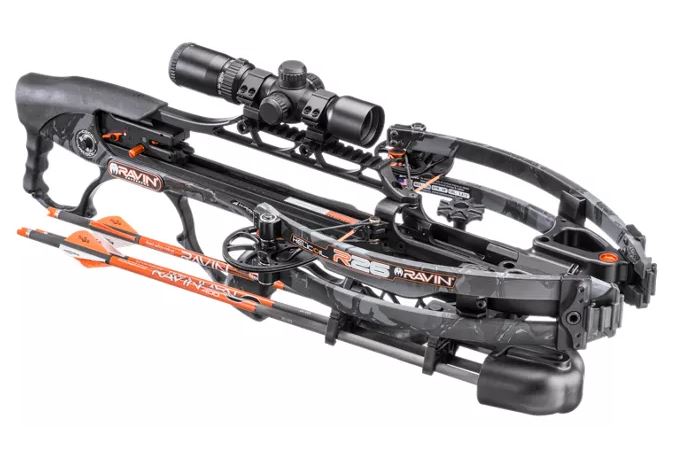 check latest price
Safety Features
Because crossbows pose a risk of sudden, serious injury, you always want to keep safety at the forefront of your mind.
No built-in safety features can ever effectively replace awareness. However, Ravin's R26 does include some reassuring safety tech.
Their dry-fire inhibitor (DFI) is the most prominent safety feature. It automatically prevents firing when no arrow is loaded.
Dry firing can cause serious damage to your crossbow and your body, so you better not let it happen.
Portability
Ravin claims the R26 is the most compact crossbow on the market, and we've found no reason to doubt them.
Aside from its size – 5.75" when cocked, axle to axle – it's also lightweight.
You'll have no issues carrying it (6.5 lbs.) long distances or holding onto it when navigating uneven terrain. It combines lightweight construction with ergonomic handles.
Summary
So, does this crossbow help you hit the target? After reading our review, the answer is probably yes! Although the initial cost is on the higher side, this crossbow more than delivers.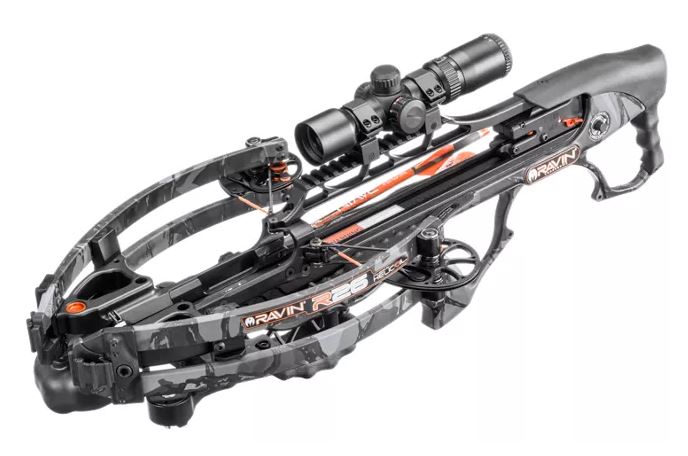 check latest price
It's a compact crossbow that packs an incredible amount of punch, making it ideal for hunting.
Plus, the HeliCoil, Frictionless Flight, and Versa-Draw Cocking System allow you to shoot fast and accurately – and you won't find these systems in any other brand.
Which brings us to the manufacturer. For over 20 years, Riven has delivered quality crossbows that hunters love, and it's easy to see why the R26 is one of their most popular models.