The spring of the year is quite a magical time for those that love nothing more than the pursuit of the wild turkey. Pleasant weather has taken hold, vegetation is in bloom all around, and gobbles fill the air. For the veteran turkey hunter, it's business as usual, and gear intended for handling the task at hand has been readied well in advance.
For those new to the sport of turkey hunting, many questions likely linger. Few of these quandaries are as common as that of what is needed to start turkey hunting.
Though the thought of gathering all that one might need can seem trying, a selection of calls, camouflage, standard archery equipment, and a decoy or two is all you need to begin your journey.
Turkey Calls
Many novice turkey hunters are aware that calls are an essential part of any turkey hunting gear list. However, what far fewer hunters know, is that your call selection should be diverse and well-stocked.
This stems from the fact that every day in the turkey woods is different, and turkeys will respond better to certain calls than others on any particular day.
It is quite common for turkeys in an area to show no interest in one particular type of call, only to readily gobble upon hearing the first note from a call of a different variety.
Furthermore, the type of call to which they are most responsive can change from day-to-day. This places immense value on carrying several different calls of various compositions at once.
Which Turkey Calls do we recommend?
You can read more about our personal favorites in this article: "Best Turkey Calls".
Archery Gear
When bowhunting for turkey, it is important to ensure that you have all of your archery gear on hand and that everything is working optimally. These items include, but are not limited to, your bow, arrows, broadheads, and a release.
Our Choice of Bows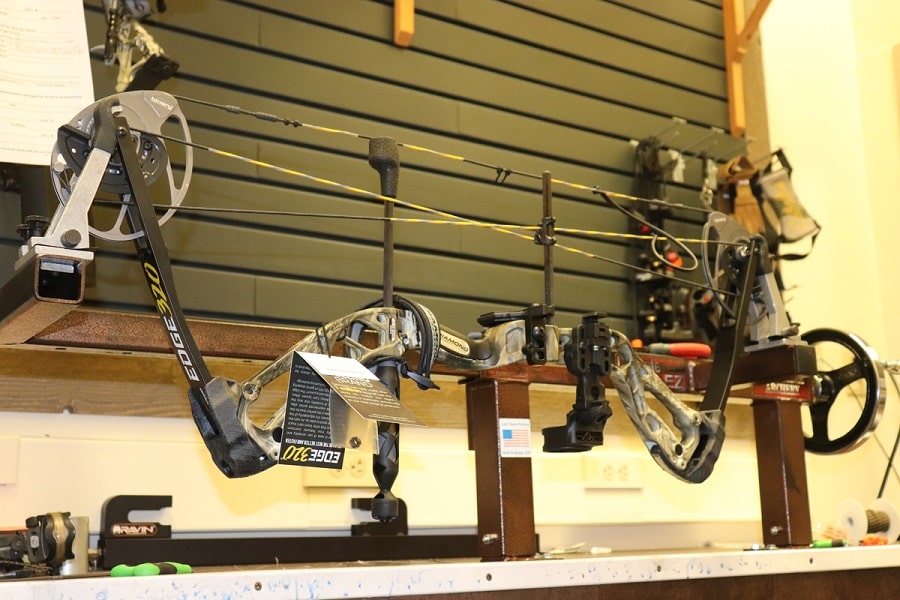 In regards to your choice of bow, a shorter axle-to-axle length model can come in quite handy, especially when hunting out of a smaller ground blind. We recently reviewed the Diamond 320 RAK which makes an excellent bow package.
Read more about the perfect ground blind hunting chairs here.
Broadheads we recommend
When selecting broadheads (links to our article) for turkey hunting, I personally prefer an expandable head.
This is due to their large cutting diameter. This excess cutting diameter can come in quite handy when attempting to hit the relatively small vitals of a turkey.
Ground Blind
While not 100% essential for bowhunting turkey, the use of a ground blind can be nothing short of game-changing. The concealment that a ground blind offers, keeps a hunter hidden when drawing his or her bow.
This is invaluable due to a turkey's ability to pick off the slightest of movements.
Ground blinds come in many sizes and shapes to accommodate the needs of virtually any hunter.
The choice of which ground blind to purchase is largely a matter of personal preference, as a hunter's overall comfort and ability to shoot from the confines of their blind are of primary concern.
Ground Blinds We Reviewed
We reviewed five different ground blinds. If you want to see which one we preferred, click here.
Decoys
It is also of much benefit for a hunter to have a decoy or two at his or her disposal. Decoys are effective due to their ability to add visual attraction that complements the audible attraction of a call.
When a tom sees a decoy, they immediately equate what they see as being the hen that they have heard when you are calling. 
Decoys can be purchased in hen, jake, and tom form, with all having specific uses. In early season. territorial aggression is running rampant, as gobblers attempt to stake their claim to the hens in an area.
This makes a hen and jake, or hen and tom decoy arrangement deadly. On the other hand, a single hen decoy is well suited for late season use.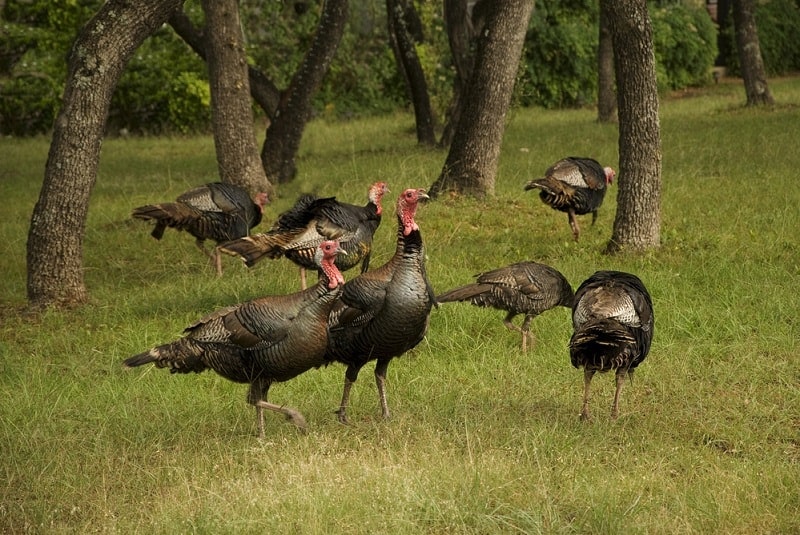 Face Mask and Gloves
Turkeys have excellent sight, and unlike most game animals, they can see color. This makes the use of quality camouflage extremely important.
While even the newest of turkey hunters typically realize that camouflage is a must, many overlook the value of wearing a face mask and gloves.
Wearing gloves and a facemask cuts down on the amount of a hunter's skin that is exposed, and therefore visible.
At close distances, a wise, old tom will quickly spot any irregularities in their surroundings, and any bare skin that is lacking concealment is likely to be your undoing.
Hunting Well Equipped
A well-prepared hunter is a successful hunter, and this is seldom as evident as when turkey hunting.
Having all of the gear that you need within arms reach makes you a more efficient turkey hunter, and prevents a hunt from being derailed due to an unfortunate oversight.
With a well-rounded selection of calls, camouflage, standard archery equipment, and a decoy or two, you will be well equipped to handle anything that the spring turkey woods can throw your way…
Please feel free to leave any comments that you might have. We appreciate receiving feedback from our readers.