There is seldom a dull moment in the world of archery. History is always being made, milestones are consistently being broken, and numerous events of note are taking place. This alone adds great appeal to the sport of archery as a whole, as one need not look far to find all that is unique, interesting, and exciting.
The latter half of August and the first of September has been especially exciting for archers, as competition on many levels has resumed for the first time since the onset of COVID-19, and archery seasons across the United States have now begun to open.
Largest Post- COVID Archery Tournament Held In Austria
During the past couple of months, many sanctioning bodies within the world of archery have been hard at work, laying the groundwork for a return to competition in a post-COVID world. In what appears to be an overwhelming success, Austria recently held a massive archery competition, while adhering to all new Pandemic era guidelines.
Held in Poppendorf, the event saw more than 170 competitors participate in numerous forms of competition. To facilitate such a grand event, especially in the face of extensive health concerns, strategic safeguards were put in place.
Social distancing practices were followed, masks were worn, and sanitation stations were placed throughout.
The success of this event is of extensive value to archers from around the world. A precedent has now been set, and it appears that a full return to competition, both indoor and outdoor, is indeed viable.
In the coming months, we are likely to see worldwide competition resume, at least to some regard, and with appropriate safety measures in place.
Oregon Bowhunter Killed By Wounded Elk
In what one could only refer to as a freak turn of events, an Oregon bowhunter was killed recently by a wounded elk, which he had previously shot the day prior. According to Oregon State Police, 66-year-old Mark David arrowed the bull in question on the afternoon of August 29th. Unfortunately, David was unable to locate the wounded bull before nightfall.
Upon returning to the area the following morning, David and the property owner took up the trail once more. At approximately 9:15 a.m., the men located the wounded bull, which was situated nearby. As David moved closer for a final shot, the bull charged, goring the hunter's neck with its antlers in the process.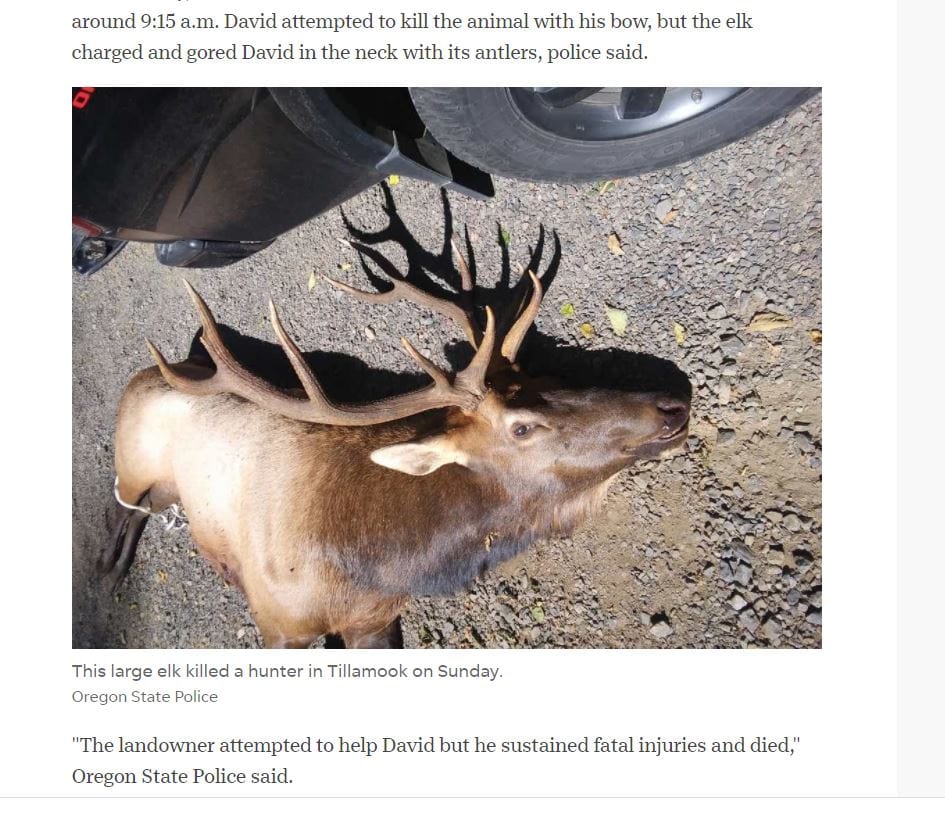 Despite the accompanying landowner's best efforts to administer life-saving care, David succumbed to his injuries. The wounded bull was later killed, and all meat was donated to the Tillamook County jail.
This serves as a stark reminder to always approach wounded game with caution. Charges can and do happen, often with dire consequences.
Even if you are reasonably sure that a game animal has expired, proceed with care. If in doubt, always take a follow-up shot from a safe vantage point, with some form of cover serving as a barrier in between.
Bohning Announces Continued Sponsorship Of Scholastic 3-D Archery Program
Long-standing archery manufacturer, Bohning, recently announced its renewed sponsorship of the Scholastic 3-D Archery Program. Scholastic 3-D Archery is a program centered around the education of youth archers.
Young archers who are involved in this program are taught how to excel in indoor and outdoor 3-D archery and ethical bowhunting practices.
Bohning, which was founded in 1975, and produces the highly-popular Blazer line of vanes, has remained an adamant supporter of youth archery programs for a number of decades.
The company's recent renewal of their Diamond Level Scholastic 3-D Archery sponsorship further exemplifies this point.
Bohning is thrilled to continue their sponsorship and support for S3DA. It is truly an honor to be a part of S3DA, and we look forward to working with this program for many years to come.

I have been blessed to be able to travel and promote the Bohning Company as a valued tradition. My experiences on these trips and the people that I meet confirm to me that our passion for archery will continue for many generations."Bohning Pro Staff Manager, DJ Hunt
Participants in the Scholastic 3-D Archery Program can compete at the local, regional, state, and national levels, with their choice of traditional or compound equipment. The program caters to young archers, grades 3-12, with many scholarships awarded annually to those who excel. 
If you are interested in participating in the Scholastic 3-D Archery Program or are the parent of a child who you feel would be interested in participating, several resources are available.
More information on the Scholastic 3-D Archery Program can be found at https://www.s3da.org/, or direct contact can be made with the program's coordinators by phone (606)524-3685.
September Is Treestand Safety Awareness Month
The TSSA (Treestand Safety Awareness Foundation) recently named September as treestand safety awareness month. The month of September traditionally signals the beginning of fall archery seasons in many states. As a result, an untold number of hunters return to their stands for their first outings of the year. 
The organization hopes to reduce the number of annual treestand accidents by sharing their message as often as possible with hunters from around the world. This serves as a further extension of the TSSA's prior work, which has been mostly responsible for a 65% reduction in treestand falls requiring emergency care over the past decade.
The TSSA has and continues to be, a very vocal proponent of using the ABC's of Treestand Safety. "By practicing these three simple steps, you can fully enjoy your tree stand hunting experience and come home safe to your family and friends," says TSSA President Glen Mayhew.
The TSSA's ABC's of Treestand Safety are as follows:
"The A stands for "Always" remember to Remove and Inspect your stands and equipment (38% of falls are related to elements related to inspection failures)."
"B stands for "Buckle" on your Full-body Harness every single time (83% of fall victims were not wearing a full-body harness). This includes practicing from a stand, putting up or taking down a stand, and hunting."
"C stands for "Connect" to the tree before your feet leave the ground (99% of fall victims were not attached)," states the TSSA.
archery bamboo self bow Bear BlackOut bleaching Bowtech bow tuning broadheads camo climbing Compound Bow deer deer skull Diamond Archery DIY dominant eye elk english longbow tutorial DIY food freezer habitat Hands-On Accessoires Hands-On Compound Bow hedge apple hunting land Mathews mineral licks News News August 2020 News October 2020 News September 2020 oak self bow tutorial Parallax property PSE recurve bow saddle safety self made bow trees treestand untuned bow wax whitening wood